The AMD Ryzen 5 7600X serves as the most affordable entry-point into the Ryzen 7000 series processors. It still packs a classic 6-core, 12-thread setup instead of having hybrid cores like the competition. The company touts a lot of changes and improvements this generation including an LGA socket, increased L2 and L3 cache, the addition of AVX-512 instruction set, DDR5, PCIe 5.0, and a new chipset.
AMD Ryzen 7000 Series Processors
AMD Ryzen 7000 series CPUs are powered by the Zen 4 architecture previously codenamed Raphael. They have done a ton of work this generation to get a 13% IPC uplift and 29% single-threaded improvement over Zen 3. Zen 4 CPUs also come with a lot more L2 and L3 cache as well as the addition of AVX-512 instruction set compared to last generation's processors.
At launch, AMD introduced four variants of the Zen 4 architecture – the Ryzen 9 7950X, Ryzen 9 7900X, Ryzen 7 7700X, and Ryzen 5 7600X. Interestingly, the Ryzen 7 7800X seems to be missing. We expect that the brand will be introducing a Ryzen 7 7800X3D sometime in the future like what they did to the 5800X3D, which was the first consumer CPU from AMD to come with a stacked L3 cache.
Core and thread count are still the same on the Ryzen 7000 series. The 7950X, 7900X, 7700X and 7600X packing 16 cores, 32 threads; 12 cores, 24 threads; 8-cores, 16 threads; and 6 cores, 12 threads, respectively. Performance is largely equal amongst the cores and they are not copying Intel's E-Core and P-Core setup.
Model
Ryzen 9 7950X
Ryzen 9 7900X
Ryzen 7 7700X
Ryzen 5 7600X
Architecture
Zen 4 (Raphael)
Core Count
16-cores
12-cores
8-cores
6-cores
Thread Count
32-threads
24-threads
16-threads
12-threads
Base Clock
4.5GHz
4.7GHz
4.5GHz
4.3GHz
Max Boost Clock
5.7GHz
5.6GHz
5.4GHz
5.3GHz
L2 Cache
16MB
12MB
8MB
6MB
L3 Cache
64MB
64MB
32MB
32MB
TDP
170W
170W
105W
105W
Manufacturing
5nm TSMC
Platform
AM5
Price
PhP 46,000
PhP 36,000
PhP 26,000
PhP 19,500
There are still similarities to previous generation Ryzen processors. They still come with two Core Complex Dies (CCD) but is now based on TSMC 5nm manufacturing process and an optimized Infinity Fabric. Ryzen 7000 CPUs also come with much higher base and boost speeds with the flagship, the 7950X, having 4.5GHz and 5.7GHz, respectively. This is 800MHz improvement over the maximum boost speed of the 5950X of 4.9GHz.
Aside from increased clock speeds, the processors now support DDR5 memory and PCIe 5.0 connectivity. These chips officially support DDR5-5200 memory, which is slightly faster from Intel 13th Generation's DDR5-4800.
There are some concessions, however, as these CPUs now have a maximum TDP of 170W – a 65W increase of the previous flagship. Peak power consumption is allowed to hit 230W if needed to get the maximum amount of performance possible.
This increase in power requirements also requires additional cooling. The company recommends using at least a 240mm or 280mm AIO to cooldown its CPUs. The 7700X and 7600X can get away with tower coolers with their relatively lower TDP.  Fortunately, existing AM4 coolers are compatible with the AM5 mount but you still want to double check with your manufacturer for compatibility.
Better cooling is needed as well for these CPUs due to Precision Boost Overdrive, which uses all the thermal headroom of the processor up until 95°c to maximize performance.
Surprisingly, the Ryzen 7000 series CPUs will come with integrated RDNA 2 graphics. They won't be great for gaming as the integrated graphics only come with 2 Compute Units and 128 stream processors but they will support AV1 Decode, H.264 and HEVC Decode/Encode, DisplayPort 2.0, HDMI 2.1, USB-C, 4K60Hz, and even hybrid graphics.
LGA 1718, AM5, and AMD 600 Series Platform
After 6 years, AMD finally moving onto the new AM5 socket with the Ryzen 7000 series processors. They are breaking their own mold this generation as they are now using land grid array (LGA) from their traditional pin grid array (PGA) design. AM5 has 1718 pins while still retaining the same package size, which means that there are more pins on the CPU instead of the being in the motherboard like before.
The new socket allows a 2-way communication between the processor and voltage regulators, which allows AMD to increase the TDP higher than before. This results in higher boost speeds but also significantly increased power consumption than before.
4 motherboard chipsets are being introduced this generation – X670E, X670, B650E, and B650 – to encompass the flagship, midrange, and entry-level segments in the market. X670E is placed at the top-end of the scale supporting two PCIe 5.0 x16 slots and a PCIe 5.0 NVMe SSD slot. X670 has the option to come with various configurations of PCIe 5.0 or PCIe 4.0 x 16 slots depending on the manufacturer while retaining the PCIe 5.0 NVMe slot. B650E and B650 are the budget option for enthusiasts packing a PCIe 5.0 or 4.0 x16 slot, depending on the manufacturer, and a PCIe 5.0 M.2 slot.
The platform will exclusively support DDR5 memory and both them and the motherboards can be pretty expensive, which leads to a much higher price for entry for enthusiasts.  There is currently no plans for backwards compatibility for DDR4 memory unlike Intel that has supported DDR4 on both their 12th Generation and 13th Generation processors and motherboards.
AMD is planning to support the AM5 socket at least until 2025 according to their Computex 2022 keynote. This means that motherboards will still be compatible with at least some of the future CPU releases from the company but this may change in the future.
AMD EXPO DDR5
The Ryzen 7000 series processors will transition to exclusively run on DDR5 memory unlike Intel which still support DDR4 kits. This time around, AMD finally has their own answer to XMP – AMD EXPO. This removes the burden from consumers from choosing what is the right memory kit for their build.
AMD EXPO is a self-certification for manufacturers to guarantee compatibility for Ryzen 7000 CPUs. The company does not require licenses or royalty fees for RAM kits with EXPO certification, which means that pricing should still be on par or lower than other kits. They do require manufacturers to publish a self-certification report with components, full timing table, and stability/hardware information for EXPO memory kits.
AMD Ryzen 5 7600X Review – System and Overclocking
The AMD Ryzen 5 7600X acts as the budget-friendly CPU for the AM5 platform. As we've mentioned, core counts have not increased this generation with the 7600X still coming with 6 cores with 12 threads. Its clock speeds have been greatly increased to 4.7GHz base and 5.3GHz boost over the previous generation's 3.7GHz base and 4.6GHz boost. TDP has been raised to 105W with package power tracking increasing up to 140W to increase performance when needed.
The CPU is designed to run hotter with a 95°c limit but since the CPU has fewer cores, it has an easier time hitting its boost limit before it hits its thermal limit if paired with a good AIO cooler. When overclocked, it was able to reach 5.3GHz on all cores at 1.275v. Anything above and we experience system instability.
These components were used in testing the AMD Ryzen 5 7600X:
CPU: AMD Ryzen 5 7600X
RAM: Kingston Fury DDR5 6000MHz RGB
Motherboard: ASUS ROG Crosshair X670E Gene
PSU: EVGA 650 GQ Gold 650W
Cooler: MSI MAG CoreLiquid K360
OS: Windows 11
Driver Version: GeForce Game Ready Driver WHQL 526.47
Benchmarks used to test the processor include synthetics, compression and decompression, rendering tests, and games both triple A and competitive titles:
CPU Benchmarks
CPU-Z Benchmark 17.01.64
7-Zip 16.04
wPrime v2.10
Cinebench R15
Cinebench R20
Cinebench R23
Blender 2.82a
Due to the IPC improvements of AMD, the Ryzen 5 7600X is performing a tier higher than its predecessor. It can now go nearly toe-to-toe with the 5800X, which has the advantage of 2 more cores. The CPU even has the advantage on tasks like compression thanks to its access to much speedier DDR5 RAM.
Single core performance nears the top of the charts just side-by-side with the flagship of the range, the Ryzen 9 7950X. Intel, however, still gets some advantage in single-threaded tasks even with the older Intel Core i7-12700K and i9-12900K.
Gaming Benchmarks
Synthetic Benchmarks
1920 x 1080
2560 x 1440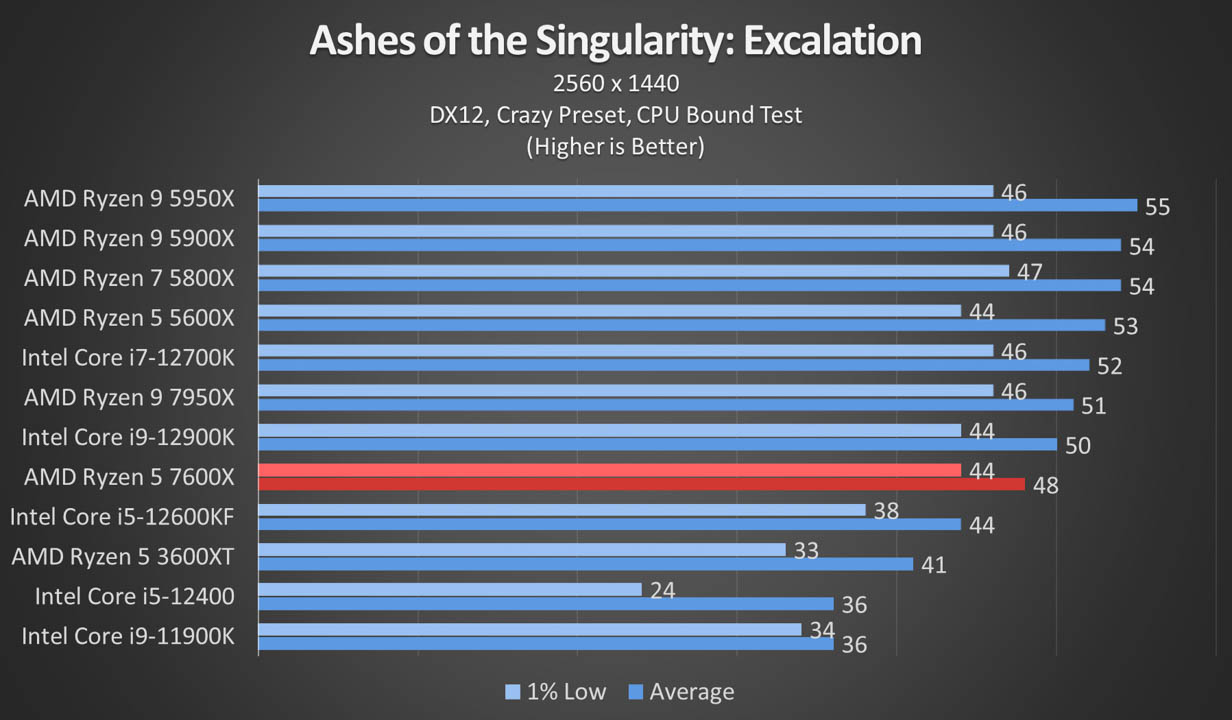 3840 x 2160
Gaming performance in the Ryzen 5 7600X isn't an issue even if it's missing a few cores compared to others in the Ryzen 7000 series. It can offload data fast enough to avoid bottlenecking the GPU even in high framerate games like Rainbow Six Siege where it can muster more than 500fps when paired with the right GPU.
Its advantage over previous generation processors start to become irrelevant as games start becoming GPU bound at higher resolutions like 4K. It seems that its sweet spot for price-to-performance lies at 1080p and at 1440p in most scenarios.
AMD Ryzen 5 7600X Review – Temperature and Power Consumption
Fewer cores means less power consumption for the 7600X but it does not mean that is requires lower wattage PSUs. Its TDP has been increased from the 5600X's 65W to 105W – which is equal to that of the base TDP of the 5800X and 5900X. Based on our testing, the CPU will largely stick to that target on average but can increase consumption to a peak of around 160W in bursts.
The Ryzen 7000 series were meant to run hot and that remains the same with the entry-level offering. Even with a 360mm AIO, the CPU is still reaching the 90°c mark at stock and at PBO since they try to reach the 5.7GHz limit on select cores. Surprisingly, running all cores at 5.3GHz runs a few degrees cooler since they max out at a lower clock speed.
AMD Ryzen 5 7600X Review – Conclusion
The AMD Ryzen 5 7600X could be one of the most budget-friendly option to enter the new AM5 era. It's performance is nearly the best in its category – giving top-notch single core and decent multi-core performance. Its support for DDR5 RAM makes some workloads run faster compared to DDR4 and its platform's access to PCIe 5.0 enables support for faster storage and GPUs.
In search of performance, the company did need to increase power consumption and thermal limits for the Ryzen 7000 CPUs, and this might be the trend moving on.
There's also the concern for higher budget requirements at this time. While the 7600X remains the most budget-friendly, the whole platform itself can get expensive. B650 boards are getting more expensive and prices of DDR5 memory aren't going down soon. There is also the considerable cooling requirement of the platform, which needs a more powerful cooler to stay away from its higher thermal limit.
Overall, the AMD Ryzen 5 7600X is a powerful CPU for both gaming and creative workloads. It might be the most affordable of the lot yet but its performance is far from being cheap. If you're looking to upgrade to a new generation of computing without breaking the bank, then this could the best option thus far.
AMD Ryzen 5 7600X Price and Availability
The AMD Ryzen 5 7600X is priced at PhP 19,500 in the Philippines. It is now available in all AMD authorized retail stores nationwide alongside other Ryzen 7000 series processors.