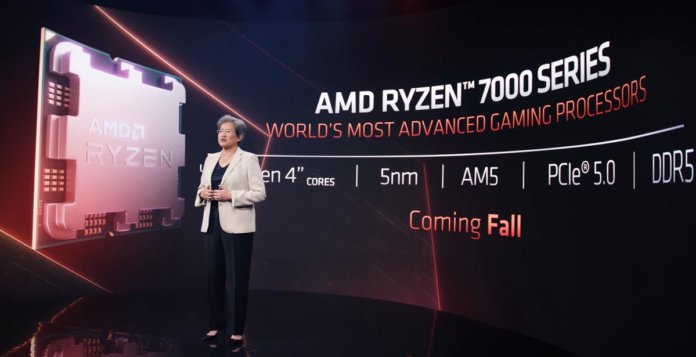 AMD has officially revealed more details about their upcoming Ryzen 7000 CPUs and 600 series motherboards. They claim that their new platform will have around 15% more single-threaded performance over Zen 3-based CPUs. IPC uplift, however, has not been revealed yet.
AMD Ryzen 7000 CPUs
A 16-core Ryzen 7000 chip was benchmarked at the Computex 2022 keynote against the 16-core 24-thread Intel Core i9-12900K in Blender. AMD's next generation offering was able to render the scene in 204 seconds compared to Intel's flagship of 297 seconds.
Advertisement
Zen 4 processors codenamed "Raphael" will be based on a 5nm lithography, will only support DDR5 memory, RDNA 2 graphics, and promises twice the L2 cache from previous entries. These chips will support up to 24 lanes of PCIe 5.0 and will come with RDNA 2 iGPUs.
The platform will also ensure higher clock speeds with the 16-core model peaking at around 5.5GHz though it seems that the chips have increased its peak power consumption to around 170W.
AMD X670E, X670, and B650 Motherboards
AMD is finally moving on from the AM4 socket after 5 years. Zen 4 will be housed on AM5 socket motherboards with the first chipsets being named X670E, X670, and B650. Their CPUs will also be adopting Land Grid Array (LGA) from their traditional Pin Grid Array (PGA) form factors though it seems that AM4 coolers will still be supported despite the larger LGA 1718 interface.
X670 Extreme (X670E) will be the flagship chipset supporting two PCIe 5.0 x16 slots for graphics and a single PCIe 5.0 NVMe SSD slot. X670 becomes the mid-tier choice for enthusiasts with various x16 slot configurations (either PCIe 5.0 or PCIe 4.0) while still having a dedicated M.2 PCIe 5.0 slot. B560 remains the budget option with a PCIe 4.0 x16 slot and a PCIe 5.0 M.2 slot.
As mentioned, the platform will only support DDR5 memory so it is safe to assume that the 600-series motherboards will only come with DDR5 RAM slots. Various flagships from AMD's AIBs like ASRock, ASUS, Biostr, Gigabyte, and MSI were teased at the keynote but more motherboards will be unveiled once the platform launches.
Ryzen 7000 CPUs and 600 Series Motherboards to launch in 2022
AMD's 5nm Zen 4 CPUs and 600 series motherboards are expected to make their official debut sometime within the 4th quarter of 2022. More details should arise once we near the launch date.