The large selection of smart chargers nowadays may drive people confused. With so much jargon and features, it's not an easy task to choose the best one. But when we heard that AOHI is making one of the smallest yet powerful chargers, we knew we wanted to take a closer look.
While AOHI offers a lot of charger in their lineup, we wanted to dig deeper on the MagCube 40W Foldable Charger. On paper, it offers 40W max fast charging, dual USB-C ports with intelligent power allocation, and PI technology.
AOHI MagCube Review – Specifications
| | |
| --- | --- |
| Wattage | 40W Max Fast Charging |
| Ports | Dual USB-C Ports with Intelligent Power Allocation |
| Size | 1.9 * 0.7 * 0.8 inches |
AOHI MagCube Review – Features
Right out of the box, you'll be surprised at how the MagCube looks. With a size of 1.9 * 0.7 * 0.8 inches and foldable prongs, you can slip this charger anywhere in your bag. It's perfect for traveling and office use, taking little to none space in your power socket.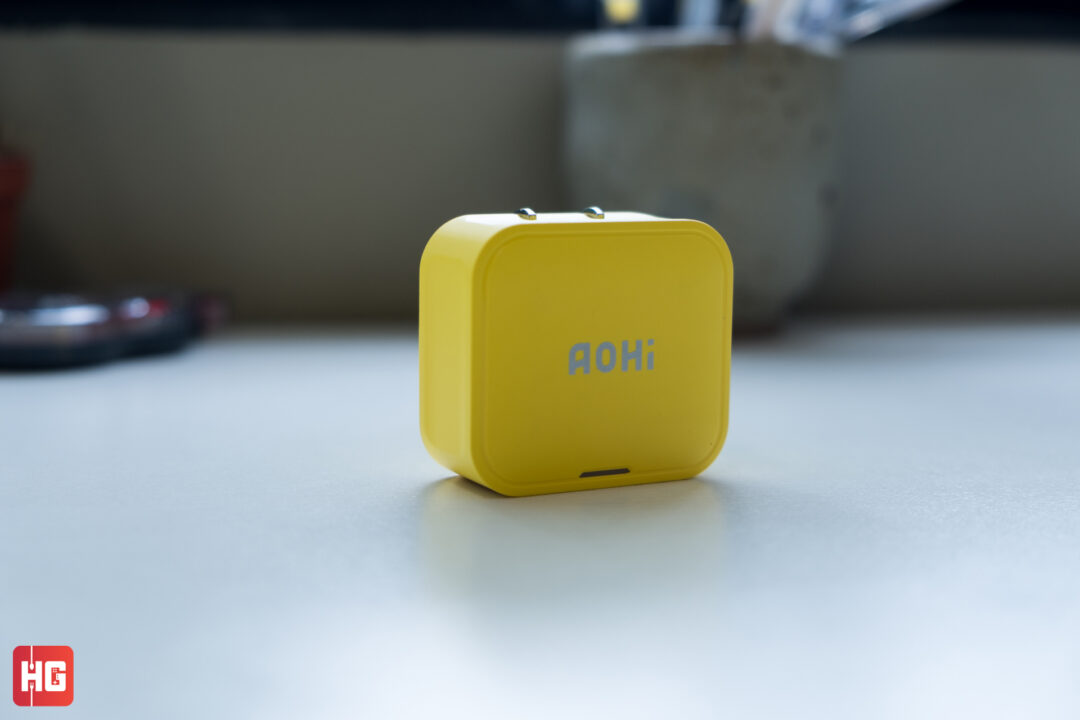 One of the main highlights of the charger is its Intelligent Power Allocation. With this technology, AOHI states that the dual-port power adapter automatically detects and optimizes the power supply to ensure that the connected devices always get the best charge.
Powered by PI technology, it is equipped with a 3-stage charging function. The MagCube can adjust the output power according to the needs of the device plugged in, and the color of the indicator light allows you to check if the device you're charging is full or not.
AOHI MagCube Review – Design
Rather than the usual black or white build typically found in normal chargers, the AOHI MagCube has a yellow variant that's pleasing to the eye. The foldable prong is also a nice touch that you can easily fit this in any pocket of your bag.
The LED light is easily distinguishable from afar and it has three different colors (red, yellow and green) so you would have a good estimate on the percentage of your device without even looking at the screen.
AOHI MagCube Review – Power
The MagCube supports up to 40W fast charging during single port use, allowing fast charging for MacBook Air from 0% to 100% in about 2 hours, providing fast and efficient charging for laptops, tablets and phones.
During our test, the MagCube charged an iPhone 13 mini to over 50% in just 20 minutes. Larger devices like my M1 Macbook Air took a bit longer but it eventually made it to full. You can both charge 2 devices at a time but the wattage will balance out between the two. It's worth noting that if you want to fast charge, it might be best to plug in one at a time — since the charge does slow down when the device reaches closer to 100%.
The secret behind the MagCube's tiny fast charging brick is its PI technology. They are improving the overall electrical components compared to the usual silicon electrical components, making the charger run cooler and more efficiently.
AOHI MagCube Review – Conclusion
The MagCube 40W charger from AOHI has become my go-to portable power brick for all my devices. Having a setup of just a M1 Macbook Air and an iPhone, I have found that the 40W fits my charging needs perfectly. With the price tag of USD 29.99 on their website, it's one of the cheaper alternatives in the market for premium power bricks.