ASUS has officially launched their range of X670 and X670E motherboards in the Philippines. They are built on the AM5 platform for the new Ryzen 7000 series CPUs. The new boards will support DDR5 memory and PCIe 5.0 connectivity among a slew of improvements.
The X670E or X670 "Extreme" motherboard are the flagship of the bunch supporting two PCIe 5.0 x16 slots and a single PCIe 5.0 NVMe SSD slot. X670 becomes the mid-tier choice for enthusiasts with various x16 slot configurations while still carrying over the PCIe 5.0 NVMe slot.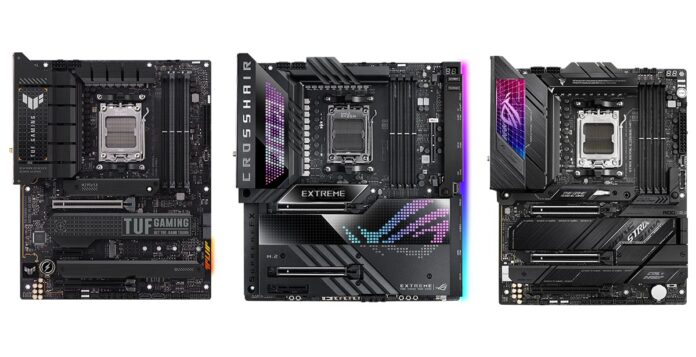 ASUS boards will come with Q-Design innovations like latch-free x16 slots for easier GPU swapping, more cooling solutions, and sturdier backplates. Q-Latch allows seamless changing of NVMe drives without using screws that can get lost.
AI Cooling II is also thrown in the features list, which uses machine-learning to gather system data from a brief stress test. This allows ASUS motherboards to calculate the lowest fan speed possible to cool the system while still keeping fan noise as low as possible.
Price and Availability
ASUS is introducing a total of 13 motherboards in the Philippine market for different price points. Pricing is as follows:
ROG Crosshair X670E Extreme – PhP 59,020
ROG Crosshair X670E Hero – PhP 41,420
ROG Crosshair X670E Gene – PhP 36,750
ROG Strix X670E-E Gaming WiFi – PhP 32,620
ROG Strix X670E-I Gaming WiFi – PhP 27,440
ROG Strix X670E-F Gaming WiFi – PhP 27,440
ROG Strix X670-A Gaming WiFi – PhP 25,880
ProArt X670-E Creator WiFi – PhP 30,690
TUF Gaming X670E-Plus WiFi – PhP 21,730
TUF Gaming X670E-Plus – PhP 20,710
Prime X670E-Pro WiFi-CSM – PhP 22,260
Prime X670-P WiFi-CSM – PhP 18,630
Prime X670-P-CSM – PhP 17,600
These boards and other ASUS ROG devices are now available in the Philippines through ASUS and ROG concept stores, Lazada, Shopee, and authorized retailers nationwide.