In this review we will be taking a look at the ASUS ROG Maximus XIII Extreme, which is one of the most expensive flagship boards from ASUS aside from its Glacial variant. With an expansive feature set paired with a premium asking price, is the ROG Maximus XIII Extreme overkill or just outrageous for the wallet?
ASUS ROG Maximus XIII Extreme
| | |
| --- | --- |
| CPU Support | Intel 10th Gen Comet Lake-S, Intel 11th Gen Rocket Lake-S |
| Chipset | Z590 |
| VRM | 18+2 Teamed Power Stages |
| Memory | 4 DIMM Slots, Up to 5333MHz, Up to 128GB DDR4, Dual-Channel, Intel XMP, OptiMem III |
| PCIe Slots | 2x PCIe 4.0 x16 (CPU), 1x PCIe 3.0 x4 (Chipset) |
| Multi-GPU Support | NVIDIA 2-Way SLI |
| Storage | 1x ROG DIMM.2 Slot PCIe 3.0 x4, 2x M.2 PCIe 4.0 x4, 1x M.2 PCIe 3.0 x4, 6x SATA III |
| Audio | Realtek ALC4082 Codec, ESS SABRE9018Q2C Combo DAC/HPA |
| Networking | Marvell 10Gb Ethernet, Intel I225-V 2.5Gbps LAN, Tri-Band WiFI 802.11az, 2×2 MU-MIMO, Bluetooth 5.2 |
| Power Connectors | 1x 24-pin ATX, 2x 8-pin ATX 12v, 1x 6-pin PCIe |
| Internal Headers | 1x USB 3.2 Gen2 2×2, 1x USB 3.2 Gen2, 2x USB 3.2 Gen1 (4x USB 3.2 Gen1), 2x USB 2.0 (4x USB 2.0), 1x Front Panel, 1x System Panel, 1x RSVD, 1x Speaker, 1x Thermal Sensor |
| Cooling Headers | 1x 4-pin CPU Fan, 1x 4-pin CPU OPT, 2x 4-pin Chassis, 2x 4-pin Radiator, 2x W_PUMP, 1x WB_SENSOR, 2x-pin Water In/Out, 1x 3-pin Water Flow |
| RGB Headers | 3x AURA Adressable Gen2, 1x AURA RGB |
| Rear I/O | 8x USB 3.2 Gen2 Type-A, 2x Thunderbolt 4 Type-C, 10Gb LAN, 2.5Gb LAN, 2x WiFi/Bluetooth Antennae Connectors, 1x HDMI, 1x S/PDIF, 1x BIOS FlashBack, 1x Clear CMOS, 5x Illuminated 3.5mm Audio Jacks |
| Form Factor | E-ATX, 305 x 277mm |
| Others | Q-LED Reader, 1.77-inch Livedash OLED, Dual-BIOS, On-Board Power/Reset |
Intel 11th Generation Rocket Lake-S Desktop Processors
Intel's Rocket Lake-S CPUs are a mix of old and new. While it still at a 14nm node, it retrofits the Sunny Cove architecture found on 10nm Ice Lake processors from mobile devices now renamed into Cypress cove. Intel says that its new cores can deliver up to 19% additional IPC compared to last year's Rocket Lake-S, but loses 2 cores on the highest i9 offering yet remains on par with the core count and thread number on other SKUs.
Aside from the increased instructions per clock, Intel is raising the official memory support to DDR4-3200 with a few caveats. Only the i9-11900K assures 3200MHz compatibility under Gear 1 while other processors officially support 2933MHz under the same gear. Gears basically mean that the memory controller will run 1:1 under Gear 1 and 1:2 in Gear 2. The brand says that Gear 2 might bring a bit of performance loss and gain some latency.
Rocket Lake-S will also now support PCIe 4.0 lanes through the CPU themselves. Up to 20 PCIe 4.0 lanes are reserved for use though the 500 series chipset themselves will only support PCIe 3.0 lanes. More on the chipset later.
These CPUs will also integrate Intel Xe graphics initially found on the Tiger Lake processors on notebooks. AVX-512 workloads are also now supported as well as Intel Deep Learning Boost, which pads VNNI for increased AI performance.
New Boost Speeds
Increased frequency speeds are also the name of the game with these CPUs. Intel is adding two new boost specifications on Rocket Lake-S on top of their already existing boost speeds:
Base Frequency – Minimum frequency that the CPU will run if not at thermal limits.
Turbo Boost 2.0 – Highest frequency that the CPU will run at below power limits.
Turbo Boost Max 3.0 – The CPU recognizes the four most performing cores and ups their clock speeds of up to 5.2GHz (at single or dual core performance) or up to 5.1GHz on all four cores.
Velocity Boost – Adds an extra 100MHz on both single and all-core turbo if the CPU runs under 70°c. Frequencies will revert to lower speeds if the CPU gets warmer than the set limit.
Adaptive Boost – Only available in i9 K or KF models, Adaptive Boost sets the two-core boost of the CPU to 5.3GHz under Velocity Boost or 5.2GHz without. If enough power and cooling capabilities are present, Adaptive Boost can set the all-core boost of the CPU to 5.1GHz
LGA 1200 and the 500 Series Platform
As is tradition from Intel, new motherboard chipsets are introduced every generation. This time around, the 500 series boards – Z590, H570, and B560 – will still be using LGA 1200. All three are compatible with Rocket Lake-S and last year's Comet Lake-S CPUs. As mentioned, the chipset will only be providing up to 24 PCIe 3.0 lane instead of PCIe 4.0 which is currently exclusive to the Rocket Lake-S CPUs.
As usual, overclocking will be exclusive to the Z590 chipset when paired with a K or KF CPU. Intel, however, will be reintroducing memory overclocking to H570 and B560 to allow users of these board to eke out additional performance from memory.
The more expensive Z590 platform will be receiving more DMI Lane, native USB 3.2 Gen 2×2 support, USB 3.2 Gen2/Gen1 lanes, and 24 PCIe 3.0 lanes. Faster networking options are also available for partner AIBs to use like 2.5Gb Ethernet and WiFi 802.11ax (WiFi 6).
Unboxing
The ASUS ROG Maximus XIII Extreme is encased in a massive black and red box emblazoned with the ROG theme. Inside are stacks of freebies, premium extras, and components to expand the functionality of the motherboard. Below is a tabulated list of accessories that come with the board to make it easier.
Cables
1x 1-to-3 ARGB Splitter Cable
1x RGB Extension Cable
1x 3-in-1 Thermistor Cables Pack
2x 1-to-4 Splitter Cable
3x ROG Weave SATA III Cables
ROG Fan Controller
1x ROG Fan Controller
1x Fan EXT PWR Cable
1x ARGB Input Cable
1x USB Input Cable
1x ROG Fan Controller 3M Mounting Tape
1x Fan Controller Manual
ROG DIMM.2 with Heatsink
1x ROG DIMM.2 with Heatsink
1x M.2 Pad for ROG DIMM.2
2x M.2 Screw Package for ROG DIMM.2
Miscellaneous
1x ASUS WiFi Moving Antenna
1x Q-Connector
1x ROG CLAVIS DAC
1x ROG Keychain
1x ROG Logo Plate Stickers
1x ROG Screw Driver
1x ROG Stickers
1x ROG Thank You Card
1x ROG Graphics Card Holder
1x USB Drive with Installation Media
1x User Manual
Up Close with the ASUS ROG Maximus XIII Extreme
Everyone can notice the flagship stature of the ASUS ROG Maximus XIII Extreme by its design. It is a massive E-ATX motherboard clad in brushed aluminum armor. Its plating extends all the way to the back where it adds tons of rigidity and heft to the motherboard.
The RGB lighting on the Maximus XIII is extravagant but does not overpower the its heavy-duty look. The Z590 chipset, rear armor, and aluminum I/O cover come with RGB lighting and is compatible with the brand's ASUS AURA sync technology.
To separate itself from the crowd of other expensive motherboards, the board does come with a 1.77-inch OLED display in the middle. This displays boot information, CPU temperature, and host of other information relevant to the rig. You can even customize the display with your own image or GIF. Take extra care about touching the display, however, as it quickly attracts dust, fingerprints, and even scratches.
Controlling the power delivery of the board to the CPU and other systems are 18+2 teamed power stages. Given the massive power requirement of the Rocket Lake-S flagship – the Intel Core i9-11900K – more phases mean clean power to the CPU and less load on any individual VRM for longevity. If that's not enough, ASUS has put a massive heatsink bank on the VRMs to lower temperatures and increase their lifetime even longer.
At the right-hand side of the LGA 1200 socket are four DIMM slots that support up to 128GB DDR4 RAM that runs up to 5333MHz. Just at the side of the is the board's DIMM.2 slot. For the uninitiated, the DIMM.2 slot looks like a RAM slot but is actually for M.2 drives, which can be mounted via the DIMM.2 adapter included.
The board only comes with two PCIe 4.0 x16 slots, which makes sense since the CPU only has 20 PCIe 4.0 lanes. Sandwiched in-between the x16 slots – and hidden by the OLED panel and armor – are three NVMe M.2 slots for more storage.
The OLED panel and armor do have thermal pads and act as a heatsink for high-performance M.2 drives. The only problem is that M.2 drives that come with built-in heatsinks will not fit when the armor and panel are closed.
Those who like using drives and 2.5-inch SSDs will be happy to know that there are six SATA III ports at the right-hand edge of the board. Their position allows for easier cable management. Some SATA ports, however, do share their bandwidth with the DIMM.2 slot.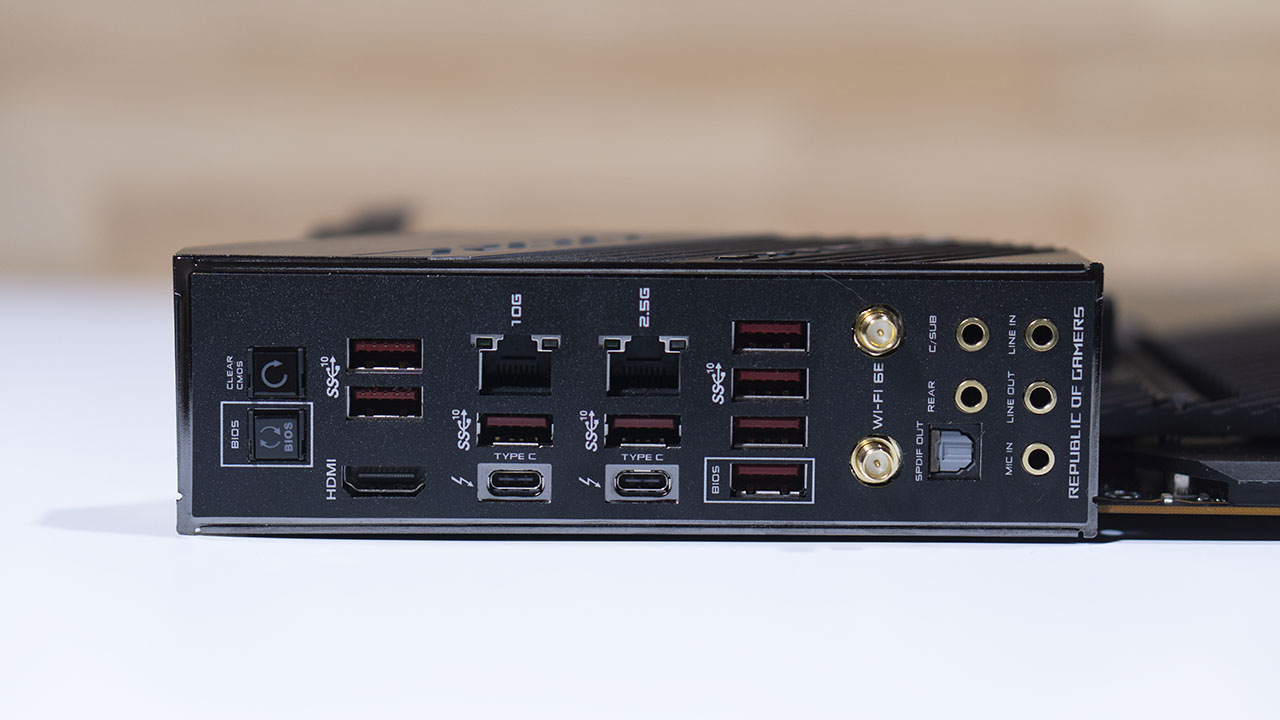 Its rear I/O packs a great deal of options for users. It comes with a total of eight USB 3.2 Gen2 Type-A ports, two Thunderbolt 4 Type-C ports, 10Gb and 2.5Gb LAN, an HDMI, an S/PDIF out, BIOS FlashBack and Clear CCMOS buttons, antenna for WiFi 6e, and five illuminated 3.5mm audio jacks.
Internal Headers and Buttons
At the top of the board are two oddly spaced 8-pin EPS CPU connectors, which may interfere a bit with cable management. In between them is a 4-pin Chassis Fan and a Water Block Sensor for liquid cooling kits. Just beyond the right-most EPS connector are two 4-pin CPU Fan headers.
The top right-most side houses its Q-LED Reader for debugging and its Power and Flex Key buttons. The Flex Key, by default, is mapped to reset but can be changed to any BIOS-related button you want like via the BIOS. You also get here status lights for the Water Pump and Radiator Fan and two 5V 3-pin RGB headers.
The 24-pin ATX power connector is hidden via a plastic shroud at the right-hand side. It already faces horizontally to allow for easier cable management. It is accompanied by a 6-pin PCIe connector for additional power and another 4-pin Chassis Fan header. Just below the shroud are headers for the USB 3.2 Gen2 2×2 and USB 3.2 Gen2 as well as two USB 3.2 Gen1 headers.
The bottom houses all of the front-panel connectors for the case. It also holds here the LN2 mode jumper, two USB 2.0 headers, RSVD switches for overclocking using LN2, buttons for Safe Boot, Retry, and BIOS Switch, two more 4-pin Fan/Pump headers, and a 3-pin header for Water Blocks.
BIOS and Firmware
Every enthusiast and hardcore overclocker will feel at home with the UEFI of the ASUS ROG Maximus XIII Extreme. It covers all of the basics and adds more options like optimized XMP profiles, automatic thermal throttling and thresholds, and easy fan tuning via Q-Fan Control. Those who are inexperienced in tweaking can also leave the board to overclock itself through AI overclocking and a few restarts.
Those who are suspecting faulty memory kits can now easily test DIMMs since the ASUS integrated MemTest86 onto the UEFI. No more downloading and copying MemTest86 onto a drive to check for errors on RAM.
ASUS is giving three options for multi-core overclocking aside from setting the ratio: BIOS optimized, Enabled (ignores the default limits), and Disabled (follows the thermal and TDP limits). AVX-512 offset and settings are easily managed through the BIOS.
Those who want to set a hard limit for thermal and TDP boost barriers may do so from the Internal CPU Power Management tab. Of course, any soft limits can be easily bypassed by turning off SVID or setting up your own values.
System and Overclocking
The ASUS ROG Maximus XIII Extreme deserves nothing less than the flagship of the Rocket Lake-S lineup, the Intel Core i9-11900K. As Intel already unveiled, the i9-11900K only has an official TDP of 125W but can boost to more than 250W if the circumstances like thermal headroom allow. Below are all the components used for our testing and benchmarking:
CPU: Intel Core i9-11900K
Motherboard: ASUS ROG Maximus XIII Extreme (BIOS 0704)
PSU: EVGA 650 GQ Gold 650W
Cooler: MSI MAG CoreLiquid 360R
OS: Windows 10 Build 20H2
Driver Version: GeForce Game Ready Driver WHQL 465.89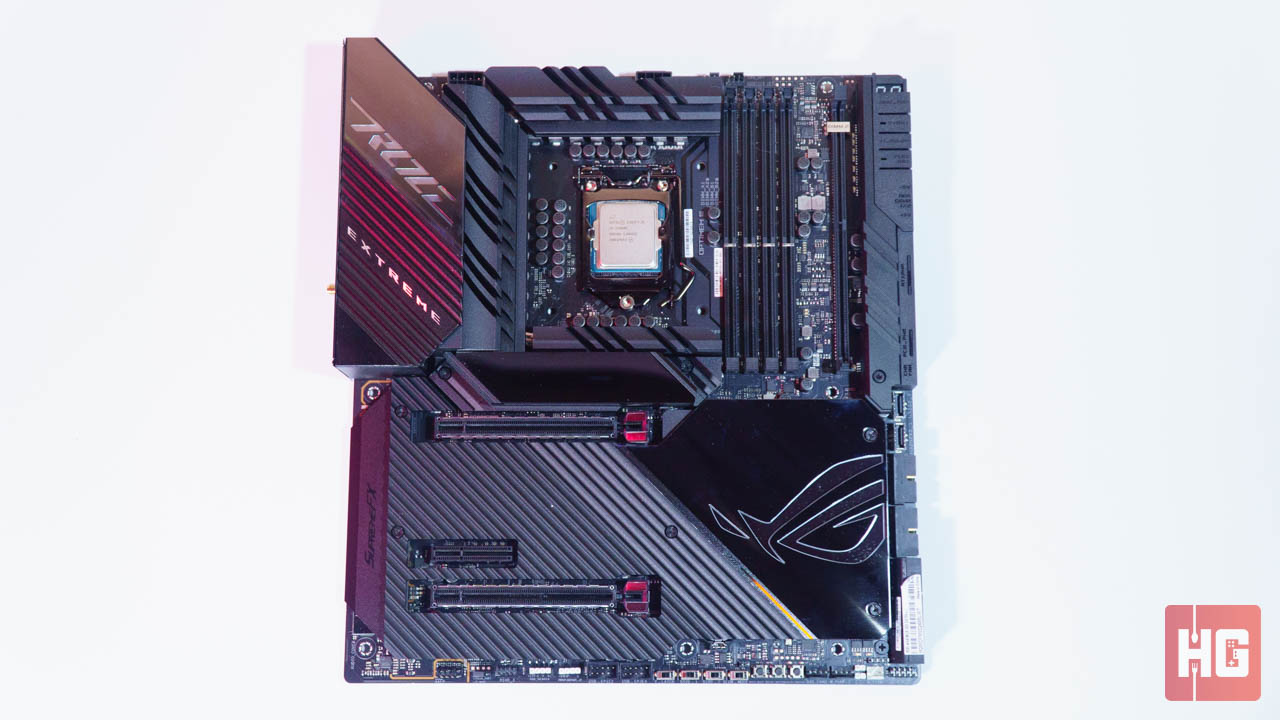 We tested the board using two modes: default settings and Adaptive mode. Based on our testing, however, the ROG Maximus XIII Extreme is rather lenient when setting up its own thermal limits. The CPU will regularly throttle regulate its temperature at around 75°c, thus lowering frequency. It seems that the BIOS, at least in our opinion, is still sticking to the default specifications of the CPU prior to the introduction of Adaptive Boost.
We had to set our own thermal limits as well as maximum TDP that the CPU will run under Adaptive Boost. Settings were changed to auto to 90°c while TDP Duration were left on Auto. This allowed the processor to kick into high gear without clock speeds suddenly dropping when heat gets too much.
Software used for benchmarking the ASUS ROG Maximus XIII Extreme include synthetic tests, rendering tests, and gaming benchmarks at 1080p, 1440p, and 2160p. A quick run of AIDA64 memory test show that our 3200MHz RAM and CPU caches are running in tip-top shape.
CPU Benchmarks
CPU-Z Benchmark 17.01.64
7-Zip 16.04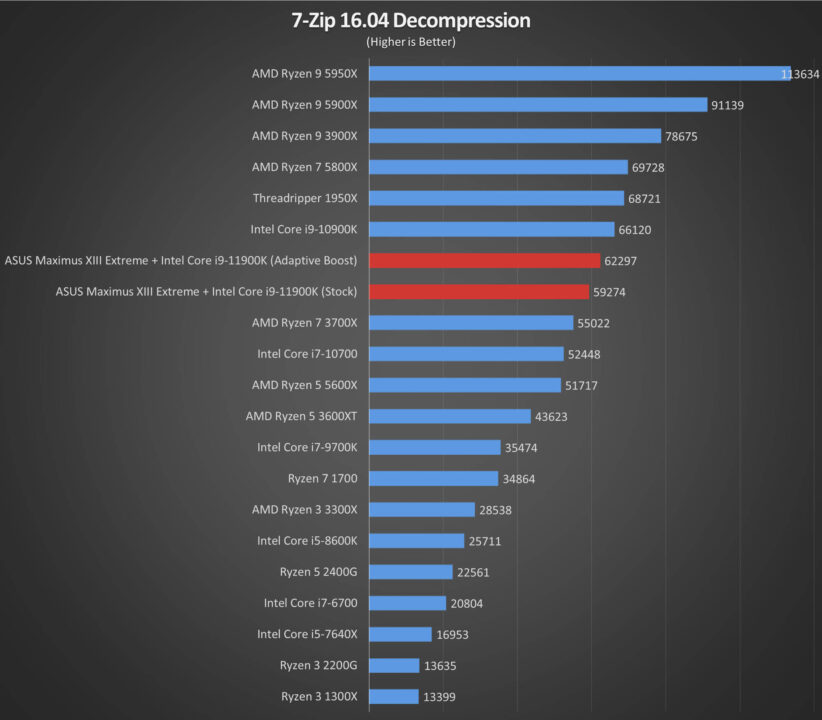 wPrime v2.10
Cinebench R15
Cinebench R20
Blender 2.82a
Adobe Premiere Pro 2020
Tests that focus on rendering, compression and decompression, and number crunching reveals that the Intel Core i9-11900K trails behind the competition. It does, however, still reign as king in single-threaded applications. And thanks to the Maximus XIII Extreme, there is a bit of improved performance in the way of Adaptive Boost despite its huge power requirement.
Gaming Benchmarks
Synthetic Benchmarks
1920 x 1080 (FHD)
2560 x 1440 (QHD)
3840 x 2160 (UHD)
VRM Temperatures
Temperatures on the VRMs of the ASUS ROG Maximus XIII Extreme are made a non-issue thanks to its colossal array of heatsinks. Under stock operation, VRMs only reached a peak of 50°c. Turning on Adaptive Boost and setting higher tolerances allowed the TDP to reach around 270W at peak times, but VRM temps still remained cool at 54°c.
Conclusion
At around USD 1,000 worldwide or PhP 44,499 in the Philippines, the ASUS ROG Maximus XIII Extreme packs in almost every feature that you want in a motherboard: customization, tough components, a solid build, abundant connectivity options, overclocking choices, and plenty more.
Its high asking price, however, means that the board is definitely not for everyone. Gamers who just want something to just work while playing may want to find something a lot more affordable than this beast of burden.
But whom does this motherboard target? Well, it has been made for genuine enthusiasts who want to tweak every bit of their system to get the most speed possible efficiently. It will also cater to overclockers who want to push the envelope of the Rocket Lake-S platform.
With a wealth of features available at its beck and call, the ASUS ROG Maximus XIII Extreme is definitely one of the top dogs in the Z590 range. This is why we are giving it our seal of approval. Any self-respecting enthusiast or overclocking looking to build an overkill Rocket Lake-S rig should consider it in any parts list.