The Intel B660 series motherboards are meant to be an economical alternative to the flagship Z690 motherboards. They do have some cut-down features but that doesn't mean they have to sacrifice everything in the name of price. Meet the ASUS TUF Gaming B660M-Plus WiFi D4. It ships with all the amenities of a modern platform including PCIe 5.0 support, WiFi 6, beefy VRM cooling, while still keeping costs down by support the less-expensive DDR4 memory for the Intel 12th Generation processors.
ASUS TUF Gaming B660M-Plus WiFi D4 Review – Specifications
| | |
| --- | --- |
| CPU Support | Intel 12th Gen Alder Lake, LGA 1700 |
| Chipset | Intel B660 |
| VRM | 10+1 DrMOS Power Stages |
| Memory | DDR4, 4x DIMM Slots. Up to 533MHz, up to 128GB, Dual-Channel, Intel XMP, OptiMem II |
| PCIe Slots | 1x PCIe 5.0 x16 (CPU), 1x PCIe 3.0 x16 (x4, Chipset), 1x PCIe 4.0 x1 |
| Storage | 1x M.2 PCIe 4.0 x4 (CPU), 1x M.2 PCIe 4.0 x4 (Chipset), 4x SATA, Intel Optane Support |
| Audio | RealTek ALC897, RealTek 7.1 Audio Codec, Audio Shielding |
| Networking | RealTek RTL8125 2.5Gbps LAN, WiFi 6, Bluetooth 5.2 |
| Power Connectors | 1x 24-pin ATX, 1x 8-pin ATX 12v, 1x 4-pin  ATX 12v |
| Internal Headers | 1x USB 3.2 Gen1 (USB-C),  1x USB 3.2 Gen1 (2x USB 3.2 Gen1 Ports), 2x USB 2.0 (4x USB 2.0 Ports), 1x Thunderbolt |
| Cooling Headers | 1x 4-pin CPU Fan, 1x 4-pin CPU OPT, 1x 4-pin AIO Pump, 3x 4-pin Chassis Fan |
| Other Headers | 3x Addressable Gen2 RGB, 1x AURA RGB, 1x Front Panel Audio, 1x Clear CMOS, 1x COM Port, 1x 20-3 pin System Panel |
| Rear I/O | 1x USB 3.2 Gen2x2 Type-C, 4x USB 3.2 Gen2 Type-A, 1x USB 3.2 Gen1 Type-A, 2x USB 2.0 Type-A, 1x DisplayPort, 1x HDMI, 1x WiFi, 1x 2.5Gb RJ-45 Ethernet, 5x 3.5mm Audio Jacks, 1x S/PDIF |
| Form Factor | microATX |
| Others | Q-LED Reader, Q-DIMM, Q-Slot, M.2 Q-Slot, Pre-Mounted I/O Shield, M.2 Heatsink |
Intel 12th Generation Alder Lake-S Desktop Processors
Advertisement
Intel has been busy building a new series of processors to retake the CPU market after being stuck on the 14nm process for several generations. Their 12th Generation Alder Lake-S processors is the first real effort to arrive in the market to break the cycle and comes with several improvements such as support for PCIe 5.0 and DDR5 memory as well as a new hybrid architecture.
Intel is still sticking to their naming convention of i9, i7, and i5 this generation. Their current crop of Alder Lake-S processors are the Core i9-12900K (16 cores), Core i7-12700K (12 cores), and the Core i5-12600K (10 cores) as well as their KF variants, which does not have iGPUs.
Alder Lake-S desktop processors now come with a hybrid architecture, which splits core counts to Golden Cove high-performance cores and Gracemont high-efficiency cores. The former is based on the new 10nm Enhanced Super Fin process (also known as Intel 7) and can be scaled to other devices. Intel promises that it can deliver up to 19% increase in IPC.
The Gracemont microarchitecture, on the other hand, was made for efficiency for Intel's upcoming low-power CPUs and SoCs. It is also built on the Intel 7 process and promises the best performance-per-watt compared to Intel's current CPUs.
Intel's Alder Lake-S CPUs comes with PCIe 5.0 support, which can reach up to 64GB/s on 16 lanes compared to PCIe 4.0 of 32GB/s. This allows for higher performance ceilings on devices such as GPUs and NVMe SSDs.
Alder Lake-S processors are also one of the first consumer devices to support DDR5 memory. DDR5 memory can reach up to 8,400MT/s for better performance as well as lower latencies. Worry not, however, Intel 12th Generation desktop CPUs will still support DDR4 RAM.
LGA 1700 and 600 Series Platform
The new Intel Alder Lake-S processors will have with a larger LGA 1700 socket. This new socket is not compatible with previous cooler mounts but reputable manufacturers are now shipping upgrades for respective coolers.
This generation introduces the 600 series platform. The first motherboards to arrive use the Z690 chipset that supports both DDR4 and DDR5, 20 PCIe lanes (16 of which or PCIe 5.0), and a DMI 4.0 connection for the CPU and PCH.
Z690 motherboards can include 12 PCIe 4.0 or 16 PCIe 3.0 lanes, Thunderbolt 4.0, four USB 3.2 2×2 ports, as well as Intel WiFi 6E though it may be upgrade to WiFi 7 in the future.
ASUS TUF Gaming B660M-Plus WiFi D4 Review – Unboxing
The B660M-Plus WiFi D4 ships in a traditional TUF Gaming box with a gunmetal and dark yellow theme. Inside the box is the board plus some accessories including two SATA III cables, WiFi antenna, M.2 screws, TUF Gaming stickers, an installation DVD, and documentation.
ASUS TUF Gaming B660M-Plus WiFi D4 Review – Up Close
The ASUS TUF Gaming B660M-Plus WiFi D4 has a smaller MicroATX formfactor and has a black and yellow paintjob. It is rather obvious that it is being positioned as a budget motherboard with its lack of armor and small PCH heatsink but ASUS does an outstanding of passing it off as a lower midrange motherboard with its looks.
The motherboard comes with an 8-pin + 4-pin EPS connectors at the top and 10+1 DrMOS power stages. This should be sufficient in delivering power to Alder Lake-S processors even if they have higher power requirements compared than previous Intel processors.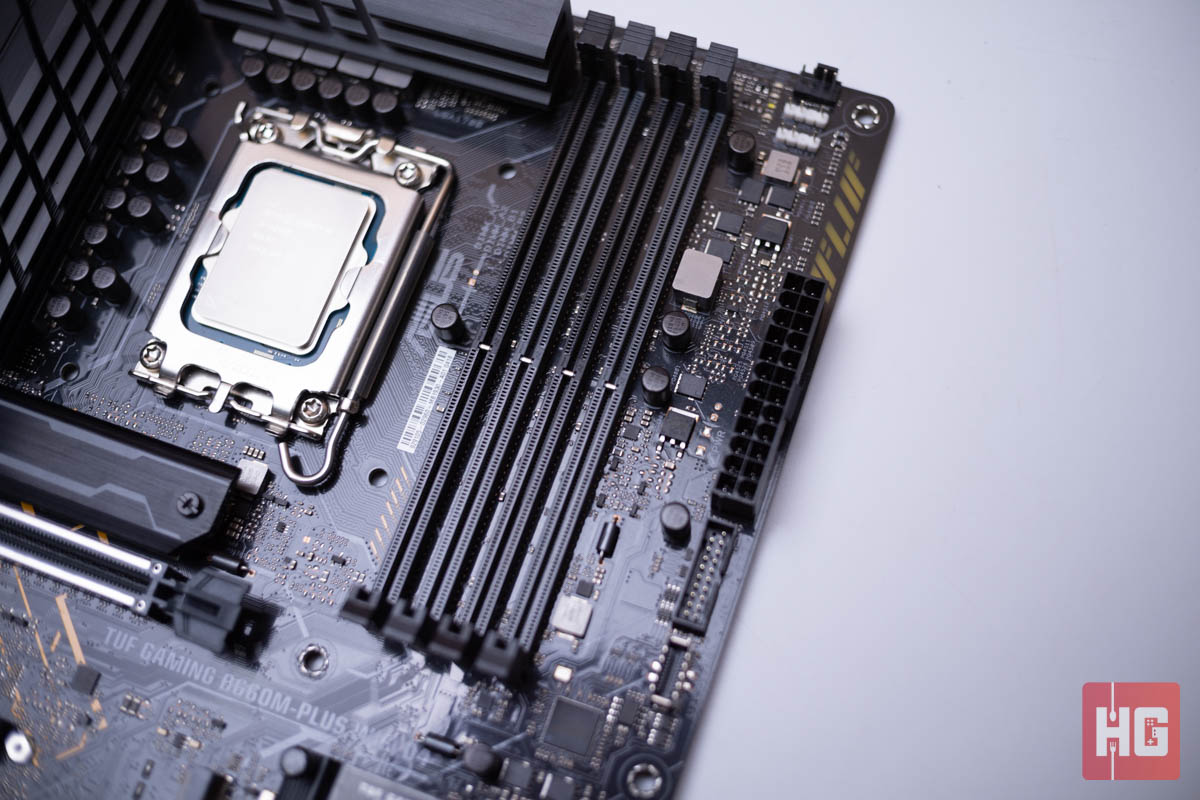 It supports up to four DDR4 DIMMs of up to 128GB with speeds of up to 5333MHz. RAM support should be plenty and fast enough for the average user at its budget-friendly price point. It is also helpful for enthusiasts that want to upgrade to the Intel 12th Generation platform without needing to buy DDR5 kits.
The board supports two PCIe x16 slots. The top slot is reinforced for heavy graphics cards and gets its PCIe 4.0 x16 lanes directly from the CPU. The second slot runs at only PCie 3.0 x4 thanks to the chipset. There is also an extra PCIe 4.0 x2 slot in between.
There are two M.2 slots on the board both of which support PCIe 4.0 x4 NVMe drives. The top-most slot has a heatsink for hotter drives without their own way of dissipating heat. Both support M.2 Q-Slot so you don't need to fiddle around with screws when mounting M.2 drives.
You also have access to four SATA III ports at the bottom-right. Two are facing to the side while the remaining are positioned at the bottom facing the front. Cable management is going to be tricky when you're populating the bottom SATA ports. ASUS should have bundled them altogether facing right for a cleaner look.
Its rear I/O has its shield already pre-installed. It comes with four USB 3.2 Gen2 Type-A ports (Teal), a single USB 3.2 Gen1 Type-A (Blue), a USB 3.2 Gen1 Type-C, two USB 2.0 ports, ports for its WiFi antenna, an HDMI and DisplayPort, a 2.5Gb RJ45 Ethernet powered by a RealTek RTL8125 chip, an S/PDIF out, and five 3.5mm audio jacks.
Internal Headers and Buttons
At the top are three 4-pin headers for CPU fan, CPU OPT Fan, and AIO pump as well as two Addressable Gen2 RGB headers color coded white for easier identification.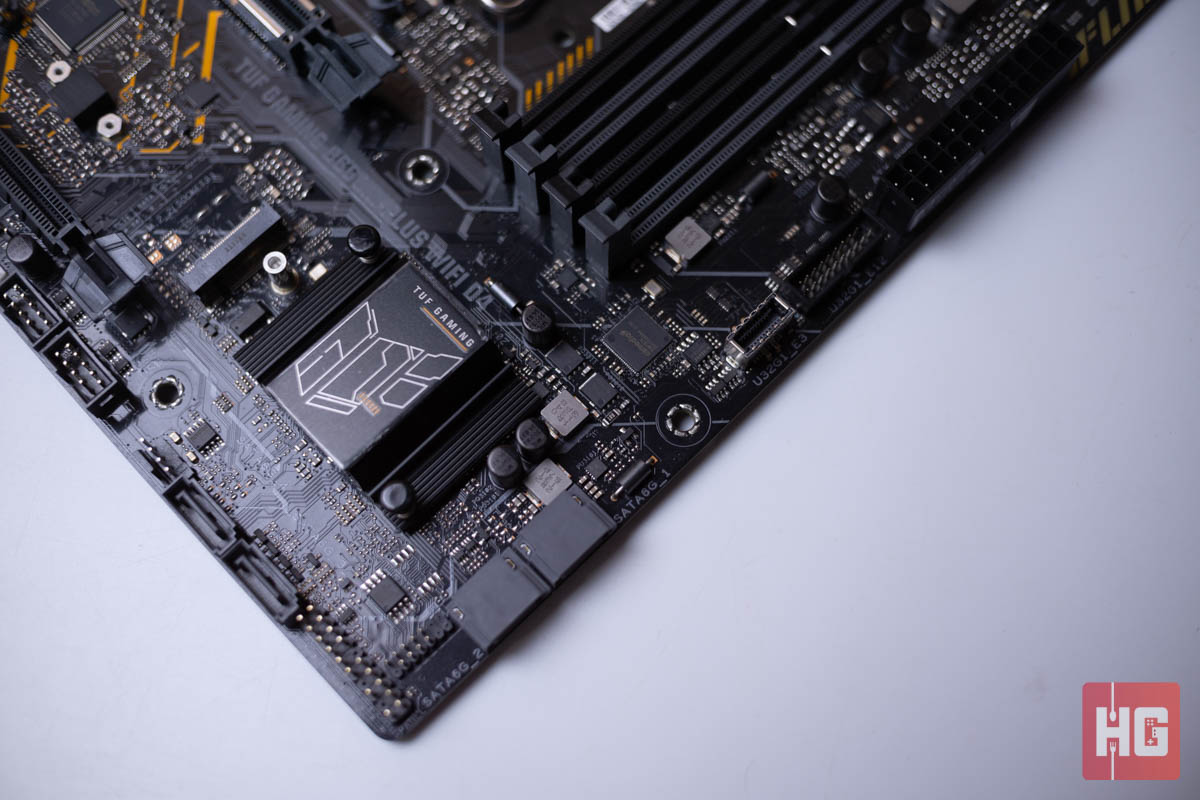 Just below the 24-pin power header are two USB 3.2 Gen1 headers – the black header supporting two Type-A ports while the silver header allowing for a single Type-C port.
More headers are found at the bottom. From left to right are its front panel header, COM port, Thunderbolt, two 4-pin chassis fans, AURA RGB, a third Addressable Gen2 RGB header, two USB 2.0 headers that supports four USB 2.0 ports, another 4-pin fan header, and at the right-most side are the front-panel connectors for lights, power, and reset.
System and Overclocking
The ASUS TUF Gaming B660M-Plus WiFi D4 will be put to the test using an Intel Core i5-12400, an ASUS TUF Gaming RTX 3080, and 16GB of DDR4 RAM. Trials will include synthetic, editing, and compression and decompression workloads as well as gaming.
Check out the list below for the list of components used in the testing:
CPU: Intel Core i5-12400
Motherboard: ASUS TUF Gaming B660M-Plus WiFi D4
Storage: Intel SSD 600p 512GB
PSU: EVGA 650 GQ Gold 650W
Cooler: MSI MAG CoreLiquid 360R
OS: Windows 11 Pro
CPU Benchmarks
CPU-Z Benchmark 17.01.64
7-Zip 16.04
wPrime v2.10
Cinebench R15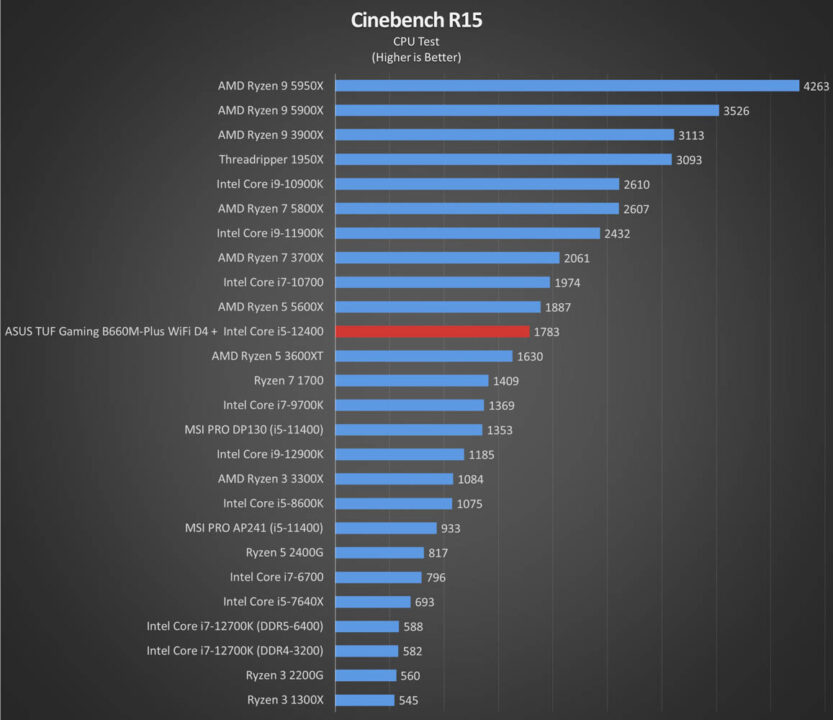 Cinebench R20
Cinebench R23
Blender 2.82a
Adobe Premiere Pro 2020
Gaming Benchmarks
Synthetic Benchmarks
1920 x 1080
2560 x 1440
3840 x 2160
ASUS TUF Gaming B660M-Plus WiFi D4 Review – Conclusion
The ASUS TUF Gaming B660M-Plus WiFi D4 does not skimp on essential features plus a few extras despite its budget-friendly price point. It comes complete with all the requirements for the Alder Lake-S platform including PCIe 5.0 support, beefy VRM cooling, WiFi 6, USB 3.2 Gen2 Type-C ports, and even comes with a Thunderbolt 4 expansion.
Being based on DDR4, however, will bring a performance deficit when compared to DDR5 kits. But this maybe an economical advantage for enthusiasts that still want to use their existing DDR4 kits instead of shelling out for a brand new DDR5 set.
There is a lot of competition at its price point but the ASUS TUF Gaming B660M-Plus WiFi D4 is a solid pick for a budget-friendly start for the Alder-Lake S platform. It has all of the amenities you need and want for an entry-level enthusiasts, which is why we are giving it our seal of approval.
ASUS TUF Gaming B660M-Plus WiFi D4 Price and Availability
The ASUS TUF Gaming B660M-Plus WiFi D4 is priced at PhP 10,770 in the Philippines. It is now available through the official ASUS Lazada and Shopee stores, ASUS concept stores, and authorized retailers nationwide.