The ASUS VivoBook series has always been the more economic option for customers when it comes to ultrabooks. Recently, however, they are starting to get more premium components like more powerful CPUs and OLED panels.
Meet the ASUS VivoBook S 14 OLED (2022). Designed for younger audiences that wants the best for the buck, the notebook is slightly more affordable compared to the brand's ZenBook range but still comes with Intel 12th Generation H series processor, a 14-inch 90Hz OLED screen, and even Thunderbolt 4 connectivity.
ASUS VivoBook S 14 OLED (2022) Specifications
| | |
| --- | --- |
| CPU | Intel Core i5-12500H, i7-12700H |
| GPU | Intel Iris Xe |
| OS | Windows 11 Home |
| RAM | Up to 16GB 3200MHz DDR4 |
| Display | 14.0-inch OLED, 2880 x 1800, 90Hz, 100% DCI-P3, 600 nits, DisplayHDR True Black 600, Pantone Validated |
| Storage | Up to 1TB PCIe 4.0 NVMe SSD |
| I/O Ports | 2x Thunderbolt 4, 1x USB 3.2 Gen1 Type-A, 1x USB 2.0, 1x HDMI 2.1, 1x 3.5mm Combo Jack |
| Connectivity | WiFi 6E, Bluetooth 5.0 |
| Battery | 70Whr, 90W USB-C Charger |
| Audio | Built-In Speaker, Built-In Array Microphone, Smart Amp, harman/kardon Speakers, Cortana and Alexa Support |
| Others | Backlit Chiclet Keyboard, 720p Webcam with Privacy Shutter |
| Dimensions | 316.4 x 224.5 x 18.9mm |
| Weight | 1.50kg |
| Colors | Neutral Gray, Indie Black, Mint Green |
ASUS VivoBook S 14 OLED (2022) Review – Unboxing
The ASUS VivoBook S 14 OLED (2022) ships in a classic brown cardboard box. Inside is the notebook itself, a 90W USB-C charger, documentation, and some stickers from ASUS for additional personalization of the device.
Design and Aesthetics
The notebook departs from a neutral laptop design for something more distinctive. The ASUS VivoBook branding is now placed on a raised platform on the lid with its hashtags and tagline. It's a bit too much for our liking but it seems that younger audiences like this kind of design language.
The chassis itself is still made out of hard plastic and isn't as robust when compared to aluminum builds like the ZenBook 14X. Despite the chassis being thicker when compared to other ultrabooks in the market at 18.9mm, the plastic build lets it be relatively light at around 1.50kg.
Display and Audio
The ASUS VivoBook S 14 OLED (2022) sports 14.0-inch OLED display, which is becoming regular to the brand's range of consumer laptops. The bezels are slightly thicker than other slim notebooks in the market but they are tolerable. There is a 720p webcam at the top with a physical shutter for privacy.
The screen has a 2880 x 1800 resolution, which makes everything crisp. It also has 90Hz refresh rate to make everything smoother but you can step down to 60Hz for better battery life.
ASUS is promising 100% DCI-P3 coverage on the OLED display. Based on our measurements, the panel covers 97.30% DCI-P3, which is close enough to the brand's claim. Brightness is decent at just below 370 cd/m2 at the center. Contrast is exceptional but that's to be expected from an OLED screen.
sRGB – 99.20%
AdobeRGB – 93.50%
DCI-P3 – 97.30%
Luminance (Minimum) – 4.03 cd/m2
Luminance (Maximum) – 368.39 cd/m2
Delta E (Average) – 0.09
Delta E (Maximum) – 1.14
Gamma – 2.17
Contrast Ratio – 1:1
The notebook has built-in speakers and array microphone for audio output and input, respectively. The former is tuned by harman/kardon for mainstream use. Audio quality is decent enough with mids and highs coming out clearly. The bass is a bit lacking and hollow for our taste and the sound stage can be pretty tight.
Keyboard and Touchpad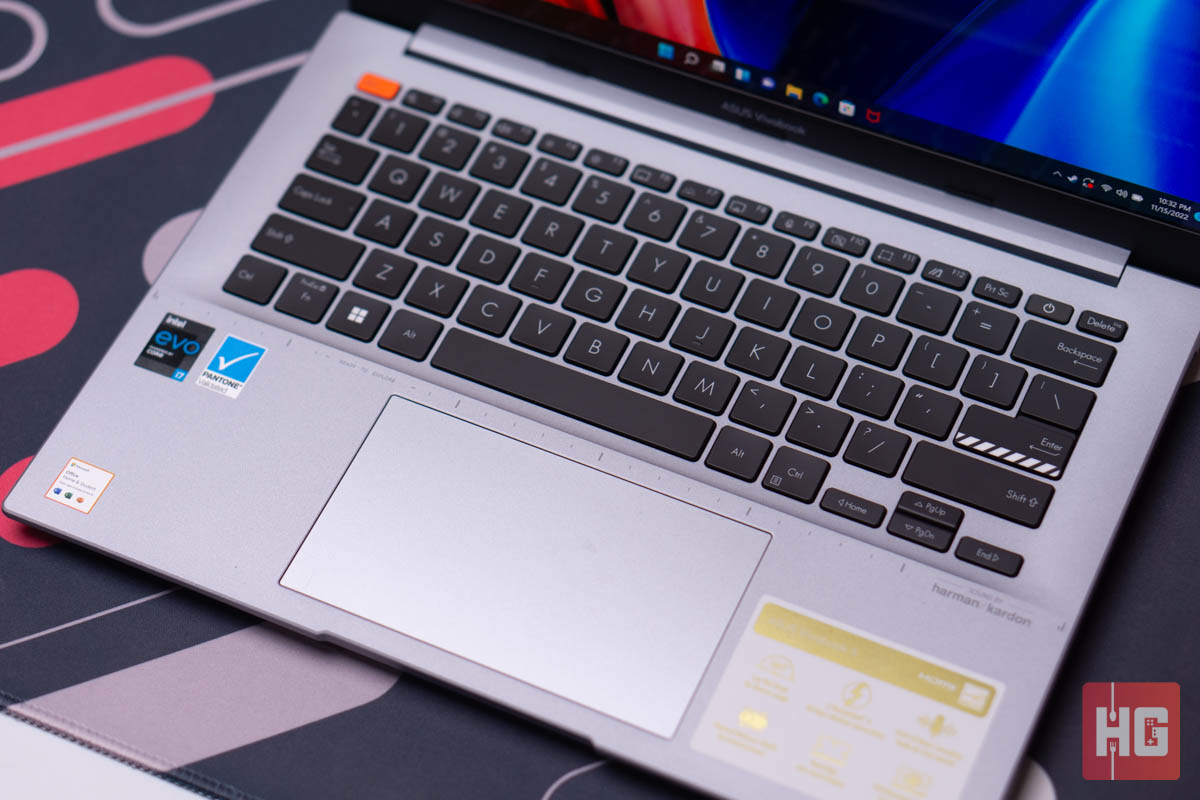 The VivoBook S 14 OLED (2022) sports a compact 70% keyboard with an arrow cluster at the bottom right-hand side. ASUS added some flair to the keyboard with a red escape key and an enter key with black and white stripes. Its switches are chiclet style with a 1.4mm travel. Tactility is good but there is mushiness when bottoming out.
The trackpad is set just below the middle of the keyboard with a fairly large footprint. The finish is smooth for easier gliding and its clicks are tactile but not loud. It supports gesture controls to make using the notebook just a bit easier.
Input and Output Ports
Most of the laptop's ports are placed at the right-hand side. It comes with a two Thunderbolt 4 USB-C ports, a USB 3.1 Gen1 Type-A, a full-size HDMI port, a 3.5mm combo jack, and activity lights. The inclusion of Thunderbolt 4 on the notebook is a nice touch as the notebook can be used with an external GPU. Over at the other side is a single USB 2.0 Type-A port for external peripherals like mouse and keyboard.
Software
The laptop has Windows 11 Home pre-installed alongside the usual software. ASUS is pre-installing MyASUS and McAfee on the device but you can uninstall McAfee easily through the settings menu.
It's also worth mentioning that they are bundling a free lifetime license of Microsoft Home & Office 2021 with the notebook. You'll only need to login with your Microsoft account to redeem it. It will be bound to the device and the license cannot be transferred to other computers.
The MyASUS is app is universal to most ASUS notebooks. It acts as a command center for the notebook allowing you access to power options, warranty information, system statistics like temperature and usage, buy software for your notebook, and change system settings such as Function keys and OLED care.
ASUS VivoBook S 14 OLED (2022) Review – Benchmarks
The ASUS VivoBook S 14 OLED (2022) that we have on review packs a 20-core 12th Generation Intel Core i7-12700H, Intel Iris Xe graphics, 16GB DDR4 3200MHz RAM, and a 512GB PCIe 4.0 NVMe SSD. They are also offering the device with an Intel Core i5-12500H variant.
Its SSD is a 512GB Micron 2450 PCIe 4.0 NVMe SSD. It is designed for any formfactor with a rated sequential read performance of around 3,600MB/s. According to a quick run of CrystalDiskMark with a 4GiB workload, the SSD is fast enough given its position in the market with a 3,700MB/s and 3,326MB/s sequential read and writes, respectively.
We will be running synthetic and rendering tests for the CPU and some light gaming for the GPU to see what kind of performance the ASUS VivoBook S 14 OLED (2022) can bring to the table.
CPU Benchmarks
CPU-Z 17.01.64
7-Zip 16.04
wPrime v2.10
Cinebench R15
Cinebench R20
Cinebench R23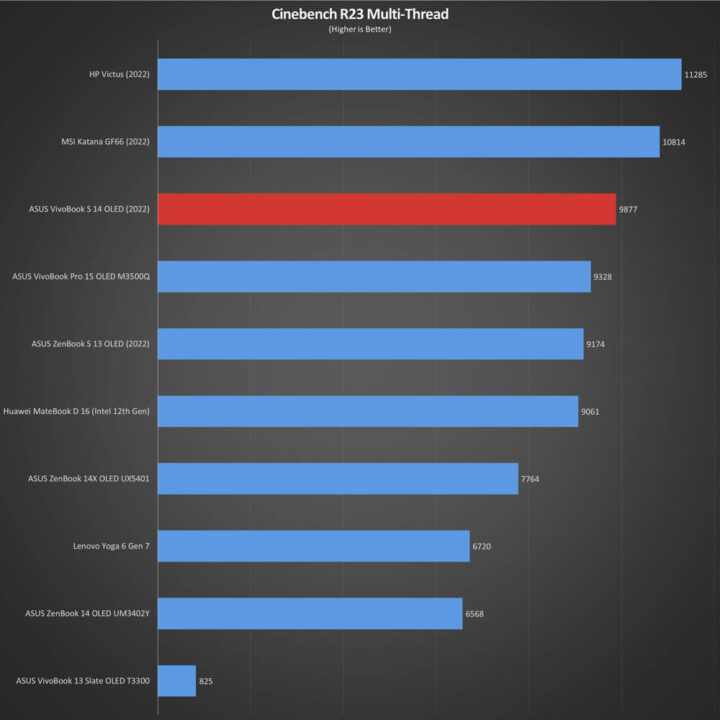 Blender 2.82a
Despite its diminutive size, the notebook has plenty of performance thanks to its Intel 12th Generation processor. It manages to eek out a lead when compared to other ultrabooks in the benchmark list in both single-core and multi-core workloads.
Its DDR4 RAM, however, is slowing it down in memory-intensive tasks like compression and decompression. Still, it can deliver good performance across the board when it comes to CPU-bound tasks like rendering.
GPU Benchmarks
3DMark Fire Strike
Rainbow Six Siege
The laptop only comes with an Intel Iris Xe GPU so gaming performance will not be great. It will be able to run light games at steady frames with Rainbow Six Siege running at an average of 60fps at 1920 x 1080 with the lowest settings possible.
With ASUS including Thunderbolt 4 connectivity, however, you can connect the S 14 OLED (2022) to an external graphics card for additional graphical performance for heavier games like triple A titles.
Temperature and Battery Life
ASUS has done a good job on the notebook's cooling but it does have its issues. At idle or light usage, the device sits at an average of 49°c with the fans either turned off or spinning really slowly. At heavier workloads, however, its processor can reach a toasty 94°c boosting at around 4.1GHz before dropping down to an average of 2399MHz to lower temperature.
The heat will seep to the keyboard area when the notebook is under heavy stress. This will make the using the keyboard an uncomfortable experience.
As far as battery life go, the ASUS VivoBook S 14 OLED (2022) will last up to 6 – 7 hours with light usage like work or studying but it could go further if you lower the brightness and turn on power saver. Binging movies at medium volume and brightness will last around four and a half hours. Charging from 0% to full with the included 90W USB-C charging will take just below 2 hours.
ASUS VivoBook S 14 OLED (2022) Review – Conclusion
The ASUS VivoBook S 14 OLED (2022) presents a great combination of price and performance. Thanks to the Intel 12th Generation processors, the notebook is able to provide great performance while its 14.0-inch 2880 x 1800 90Hz OLED offers crisp details and accurate colors.
Its build could be better but we understand that it's been cutdown to lower down the price and not to cannibalize the ZenBook market. The DDR4 memory is also starting to show its age when compared to DDR5-based notebooks in the market especially in memory-intensive tasks like compression and decompression.
Its design might be divisive to some but we like that it separates itself from other budget ultrabooks in the market with some flair. Cooling could have been better designed since the heat tends to transfer to the keyboard when the notebook is being used in heavy workloads.
Though the ASUS VivoBook S 14 OLED (2022) might have its faults, its performance and display make up for it and more. The notebook is definitely a solid set of features wrapped in a fresh and forward-looking chassis. If you're looking for the next ultrabook that packs a punch without breaking the bank, then this should be on your shortlist.
ASUS VivoBook S 14 OLED (2022) Price and Availability
The ASUS VivoBook S 14 OLED (2022) is priced starting at PhP 59,995 in the Philippines. Four variants are available to choose from but all share the same 14.0-inch 2880 x 1800 OLED display, 512GB PCIe 4.0 NVMe SSD, and Intel Iris Xe graphics:
S5402ZA-M9050WS – PhP 74,995

Intel Core i7-12700H, 16GB DDR4, 120Hz OLED

S5402ZA-M9189WS – PhP 65,995

Intel Core i5-12500H, 16GB DDR4, 120Hz OLED

K3402ZA-KM085WS – PhP 68,995

Intel Core i7-12700H, 16GB DDR4, 90Hz OLED

K3402ZA-KM130WS – PhP 59,995

Intel Core i5-12500H, 8GB DDR4, 90Hz OLED
All four models are bundled with a free Microsoft Home & Office 2021 lifetime license and a 1-month free Adobe Creative Cloud subscription. You can checkout the official list of stores and resellers through ASUS' website.