Bilibili, the largest video platform for anime, comics and gaming (ACG) content in Southeast Asia, is excited to announce that it will be releasing more than 30 new anime titles, 14 of which are Bilibili exclusives. Between September and October, fans can start viewing new releases from well-loved and much-anticipated titles such as SPY × FAMILY Part 2 and Urusei Yatsura. Fans should also watch out for exclusive titles, including Reincarnated as a Sword, Shinobi no Ittoki, The Little Lies We All Tell, LOVE FLOPS, The Eminence in Shadow, Uzaki-chan Wants to Hang Out! Season 2, Immoral Guild, and more.
Watch Upcoming Anime Series On Bilibili
With new shows coming up this month, viewers can only expect higher-quality entertainment and enhanced viewing experience. Mark your calendars for these exciting releases:
I'm the Villainess, So I'm Taming the Final Boss – September 24, 9:30 pm
Mobile Suit Gundam: The Witch from Mercury – September 25, 5 pm
Reincarnated as a Sword – September 28, 11:30 pm
Legend of the Galactic Heroes: Die Neue These – Intrigue – September 30, 7 am
My Master Has No Tail – September 30, 10:30 pm
Uzaki-chan Wants to Hang Out! Season 2 – October 1, 10 pm
SPY x FAMILY Part 2 – October 1, 11 pm
BEAST TAMER – October 2, 10 pm
Management of a Novice Alchemist – October 3, 9 pm
Shinobi no Ittoki – October 4, 8 pm
Encouragement of Climb: Next Summit – October 5, 12 am
The Eminence in Shadow – October 5, 10:30 pm
Akiba Maid War – October 6, 11 pm
Bibliophile Princess – October 6, 10:30 pm
Welcome to Demon School! Iruma-kun3 – October 8, 6:25 pm
Blue Lock – October 9, 1 pm
Peter Grill and the Philosopher's Time – Super Extra – October 10, 12:30 am
LOVE FLOPS – October 13, 12:05 am
The Lies We All Tell – October 16, 2 pm
Join Bilibili At Cosplay Mania 2022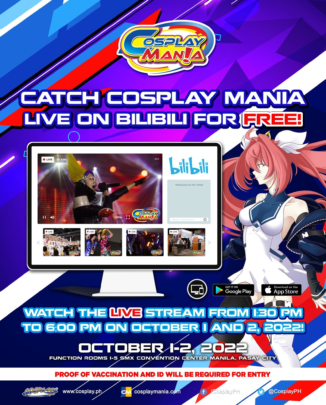 Aside from expanding its anime library, Bilibili also continues to fulfill its mission to enrich the ACG community by creating a platform where everyone can share their passions with each other. On October 1 and 2, Bilibili will participate at Cosplay Mania 2022, its first ever on-ground ACG event in the Philippines.
Cosplay Mania is the largest cosplay event in the country, attended by thousands of international and local anime and comic enthusiasts, influencers and cosplayers every year. The two-day event will happen at the SMX Convention Center in Pasay City.
"The energy and passion of the ACG community here in the Philippines are unmatched. Our country is home to around 10 million ACG fans, and if creators represent 10% of this number, that means there are 1 million creators and 1 million dreams. Following the event's theme of 'One Million Dreams, One Community,' Bilibili wants to build a community for all the 1 million ACG creators and help them realize their dreams," Hayden Lee, Bilibili's Philippine Country Manager, said. "We will continue to bring Bilibili closer to fans and level up the Bilibili experience with more events and activities, both online and offline, in the future."
Visit The Bilibili Booth At Cosplay Mania
At Cosplay Mania, Bilibili will host a booth (B10) centered around helping aspiring creators realize their content creator dream together with the Bilibili community. Attendees can win exciting prizes by participating in the activities in the booth and experience Bilibili's flying comments feature in person through a message wall.
Bilibili creators Kane Azriel, King Jeremiah Dangilan, Prince Dangilan, RJ Dangilan Dungog, Jean Barredo, Akiko Gabrielle Dangilan, and Mark Lim (林恩汉) will be present at the booth to feature Bilibili's activities at the event via live streams while interacting with attendees and fans.
Watch Cosplay Mania 2022 On Bilibili
Onii-Chan Anime Recaps, a band that creates anime music covers, will also grace the event with exciting performances. Meanwhile, events at the main stage, including the much-anticipated cosplay competition, will be livestreamed on Bilibili so that those who couldn't make it can still join in the fun and excitement virtually. Non-attendees can watch it on the Bilibili app through this link: https://www.bilibili.tv/en/space/1715164838?q=
Before the event, Bilibili gave away up to 150 free Cosplay Mania tickets to lucky users who participated in the #BilibilixCosplayMania in-app activity campaign.
For more information about Bilibili, visit bilibili.tv or download the Bilibili app from the Google Play and App Store!