Colorful isn't exactly a home brand when it comes to PC components, they are starting to become more known in the eyes of enthusiasts. They have released innovative products before like the RTX 3070 Ti Vulcan OC which came with an LCD screen at the side for monitoring and design.
This time around, we will be taking a look at one of their more affordable takes on the RTX 4080, the Colorful iGame RTX 4080 16GB Advanced OC-V. This particular model improves on the original design by packing the card with better cooling and bundling it with relatively premium accessories.
Colorful iGame RTX 4080 16GB Advanced OC-V Review – Specifications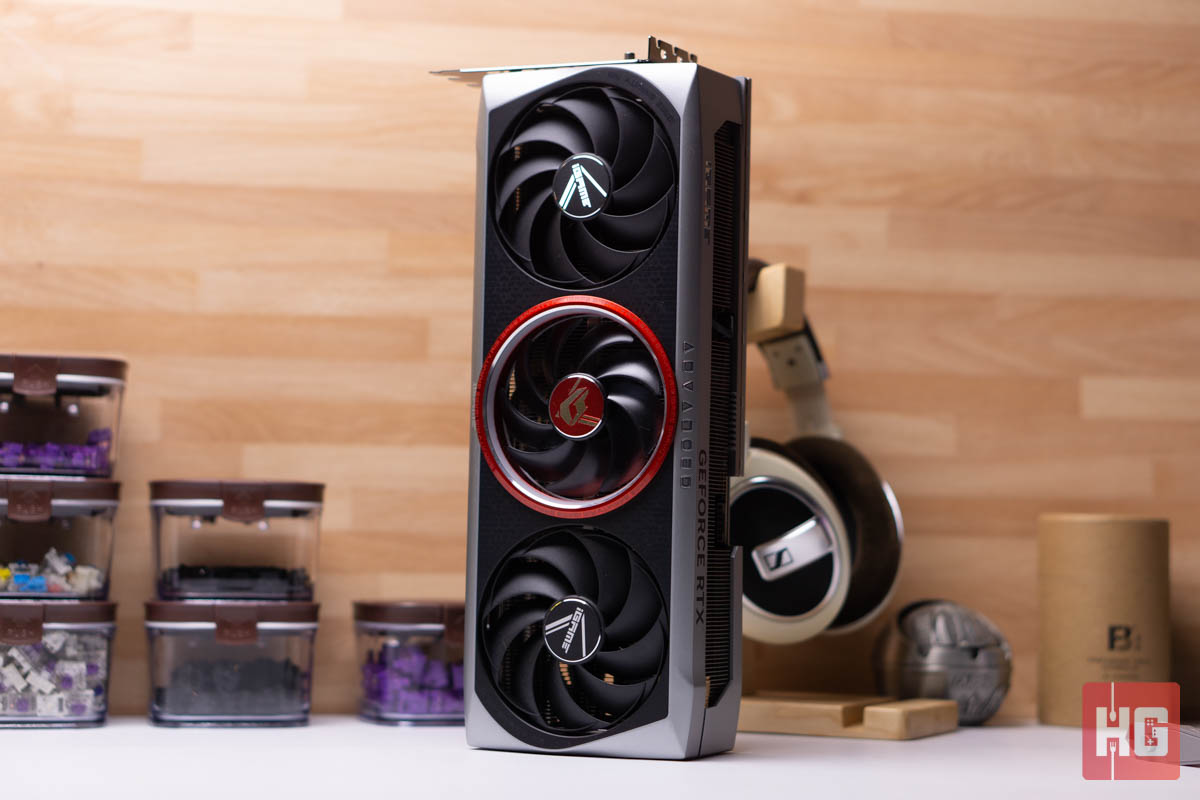 Advertisement
| | |
| --- | --- |
| GPU | AD103 |
| Architecture | Ada Lovelace |
| Manufacturing Process | 4nm TSMC |
| Clock Speeds | Core Clock: 2205MHz (Base), 2505MHz (Boost), One-Key OC: 2205MHz (Base), 2625MHz (Boost) |
| CUDA Cores | 9,728 |
| SM Count | 76 |
| RT Cores | 84 |
| Tensor Cores | 336 |
| Memory | 16GB GDDR6X |
| Memory Bus Width | 256-bit |
| Memory Speed | 736 GB/s |
| TDP | 370W |
| PCIe Interface | PCIe 4.0 |
| Cooling | Triple Fans with Hurricane Scythe Blades, 7*8mm + 2*6mm Thermal Pipes |
| Power Connectors | ATX 3.0 16-Pin |
| Display Connections | 3x DisplayPort 1.4a, 1x HDMI 2.1 |
| Dimensions | 343.8 x 147.6 x 70.5mm |
| Size | Over 3 PCIe Slots |
| RGB Lighting | N/A |
| Extras | All-Aluminum Frame |
Ada Lovelace and RTX 4000 Series
NVIDIA's Ada Lovelace architecture is based on a TSMC 4nm fabrication to increase transistor count and thus fit in more computational performance compared to the Ampere-based 8nm RTX 3000 series. The smaller lithography is able to fit in up to 76.3 billion and 45.9 billion transistor counts in the RTX 4090 and RTX 4080, respectively.
The company is equipping the RTX 40 series a ton of improvements aside from the smaller node. Its 4th Generation Tensor Cores improves on previous Ampere GPUs by supporting a new FP8 data format first introduced in the NVIDIA Hopper architecture. It halves the data storage requirements of FP16 and doubles AI performance with the RTX 4080 delivering over T80 TFLOPS of performance for AI inference workloads.
They will also come with 3rd Generation RT Cores that promises to speed up ray tracing of alpha-tested geometry by 2x when compared to Ampere GPUs. This will allow developers to add even more detail to games thanks to the improved performance overhead it brings.
The company is implementing what they call Shader Execution Reordering. It can now reschedule work on the fly that can speed-up ray tracing shaders by up to 2x. NVIDIA touts that it can boost FPS up to 44% in games like Cyberpunk 2077 with RT: Overdrive Mode.
The increase in performance has risen the power requirements of RTX 40 series video cards. The RTX 4090 and RTX 4080 has a default TGP of 450W and 340W, respectively. AIB partners can boost power consumption by up to 660W and 516W, respectively, to get even more performance out of the cards.
As for creators, RTX 40 series come with NVENC AV1 encoder which is especially helpful for streams to stream at higher resolutions and framerate up to 1440p at 120fps for esports games or 4K60 for better quality. AV1 also enables additional encoding features like HDR and lower latency.
These GPUs will also sport dual encoders with a new algorithm to split frames for better encoding performance. When combined with the architectural improvements, HEVC and AV1 encoding can be up to 2x faster on 40 series GPUs when compared to 30 series GPUs.
DLSS 3
The RTX 40 series GPUs will be the first consumer video cards to support the new DLSS 3. This new DLSS promises a doubling in framerate and quality thanks to its AI Frame Generation. It still comes with all the amenities from before like AI super resolution but DLSS 3 can now generate new frames by only using AI.
Alternating frames on DLSS 3 now comes from AI. This is made possible by the optical flow accelerator that predicts what the next frame will be. The process is reliant on the performance uplift of the Ada Lovelace GPU and its new 4th generation Tensor Core.
NVIDIA says that DLSS 3 will only be compatible with Ada Lovelace-based GPUs for now and there are no plans to make older cards compatible with this new technique.
Colorful iGame RTX 4080 16GB Advanced OC-V Review – Unboxing
Colorful is bundling quite a bit of accessories with the RTX 4080 Advanced. Inside its blackhole-themed box is the GPU itself, a magnetic screwdriver with 2 Philip screw heads, an adjustable aluminum GPU holder, and an a ATX 3.0 16-pin to 3 8-pin PCIe female cables for older PSUs. Inside the paper envelope are marketing materials and installation gloves to keep the card pristine while you install it.
Colorful iGame RTX 4080 16GB Advanced OC-V Review – Up Close
As with most RTX 4080s in the wild, the Colorful iGame RTX 4080 16GB Advanced OC-V is a massive card. It measures just below 35cm in length and thick enough to require more than 3 PCIe slots on your case. Make sure that your case will be able to fully fit the card before getting one of these.
To cool down the AD103 chip and other components, Colorful is using 7*8mm + 2*6mm thermal pipes that run through the card and transfers heat through a vast array of fins. The heat is then blown away by three fans that pack Hurricane Scythe Blades that promises better air pressure for improved cooling.
The whole card is encased in aluminum. Aside from the top-part of the fan shroud, the card mostly sticks to a silver colorway throughout. This might clash on darker builds but those who will focus on a lighter-colored PC could find it attractive.
Over at the side, we can see the fins that run through the length of the card and some of the heatpipes that draw heat away from the components. The card is powered by the new ATX 3.0 16-pin 12VHPWR standard instead of the usual array of 8-pin PCIe connectors from before. It seems that this might be the new standard moving forward since cards continue to draw more power than in the past.
At the back is a slab of stainless steel that protects its I/O. It comes with three DisplayPort 1.4a connections and a single HDMI 2.1 port. There is a switch at the side that adjusts the clock speeds of the GPU from normal (2505MHz Boost) to Turbo (2625MHz Boost).
System and Benchmarks
The Colorful iGame RTX 4080 16GB Advanced OC-V will be tested using various synthetic and gaming tests that use DX12 and Vulkan APIs to check its performance. The first round of testing will disable exclusive features like DLSS, Hairworks, and others for parity but they will have their own testing later on.
Below are the details of our test bench used in testing:
Synthetic Benchmarks
3DMark Fire Strike
3DMark Time Spy
Port Royal
As far as synthetic benchmarks go, the RTX 4080 has significant additional horsepower when compared to its predecessor, the RTX 3080. On average, Ada Lovelace-based card will outperform its Ampere equivalent by more than 30% in Fire Strike Extreme, Fire Strike Ultra, and Time Spy. It also outclasses the RX 6900 XT from AMD by some margin.
In Port Royal – 3DMark's test for ray tracing – the 3rd generation RT cores really stretch their legs here as they can deliver 34% more performance when directly compared to one of the RTX 3080s from last generation.
Gaming Benchmarks
Rainbow Six Siege
Red Dead Redemption 2
Shadow of the Tomb Raider
Far Cry 6
Metro Exodus
Cyberpunk 2077
At 1080p, some games start becoming CPU bound. If you have a good processor, you'll get fantastic gameplay with the RTX 4080 with framerates consistently above 100fps. In competitive multiplayer games like Rainbow Six Siege, you'll get more than 600fps with the GPU.
The sweet spot for high performance with high graphics for the card is at 1440p and at 2160p. The card will not have any problems running any triple A games this generation at ultra settings at 60fps or even more.
Ray Tracing and DLSS
Shadow of the Tomb Raider
Metro Exodus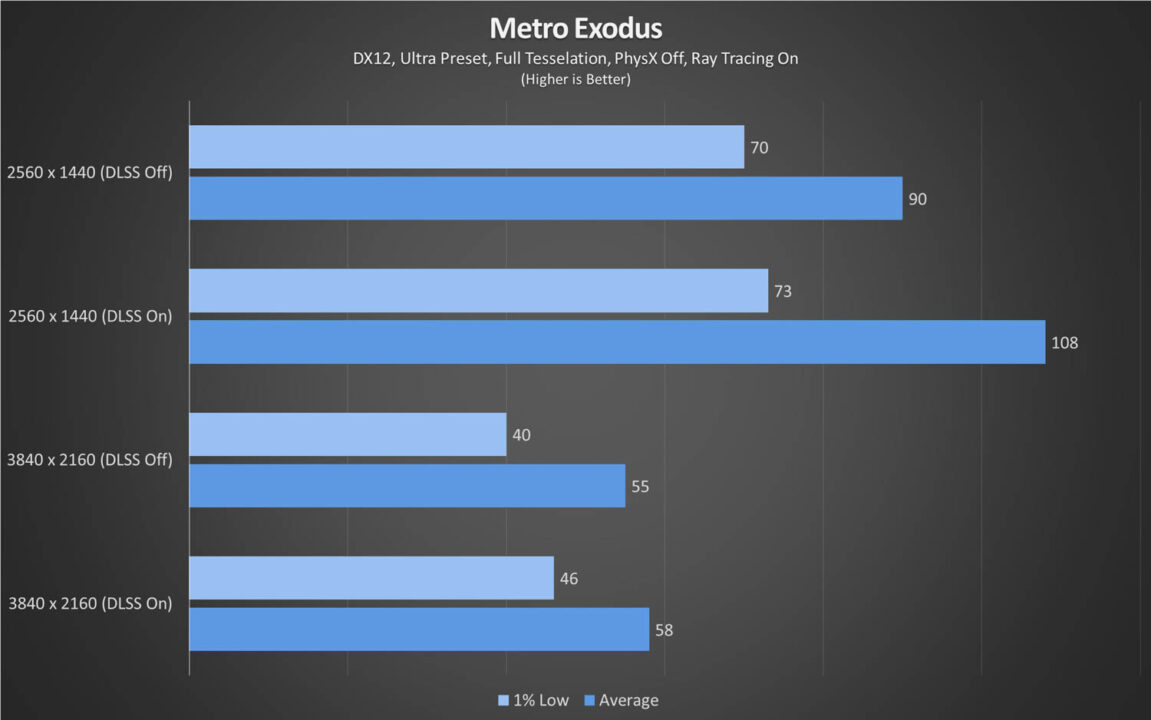 Cyberpunk 2077
Thanks to DLSS, games receive a large performance boost when ray tracing is enabled. This increase in framerates is even more felt at higher resolutions like 2160p in graphics-heavy games like Cyberpunk 2077 where it magically increases framerates from a paltry 20fps – with all settings turned at ultra including ray tracing – to nearly 90fps.
DLSS 3 is only supported by 14 games by the time of this article. Hopefully, more games will be released with this feature to get the best performance possible out of the RTX 40 series.
Power Consumption and Temperature
Colorful sets the TDP of iGame RTX 4080 16GB Advanced OC-V at 370W and its power consumption confirms that. At idle, it is fairly conservative at around 20W.  When at full blast, however, the card will easily max out its TDP at around 375.9W when measured. You should be able to get away with a 750W but with its three 8-pin PCIe requirement for its ATX 3.0 16-pin converter, an 850W PSU from a reputable brand will most likely be its best option.
Thanks to the massive cooler applied by Colorful, the iGame RTX 4080 16GB Advanced OC-V can run pretty cool despite its 370W TDP. The card runs with the fans off at idle resting at a comfortable 40°c at full blast, temperatures rise to a peak of 73°c but quickly tapers off to around 69°c throughout the benchmark run.
Colorful iGame RTX 4080 16GB Advanced OC-V Review – Conclusion
The Colorful iGame RTX 4080 16GB Advanced OC-V has a solid set of features for the brand's take on the Ampere-based RTX 4080. Performance is terrific on all resolutions but it shines at 1440p and 2160p. It might have significantly increased its power draw but the company's cooling solution is more than enough to cool down its power-hungry core.
The card, however, have significant requirements which is true for the RTX 4080 or RTX 4090. A large enough case is needed as they need quite a bit of space, a powerful PSU with at least three 8-pin PCIe power connectors or a ATX 3.0 compatible model, and a CPU to match the performance.
Overall, as long as you can get the Colorful iGame RTX 4080 16GB Advanced OC-V's needs, it will perform wonderfully. This is why we are giving it our seal of approval.
Colorful iGame RTX 4080 16GB Advanced OC-V Price and Availability
The Colorful iGame RTX 4080 16GB Advanced OC-V is now available globally with a starting price of USD 1,289 or PhP 89,990 in the Philippines. Local availability is yet to be announced but you can visit Colorful's official Lazada store to see what other GPUs and devices they have in stock.