vivo is improving their formula when it comes to photography and we've seen the industry adapt some of their innovations when it comes to having better photos. From introducing high megapixel smartphones as early as 2013, better beautification and AI for improvement of photos, this 2023 they take photography to another level with their second take to better lighting.
Their latest V series smartphone, the vivo V27 5G, again addresses the need for better light with their aura lighting solution on the V27E and V27. But what's an aura portrait algorithm feature?
During the height of the pandemic, everyone had a webcam but didn't have the right lighting for their work from home setup. Their faces would be either too dark, or over exposed. Enter the boom of the ring light, a less direct method of illuminating evenly your subject, creating a more even tone and less harsh recognizable subject against any environment.
This time, vivo adopted this same technology into the vivo V27 series as a better solution when it comes to dim or dark scenarios that simply need a hand of light. Instead of the usual cool and warm flash combination LED method, a small ring light which they call Aura Portrait is the solution.
Aside from a better lightning solution, the vivo V27 5G carries a Sony IMX766V 50MP Main Sensor plus 8MP Ultra-Wide and 2MP Macro Lens. A package that is formidable for today's standard especially at the price range of the V27. While you might ask why the megapixel count is low, remember that megapixel is never the sole solution to get better photos.
So the results are?
What do all these photos have in common using the Aura Portrait Lighting of the vivo V27?
Proper focus of the subject either near or far
Natural details in face and body are captured including skin complexion and imperfections
Great separation between subject and background especially in the hair
All subjects aren't caught off guard with the bright aura portrait flash versus other harsh flash solutions
Using the Aura Portrait adds more light to the sensor of the camera, resulting in more details captured by the 50MP Sony IMX766V sensor, and processed by the AI technology of vivo. Resulting in better data being processed at the beginning of the computation rather than being improved in post processing. Hence the hardware solution route is still better than the software solution when it comes to photography.
We notice the portraits having sharper and more details compared to even our previous camera shots, overall pleasing if you are looking for a word to describe it. Cause you see a good separation between subject and background without taking it too artificial.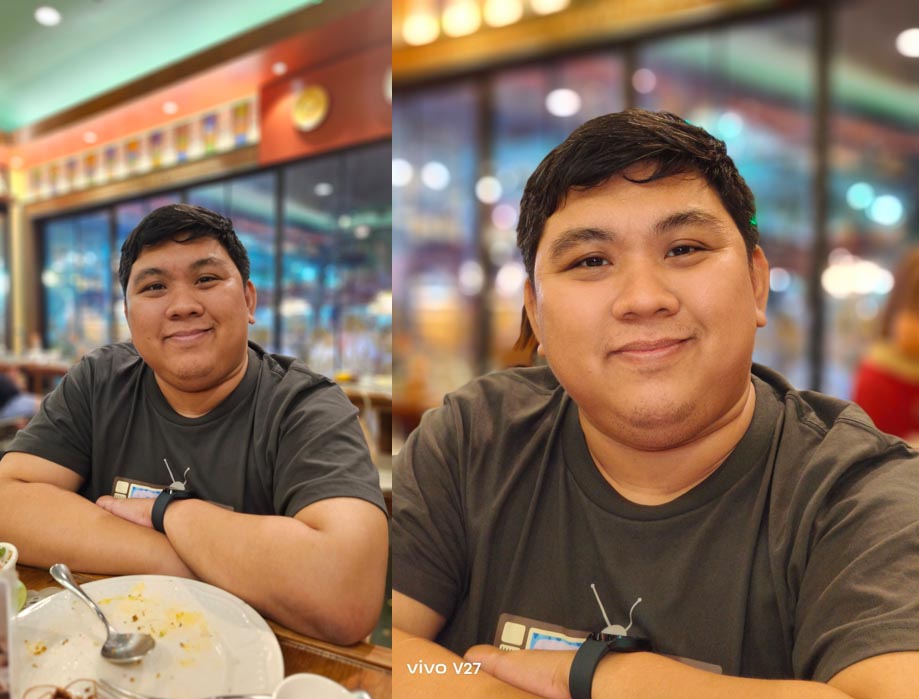 While a bit cropped compared to a flagship smartphone, the vivo V27 5G stands out in details that has more pleasing details and emphasizes details that more light can only give such as the following
Better details in the hair, eyebrow, mustache and beard
Fairer complexion of the skin
Ring light eyes effect on the eyes
All these mentioned are hard to achieve using AI in post processing, due to the nature of distinction of people knowing what is real or fake based on natural experience. That's why having the best lighting is the best take vivo has given this 2023 for better photography for all.
Selfies are a tad softer in color and texture to our expectations but this is the main difference of having no aura portrait lens but still with good details captured especially at the arm and hair in this photo sample. Nevertheless the 50MP Eye AF vlogging camera focuses more on the needs of social media of having brighter facial features and cleaner beautification.
With this initial camera experience with the vivo V27 5G, this smartphone has a lot of potential to knock off other competitors with even higher megapixels in their arsenals. As what we mentioned earlier, it's not always the megapixels that win, it's also how the smartphone can maximize all elements, especially light into the picture. Improving on the sensor, AI, and now flash is indeed a formula that vivo can claim that you can have a "Studio In Your Pocket" solution in a smartphone.
More importantly, the vivo V27 series package is so far the only solution of its kind in the market. So it would be interesting how the mobile photography market will take on vivo's solution as it's really making a point. The vivo V27 5G is available for SRP Php24,999 (12+256GB), check out the official vivo official social media pages for more details.