The Honkai Impact 3rd team announces today that the action title is releasing the new version [Woven from Last Snow] on MAY 18, kickstarting the brand-new main story that takes place in Salt Snow Holy City. Apart from the new story, new character Misteln and her battlesuit Dreamweaver, along with the new combat system, Inscribed Whispers, will also await Captains in the upcoming Honkai Impact 6.6 update.
Honkai Impact 6.6 "Woven from Last Snow" Details
Misteln Enters The Battlefield
Misteln, as the "Hare" that already has her background and past experiences unveiled in Part 1 Finale, will get on board in v6.6. Her battlesuit Dreamweaver is a MECH-type Physical DMG dealer, with two forms during battle. The first is her physical body where she'll appear as a stoic commander, waving a banner and summoning Seeds of Ideas to attack or defend.
When she casts her Ultimate, she pulls enemies into a dreamscape and projects her astral body, i.e. her second form, to fight them instead. Misteln's astral body resembles a fearless warrior, wielding a javelin for close combat and hurling short spears from her back at just the right moment. Speaking of the javelin wielder – it is the first appearance of the weapon type in the series, and it enables the neat, elegant combat style of Misteln on the battlefield.
It's Not Just "Hare"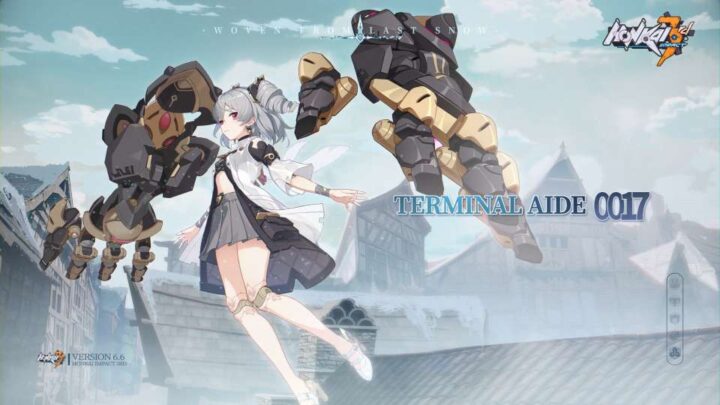 Apart from the "Hare", new SP battlesuit, Terminal Aide 0017 for PROMETHEUS will come join Captains in v6.6. She's an IMG-type Physical support who attacks with her fists, and does a great job as a partner on the battlefield. She shields her teammates during combat, and not only her shield can absorb damage but also enhances team members' attacks. Plus, she has the ability to drain power from enemies. For instance, while attacking or defending, she can restore her own SP, and with enough SP, she can cast her Combo ATK to upend the earth and toss enemies into the air; or turns her fists into a shield to block incoming attacks.
New Game Mode "Inscribed Whispers"
In addition to new playable characters, Captains will also be able to experience the new game mode, Inscribed Whispers, where 4 attributes: light, ice, thunder, and dark can be unlocked and equipped to cast various active skills one after another in battle. Each attribute brings different skills and visual effects to the game, so mixing and matching will unlock more combat power and make battling a breeze!
Honkai Impact 6.6 Release Date
The v6.6 update will be released on iOS, Android, and PC on MAY 18, 2023. Amazing characters, fun events, bountiful rewards will all be available by then! For more news on Honkai Impact 3rd, please visit our official site: honkaiimpact3.hoyoverse.com, or follow @HonkaiImpact3rd on Twitter, Instagram, and Facebook.
Check out the previous update, Honkai Impact Version 6.5.
What Is Honkai Impact?
Honkai Impact 3rd is set in a modern world corrupted by mysterious energy known as Honkai. A tenacious resistance formed by Valkyries, brave girls carrying anti-Honkai genes, leads humanity in a war of survival and fights for everything that is beautiful in the world. Since its launch on mobile devices, the game has won an international following and frequently topped App Store's and Google Play's download charts. The game was ported to PC in late 2019 with cross-save support, and is also available on the Epic Games Store now, making the Honkai-verse more accessible than ever!