Huawei is doubling down on their range of HarmonyOS-powered devices in the Philippines. The Huawei MatePad 11 is one such device packing their new OS and a solid set of specifications on paper. It aims to become a PC-like alternative for people who prefer a lightweight device to carry around. But does the marriage of good hardware with a yet unproven OS deliver an incredible experience to choose it over established brands in the market?
Huawei MatePad 11
| | |
| --- | --- |
| Chipset | Qualcomm Snapdragon 865 |
| Screen | 10.95-inch IPS, 2560 x 1600, 120Hz |
| RAM | 6GB |
| OS | HarmonyOS 2 |
| Rear Camera | 13MP f/1.8 PDAF |
| Front Camera | 8MP f/2.0 |
| Storage | 128GB |
| Connectivity | Dual-Band WiFi 802.11ax, Bluetooth 5.1, USB Type-C |
| Battery | 7,250mAh, 22.5W Fast Charging, 5W Reverse Charging |
| Others | Stereo Speakers |
| Colors | Matte Gray, Isle Blue, Olive Green |
Huawei MatePad 11 Review – Unboxing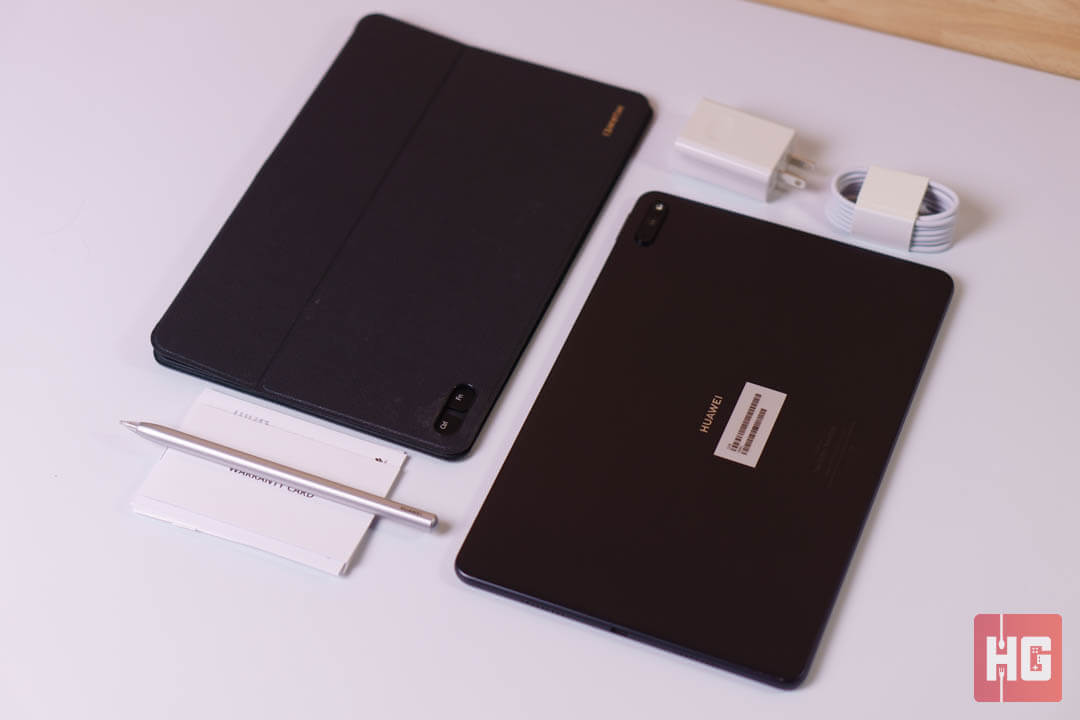 The Huawei MatePad 11 arrives in a white box as expected from the brand. We get here the MatePad 11 itself, a USB Type-C to 3.5mm audio jack adapter, a USB Type-C to Type-A cable, and a 22.5W charger.
Huawei is offering a time-limited bundle for the tablet which throws in the 2nd generation Huawei M-Pencil and a cover with a built-in Smart Magnetic Keyboard. These extras expand the PC-like capabilities of the tablet.
Smart Magnetic Keyboard
The Smart Magnetic Keyboard connects to the MatePad 11, well, magnetically. There are no friction fit pieces applying any kind of wear and tear on the body. It will automatically connect to the tablet once docked via Bluetooth.
The keyboard offers two levels of tilt adjustment, which are also magnetically locked to avoid accidental movement. The magnetic connection between the two devices are strong but isn't strong enough to keep the keyboard attached when the tablet is picked by the body.
The keys themselves are arranged in a standard 60% layout with a navigation cluster squeezed at the bottom right to mimic a standard keyboard on a laptop. They provide good tactility with around 1.3mm of travel before bottoming out but the dimensions of the keys are rather small in order to fit the 11-inch frame of the tablet.
Huawei M-Pencil 2nd Generation
The MatePad 11 is also compatible with the 2nd Generation Huawei M-Pencil. Its visually similar with the 1st generation but now comes with a platinum-coated nib and lower latency. It still has 4096 levels of pressure sensitivity for precise notetaking or colorwork on photos or drawings.
The M-Pencil can be easily charged by docking it to the frame of the tablet. It can be used for up to 10 hours in a single charge but can last for up to 10 minutes more by charging in for just 30 seconds.
Design and Aesthetics
The tablet has an 11-inch frame made out of plastic unlike the metal build of the MatePad Pro 12.6. Some might mistake the MatePad 11 to have an aluminum body since it does feel like metal especially with its matte finish and solid feel.
Its sides are rounded to deliver a comfortable handling experience. It feels more natural handle while in landscape mode. Using it portrait mode is still easy but it feels top-heavy even though it only weighs in at around 485g.
Its power button and volume rocker are clustered at the top-right side of the tablet. They offer good tactility and responsiveness when pressed. The tablet is missing a fingerprint scanner but makes up for it by including face unlock.
The MatePad 11 removes the 3.5mm audio jack and instead relies heavily on its single USB Type-C port for wired connectivity.
The rear is matte and smooth although fingerprints will still show if light strikes it at an angle. It may be uniform for the most part but the flush surface is only broken by its camera bump which is a bit too much for our taste.
Screen and Audio
One of the highlights of the Huawei MatePad 11 is its 10.95-inch 2560 x 1600 120Hz IPS display. Bezels are even on all sides measuring at 7mm, which isn't particularly big but not razor-thin either. Uniformity on the display for brightness and dim portions fairly equal on all parts without any kind of backlight bleed at the edges.
Its 10.95-inch screen might only be IPS instead of OLED or AMOLED, but it can deliver great performance. Colors are mostly equal without any increase in tinge as brightness goes up. Total brightness is pretty good at 505.86 cd/m2 and even though it can't reach absolute black, brightness levels reaches as low as 1.64 cd/m2 at its lowest setting.
A quick calibration run reveals that the Huawei MatePad 11 has a fairly wide color gamut and high contrast ratio even with an IPS panel:
sRGB – 94.20%
AdobeRGB – 83.10%
DCI-P3 – 87.10%
Luminance (Minimum) – 1.64 cd/m2
Luminance (Maximum) – 505.86 cd/m2
Gamam – 2.2
Contrast Ratio – 1120:1
Colors and brightness are all well and good in the MatePad 11 but it seems that Huawei has opted out of applying any kind of anti-glare coating on the tablet to preserve crisp images. Thankfully, the screen can brute force against reflections with its high brightness.
Huawei has also increased the refresh rate of MatePad 11's display to 120Hz. Browsing and general use feel smooth compared to 60Hz and 90Hz models in the market. Games that support 120Hz feel buttery smooth and more responsive than ever.
Audio on the MatePad 11 is delivered through a total of four speakers – two on each side – and have received tuning by Harman Kardon. Placement of the speakers are somewhat problematic especially if you tend to hold the tablet by its sides but audio performance is pretty good. Bass is punchy, vocals are fairly clear, and there is a good amount of soundstage.
Volume can get up there as well but higher volumes tend to distort sounds and introduce a bit of metallic "tinny" sound so we recommend backing off the volume a bit aside from a few circumstances.
Software
HarmonyOS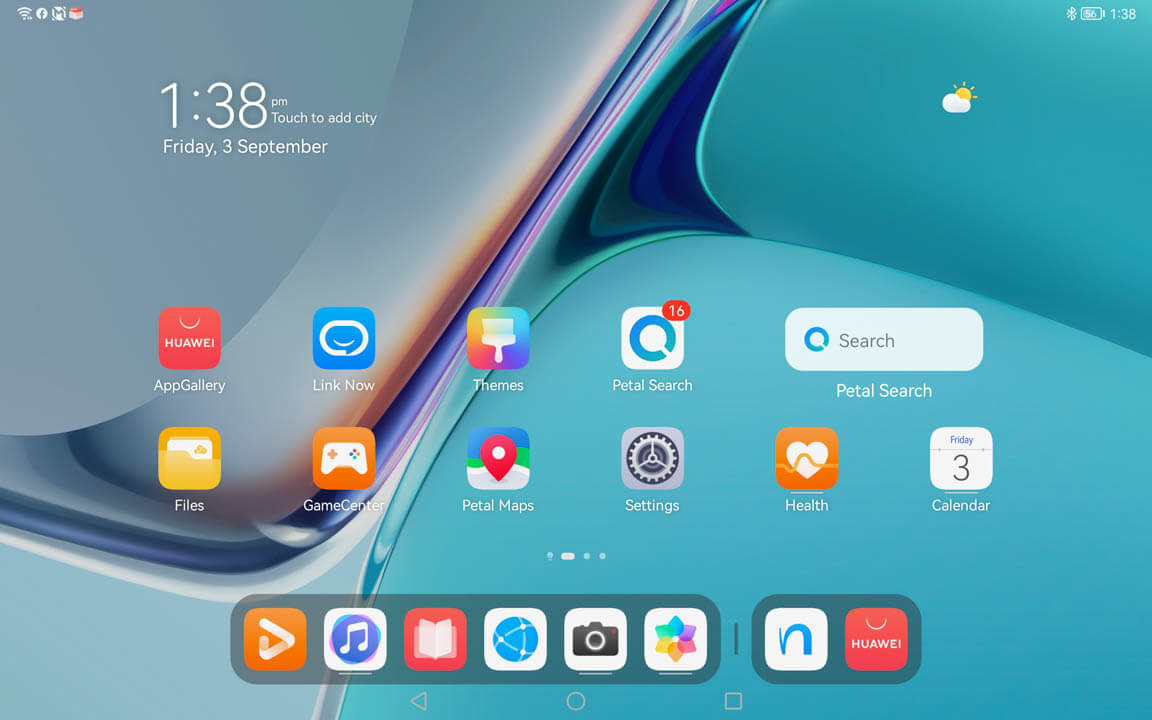 The Huawei MatePad 11 sports the brand's new HarmonyOS 2.0. It shares most of the features found on previous devices that came with Android 10 with EMUI 11. HarmonyOS 2.0 and Android do share the same features, functionality, and feel. The former has also come up with its own Assistant called Celia.
The MatePad 11's new OS was designed to take advantage of its large screen. Multiscreen, split-screen, and floating apps are the bread and butter of the tablet allowing for a seamless multitasking experience. Most of the native apps support this feature but some third party apps don't have the same capabilities as of now.
Split-screen and floating window mode can be activated by swiping up from the left or right side and holding it for a second. A small app drawer will appear that contains apps that support these features. Once an app is chosen, you can move its independent window around or long press the blue resize bar at the top to activate split-screen mode. The size of each app in split-screen can be easily adjusted via the gray resize bar in the middle.
The device can also be paired to other Huawei devices for Multi-Screen Collaboration. This can be used to extend or mirror displays on Huawei smartphones, tablets, and laptops. This is especially helpful for the Huawei notebooks as tablets and smartphones can act as secondary monitors.
AppGallery and Petal Search
It's no secret that newer Huawei devices do not have access to the Google Play Store, which is why the brand has made their own app store in the form of the AppGallery. Most third party apps are present in the app store but Google first party apps are obviously not available.
Apps that can't be found in the AppGallery can be found via Petal Search. The Petal Search bar crawls third party app sites such as APKPure, APKMonk, APKCenter, Aptoide, and other trustworthy locations. Huawei says that Petal Search is safe, private, and ignores questionable app sites or downloads.
Of course, you can still access most of Google's services such as Gmail, YouTube, and others via the Browser. Functionality isn't as seamless as first party apps but they work well given the limitations. There is a learning curve, however, jumping to and from the AppGallery and Petal Search to search for your favorite app but everything works as intended in our experience.
Huawei MatePad 11 Review – Cameras
Main Camera
At the rear of the MatePad 11 is a single 13MP f/1.8 camera accompanied by an LED flash. The tablet provides most of the basic modes for its camera including Photo, 4K 30fps video, Panorama, Time-Lapse, Stickers, and Beautification. It does, however, lack options for HDR and Pro Mode.
Performance of its rear lens is pretty good given that capturing photos isn't the tablet's primary function. Snaps taken in good lighting have good contrast, even colors, and a relatively wide dynamic range despite the lack of HDR.
The tablet isn't really geared for Night Photos with its lack of a dedicated Night Mode. Photos are noisy and lack detail. They are passable for social media photos but they won't wow anyone with their quality.
Selfie Camera
At the front lies an 8MP f/2.0 selfie lens. It has the same features as the rear camera with slightly less pixel count. Stills are decent with natural (but dull) colors. Video has similar performance but does impressive work indoors especially in calls. There is some noise which is to be expected but nothing too bad from an 8MP sensor.
Huawei MatePad 11 Review – Performance and Benchmarks
Powering the Huawei MatePad 11 is a Qualcomm Snapdragon 865 with 6GB of RAM. It's not quite flagship-class it offers good performance on all accounts especially with the MatePad 11's focus on PC-style multitasking. There's very little in the way of performance hiccups and lag. The tablet also comes with 128GB of internal storage, which can be expanded via a MicroSD slot.
As far as benchmarks go, the Snapdragon 865 on the MatePad 11 breaches the 650,000 mark in AnTuTu and places just above the 12,000 score in PCMark Work 2.0. Scores in GeekBench 5 is at 923 and 3,317 for single-core and multi-core, respectively.
Running games on the MatePad 11 is fairly easy once installed from the AppGallery or through various other sites. Unfortunately, some mainstream games still do not offer support for the 120Hz screen of the tablet but still runs consistently at 60fps. The device can also run the graphically-intensive Genshin Impact at its highest settings at more than 30fps.
Huawei MatePad 11 Review – Battery Life
The MatePad 11 runs on a 7,250mAh battery pack hidden in its 7.3mm chassis. The battery should last you a full day with medium use despite the large 10.9-inch IPS display. Watching movies is also a please thanks to the mix of display and audio and will last you around 10 – 12 hours on a single charge.
Running the PCMark Work 2.0 battery test loop with medium brightness and volume yields 12 hours and 34 minutes of usage. Charging is done via its USB Type-C port that supports 22.5W Fast Charging. Topping up the battery will last about 2 hours from 0% to full.
Huawei MatePad 11 Review – Conclusion
The Huawei MatePad 11 is definitely a feature-packed device. It can deliver an outstanding entertainment experience thanks to its excellent screen and terrific speakers. It also excels as a laptop/desktop replacement thanks to its Smart Magnetic Keyboard and 2nd generation Huawei M-Pencil.
The HarmonyOS 2 has shown great potential on the MatePad 11. The OS takes advantage of the tablet's large screen as it focuses on multitasking and split-screen capabilities. There are some growing pains, however, such as the lack of first party Google apps and Google Mobile Services. Huawei's AppGallery and Petal Search are okay alternatives but they are not as refined as the Play Store or App Store.
People that have built their online lives around the Google ecosystem will most likely skip on this tablet. But those who are willing to dive in learn the intricacies of HarmonyOS and enjoy the full capabilities of the Huawei MatePad 11 will be pleasantly surprised on how a complete a tablet it really is, which is why we are giving it our seal of approval.
Huawei MatePad 11 Price and Availability
The MatePad 11 is now available in the Philippines for PhP 26,999 and comes with a free gift bundle, which includes the Huawei M-Pencil, MatePad 11 Cover, Bluetooth Speaker, and Huawei Member Center membership at the time of writing. You can get it through the official Huawei Online Store as well as via the Huawei Lazada and Shopee flagship stores.