Huawei has now become a veteran in the wearables department since the start of their Watch GT lineup several years ago. The Huawei Watch GT 2 Pro is the latest culmination of their efforts for a smartwatch. It comes with a new design, tougher materials, and more options than its predecessors, will it be able to seduce those who have an active lifestyle?
Unboxing
The Huawei Watch GT 2 Pro is encased in a sleek black box. It immediately greets you once the paper sleeve is lifted. Further inside is a USB Type-C cable, documentation, and a 10W wireless charger.
Unfortunately, there is no bundled wall adapter in the box but since the power requirement of the wireless charger is relatively slow, any smartphone charger or USB power source should suffice for charging.
Build and Design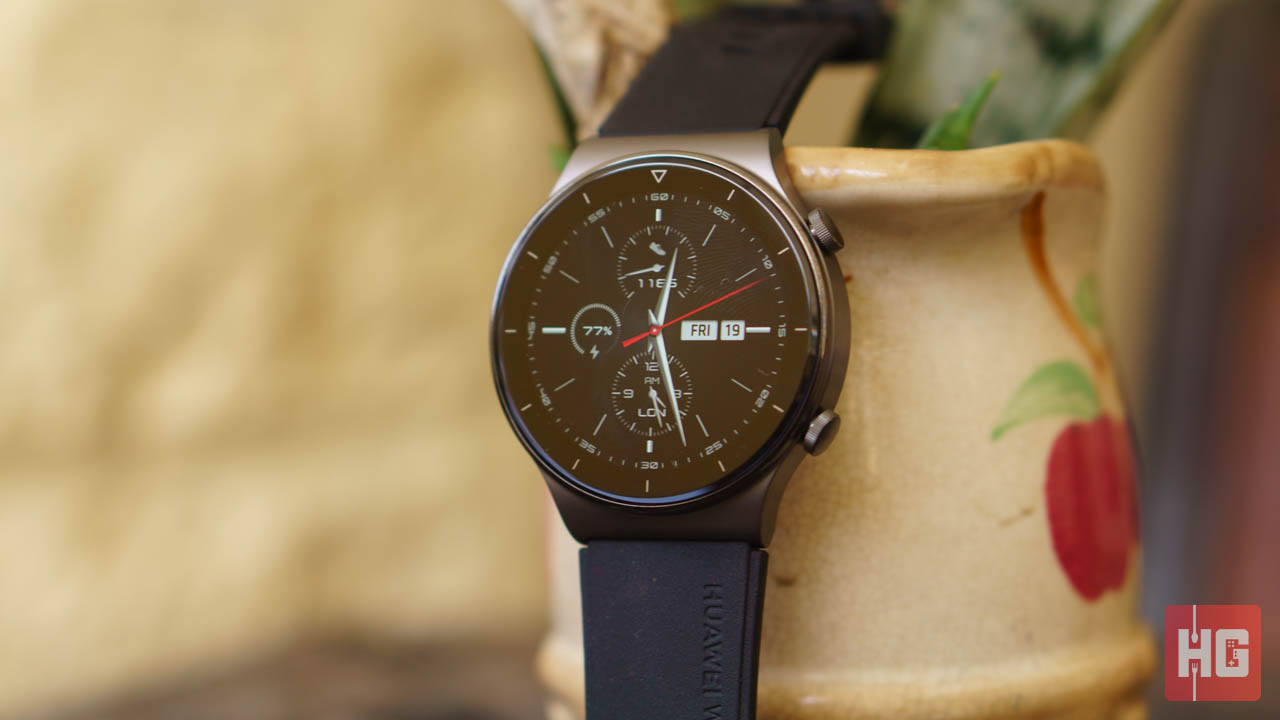 Most smartwatches nowadays are starting to look like actual watches instead of being a brick that resembles a children's toy. The Huawei Watch GT 2 Pro takes a step further by using fine materials like titanium alloys, matte rubber, sapphire crystal lens, and ceramics for its design. Its chamfered edges also help it to exude a level of classiness that's hard to mimic.
To endure sudden rain, sweat, or water sports, the GT 2 Pro's housing has been made waterproof by Huawei. While its no means completely impervious to water, Huawei says that it can withstand up to 5 atmospheres of pressure or up to 50 meters underwater.
The watch face is a 1.39-inch AMOLED touchscreen with a 454 x 454 resolution. The screen has no hard edges and is round throughout. The display itself is incredibly smooth and slightly reflective. Thankfully, brightness is not an issue for the Watch GT 2 Pro even under sunlight in the middle of the day.
Blacks produced by the watch face is deep thanks to its AMOLED panel. Colors are quite bright as well allowing any kind of watch face pre-installed or downloaded online a pleasure to see. The relatively high resolution also keeps information shown on the screen incredibly crisp even up close.
Its bottom portion is made up of smooth materials that should not bring any discomfort to your wrist, especially in long hours of usage. Two straps are used to couple the watch to your wrist. They are made of silicone and are incredibly smooth to avoid any kind of chaffing.
The straps themselves can be easily removed by releasing two bolts at either end. They can then be replaced by other official straps or after market ones to suite your style or comfort needs.
Software and Features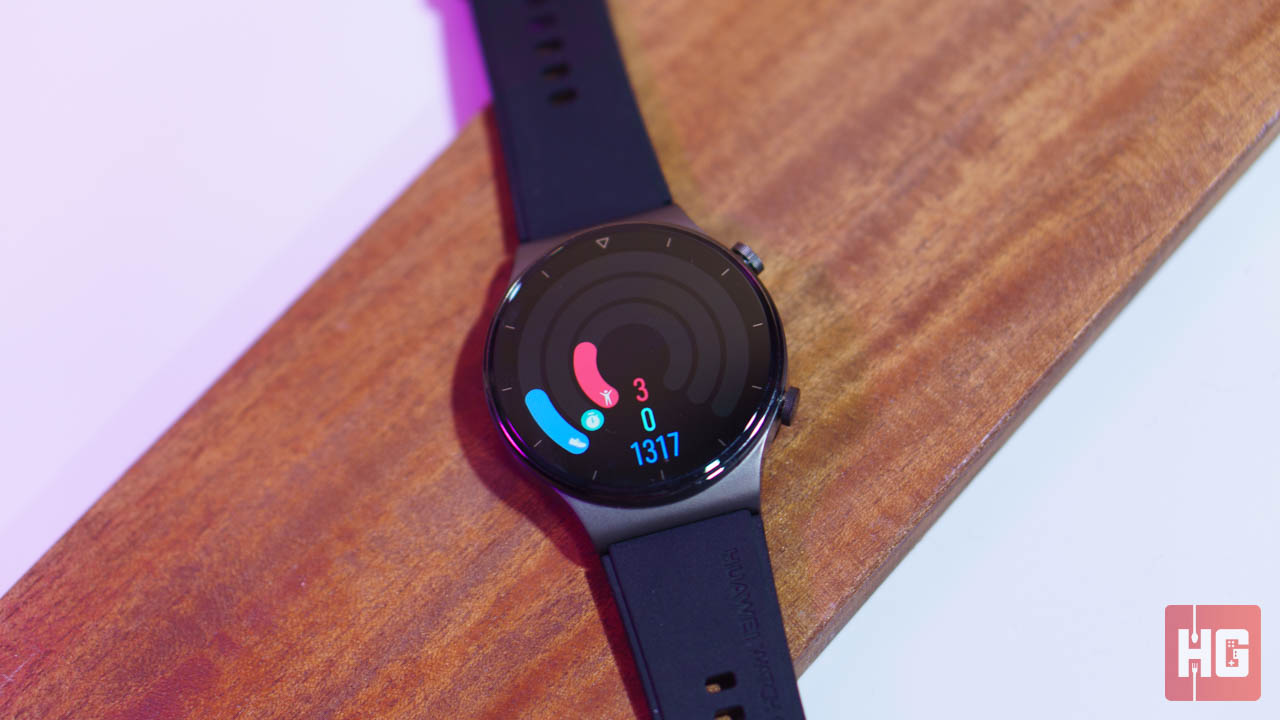 Powering the GT 2 Pro is a Kirin A1 processor with 32MB of RAM and 4GB of internal storage. It is running Huawei's proprietary Lite OS, which claims to be light on the watch's computing side but cannot install anymore apps. This means that you're pretty much stuck on the pre-installed apps.
Fortunately, Huawei already has you covered on all fronts. Scrolling left and right from its home screen will quickly give you information about your heart rate, stress levels, weather, pedometer, as well as music controls. Its menus are accessed via the two buttons at the top and bottom of the watch. You can then scroll up and down by swiping the screen when their respective options are activated. One will show smartphone related choices like music, call, settings, and heart monitoring, while the other will let you choose from a variety of sports modes.
Currently, it supports more than 100 sports modes to track your activities. We won't list them here, but more popular ones are available like walking, running, cycling, hiking, diving, golf, and skiing. You can even set custom modes if you want to measure specific.
Data taken by the GT 2 Pro's sensors are fairly accurate, which include heartrate and GPS tracking. More importantly your metrics can now be read by Google Fit, Apple Health, and MyFitnessPal. Of course, you can also use Huawei Health so you can integrate other Huawei IoT devices like their Smart Scale to fully monitor your own health status.
Battery Life
By default, it is set to raise to wake where its AMOLED display only turns on if you raise your hand to look at a watch. It's pretty responsive but those who like to flaunt the watch can toggle always-on mode and choose from a variety of watch faces that the screen will constantly show.
Huawei says that the GT 2 Pro can last up to 14 days in its default settings. On our estimates, their number is bang on the number so long as you keep exercises at a minimum even if you wear the watch constantly.
Those who have an incredibly active lifestyle or use the always-on feature can get around 5 days of usage with the Watch GT 2 Pro. Luckily, charging the watch is a breeze thanks to its bundled wireless charger.
It takes around 1 hour and 45 minutes to fully charge the device from completely empty. Busy people will be glad to know that you can charge the device for only 10 minutes and get around 9 hours of usage without the always-on display. You can even charge it through a compatible Qi charger or a smartphone with reverse wireless charging.
Conclusion
Thanks to its design, premium build, long battery life, and support for many types of activities, the Watch GT 2 Pro can pretty much do everything you ask from a modern smartwatch.
There are caveats, however, like its lack of support for app installation and the lack of support for other monitoring software like Strava. Despite that, Huawei has packed the device with enough features that you probably won't need to download more.
With all this mind, we believe the GT 2 Pro is a solid enough buy on all fronts. Which is why we are giving it our seal of approval. The Huawei Watch GT 2 Pro is a fine companion for both style and fitness.
At PhP 11,990 but goes on sale quite frequently, those who like a classic approach to watch design may appreciate its sleek looks while fitness buffs can enjoy a large selection of supported activities.