It's no secret that Intel has remain rather stagnant in the last few years letting AMD to creep up in the CPU market. The Intel 12th Generation CPUs marks the brand's new CPU age with the new Alder Lake-S architecture helmed by the Intel Core i9-12900K. Their new batch processors come with the latest enhancements such as PCIe 5.0 and DDR5 support, a new motherboard platform, and a big-little arrangement for its cores.
Intel 12th Generation Alder Lake-S Desktop Processors
Intel has been busy building a new series of processors to retake the CPU market after being stuck on the 14nm process for several generations. Their 12th Generation Alder Lake-S processors is the first real effort to arrive in the market to break the cycle and comes with several improvements such as support for PCIe 5.0 and DDR5 memory as well as a new hybrid architecture.
Intel is still sticking to their naming convention of i9, i7, and i5 this generation. Their current crop of Alder Lake-S processors are the Core i9-12900K (16 cores), Core i7-12700K (12 cores), and the Core i5-12600K (10 cores) as well as their KF variants, which does not have iGPUs.
Alder Lake-S desktop processors now come with a hybrid architecture, which splits core counts to Golden Cove high-performance cores and Gracemont high-efficiency cores. The former is based on the new 10nm Enhanced Super Fin process (also known as Intel 7) and can be scaled to other devices. Intel promises that it can deliver up to 19% increase in IPC.
The Gracemont microarchitecture, on the other hand, was made for efficiency for Intel's upcoming low-power CPUs and SoCs. It is also built on the Intel 7 process and promises the best performance-per-watt compared to Intel's current CPUs.
Performance is further enhanced by the Intel Thread Director. This maximizes the performance of Intel 12th Generation processors by using machine learning telemetry to predict workloads which then assigns them to the right core for the job.
Turbo Boost Max Technology 3.0 has also been implemented on Alder Lake-S processors. They offer additional performance during peak loads by targeting the fastest P-cores and directs the most critical workloads to them.
Intel's Alder Lake-S CPUs comes with PCIe 5.0 support, which can reach up to 64GB/s on 16 lanes compared to PCIe 4.0 of 32GB/s. This allows for higher performance ceilings on devices such as GPUs and NVMe SSDs.
Alder Lake-S processors are also one of the first consumer devices to support DDR5 memory. DDR5 memory can reach up to 8,400MT/s for better performance as well as lower latencies. Worry not, however, Intel 12th Generation desktop CPUs will still support DDR4 RAM on select motherboards.
LGA 1700 and 600 Series Platform
The new Intel Alder Lake-S processors will have with a larger LGA 1700 socket. This new socket is not compatible with previous cooler mounts but reputable manufacturers are now shipping upgrades for respective coolers.
This generation introduces the 600 series platform. The first motherboards to arrive use the Z690 chipset that supports both DDR4 and DDR5, 20 PCIe lanes (16 of which or PCIe 5.0), and a DMI 4.0 connection for the CPU and PCH.
Z690 motherboards can include 12 PCIe 4.0 or 16 PCIe 3.0 lanes, Thunderbolt 4.0, four USB 3.2 2×2 ports, as well as Intel WiFi 6E though it may be upgraded to WiFi 7 in the future.
Intel Core i9-12900K Review – System and Overclocking
The Intel Core i9-12900K will be paired with an ASUS ProArt Z690 Creator WiFi motherboard that supports DDR5 memory and most of its new features. The CPU will also run on a DDR5 6400MHz memory kit and an RTX 3080 for the best performance possible in benchmarks. All tests were run in a room with a 24°c ambient temperature.
CPU: Intel Core i9-12900K
RAM: Team Group T-Force Delta RGB 2x 16GB DDR5-6400
Motherboard: ASUS ProArt Z690 Creator WiFi
PSU: EVGA 650 GQ Gold 650W
Cooler: MSI MAG CoreLiquid K360
OS: Windows 10 Build 21H2
Driver Version: GeForce Game Ready Driver WHQL 511.23
Those who have high-end cooling can overclock the Intel Core i9-12900K to 5.3GHz at 1.4v on all P-Cores though thermals and power consumption will jump significantly. Clocking the CPU any higher on our test bed results in regular instability.
CPU Benchmarks
CPU-Z Benchmark 17.01.64
7-Zip 16.04
wPrime v2.10
Cinebench R15
Cinebench R20
Cinebench R23
Blender 2.82a
Adobe Premiere Pro 2020
Performance of the Intel Core i9-12900K is definitely top-tier as expected from the Alder Lake-S flagship. It comfortably rests at the top of the charts at both single and multi-core benchmarks only being usurped by the AMD Ryzen 5950X and 5900X in some tests. Its support for DDR5 Memory definitely helps it to perform more in RAM intensive tasks like compression and decompressions, which allows it to steam roll the competition in this area.
The new architecture does show some problems when it comes to older applications. The 12900K places like an entry-level processor in Cinebench R15 as the software is not fully utilizing the P-Cores of the CPU. The same thing can be said in wPrime v2.10 as it lags behind some of the older CPUs in the charts even though it tops other single-core focused benchmarks.
Gaming Benchmarks
Synthetic Benchmarks
1920 x 1080
2560 x 1440
3840 x 2160
In terms of gaming, the Intel Core i9-12900K is definitely a contender. While Intel fans that focus solely on gaming might prefer the more affordable i7-12700K, the flagship of the Alder Lake-S range can pump out decent numbers when paired with a similarly impressive GPU.
When the right circumstances are achieved, the 12900K can comfortably reach more than 400fps in competitive games like Rainbow Six Siege. Most Triple A games will also be able to run at full blast at any resolution with the right configuration.
Intel Core i9-12900K Review – Temperature and Power Consumption
Intel has made concessions in the search of performance in Alder Lake-S with its thermals and power consumption. They list the i9-12900K having a base 125W but it can boost up to 241W and even further when overclocked. It higher TDP means that its cooling requirements are more demanding as well.
At stock settings, the Intel Core i9-12900K will pull around 227W under heavy workloads and an average of 135W in gaming sessions. Overclocking its P-Cores to 5.3GHz will raise power consumption to more than 300W at heavy loads like rendering and to around 215W while playing games.
The average 360mm radiators or beefy dual cooling towers will be able to cool the i9-12900K with ease but thermals will still rest at around 80°c on some workloads. Applying increased voltages to the CPU will significantly increase thermals reaching the maximum of 100°c in heavy workloads.
Intel Core i9-12900K Review – Conclusion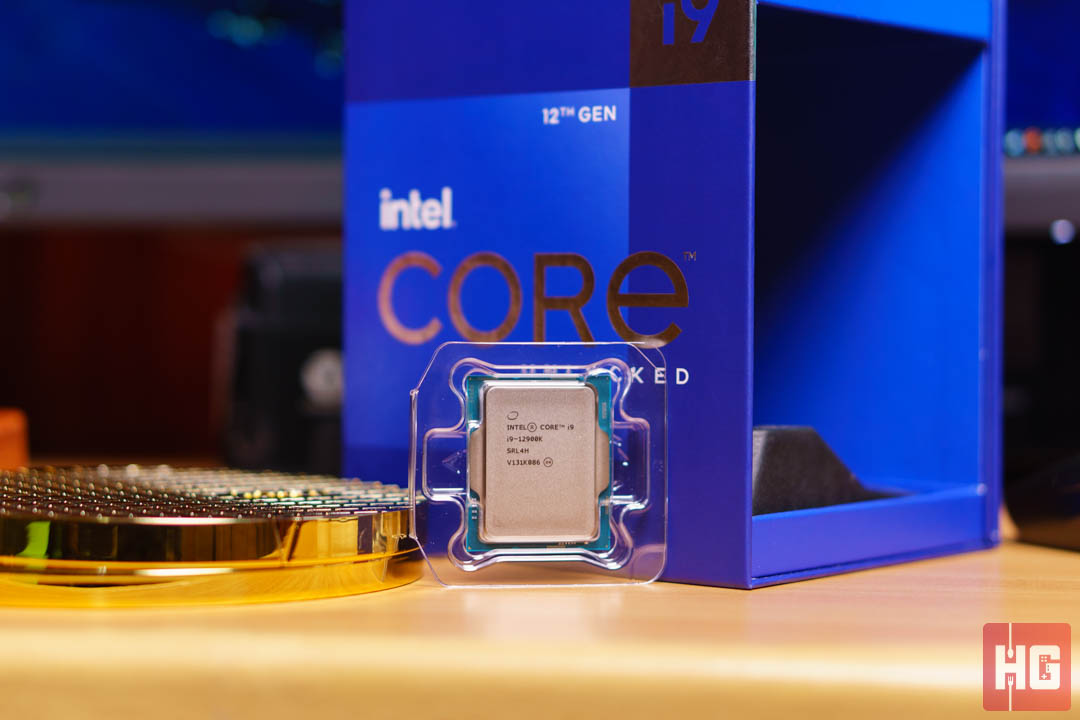 The Alder Lake-S architecture is definitely a step of from Intel compared to their previous offerings. While older generation processors felt like Team Blue delaying Team Red from taking the top spot, the Intel 12th Generation Processors seems like a legitimate step in the right direction.
The Intel Core i9-12900K is indeed worthy to have the flagship title in the Alder Lake-S generation. The pairing of 8 P-Cores and 8 E-Cores can deliver top notch performance in heavy workloads and gaming while still having lower power consumption while idle or in light workloads like browsing the Internet.
The platform's support for DDR5 and PCIe 5.0 is unquestionably an asset for future-proofing desktops. Some, however, will dislike the higher power consumption and increased thermal requirements of the CPU as well as the price of the whole platform including, DDR5 RAM kits, high-end Z690 motherboards from their AIB partners such as ASUS, Gigabyte, ASRock, and MSI, and – for some – a cooling kit upgrade.
Overall though, the Intel Core i9-12900K is a right step for Team Blue. It does offer increased performance compared to previous generations and is able to consistently beat AMD's current offerings. There are some growing pains like high thermals and power consumption. Those who are looking for the absolute newest in desktop computing will find great performance in the Intel Core i9-12900K but with some slight caveats in areas.
Intel Core i9-12900K – Price and Availability
The Intel Core i9-12900K is now available in the Philippines through PC Express, EASY PC, PCWORX, and other authorized retailers for PhP 37,050.