The Lenovo IdeaPad Gaming 3i is one of the company's value-oriented gaming notebook. Previous iterations of the series revealed its budget nature with its design and performance. In this generation, however, some features from the more premium Legion range have started trickling down including a 16:10 1600p 165Hz screen, beefier GPUs, the familiar Legion design, and a new Intel 12th Generation Core processor alongside plenty of RAM.
Lenovo IdeaPad Gaming 3i (2022) Specifications
| | |
| --- | --- |
| CPU | Up to Intel 12th Generation Core i7-12700H |
| GPU | Up to NVIDIA GeForce RTX 3060 |
| OS | Windows 11 |
| RAM | Up to 16GB DDR4-3200 |
| Display | 15.6-inch IPS, Up to 2560 x 1440, 100% sRGB, 165Hz |
| Storage | 1TB PCIe NVMe SSD, 1x 2280 M.2 Mount, 1x 2242 M.2 Mount |
| I/O Ports | 2x USB 3.1 Gen1 Type-A, 1x USB 3.2 Gen2 Type-C (RTX 3060), 1x Thunderbolt 4 (RTX 3050/3050 Ti), 1x HDMI 2.0, 1x RJ-45 Ethernet, 1x 3.5mm Combo Jack, 1x Power Connector |
| Connectivity | WiFi 802.11ax, Bluetooth 5.2 |
| Battery | 65Whr Li-Polymer, 230W Power Adapter |
| Audio | 2x 2W Stereo Speakers, Nahimic Audio |
| Others | Keyboard with 4-Zone RGB Backlight, Buttonless Mylar Surface Touchpad, 720p Webcam with Privacy Shutter |
| Dimensions | 359.6 x 266.4 x 21.8mm |
| Weight | Starts at 2.3kg |
| Colors | Glacier White, Onyx Gray |
Design and Aesthetics
The Lenovo IdeaPad Gaming 3i's design eerily mimics that of the Legion 5i and other Legion gaming notebooks. It's as if they took the chassis of a Legion notebook and removed the RGB logo. It even has the rear protrusion for some of its I/O ports and exhaust.
The chassis is made out of plastic but there are minimal weak points or flexing of some sort. It is still quite hefty though with the whole notebook weighing in at around 2.3kg and measures around 359.6 x 266.4 x 21.8mm.
Display and Audio
The display is one of the biggest upgrades of the IdeaPad Gaming 3i. Instead of a 1080p screen, the notebook now has a 15.6-inch 16:10 2560 x 1600 IPS screen while still maintaining a 165Hz refresh rate from last generation.
Color performance is nothing to write home about but is competent. It only has full coverage for sRGB but colors look nice and saturated. There is no color shifting at the sides thanks to the IPS panel. The increased resolution also makes everything look crisp and is a significant upgrade to a 1080p display. It has decent contrast and the display can turn incredibly dim with a measured 0.35 cd/m2 of brightness at its lowest settings.
sRGB – 98.00%
AdobeRGB – 70.70%
DCI-P3 – 73.00%
Luminance (Minimum) – 0.35 cd/m2
Luminance (Maximum) – 531.22 cd/m2
Delta E (Average) – 0.13
Delta E (Maximum) – 0.67
Gamma – 2.16
Contrast Ratio – 1340:1
Brightness surprisingly impressive. The display can reach more than 500 cd/m2, which should allow it to be used against harsh backlight or outside with the sun up. Brightness uniformity is decent with just below 10% variance when compared to its brightest spot to its dimmest spot at highest brightness.
Audio is delivered through two 2W speakers. They are competent for notebook speakers allowing for loud volume and some semblance of an audio stage. Bass is reasonable and vocals are clear. They do sound a bit flat and going overboard with the volume controls diminish their audio quality.
Keyboard and Touchpad
The Lenovo IdeaPad Gaming 3i (2022) comes with a full-sized keyboard with stepped arrow key. The keys themselves are flat and the left-hand side keys are slightly shaven to fit in the number pad at the right. They do have RGB lighting but is limited to 4 RGB zones that can be controlled via the Lenovo Vantage software.
Its trackpad has a smooth mylar finish with its buttons hidden below. It is sized large enough for most users while tracking is accurate. As with most notebooks nowadays, there is gesture controls for easier browsing and general operation.
Input and Output Ports
Its input and output ports are littered across its body. At the left-hand side is a USB 3.1 Gen1 Type-A port and activity light while at the reverse side is another USB 3.1 Gen1 Type-A port and a 3.5mm combo jack.
The bulk of the ports are placed at the protrusion at the back. Here we see an HDMI 2.0 port, a RJ-45 Ethernet, a USB 3.2 Gen2 Type-C port (Thunderbolt 4 for RTX 3050 and RTX 3050 Ti variants), and DC-in for charging.
While we think that moving most of the ports being moved to the back is smart, we wanted additional USB Type-A ports at the back for peripherals. With the way it is now, you will still need to connect your wired keyboard and mouse via the USB Type-A ports at the sides unless you have USB-C or Bluetooth peripherals or use a USB-C to USB-A hub.
Software
We've seen the Lenovo Vantage software before and it still remains the same on the IdeaPad Gaming 3i. The software monitors system statistics like temperature, battery life, and overall usage as well as making it easier for users to see related content and sign up for Lenovo services.
The software also allows some degree of control over the notebook. You can adjust fan profiles and power settings and customize the RGB lighting of the keyboard. As mentioned, it is limited to only 4 zones but you can place various effects on the zones.
Lenovo IdeaPad Gaming 3i (2022) Review – Benchmarks
Our version of the Lenovo IdeaPad Gaming 3i came with a 12th Generation Intel Core i7-12700H processor, an NVIDIA GeForce RTX 3060, and 16GB of DDR4 RAM, which can be considered top of the range among the variants. Storage is a speedy 1TB NVMe drive but you can add your own SSDs as Lenovo is providing you two M.2 slots (2280 and 2242).
We'll be benchmarking the notebook with a mix of CPU-focused programs and games. For the former, the tests will include rendering, synthetic, and compression and decompression. GPU-bound test, on the other hand, will use synthetics and various games in different APIs at the notebook's native 2560 x 1600 resolution to see what kind of performance it can deliver.
CPU Benchmarks
CPU-Z Benchmark 17.01.64
7-Zip 16.04
wPrime v2.10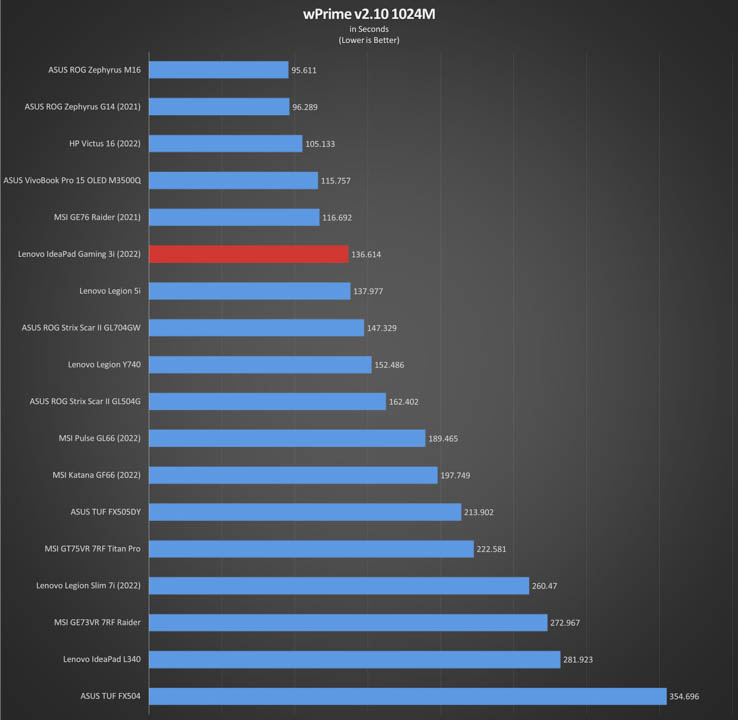 Cinebench R15
Cinebench R20
Cinebench R23
Blender 2.82a
Its 12th Generation Intel Core i7-12700H is pretty powerful in its own right but Lenovo isn't using its full potential. It seems that the processor is locked at 80W TDP compared to its maximum TDP of 115W. Clock speeds for the P-Cores maxes out at 3.3GHz during several runs with an average of around 2.8GHz when considering thermal throttling. Regardless, performance is great consistently taking the higher spots in our charts.
The only time it drops performance is in compression and decompression. To reduce costs, opted to use DDR4 memory instead of DDR5. This brings down the price of the notebook but it's clear that DDR5-based notebooks with largely the same generation of processors are still faster in this workload.
GPU Benchmarks
3DMark Fire Strike
3DMark Time Spy
Port Royal
Rainbow Six Siege
Red Dead Redemption 2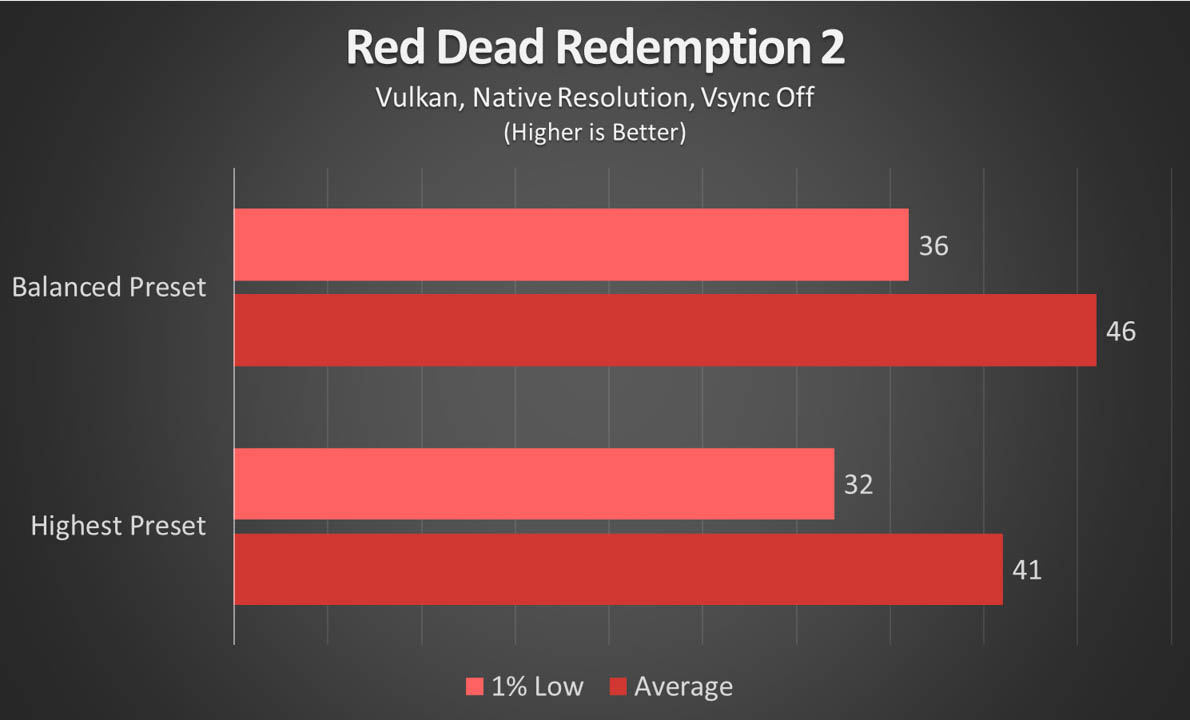 Borderlands 3
The Division 2
Far Cry 6
Shadow of the Tomb Raider
Metro Exodus
Watch Dogs: Legion
Dying Light 2
Cyberpunk 2077
The NVIDIA GeForce RTX 3060 runs full-blast at 105W but it is designed for 1080p. It creates somewhat of a mismatch with the IdeaPad Gaming 3i's 2560 x 1600 display. It can still play games at 1600p at High (Ultra at times) but you'll need to turn down some settings in select games to get improved framerates.
The lack of horsepower at higher resolutions is even more evident when using Ray Tracing. You'll need to turn on DLSS at either Performance or Ultra Performance to get decent framerates on most titles. Stepping down graphical options is the way to get good framerates unless you want to lower resolution.
Temperature and Battery Life             
                    
Temperatures are what you expect from a gaming notebook. Its power-hungry components do need to throttle at times as they hit their thermal limit – especially the CPU. On some loads, such as gaming, the CPU can hit 100°c at peak at 4.6Ghz before backing down to an average of 92°c at 3.2GHz.
The RTX 3060 fares a bit better in the cooling department. Despite a 105W TGP, Lenovo's cooling brings down the GPU to a comfortable peak of 87°c during heavy workloads. It's worth noting that fans are fairly quiet during gameplay and does not suddenly become sounding like jet engines even in demanding games.
The notebook runs off a 65Whr Li-Polymer battery. In one charge, we were able to get nearly 5 hours of media playback with 50% volume and brightness. While gaming, however, longevity drastically takes a dip with around an hour and a half of playtime.
Only the RTX 3050 and RTX 3050 Ti variants support USB PD 3.0 charging through the USB-C port. The RTX 3060 model relies solely on the 230W power connection at the back. Bringing the notebook from 10% to 85% will take around 1 hour and 10 minutes while filling it up to maximum from 85% will add 35 minutes to the wait.
Lenovo IdeaPad Gaming 3i (2022) Review – Conclusion
The Lenovo IdeaPad Gaming 3i (2022) blends value and performance in an attractive package. It sports a pretty decent spec sheet like up to an Intel Core i7-12700H, an RTX 3060 GPU, and 16GB DDR4 RAM. The display is also crisp thanks to its improved resolution while the battery life is serviceable.
As usual, there are some compromises. There is a lack of USB-A ports at the rear for peripherals and the processor might be too much for its cooling to handle at times. Color accuracy isn't the greatest while the RTX 3060, though powerful at 1080p, starts to show difficulties at 2560 x 1600 – the display's native resolution.
We believe that the IdeaPad Gaming 3i (2022) perfectly mixes its strengths and weaknesses in a sensible package. It might have some nuanced downsides but the performance it can deliver is well-rounded.
Lenovo IdeaPad Gaming 3i (2022) Price and Availability
The Lenovo IdeaPad Gaming 3i (2022) is priced starting at PhP 69,995. The notebook and other Lenovo and Legion notebooks are now available in the Philippines through Legion Exclusive Stores, Lenovo Experience Stores, authorized resellers nationwide , and the Legion Flagship Store on Lazada.