Advertisement
Lenovo is refreshing the ThinkPad E14 to pack AMD Ryzen 4000 series CPUs unlike the previous iteration which had an Intel-based processor. Does this move to another CPU maker's platform give the ThinkPad E14 a new lease on life? Let's find out.
Lenovo ThinkPad E14 Gen2
| | |
| --- | --- |
| CPU | AMD Ryzen 5 4500U |
| GPU | AMD Radeon Vega 6 |
| OS | Windows 10 Pro |
| RAM | 8GB DDR4 3200MHz |
| Display | 14.0-inch IPS, 1920 x 1080, Anti-Glare Coating |
| Storage | 256GB NVMe SSD |
| I/O Ports | 1x USB 3.1 Gen1 Type-C (DisplayPort 1.2, PD 3.0), 1x USB 3.1 Gen1 Type-A, 1x USB 2.0, 1x HDMI 1.4b, 1x RJ-45, 1x 3.5mm Combo Jack |
| Connection | Dual-band WiFi 802.11ax, Bluetooth 5.0 |
| Battery | 45Whr Battery, 65W Rapid Charge, Up to 12.8 hours |
| Audio | 2x 2W Harman Speakers, Dual-Array Microphones, Dolby Audio |
| Others | HD Camera, Backlit Keyboard |
| Dimensions | Starts at 325 x 232 x 17.9mm |
| Weight | Starts at 1.69kg |
| Colors | Black, Silver |
Display and Design
Immediately greeting you when you open the ThinkPad E14 is a 14.0-inch IPS display with anti-glare coating with a resolution of 1920 x 1080 running at 60Hz. While it isn't a standout in the notebook space, the screen is able to deliver a competent experience with proper saturation and viewing angles. The application of the anti-glare coating is just enough for bright conditions not to be a problem without having any grain that might affect the display quality.
Though the E14 might be one of the newer entries in the lineup, it does not lose the traditional ThinkPad look. The screen's housing is made out of black anodized aluminum while other parts of the device are built from seemingly tough plastic.
The dark finish of the notebook is accented by the ThinkPad logo and a few hints of red. The ThinkPad logo on the back even has the dot on the letter "i" light up when the notebook is turned on.
Overall, the Lenovo ThinkPad E14's chassis feels solid enough without any notable flex and has a modern design, all of which are expected from a business-oriented notebook.
Keyboard and Touch Pad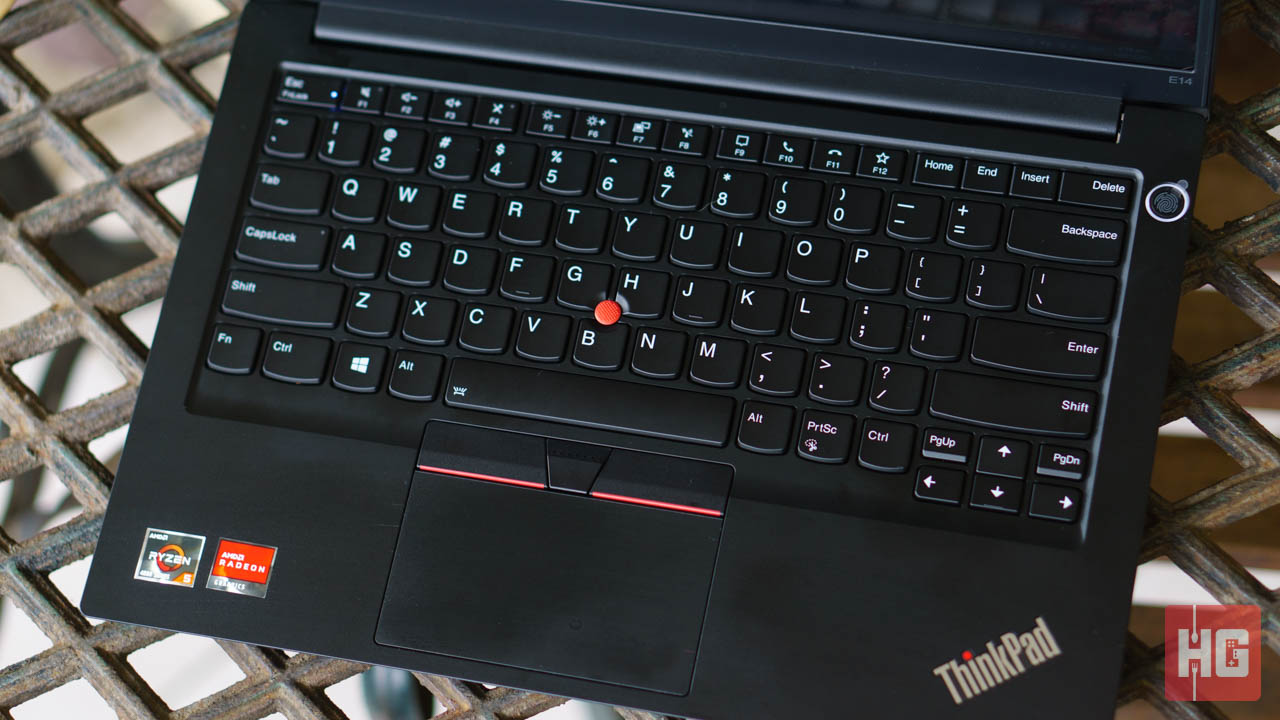 The Lenovo ThinkPad E14 comes with a traditional 70% chiclet-style keyboard with two levels of white backlight. The key caps are sturdy and offer a bit of ergonomics as they are slightly concaved. The typing experience is fairly solid with the keyboard offering a mild bump when actuating with only slight mushiness when bottoming out.
Typing is a solid enough endeavor for the E14 but there are a few annoyances for some users. The function keys at the top are automatically bound by their secondary functions instead of being F keys.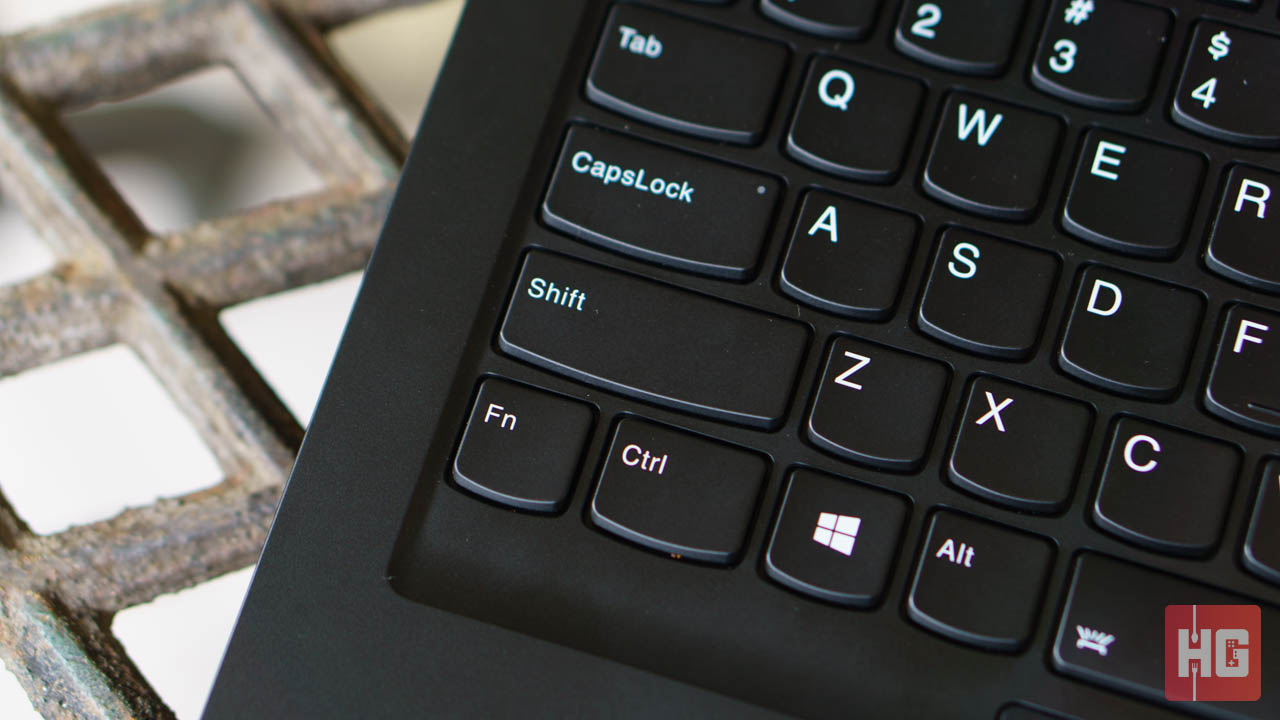 Meanwhile, the Fn key is still placed outside the bottom left of the keyboard like older ThinkPad systems. Fortunately, the Fn key and the F keys can be switched around via the BIOS settings or the Lenovo Vantage software.
The E14's touch pad is fairly large equaling the keyboard's space bar in length and is smooth and even throughout allowing for smooth tracking. At the top are three tactile buttons: the left and right click, and the middle button that substitutes as a scroll wheel.
Those who know the ThinkPad formula will be happy to know that the TrackPoint is still present on the E14. For those who are not familiar, the TrackPoint is the tiny dot placed in the middle of the keyboard that acts as a mouse pointer. While it has not lost any accuracy, the TrackPoint is incredibly sensitive especially with Windows mouse smoothing is turned on.
Input and Output Ports
The Lenovo ThinkPad E14 comes with a variety of ports both legacy and forward-thinking. At the left is are its USB 3.1 Gen1 Type-A port, HDMI 1.4b, and 3.5mm combo jack. Near the back is a single USB 3.1 Gen1 Type-C port that supports DisplayPort 1.2 signals and USB PowerDeliver 3.0 for charging.
The right-hand side of the E14 is a bit anemic in terms of ports compared to the left only having a single USB 2.0 Type-A, a RJ-45 Ethernet, and a Kensington lock. The E14 does offer a nearly complete range of ports, but it is missing an SD Card reader which is essential to photography buffs that may want a this kind of notebook in their arsenal.
Software
Like all their current notebooks, the ThinkPad E14 ships out with Lenovo Vantage pre-installed. The brand's software allows you to seamlessly monitor hardware, install crucial updates, and see current battery levels.
Vantage also enables you to discover more features on the notebook like back and restore or advanced power settings. You can also enable and disable certain functions like WiFi and Bluetooth connectivity from the program.
Performance and Benchmarks
Lenovo is sacking the traditional Intel processor and instead moving over to AMD's platform in this generation of the ThinkPad E14. Underneath its dark frame is a Renoir-based AMD Ryzen 5 4500U with a Radeon Vega 6 GPU. The notebook is also receiving 8GB of DDR4 3200MHz RAM, which can be expanded should you choose to do so.
The notebook comes with a Samsung MZVLQ256HAJD 256GB NVMe SSD, which the manufacturer says can perform up to around 2000MB/s and 1000MB/s sequential reads and writes, respectively.
Running CrystalDiskMark benchmark with a 4GiB load confirms those claims with the SSD reaching 2255MB/s in sequential reads and 1089MB/s in sequential writes. Random 4K performance is not too shabby as well with the drive getting to 44MB/s and 108MB/s in random reads and writes, respectively, in a 1 queue and 1 thread load.
With its storage proving to be fairly quick to handle day-to-day activities, we move on to synthetic, productivity, and gaming benchmarks to see what kind of capabilities the Lenovo ThinkPad E14 have.
Synthetic Benchmarks
CPU-Z Benchmark 17.01.64
7-Zip 16.04
wPrime v2.10
Cinebench R15
Cinebench R20
Blender 2.82a
The ThinkPad E14's AMD Ryzen 5 4500U has a great showing in compression, CPU rendering, and overall computation power. It is not the most powerful notebook processor in our charts but it rests comfortable in the middle, which is where it should be given that it is a midrange processor.
Gaming Benchmarks
3DMark Fire Strike
3DMark Time Spy
Rainbow Six Siege
The Radeon Vega 6 GPU performs rather poorly in graphically intensive benchmarks like Fire Strike and Time Spy, which means that it might have trouble running modern triple A games.
There is hope, however, for more competitively focused games like Rainbow Six Siege where the notebook can run an average of 84fps at its lowest settings only dipping to a respectable 65fps at the most heated moments.
Temperature and Battery Life
Component temperature in the ThinkPad E14 is fairly tempered given its rather minimal design. The CPU peaks at 91°c and averages at 87°c in Blender. The notebook is fairly cool under gaming as well with the CPU only reaching a maximum of 70°c. Under minimal stress, the notebook keeps its chill at just an average of 57°c.
The Lenovo ThinkPad E14 is powered by a 45Whr battery and ships with a 65W USB Type-C power adapter. Running the notebook at medium brightness with WiFi on allowed it to last around 9 – 10 hours of work with the occasional movie viewing in-between.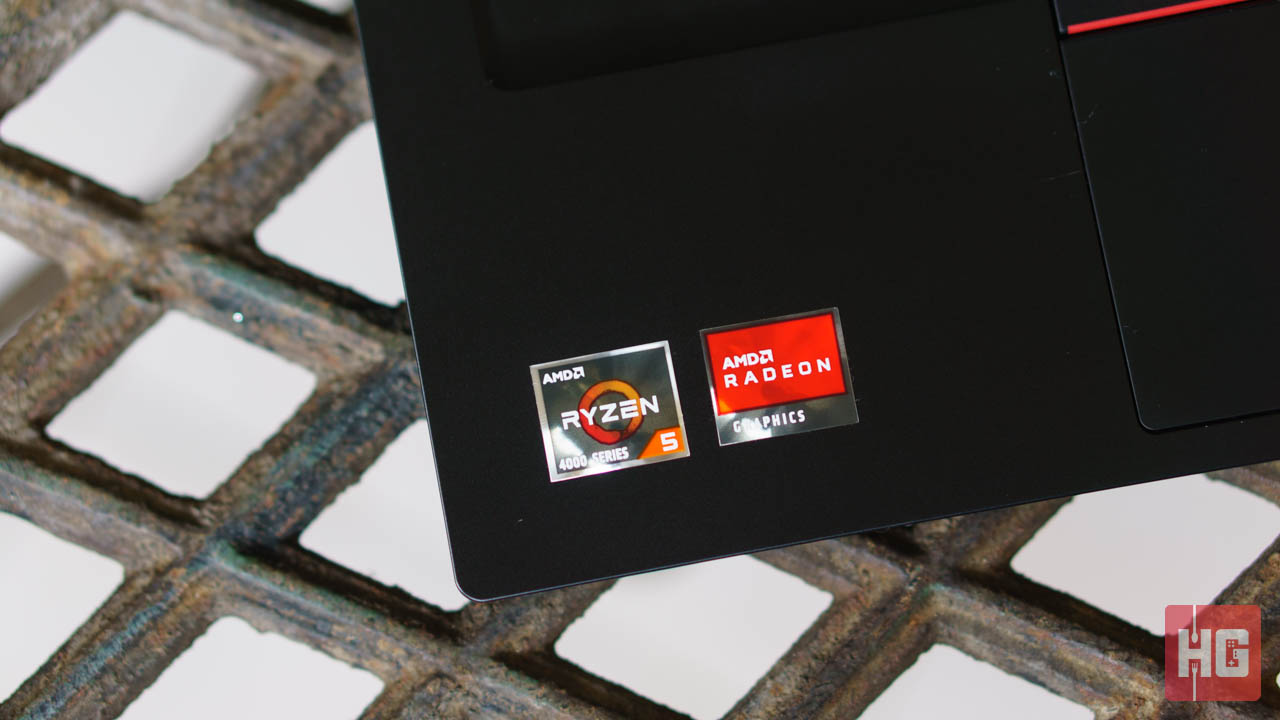 Thanks to its support for USB PowerDelivery 3.0 charging, filling up the battery only took around 2 hours. Like most notebooks with PD charging, you can also use compatible power banks if you run out of juice away from the nearest plug.
Conclusion
The Lenovo ThinkPad E14 Gen2 keeps everything professional like a good business-oriented notebook should. Its looks won't be winning any awards soon but its functional and elegant to look at. Its components, while decidedly intermediate, can do everything you throw at them aside from heavy duty gaming.
It has few downsides but there are some nonetheless. It lacks an SD card reader and the Fn key is still located at the bottom left-hand side instead of the usual Control key. The latter of which may mess up your muscle memory when typing. The display is also nothing special but it does the job fairly decently.
Priced at PhP 43,399, the Lenovo ThinkPad E14 Gen2 is a great midrange notebook for professionals and students alike. It's no nonsense approach to anything – which includes its design and features – lends to a decent computing experience.
Despite having a few nitpicks, we still believe the ThinkPad E14 Gen2 offers a complete package. With all this in mind, we are giving the notebook our Seal of Approval for the solid experience it delivers at its price point.