MSI's Tomahawk motherboard series has always delivered a competent midrange experience regardless of what generation CPUs. The series is getting a new makeover with the introduction of Intel's Alder Lake-S CPUs and 600 series platform. One of those boards is the MSI MAG Z690 Tomahawk WiFi DDR4, which blends next generation features with last generation compatibility for DDR4 memory kits.
MSI MAG Z690 Tomahawk WiFi DDR4 Specifications
| | |
| --- | --- |
| CPU Support | Intel 12th Gen Alder Lake, LGA 1700 |
| Chipset | Z690 |
| VRM | 16+1+1 Duet Rail Power System, 70A Smart Power Stage |
| Memory | 4 DIMM Slots, up to 5200MHz, up to 128GB, Dual-Channel, Intel XMP |
| PCIe Slots | 1x PCIe 5.0 x16 (CPU), 1x PCIe 3.0 x16 (x4, Chipset), 1x PCIe 3.0 x16 (x1, Chipset), 1x PCIe 3.0 x1 |
| Storage | 2x M.2 PCIe 4.0 x4, 2x M.2 PCIe 3.0 x4, 6x SATA III |
| Audio | Realtek ALC4080 Codec |
| Networking | 1x Intel I225-V 2.5Gbps LAN, WiFi 6, MU-MIMO, Bluetooth 5.2 |
| Power Connectors | 1x 24-pin ATX, 2x 8-pin ATX 12v |
| Internal Headers | 1x USB 3.2 Gen2, 1x USB 3.2 Gen1 (2x USB 3.2 Gen1), 2x USB 2.0 (4x USB 2.0), |
| Cooling Headers | 1x 4-pin CPU, 1x 4-pin Water-Pump Fan, 6x 4-pin System Fan |
| Other Headers | 1x Front Panel Audio, 2x System Panel, 1x Chassis Intrusion, 1x TPM, 1x Clear CMOS, 1x TBT, 1x Tuning Controller, 1x 4-pin RGB, 3x 3-pin RAINBOW LED |
| Rear I/O | 2x USB 3.2 Gen2 Type-A, 1x USB 3.2 Gen2 Type-A, USB 3.2 Gen2 2×2 Type-C, 2x USB 2.0, 2.5G LAN Port, WiFi/Bluetooth Antenna, Optical S/PDIF Out, 5x 3.5mm Audio Jack, Flash BIOS, DisplayPort 1.4, HDMI 2.1 |
| Form Factor | ATX |
| Others | 1x EZ LED Control Switch, 4x EZ Debug LED |
Intel 12th Generation Alder Lake-S Desktop Processors
Intel has been busy building a new series of processors to retake the CPU market after being stuck on the 14nm process for several generations. Their 12th Generation Alder Lake-S processors is the first real effort to arrive in the market to break the cycle and comes with several improvements such as support for PCIe 5.0 and DDR5 memory as well as a new hybrid architecture.
Intel is still sticking to their naming convention of i9, i7, and i5 this generation. Their current crop of Alder Lake-S processors are the Core i9-12900K (16 cores), Core i7-12700K (12 cores), and the Core i5-12600K (10 cores) as well as their KF variants, which does not have iGPUs. The brand will also most likely introduce an i3 version in the future.
Alder Lake-S desktop processors now come with a hybrid architecture, which splits core counts to Golden Cove high-performance cores and Gracemont high-efficiency cores. The former is based on the new 10nm Enhanced Super Fin process (also known as Intel 7) and can be scaled to other devices. Intel promises that it can deliver up to 19% increase in IPC.
The Gracemont microarchitecture, on the other hand, was made for efficiency for Intel's upcoming low-power CPUs and SoCs. It is also built on the Intel 7 process and promises the best performance-per-watt compared to Intel's current CPUs.
Intel's Alder Lake-S CPUs comes with PCIe 5.0 support, which can reach up to 64GB/s on 16 lanes compared to PCIe 4.0 of 32GB/s. This allows for higher performance ceilings on devices such as GPUs and NVMe SSDs.
Alder Lake-S processors are also one of the first consumer devices to support DDR5 memory. DDR5 memory can reach up to 8,400MT/s for better performance as well as lower latencies. Worry not, however, Intel 12th Generation desktop CPUs will still support DDR4 RAM.
LGA 1700 and 600 Series Platform
The new Intel Alder Lake-S processors will have with a larger LGA 1700 socket. This new socket is not compatible with previous cooler mounts but reputable manufacturers are now shipping upgrades for respective coolers.
This generation introduces the 600 series platform. The first motherboards to arrive use the Z690 chipset that supports both DDR4 and DDR5, 20 PCIe lanes (16 of which or PCIe 5.0), and a DMI 4.0 connection for the CPU and PCH.
Z690 motherboards can include 12 PCIe 4.0 or 16 PCIe 3.0 lanes, Thunderbolt 4.0, four USB 3.2 2×2 ports, as well as Intel WiFi 6E though it may be upgrade to WiFi 7 in the future.
MSI MAG Z690 Tomahawk WiFi DDR4 Review – Unboxing
The MSI MAG Z690 Tomahawk WiFi DDR4 comes in a military-themed box with gunmetal colorway. It's fairly basic packaging since the board isn't exactly a high-end offering from the brand.
The motherboard comes with plenty of accessories including a manual, a quick installation guide, WiFi antennas, two SATA cables, M.2 clips, a metal USB drive, a case badge, MSI MAG-themed stickers, as well as flyers for its rewards program, product catalog, and registration.
MSI MAG Z690 Tomahawk WiFi DDR4 Review – Up Close
The MSI MAG Z690 Tomahawk WiFi DDR4 is clad in a black/gray paintjob with a brushed aluminum finish, which gives off a high-end feel and look. There are no shiny bits or nor any built-in RGB lighting. This may turn off others but its minimalist looks will attract enthusiasts who like a clean look for builds.
Intel Alder Lake-S can pull more than 240W of power even on stock, which is why MSI is using a 16+1+1 Duet Rail Power System and 70A Smart Power Stages. Its VRMs are cooled by a significant chunk of aluminum fins. There are two 8-pin EPS connectors at the top right to ensure the CPU gets a proper amount of power both on stock and while overclocked.
As its name suggests, the Tomahawk supports existing DDR4 RAM instead of the recently introduced DDR5 memory. This allows for a potentially lower barrier to entry in terms of price if you already have any DDR4 kits laying around. Fortunately, it does support rather fast kits of up to 5200MHz.
The board comes with a single PCIe 5.0 x16 lane at the top reinforced by the brand to prevent bending considering the weight of recent cards. The two black x16 PCIe slots run at PCIe 3.0 x4 and PCIe 3.0 x1 from the chipset. MSI is throwing in a single PCIe 3.0 x1 slot for additional expansion cards.
All four its M.2 slots come with their own cooling shields. They can be taken off with relative ease with a screwdriver but not all screws are captive. The top two SSD slots run exclusively at PCIe 4.0 x4 while the bottom two supports PCIe 3.0 x4 and PCIe 4.0 x4 speeds as well as SATA M.2 drives.
Those who have SATA-based drives can connect them to the board via six SATA III ports. Two SATA ports are well hidden at the right-hand side while the other four stick out at the bottom that may lead to a less stellar cable routing.
Its rear I/O is packed with connectivity options. It has a single USB 3.2 Gen 2×2 Type-C port, a single USB 3.2 Gen2 Type-A in red, and two USB 3.2 Gen1 Type-A ports in blue. Just beside the MAG logo are two USB 3.2 Gen2 Type-A ports while the two black USB ports are USB 2.0. It also gets access to a 2.5G Ethernet port, an Optical S/PDIF Out, a DisplayPort 1.4, an HDMI 2.1, a Flash BIOS button, and five 3.5mm audio jacks.
Internal Headers and Buttons
The MSI Z690 Tomahawk WiFi DDR4 has plenty of expansion options onboard. At the top right are three 4-pin headers for cooling, a 3-pin JRAINBOW 3 header, and a 4-pin RGB header. At the right-hand side are four debug LEDs for easier error management on POST, and two USB headers.
Another 4-pin fan header can be found just below the rear I/O cover and 4 more at the bottom for a total of 8 4-pin fan headers for the whole motherboard. The bottom internal headers are pretty vanilla coming with front panel USB and audio headers as well as two JRAINBOW1 headers.
There are no physical buttons to be found throughout the motherboard, but this will only affect serious overclockers who will put it on a test bench.
BIOS and UEFI
Basic and advanced UEFI options are covered by the MSI MAG Z690 Tomahawk WiFi DDR4. It can be accessed by pressing DEL or F2 on boot and starts automatically in EZ Mode. Its default page shows everything important such as clock speed, XMP profiles, temperatures, CPU voltage, CPU and motherboard models, and BIOS version.
Advanced options include fan curves for cooling, subsystem settings, USB configuration, Re-Size BAR support, and PCIe latency timers among many others. Overclocking options are easily accessed via the OC page and comes with all the settings you would need to improve CPU and RAM performance.
Alder Lake and the Z690 platform brings in new options such as separate clock speed options for P- and E-Cores. C-States, Speed Shift, and Turbo Boost 3.0, and load line calibration can be easily adjusted via the OC settings page.
System, Overclocking, and Benchmarks

For this review, we will be pairing the MSI MAG Z690 Tomahawk WiFi DDR4 with an Intel Core i7-12700K and an RTX 3080 to test its capabilities. We are using an MSI MAG CoreLiquid K360 to cool down the CPU.  The full list of components used for this review are as follows:
CPU: Intel Core i7-12700K
Motherboard: MSI MAG Z690 Tomahawk WiFi DDR4
PSU: EVGA 650 GQ Gold 650W
Cooler: MSI MAG CoreLiquid K360
OS: Windows 10 Build 21H2
Driver Version: GeForce Game Ready Driver WHQL 472.47
It's worth mentioning that the Alder-Lake S is using a new LGA 1700 socket, which means that some older cooler mounts might be incompatible. MSI is currently giving everyone who has an R or K series cooler a free upgrade kit for the new socket until April 30, 2022. Check out more information on their official website.
We were able to get a stable overclock of 5.1GHz on all the 12700K's P-Cores at 1.421v. A pretty solid overclock though the CPU can get power hungry at times. Higher clock speeds and voltages results in system and thermal instability.
CPU Benchmarks
CPU-Z Benchmark 17.01.64
7-Zip 16.04
wPrime v2.10
Cinebench R15
Cinebench R20
Cinebench R23
Blender 2.82a
Adobe Premiere Pro 2020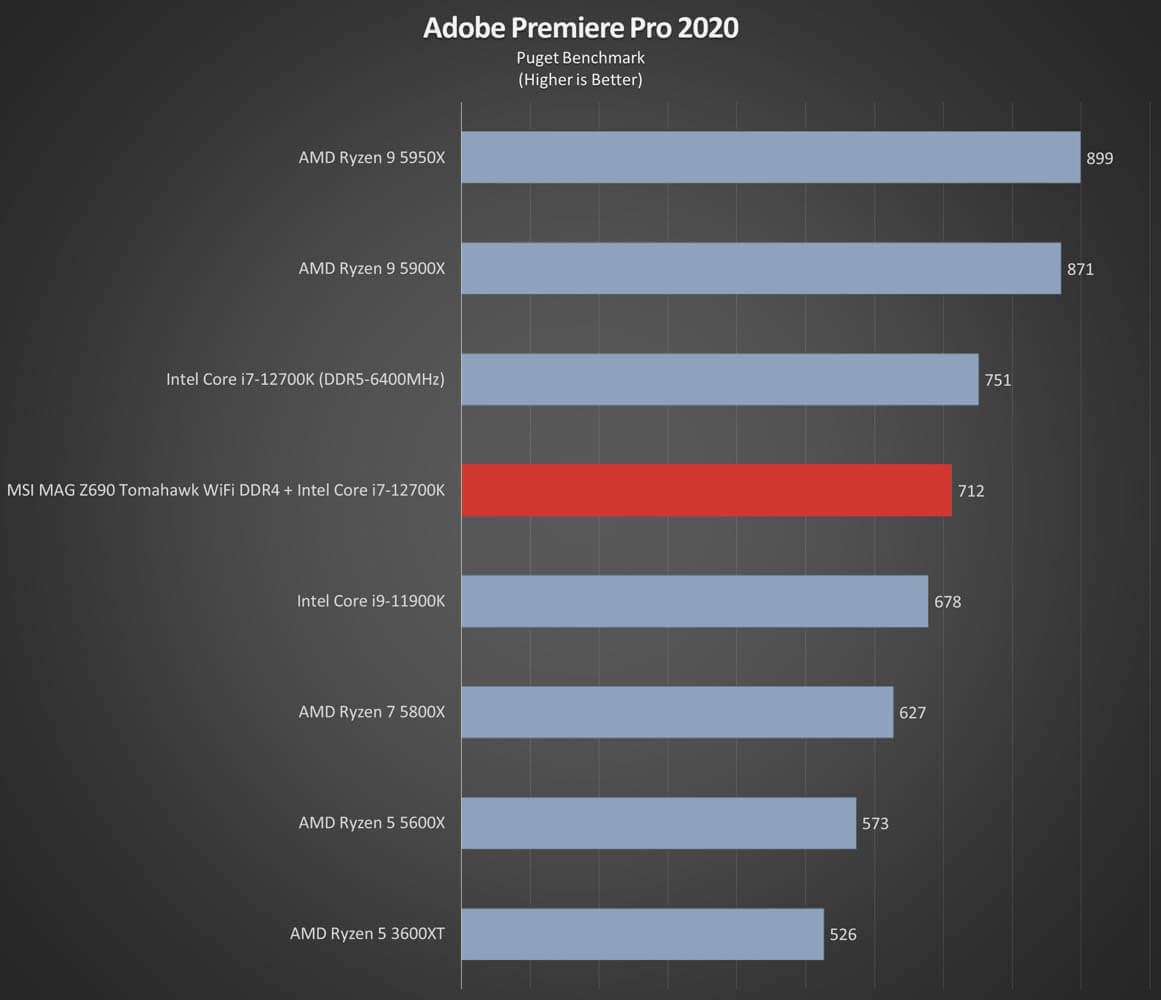 The performance of the Intel Core i7-12700K on the MSI MAG Z690 Tomahawk WiFi DDR4 is fairly impressive. It manages to beat most processors on the chart and even more when overclocked at a steady 5.1GHz. DDR4 remains strong in most places but lags behind when it comes to RAM-intensive tasks such as file compression and decompression.
It's worth noting that older benchmarks do not play well with the new architecture of Intel's 12th Generation CPUs. This explains that low benchmark scores on Cinebench R15. Keep this in mind if you will try to run older applications or games on newer platforms.
Gaming Benchmarks
Synthetic Benchmarks
1920 x 1080
2560 x 1440
3840 x 2160
VRM Temperatures
Cooling on the MSI MAG Z690 Tomahawk WiFi DDR4's VRMs are pretty solid both on stock and while overclocked. Temperatures only peaks at 46°c while running Blender and rests at a steady 41°c at a custom looped run of Fire Strike.
Once overclocked to 5.1GHz on all P-Cores at 1.42v, VRM temperatures are still steady reaching a fairly low maximum of 54°c even when the CPU pulls more than 240W of power at peak times. Synthetic gaming benchmarks remains at a steady 43°c.
MSI MAG Z690 Tomahawk WiFi DDR4 Review – Conclusion
MSI's Tomahawk series has always finely balanced price and features and that remains true with the MAG Z690 Tomahawk WiFi DDR4. Most of the next generation features brought by the Z690 platform are here like PCIe 5.0 support, high-speed PCIe M.2 slots, and plenty of USB 3.2 ports.
Some might dislike that it only supports DDR4 instead of DDR5 but this can be an advantage for those looking to jump to Intel's 12th Generation CPUs. Tests shows that DDR4 can still hold its own in this generation and DDR5 only pulls ahead only on some workloads.
Overclocking with Alder Lake-S processors can get a bit hard due to their high power and thermal requirements but the MSI MAG Z690 Tomahawk WiFi DDR4 has proved to be a decent overclocker thanks to its 16+1+1 power phases and is helped by the inclusion of two 8-pin CPU connectors.
Those who have an inclination for plenty of RGB lighting might be disappointed by the board. There's no built-in RGB lighting on the motherboard itself but it has plenty of support for external lighting and synchronization but we still like its plain, brushed aluminum finish and minimal looks.
Priced at PhP 16,600 in the Philippines, the MSI MAG Z690 Tomahawk WiFi DDR4 is a solid board with enough next generation features for enthusiasts looking to upgrade like PCIe 5.0 and plenty of expansion options. It can also save a bit of cash by reusing DDR4 kits on the Alder Lake-S platform and given the price of PC components nowadays, it can give leg up in getting other devices.
MSI MAG Z690 Tomahawk WiFi DDR4 Pricing and Availability
The MSI MAG Z690 Tomahawk WiFi DDR4 is now available in the Philippines for PhP 16,600. You can get it through MSI authorized resellers and concept stores.