Even though MSI is known more for their gaming PC components, they also have an arm focused on business and productivity. One of the latest entries is the MSI PRO AP241 – an Intel 11th Generation powered all-in-one PC that focuses on low-power office and business work.
MSI PRO AP241 AIO
| | |
| --- | --- |
| Display | 24-inch IPS, 1920 x 1080, 60Hz, Anti-Flicker |
| Processor | Intel Core i3-10105, i5-11400, i7-11700 |
| Graphics | Intel UHD 730 |
| Motherboard | Intel H510 |
| Memory | 2x DDR4-2666 / 3200MHz, up to 64GB |
| Storage | Up to 512GB NVMe PCIe M.2 SSD, 1TB HDD |
| Connectivity | Dual-Band WiFi 802.11ax, Intel AC 9462, Intel AX201, Bluetooth 5.2 |
| Rear I/O | 4x USB 3.2 Gen1 Type-A, 2x USB 2.0 Type-A, 2x 3.5mm Audio Jack, RJ-45 Ethernet |
| Audio | Realtek ALC897 |
| PSU | 120W AC Adapter |
| Dimensions | 541.93 x 227.93 x 426.45mm |
| Weight | Up to 8kg |
| Others | 100 x 100 VESA Mount, Tilt Adjutment |
MSI PRO AP241 AIO Review – Unboxing
The MSI PRO AP241 is broken down into three parts – the monitor, stand, and base – all of which are easily attached to each other. The AIO includes a complete list of accessories including a wireless mouse and keyboard combo, a 120W AC adapter, and a 1080p 30fps webcam.
Design and Aesthetics
MSI PRO AP241 AIO doesn't attract too much attention to itself as it looks like a modern 24-inch display with a slightly thicker back. The base is circular and offer decent stability for the whole AIO but the stand itself only allows for tilt adjustments.
The device is clad is matte black coating with the MSI logo placed in the middle though there is white variant available. Its power button and brightness control are located at the back with an activity light just below. It can also be mounted on a 100 x 100mm VESA mount for those who want a cleaner look without the stand.
Display and Audio
It gets a 24-inch IPS-grade panel at the front. There are no fancy extras here like 144Hz refresh rate or HDR support but it does well for office work. Brightness is a bit subpar at only a maximum 279.34 cd/m2 and a lowest value of 82.53 cd/m2 but color gamut is surprisingly wide – much better than budget-oriented monitors in the market.
sRGB – 99.70%
AdobeRGB – 88.00%
DCI-P3 – 89.90%
Luminance (Minimum) – 82.53 cd/m2
Luminance (Maximum) – 279.34 cd/m2
Delta E (Average) – 0.17
Delta E (Maximum) – 1.27
Gamma – 2.01
Contrast Ratio – 1199:1
Gamma is slightly off at 2.01 compared to the standard 2.2 for color accuracy in Windows machines. Contrast ratio is decent as well at around 1199:1 according to our measurements.
Audio passes through a Realtek ALC897 codec and out two speakers at the back. The speakers sound hollow and lack any kind of depth or soundstage. It's pretty much what you expect from built-in speakers on a monitor.
Input and Output Ports
At the rear of the MSI PRO AP241 are four USB 3.2 Gen1 Type-A ports, an RJ-45 Ethernet port, two 3.5mm audio jacks for input and output, a COM port, and its AC power port.
The most accessible ports on the AIO are two USB 2.0 ports at the side. We would prefer to have seen two USB 3.2 Gen1 Type-A ports here and the USB 2.0 ports moved to the back so users can easily plug in USB 3.0 devices at full speed without fiddling around the back.
There is no support for Thunderbolt 4, which means that users will be won't be able to use an external GPU. We won't knock the AIO points for as it has been made for casual use and office work.
Software
The MSI PRO AP241 comes with a vanilla installation of Microsoft Windows 10. The bare essentials are included in the software suite such as drivers and the usual apps like an unregistered copy Microsoft Office. It does include Norton AntiVirus, which can be easily uninstalled.
MSI PRO AP241 AIO Review – Benchmarks
The MSI PRO AP241 can be outfitted with up to an Intel Core i7-11700 CPU with up to 64GB dual channel RAM. For this review, we are testing the Intel Core i5-11400 variant on an H510 motherboard with a single stick of 8GB DDR4 3200MHz RAM. Graphics processing is assigned to the AIO's integrated Intel UHD 730 GPU.
Storage are provided by two drives: a 256GB WDC SN530 SSD and a 1TB Seagate BarraCuda HDD. Running a quick CrystalDiskMark test with a 1GiB workload reveals that its SSD are fairly close to the promised sequential read and write speeds on the website.
With its SSD test run done, we move on to the CPU and GPU benchmarks for the AIO PC. The CPU will be tested using various apps including synthetic benchmarks and rendering programs. The GPU, meanwhile, will be stressed with synthetics and games.
CPU Benchmarks
CPU-Z Benchmark 17.01.64
7-Zip 16.04
wPrime v2.10
Cinebench
Blender 2.82
The Intel Core i5-11400 is a budget-oriented CPU and has lower boost speeds compared to its K variants thus its lower position in the charts. Multi-core performance is decent but not mind blowing though single threaded programs will definitely take advantage of the increase IPC of the Rocket Lake-S architecture.
GPU Benchmarks
3DMark Fire Strike
3DMark Time Spy
Rainbow Six Siege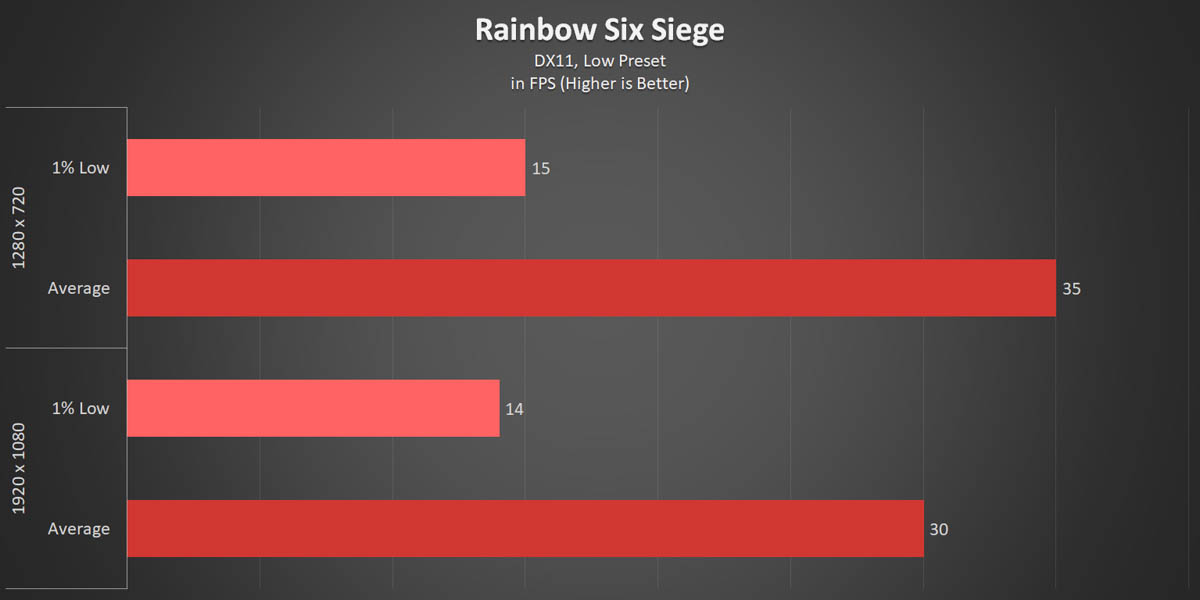 The MSI PRO AP241 isn't built for gaming and it does not have a dedicated GPU nor a Thunderbolt 4 for expansion. You won't be able to enjoy triple A titles on this AIO but casual games could still potentially be played such as Minecraft. Even competitive games like Rainbow Six Siege has a hard time running on the iGPU even at 1280 x 720 at low settings.
Temperature and Power Consumption
The AIO's Intel Core i5-11400 needs minimal cooling as it only has a 65W TDP. It functions rather quietly at both idle and at maximum workload with temperatures only reaching an average of 52°c for the former and a peak of 84°c for the latter.
Power consumption is fairly low measuring at around 34W when idle and 64W during light workloads. Putting heavy CPU workloads on the AIO will still yield a relatively low power consumption of 94W even with the brightness turned to max.
MSI PRO AP241 AIO Review – Conclusion
The MSI PRO AP241 isn't the most powerful PC in the market but it offers decent performance with low power consumption. It focuses more on home offices and business that want a seamless PC setup without worrying about different components.
Its display is definitely one of its stronger aspects. It doesn't look much but the AIO's screen has decent color coverage reaching 89.90% in DCI-P3. Luminance is good but it can't quite reach darker levels while in lower brightness.
Performance is also good thanks to its Intel Core i5-11400. While it won't top the charts, it can definitely do office work without any hiccups. The lack of Thunderbolt 4, however, means that you're going to be stuck with its integrated GPU.
Port placement is one of its minor issues. Both USB 2.0 ports are located at the side, which is arguably more accessible than the back ones. MSI should have placed them at the back and put USB 3.0 ports at the edge for convenience.
Overall, the MSI PRO AP241 is decent AIO for those who are looking for a low power and reliable computing performance without the hassle of building a rig.
MSI PRO AP241 AIO Price and Availability
The MSI PRO AP241 is available in three variants in varying prices:
Core i3-10105, 8GB, 500GB SSD – USD 699 (PhP 35,000)
Core i5-11400, 8GB, 256GB SSD – USD 799 (PhP 41,000)
Core i7-11700, 16GB, 500GB SSD – USD 1,099 (PhP 56,000)
The AIO is currently available worldwide via Amazon but local availability is yet to be announced.