The MSI Pulse series gaming notebooks have been made with value in mind. Despite that, the company has packed quite a ton of goodies in the notebook including an Intel 12th Generation processor, an NVIDIA RTX 30 series GPU, a 240Hz display, and the most important of all – RGB lighting on the keyboard. With plenty of performance under the hood, the MSI Pulse GL66 (2022) is shaping up to be a powerful notebook for every gamer.
MSI Pulse GL66 (2022) Specifications
| | |
| --- | --- |
| CPU | Up to 12th Generation Intel Core i9-12900H |
| GPU | Up to NVIDIA GeForce RTX 3070 Ti |
| OS | Windows 11 |
| RAM | Up to 64GB, 2 Slots, DDR4 3200MHz |
| Display | 15.6-inch IPS-Level, 1920 x 1080, 240Hz |
| I/O Ports | 1x USB 3.2 Gen2 Type-C, 2x USB 3.2 Gen1 Type-A, 1x USB 2.0 Type-A, 1x HDMI, RJ-45 Ethernet, 1x 3.5mm Audio Jack |
| Connection | Gigabit Ethernet, Intel WiFi 6 AX201, Bluetooth 5.2 |
| Battery | 90Whr, 4-Cell Lithium Polymer |
| Audio | 2x 2W Stereo Speakers, Nahimic 3 Audio Enhancer, Hi-Res Audio Ready |
| Others | RGB Backlight Gaming Keyboard, HD Webcam |
| Dimensions | 359 x 259 x 26.9mm |
| Weight | 2.25kg |
Design and Aesthetics
Advertisement
The MSI Pulse GL66 (2022) has a classic gaming laptop design with a gunmetal finish. The bottom chassis itself is made out of plastic but the screen lid is aluminum. It feels solid and there is minimal flexing when handled.
Despite some of the chassis being plastic, the notebook still weighs in at around 2.25kg. We suspect that most of the weight is coming from its cooling solution for the Intel 12th Gen CPU and RTX 30 series GPU. It is rather large measuring in at 359 x 259mm and thickness is set at 26.9mm.
The company doesn't really do anything new with its design. The notebook looks fairly typical for a gaming notebook with aggressive angles and the lid sporting the MSI shield but without RGB lighting.
Display and Audio
The notebook sports a 15.6-inch 1920 x 1080 IPS display but increases the refresh rate to 240Hz, which is nearly double from 2021's model. Its side bezels are thin and MSI has made room at the top for a 720p webcam. There is a QuadHD model in other markets but it seems that we are only going to receive the 1080p 240Hz variant in the Philippines.
The display is indeed fast and there is minimal ghosting in fast scenarios. Colors and brightness, however, leave a lot to be desired. Color coverage is not great with only sRGB being decent at 95.90% while DCI-P3 is rather low at a coverage of only 71.60%.
sRGB – 95.90%
AdobeRGB – 67.70%
DCI-P3 – 71.60%
Luminance (Minimum) – 6.28 cd/m2
Luminance (Maximum) – 269.19 cd/m2
Delta E (Average) – 0.14
Detla E (Maximum) – 1.51
Gamma – 2.19
Contrast Ratio – 1101:1
Meanwhile, brightness is below average peaking at only 269.19 cd/m2 at the middle. Brightness uniformity is disappointing as well. It seems that the left side of the of the panel is around 12.5% brighter than the right-hand side on average.
As for audio, you will be getting two 2W stereo speakers. They are nothing special but they get the job done. Vocals are clear and bass is present thanks to the larger chassis of a gaming notebook. They can also get pretty loud at 100% with some distortion but not overly so.
Keyboard and Touchpad
The laptop employs the use of a compact full-size keyboard with RGB lighting. To fit in the whole keyboard, however, MSI has slashed has made some of the keys slightly smaller than standard. This is noticeable at the left-most side column. They have also increased the size of the left CTRL key to make it easier to press while playing.
As mentioned, there is RGB lighting on the keys. The lighting, however, is not per key but applies throughout the keyboard. We'll talk about its RGB software later in the review. Fortunately, the lighting is even throughout the characters and at the sides.
Its trackpad is offset to the right but has a decent enough footprint for most usage. Despite its looks, the finish is actually polished for smooth tracking. It supports left and right clicks with good tactility when pressed.
Input and Output Ports
MSI equips the Pulse GL66 with just the right number of ports. At the left-hand side are two USB Type-A ports – a USB 3.2 Gen1 and a USB 2.0 – and a DC-in port near the back. On the reverse side is another USB 3.2 Gen1 Type-A, a USB 3.2 Gen1 Type-C for data transfers, an HDMI, a 3.5mm audio jack, an Ethernet port for wired Internet, and activity light.
Nothing special in the I/O department but we think that MSI covers everything here. Unfortunately, its USB-C port's purpose is only for data transfer and does not support Thunderbolt or USB PD charging.
Software
The company is simplifying things by rebranding the MSI Dragon Center to MSI Center. It is essentially the same thing but with a simpler reskin instead of having a gamer theme. It is still the same software allowing for system monitoring and switching modes.
The software also controls the RGB lighting of the keyboard. As mentioned earlier, the lighting applies throughout the whole keyboard as the lighting isn't per-key nor have regions. You can choose from any color you want but lighting modes are limited to Static, Breathing, and Random.
MSI Pulse GL66 (2022) Review – Benchmarks
The MSI Pulse GL66 (2022) is powered by an Intel 12th Generation processor, up to an NVIDIA GeForce RTX 3070 Ti GPU, and up to 64GB of DDR4 3200MHz RAM. Our review unit comes with an Intel Core i9-12900H, an NVIDIA GeForce RTX 3060, and 16GB of DDR4 3200MHz RAM, which puts it around the higher variant tier. RAM can be upgraded since the brand is providing you 2 memory slots to play around with.
MSI is also giving users the ability to add another M.2 drive as the notebook sports 2 NVMe slots. By default, our unit came with a 1TB Micron 2450 PCIe 4.0 NVMe SSD. The drive is fast but pales in comparison with other NVMe drives in the market. Performance peaks at around 2,923MB/s and 1,521MB/s for Sequential Read and Write speeds, respectively.
Benchmarks for the notebook will include CPU tests like synthetics, rendering, and compression and decompression while the GPU is tested with several synthetic benchmarks and games utilizing different APIs.
CPU Benchmarks
CPU-Z Benchmarks 17.01.64
7-Zip 16.04
wPrime v2.10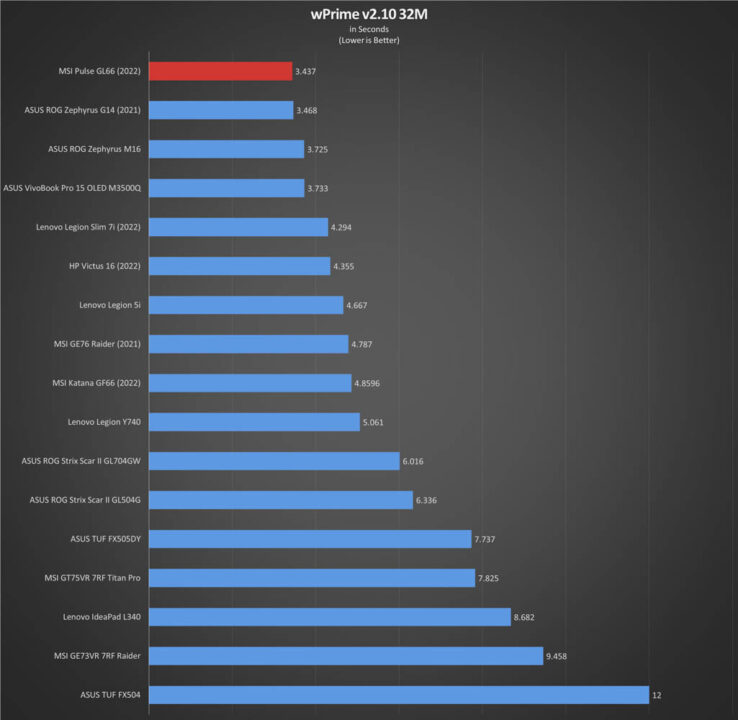 Cinebench R15
Cinebench R20
Cinebench R23
Blender 2.82a
Its surprising that MSI has decided to pair the Pulse GL66, a fairly budget-oriented gaming notebook, with a relatively high-end Intel Core i9-12900H. In spite of this odd choice, the 14-core part (6 P-Cores, 8 E-Cores) delivers top-notch performance across the board. The architecture does have problems when it comes to older programs but most modern apps will run smoothly without any issues.
GPU Benchmarks
3DMark Fire Strike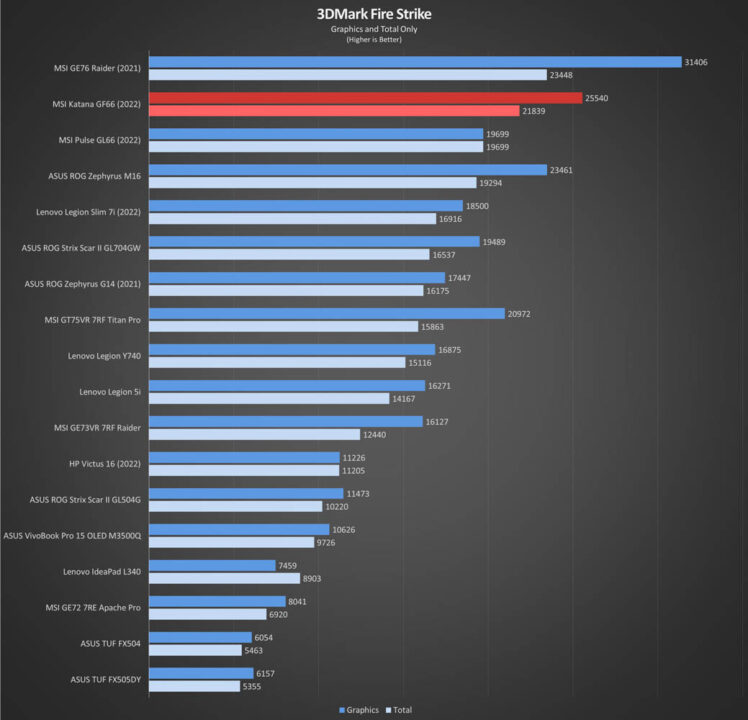 3DMark Time Spy
Port Royal
Rainbow Six Siege
Red Dead Redemption 2
Borderlands 3
The Division 2
Far Cry 6
Shadow of the Tomb Raider
Metro Exodus
Watch Dogs: Legion
Dying Light 2
Cyberpunk 2077
The NVIDIA GeForce RTX 3060 is a midrange GPU but since it is paired with a 1920 x 1080 display, you can get quite a lot of performance with it. Games like Rainbow Six Siege and other competitive titles can take advantage of the screen's 240Hz refresh rate with an average of 300fps while in gameplay.
More demanding games like Metro Exodus, Dying Light 2, and Cyberpunk 2077 can run at a steady 60fps at higher settings but turning on ray tracing will require DLSS or other upscaling techniques to get higher framerates but that's to be expected. Overall, a decent enough card for most gaming tasks.
Temperature and Battery Life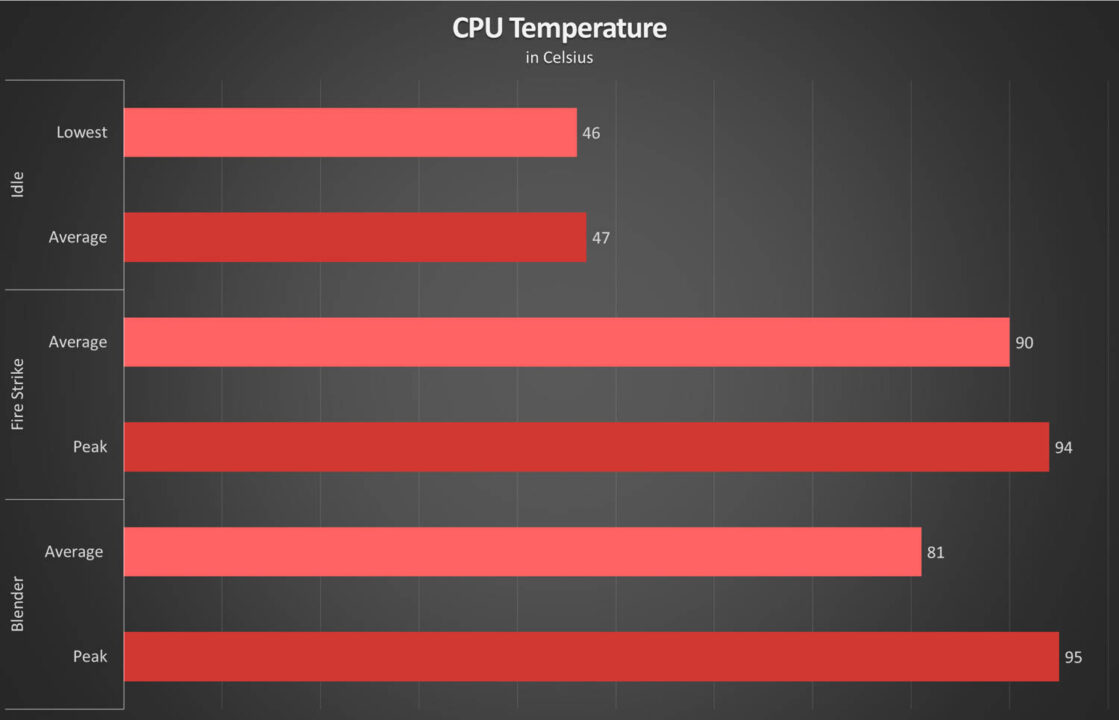 The Intel Core i9-12900H and RTX 3060 are both power hungry components by their own right. MSI has lowered the TDP a bit with the former reaching around 80W on heavy load while the latter hits the 131W mark.
As such, temperatures can be a bit high in heavy workloads peaking at 95°c and 87°c, respectively. Fans can get a little aggressive and at the top-end, they sound like small jet engines exhausting hot air at the back. It's also worth mentioning that the top half of the keyboard becomes hot while playing graphically-intensive games.
Its power-hungry components also take a toll on battery life. Even at 50% brightness and volume, streaming videos will only last shy of 3 hours. Longevity is even worse while playing games having a shorter game time of only an hour before needing a recharge.
Its 90Whr battery is recharged via a 240W power brick. Filling up its reservoir from 5% to 80% takes around a 1 hour and 10 minutes before slowing down. Charging the battery fully from 5% to 100% will be a 2 hour wait give or take.
MSI Pulse GL66 (2022) Review – Conclusion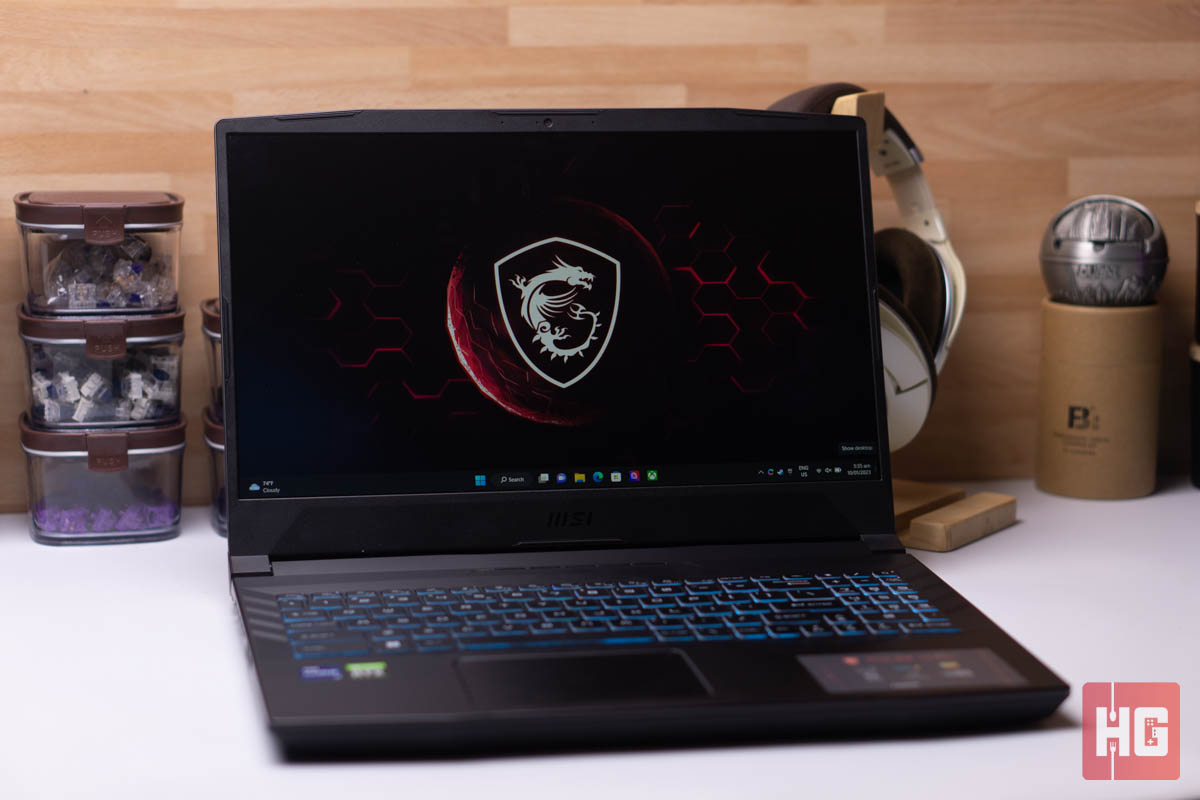 The MSI Pulse GL66 (2022) is mix of good and bad, which is understandable given its value position in the market. Performance is excellent thanks to its Intel Core 12th Generation processor and NVIDIA GeForce RTX 30 series GPU.
Most of the chassis is made out of plastic while thermals and cooling could be better. The display itself is fast at 240Hz making it preferrable in competitive games but the colors and brightness of the panel are sub-par.
Despite its faults, the MSI Pulse GL66 (2022) ticks all the essential boxes for the quintessential gaming laptop – performance and a fast display. Battery life, weight, and the display could do with some improvement but they are acceptable compromises for a value-oriented gaming laptop.
MSI Pulse GL66 (2022) Price and Availability
The MSI Pulse GL66 (2022) is priced starting at PhP 114,995 in the Philippines. You can now get it via MSI concept stores and authorized retailers nationwide or through the brand's Lazada and Shopee pages as well as authorized online resellers.