The 7-Seater MPV Category is the fastest vehicle segment growing in the Philippine market today, recently we understand this need when we requested Nissan for a 7-seater MPV for our recent trip to Batangas.
Now, before you read-on. We just want to remind you if this isn't your typical vehicle review but more of an impression and insight of why this vehicle category is rapidly growing in the Philippines.
What is it like to drive an MPV like the Livina?
Now despite without any tint, this vehicle was able to combat the harsh Philippine tropical weather that was even reaching 48° in our destination. Seem's Nissan's legendary cold air conditioner was true, all us 7 as passengers were comfortable in the total of 379km of driving with multiple destinations over the 5 days.
We like the added height coming from a sedan driver. To put in simple words, its simple and enabling. The Livina comes with all the comfort you expect for a 3-5 hour drive like Batangas on a weekend such as storage for luggage of 7 and proper airflow with a dedicated fan blower for the 2nd and 3rd row.
No right side arm rest though, so you'll have to adjust on leaning to your left most of the time.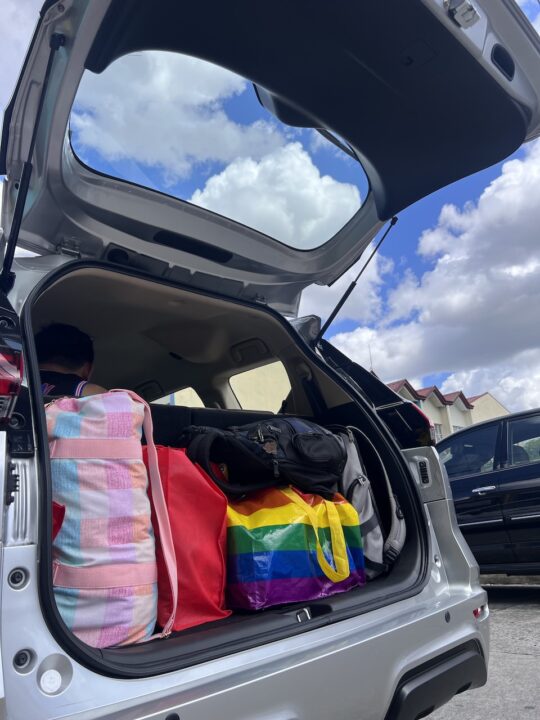 Storage for our luggage is enough for big items, for practicality we just decided to buy ice on-site instead of bringing a cold chiller as we have refregerator in our AirB&B. Forgive us, we aren't really built for doing outings as we even forgot to bring the essentials such as the meats and snacks, ending up to spend more at the destination.
But of course the reason for the outing is for a much deserved R&R for the family, we love how Batangas is now just a one-stop escape to enjoy, relax and perhaps go to the beach if luck is with you that its not low-tide.
Now back to the driving experience, here are our top observations in question form of an interested buyer as well
Does the Livina do well in overtaking? 

Yes, but with proper assessment of distance and weight of your carry. Since I was driving with a full load, I took advantage of the overdrive function to keep my RPM higher and ready to rev when overtaking. Just a heads up that this will add some jittering in the drive comfort, so only do this in good paved roads to avoid unnecessary discomfort for your passengers.
 Is the Livina Fuel Efficient

Driving for more than 210km (Antipolo Church and going to Laiya Batangas) we just consumed 27.469 liters or less than 2000 pesos in cost. We consider this as a win since again, our trip was in full blast aircon. Not as efficient as diesel vehicles like our personal Innova, but in the long run and investment the Livina has the right amount of power and comfort for its price.
What does the Livina feel unique in driving?

Honestly we placed in our mindset that this is a family fan, not a Terra, Not a car to flaunt and keep on reving the speedometer. The priority was comfort for my senior parents and family members especially with a child at the 3rd row. What I liked is that the engine feels responsive and has minimal lag / delay unlike vehicles we drove before that takes long to respond in the accelerator (Ahem Ertiga…).
Revving into 4500rpm and above can raise some eyebrow at frist, but this is normal for me. Again, this isn't a fast vehicle but a priority of your comfort in getting from A to Z.
Storage wise, you have a lot of bottle holders, glove compartment and even place to have your coins neatly stored. At the back was a clever storage for different passion points like fashionistas who like to store shoes or even small items for avoiding visual, or even ultimately tools for the hardworking professional.
What does the Livina needs to improve on?

Sound system is adequate, but we wished that the Livina is offered with a better center console system that has less "China" feels in the interface.
Despite using the USB interface, no compatibility showed up for Apple or Android Car Play, so we think this might be a point where Nissan can focus more compared to competitors like Mitsubishi Xpander or Honda BR-V.
Weird rattle in the steering area – this one we encountered a weird rattling sound especially at high speeds at the steering area. Nothing alarming but more of annoying. Then again, the vehicle is built in basic plastic and apholstery so this is forgiveable once you solve the source.
Salute to Nissan for fixing the annoying carpet issue of vehicles, even in my Innova this is still a problem for the foot rest can move. Simple hooks makes it easy to dismantle and assemble for cleaning and without making it intrusive in the design.
The unit we experienced has halogen night lights, but LED Daytime Running Lights. Striking with its famous Nissan look similar to the Almera, Leaf, Navara and Terra. Honestly, we like this look more than the Xpander, but this is an opinion on our side.
Conclusion
We drove the VE AT at Php1,169,000 but honestly the difference is just small for the highest variant at Php1,229,000 with push-start button, leather seats and the color LCD instrument panel. We think these are worth the additional price for added peace of mind as these kind of vehicle is intended for the long-term investor of being the breadwinner of the family.
The 7-seater MPV category is now clear why its rapidly growing in the Philippines, it's the best fit for most families today with high needs in storage and mobility versus a sedan. At the end of the day, due to the pandemic we need to live the moment of being at the present and experiencing today at best. We think the chilling aircon, spacious cabin of the Livina, plus striking look will make you consider this in the top list when buying an MPV.