Today, we will be taking a look at the PowerColor Red Devil RX 6600 XT. The Red Devil is PowerColor's higher-end series, which means that the RX 6600 XT has been equipped with extra features such as better cooling, Dual-BIOS, RGB Lighting, and higher-rated clock speeds of up to 2607MHz.
PowerColor Red Devil RX 6600 XT
| | |
| --- | --- |
| GPU | Navi 23 |
| Architecture | RDNA2 |
| Manufacturing Process | 7nm TSMC |
| Clock Speeds | Up to 2607MHz (OC Mode), Up to 2428MHz (Game Mode) |
| Shader Processors | 2048 |
| Texture Units | 128 |
| ROPs | 64 |
| Raytracing Cores | 32 |
| Memory | 8GB GDDR6 |
| Memory Bus | 128-bit |
| Infinity Cache | 32MB |
| TDP | 160W |
| Cooling | Dual Fans, Nickel-Plated Heatpipes |
| Power Connectors | 1x 8-pin PCIe, 1x 6-pin PCIe |
| Display Connections | 3x DisplayPort 1.4, 1x HDMI 2.1 |
| Dimensions | 251.2 x 132.8 x 54.6mm |
| Size | 2.5 Slots |
| Extras | DrMOS, Dual-BIOS Switch |
| RGB Lighting | Yes |
The RDNA2 Architecture
AMD's RDNA2 architecture, also known as Big Navi, is essentially the next evolution of RDNA introduced with the Radeon 5000 series. It still uses a 7nm lithography while becoming more efficient than its predecessor. Their new generation GPUs are also boasting GPU clock speeds well beyond the 2000MHz mark, which should deliver faster performance across the board.
Overall, AMD is promising up to 54% gain in performance-per-watt thanks to clock enhancement, frequency increase, and varying optimizations.
The Navi 23 GPU on the RX 6600 XT was first introduced on AMD's laptop equivalent back in June. It is designed for the mainstream market to perform at 1920 x 1080. The RX 6600 XT specifically has 2048 stream processors, 128 texture mapping units, and 64 ROPs, and 32 ray tracing acceleration cores, 8GB of GDDR6, and a cut-down 128-bit memory bus while TDP tops out at around 160W.
Infinity Cache
One of the solutions that AMD implemented on RDNA2 is the usage of the Infinity Cache. Not to be confused with the Infinity Fabric found on their CPUs, Infinity Cache uses a 128MB cache on the die itself in order to bridge the size between of the VRAM and the traditional L2 cache found on GPUs. This allows for better bandwidth, lower latency, and faster memory access.
Smart Access Memory
Transfers between the CPU and GPU are normally limited to a 256GB chunk. AMD's Smart Access Memory (SAM) combines the memory of the CPU and GPU to increase that limit to reduce buffering and latency. AMD claims that SAM provides up to 10% of additional framerate to games but this increase is much more noticeable to higher resolutions.
Ray Tracing Support and Fidelity FX Super Resolution
Big Navi will officially support ray tracing in games albeit in a lesser extent compared to the competition's latest offerings. AMD is implementing dedicated RT cores on RDNA2-based GPUs in order to improve performance of ray tracing effects
Fidelity FX Super Resolution, otherwise known as FSR, is AMD's answer to NVIDIA's DLSS technology. It lowers the render resolution of games to improve performance and then upscales the image to the target resolution using algorithms to put the quality almost on-par to the native resolution.
The FSR upscaling algorithm analyzes the source image at the anti-aliased input resolution and then recreates it at the target resolution. A sharpening pass improves the image quality by enhancing texture detail.
The result is an upscaled image with higher quality details compared to basic point or bilinear upscaling. AMD says that image quality is near-indistinguishable at Ultra Quality mode while performance in games is increased by up to 2.4x at 4K at Performance Mode. At this time, FSR is supported by around 13 including Godfall, Resident Evil Village, and Dota 2 and more games are on the way.
PowerColor Red Devil RX 6600 XT Up Close
The Red Devil lineup is one of the higher-end offerings of PowerColor and that reflects even on the budget-oriented RX 6600 XT. The card sports a black and gunmetal colorway with RGB lighting that should fit most systems. It measures at 251.2 x 132.8 x 54.6mm at 2.5 slots making it suitable for 1080p ITX builds.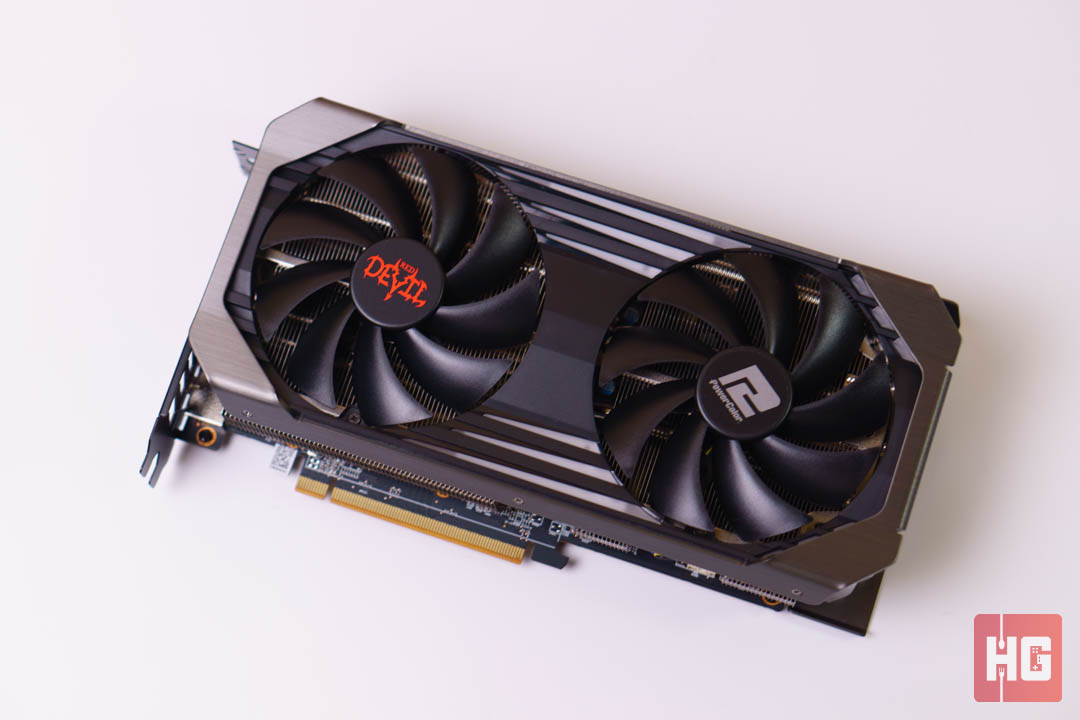 Nickel-plated heatpipes run through the card and are cooled by two 100mm fans. PowerColor says that its fans use two ball-bearings that increases their longevity by up to 4 times. They also support 0dB technology which only requires the fans to spin when the GPU core reaches 60°c. The fan shroud itself has RGB lighting limited to the six "slashes" at the top and bottom.
The PowerColor Red Devil RX 6600 XT has a reinforced backplate to keep the PCB from flexing. It does not have active cooling but the brand says that its perforations allow air to get in-between the backplate and the PCB for additional airflow. The Red Devil logo is placed near in the middle and supports RGB lighting.
Aside from the backplate and fan shroud, its RGB lighting extends to the front edge of the card. Two fins at both sides are RGB-compatible. All lighting of the card is set to red by default as per its theme but they can be synchronized with other components via an ARGB cable.
The Red Devil comes with a 6-pin and 8-pin PCIe connectors for power even though the RX 6600 XT only has a rated TDP 160W according to the official specifications of AMD. The additional power may have been designed for extreme overclocks that will try to push the card to the limit but this will not be taken advantage by the average gamer or enthusiast.
At the back of the card are its display connections including three DisplayPort 1.4 and a single HDMI 2.1. PowerColor is also including a Dual BIOS switch on the Red Devil RX 6600 XT, which allows users to toggle OC mode or Silent mode.
System and Benchmarks
The PowerColor Red Devil RX 6600 XT will be put to the test by running synthetic benchmarks and Triple AAA games using various APIs including DX11, DX12, and Vulkan at standard 16:9 resolutions such as 1920 x 1080, 2560 x 1440, and 3840 x 2160. Ray Tracing will be tested separately for games that support it but vendor-exclusive options like DLSS, FSR, Hairworks, and PhysX will be turned off.
Components used on our test bench to assess the PowerColor Red Devil RX 6600 XT are:
CPU: AMD Ryzen 7 5800X
GPU: ASUS Dual Radeon RX 6600 XT OC
Motherboard: ASUS ROG Strix X570-E Gaming
PSU: EVGA 650 GQ Gold 650W
Cooler: MSI MAG CoreLiquid 360R
OS: Windows 10 Build 20H2
Driver Version: AMD Adrenalin 21.8.1
Synthetic Benchmarks
3DMark Fire Strike
3DMark Time Spy
Port Royal
Synthetic scores are pretty much on par with the other RX 6600 XT we tested previously, the ASUS Dual Radeon RX 6600 XT. Performance is a significant upgrade compared to the RX 5600 XT and are close to last generation's RTX 2080.
Like most AMD cards this generation, Ray Tracing performance is just sub-par compared to the current offerings from the Green Team. The RX 6600 XT specifically places last in 3DMark's Port Royal Ray Tracing test, which is expected given that it is a mainstream-level card and is placed at the bottom rung of the RX 6000 series.
Gaming Benchmarks
1920 x 1080
AMD has made it clear that 1080p is the intended resolution for the RX 6600 XT. The card performs well at this resolution constantly resting in the 60 – 90fps mark in Triple A games. Competitive games will smoothly run at 1080p with more than 400fps in Rainbow Six Siege.
2560 x 1440
Playing at 1440p will be serviceable with the RX 6600 XT. Games mostly stay above 60fps with a few exceptions. Framerates can be boosted to more than 60fps by turning down some of the settings.
3840 x 2160
The RX 6600 XT runs out of steam at 3840 x 2160 most likely due to only having 8GB of VRAM and a limited 128-bit memory bus. Some big budget titles will be able to reach 30fps in limited scenarios but settings will need to be lowered for a more sustainable and playable framerate.
Ray Tracing Performance
1920 x 1080
2560 x 1440
3840 x 2160
The PowerColor Red Devil RX 6600 XT only packs 32 RT cores thus Ray Tracing performance is far from being stellar. Most will be able to get away with Ray Tracing at 1080p but turning it on at 1440p and 2160p will severely tank performance. Some Triple A titles won't even run at a playable framerate when Ray Tracing is turned up to its highest settings.
Power Consumption and Temperature
The RX 6600 XT is rated with a TDP of 160W and the PowerColor Red Devil largely sticks with that mark at around 161.5W under maximum load and idles at only 13.5W. Total maximum load for the whole system is just above the 300W mark.
It is recommended that the whole system be powered by at least a 500W PSU but figures show that you could get away with a reputable 400W PSU in a midrange system.
GPU temperature for the PowerColor Red Devil RX 6600 XT is one of the lowest in our charts. The lower TDP means that the card will produce lower heat and when combined with its cooling system, the GPU rests silently idle at 43°c and only peaks to 61°c under heavy workloads.
Clock speeds for the PowerColor Red Devil RX 6600 XT reaches a peak of around 2528MHz and averages at 2497MHz in a 2-minute run of Fire Strike Ultra. Not too shabby given the card is rather cool clocking in at a maximum of only 61°c.
Conclusion
With a starting price of USD 379 or around PhP 19,000 in the Philippines, the PowerColor Red Devil RX 6600 XT does well in most areas. It can deliver terrific performance at 1080p and can be pushed to 1440p if you desire. It does slowdown significantly at 2160p due to the limited 8GB VRAM and smaller 128-bit memory bus.
Ray Tracing performance of the RX 6600 XT is also a generation behind its peers. It is possible to enable Ray Tracing at 1080p at a significant cutdown in framerate. It can be done though, and with some tweaking, most games should be able to run at a steady 60fps with Ray Tracing enabled.
PowerColor offers some extras on the Red Devil version of the RX 6600 XT including Dual-BIOS, RGB lighting, and better cooling than entry-level cards. Some might be displeased, however, about RGB since it needs a dedicated cable in order to be synchronized to other components.
Overall, the PowerColor Red Devil RX 6600 XT is a pretty solid card for 1080p. It might not have the best Ray Tracing performance compared to its rivals but it does well in rasterization. This is definitely a GPU to lookout for in the market especially if you can get it at a right price.
PowerColor Red Devil RX 6600 XT Price and Availability
Official pricing and availability in the Philippines for the PowerColor Red Devil RX 6600 XT are yet to be announced. Expect its pricing to be close to the official SRP of the RX 6600 XT series at USD 379.
If you fancy other graphics cards, just click on our reviews: