A Headphone for both traveling and gaming
Last 2021, we saw Razer make a huge change on the gaming space with the Barracuda X. They steered away from the gamer-y, blingy black-green design that screams "Razer" and instead went with a minimal yet premium aesthetic that you could wear outside. This year they are launching two new iterations of the headphone dubbed as the Barracuda and Barracuda Pro. They both feature wireless connectivity and improved audio quality compared to the Barracuda X and we are taking a look at the premium option, the Barracuda Pro.
Premium do-it-all aesthetic
When it comes to Razer as a brand, the first thing that comes to mind are the flashy Kraken headphones that you would only prefer to use inside the comfort of your home. But the Barracuda Pro aims to be your all-in-one headphones that you can use anywhere, and with that, comes a design that's aesthetic that you will want to wear anywhere. It features a premium, all-black, minimal look that the only hint of Razer branding is found on top of the headband and the logo seamlessly engraved at the sides. People wouldn't know you're wearing a gaming headphones unless they look carefully.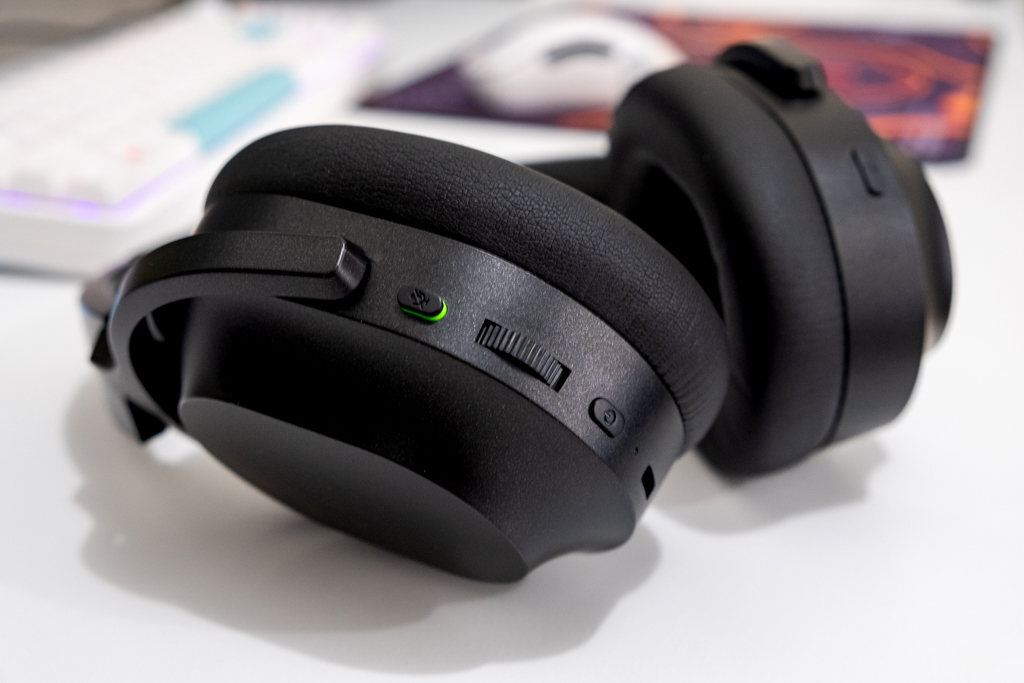 As for controls, there's a physical scroll wheel for volume control on the left ear cup (which I actually prefer over a plus and minus button), power button, USB-C port for charging, and a microphone mute switch. On the right, you'll find the ANC/device switch button.
I appreciate how lightweight and sturdy these headphones are — it doesn't creak when trying to flex it and the clamping force is just right that it doesn't squeeze your head. The large oval-shaped ea cups are made of a soft faux-leather memory foam. Comparing it with my own Logitech G Pro X Wireless and Corsair Virtuoso, the Razer Barracuda Pro doesn't suffocate my ears and I was able to wear it comfortably during long gaming sessions. I do, however, wish that the swivel on the ear cups are inward instead of outward as it is much more comfortable to wear around the neck.
One major change from the first Barracuda X and the Barracuda Pro are the microphones. Razer has decided to remove the boom mic and replaced it with an integrated microphone that features noise cancellation (more on that later). And that you can't use these headphones wired because the ANC, THX AAA, and noise-canceling microphones require power from a specially optimized battery.
Instead of the large T-shaped dongle, It comes with a Razer HyperSpeed L-shaped dongle to connect to your PC or Nintendo Switch. A nice touch to make sure that it doesn't block too many ports on your device.
Aesthetic-wise, the Barracuda Pro is a stealthy, premium-looking headphones that blends both gaming and lifestyle. With the right clamping force and soft ear cups, you can comfortably wear the headphones everywhere, be it during long gaming sessions or when you're on-the-go.
My type of Noise Cancellation
To be honest, I was a bit skeptical with the idea of having an active noise canceling feature for gaming headphones, but it dawned on me that it can actually help if you have a loud gaming setup with fans ramping up all the time when playing or you're just in a loud environment. Razer handled their noise canceling feature a bit differently from their competitors, as they went for a not-so-aggressive approach to maintain a high quality audio experience. You would still feel the pressure in your ears but you won't get that "clogged up" feeling and it is so minimal when you try to compare it with other headphones like Sony.
Unlike my Logitech G Pro X and Corsair Virtuoso with their passive isolation, with ANC on, you won't have the need to blast the volume just so you can focus on your game and not hear the surroundings. I wasn't able to hear the AC or electric fan, and also my loud mechanical keyboard. I also appreciate how it doesnt change the sound profile unlike the Razer Opus — a better implementation as it maintains the audio quality of the game.
When traveling or working remotely, the ANC does its job fine — reducing noises and low frequency sounds. I didn't need to blast my headphones to full volume just to focus on my work. I'm also glad that these headphones support MacOS and I was able to use it with my M1 MacBook Air immediately. While doing work at a local coffee shop, I was able to peacefully listen to music at 50% volume without hearing outside noise. Plus, the Barracuda Pro remembers your previous settings when you shut it down, so you don't need to change anything after you boot it up again.
The ambient noise setting gives a bit of a hissing white noise when you activate it, a sign that it activates the microphones to hear the surroundings. It acts exactly opposite of the ANC settings so you could hear the environment instead of blocking it out. Voices are crystal clear and I didn't get any discomfort that I had to remove the headphones when someone is talking to me.
Crispy audio for every situation
As for the sound quality itself, the headphones sport a very rich and neutral sound suitable for audiophiles as they get to make their own EQ through the mobile app or synapse if they want to, long are the days where Razer is known for just blowing up the bass. As for the regular users, the Barracuda Pro will give you a satisfying listening experience, there is tons of clarity in the bass region, high-ends are smooth, and lots of power without ruining your ears. That being said, I would highly suggest not enabling any audio enhancements on Windows, the THX AAA together with the 50mm drivers delivers one of the best audio quality found on gaming headphones.
You'll notice that these headphones don't have that typical gamer boom arm microphone. The Barracuda Pro has one built-in, it sports an integrated beamforming, noise-canceling microphone. I was hesitant to use it knowing that I don't have an actual mic in front of my mouth but I was impressed with the quality. I use it not only for my Zoom meetings, but also Discord calls, Facetime, and recording voice memos.
Both the 2.4ghz connection through the wireless dongle and bluetooth are excellent. There wasn't any noticeable latency while playing fast-paced FPS games and I didn't have the need to enable game mode on my mobile phone. It's also one of the best wireless headphones in terms of range, I didn't lose any audio quality even when I'm 5-6 meters away. I also appreciate that the volume control on the headphones are the same with windows but I noticed that there's a bit of a delay when I'm adjusting the volume on the knob before I can see it reflect on windows.
The Barracuda Pro also has a SmartSwitch dual wireless feature so that you can use both the wireless dongle and bluetooth connection to pair two devices without having the need to manually switch, you just need to press the button found on the right earcup and you're all set. The instant switch feature is just fantastic as that means there is absolutely no fiddling around going through the hassle of pairing and unpairing when I need to use my phone, which unfortunately is something I need to face every time with other headphones.
Battery life is amazing. Razer rated the headphones for 40 hours of use, but ever since I got the pair, I haven't had the need to charge it ever since even with ANC on. I can use the Barracuda Pro pretty much all day comfortably even when I'm not gaming — a thing I wouldn't say about my previous gaming headphones.
Bottom Line
The Razer Barracuda Pro is a solid-sounding, premium-feeling pair of headphones. For the price tag of USD 249.99, it is a very admirable contender to both lifestyle headphones from Sony or Bose while still having the gaming edge from brands like Logitech and Corsair albeit having its own caveats. If you're looking for an all-in-one headphone that will handle both your gaming and lifestyle needs and switch between the two seamlessly, then look no further, the Barracuda Pro can handle both.
Technical Specifications
Headphones
| | |
| --- | --- |
| Frequency response | 20 Hz – 20 kHz |
| Impedance | 32 Ohms @ 1 kHz |
| Sensitivity | 96dBSPL/mW@1kHz by HATS |
| Drivers | Bio-Cellulose 50mm Driver |
| Inner ear cup diameter | 64 x 42mm |
| Connection type: | Wireless via Type-C dongle and Bluetooth |
| Approx. weight | 340g / 0.75lbs |
| Oval ear cushions | Full-ear coverage with plush leatherette memory foam |
| Bluetooth Codec | AAC, SBC |
| Battery Life | up to 40 hours |
Microphone
| | |
| --- | --- |
| Frequency response | 100 Hz – 10 kHz |
| Signal-to-noise ratio | >= 70 dB |
| Sensitivity (@1 kHz) | -38 += 1 dB |
| Pick-up pattern | Omnidirectional |
| Feature | Integrated Dual MEMS Microphones for Voice Pickup and AI noise cancellation |