realme's foray into the tablet market has been quite successful and following that success, they decided to come up with a better version of the realme Pad. Just released this 2023, the realme Pad 2 promises to deliver quality digital joy without breaking the bank. As an upgrade to the entertainment powerhouse that is the realme Pad, the realme Pad 2 is poised to entertain in style. But is it actually good? Let's find out in this review!
realme Pad 2 Review – Specifications
| | |
| --- | --- |
| Chipset | MediaTek Helio G99 |
| Screen | 11.5-inch IPS, 2000 x 1200, 120Hz |
| RAM | 6GB, 8GB |
| OS | Android 13, realme UI 4.0 for Pad |
| Rear Camera | 8MP f/2.0 |
| Front Camera | 5MP f/2.2 |
| Storage | 128GB, 256GB, MicroSd |
| Network | 4G LTE |
| Connectivity | WiFi 5, Bluetooth 5.2, USB-C |
| Battery | 8,360mAh, 33W SuperVOOC, Reverse Charging |
| Others | Quad Speakers, Dual Microphones, Dual-Mic Noise Cancellation |
| Dimensions | 268.2 x 168.5 x 7.2mm |
| Weight | 518g |
| Colors | Inspiration Green, Imagination Gray |
realme Pad 2 Review – At A Glance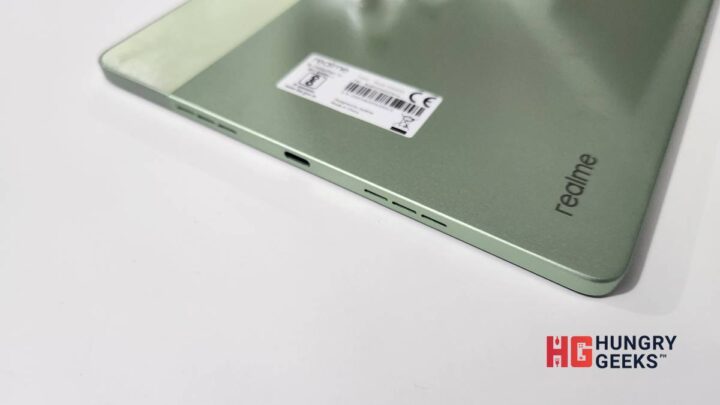 Thin & Light
The realme Pad 2 is a very thin tablet and the design makes it appear as a very premium tablet. It's only 7.2mm thick but despite that, the body is neither easy to bend nor deform. Given it's thinness, it's also surprisingly light. The realme Pad 2 only weighs 518g.
Smooth Metallic Finish
In terms of aesthetics, the metallic finish greatly enhances the look of the tablet. The backside is not a fingerprint magnet and the right-hand side's rougher texture makes it easy to grip the realme Pad 2 with just one hand.
realme Pad 2 Review – Benchmarks
To test the hardware packed inside the realme Pad 2, we made use of three benchmarking tools used for mobile devices. Although the numbers above are not impressive, do note that the realme Pad 2's main purpose is to act as a mobile entertainment device. It's not going to blow flagships out of the water. But if you do look at the other features and see it as a whole, you'll definitely find something to write home about.
| | |
| --- | --- |
| Benchmarks | realme Pad 2 Score |
| AnTuTu v10.0.10-OB10 | 435,015 |
| Geekbench 6 CPU Single-Core | 725 |
| Geekbench 6 CPU Multi-Core | 1,987 |
| Geekbench 6 GPU OpenCL | 1,441 |
| PCMark Work 3.0 | 11,219 |
realme Pad 2 Review – User Experience
Fluid & Crisp Display
What makes the realme Pad 2 a true head-turner is its screen. Despite its price point, the realme Pad 2 is armed with a formidable 2000 x 1200 11.5-inch IPS screen that has a refresh rate of up to 120Hz. Video watching on this thing has been quite an experience and the enjoyment of playing video games on it is further enhanced by its bright and well-lit display.  If you've been using typical slow and dark tablet screens for the past few weeks, using this one may be an eye-opener for you. Note that the refresh rate can be lowered to reduce the battery consumption if you find yourself needing to run the realme Pad 2 for an extended period of time.
realme UI 4.0 flexes its features in the realme Pad 2. With simple gestures, you can navigate and resize windows with simple pinches and movement of your fingers. I occasionally found myself browsing Reddit while watching Youtube videos at the same time as you can run two windows simultaneously without any problems. Furthermore, the device suffers no noticeable bumps in performance when you run two apps at the same time. However, this may change if you opt to run performance-hungry games while doing something on the side.
To take full advantage of the UI, you can make use of realme smartphones (which are formidable in their own right!) and use them in tandem with the realme Pad 2.
Minor Hiccups When Starting
While most of the time spent with the realme Pad 2 has been mostly bliss, it has been marred with just one experience. To setup the device, you have to skip the initial request to connect online and set up the realme Pad 2's time manually. As the time is different from Google's servers, the device did not immediately connect until it the proper time was set. In addition, you have to update the firmware as soon as you can to ensure that you can install Google Play Store apps without any problems. Not doing so may impede the installation of some apps, making the whole ordeal of jump starting the device a frustrating experience.
realme Pad 2 Review – Conclusion
All-In-One Entertainment Device
The realme Pad 2 has been proven itself to be quite a device when it comes to entertainment. The display is great given its price point and the sound, while not the best in the market, is still worth noting. It's quick if used only for daily tasks and the usual viewing of videos, and it can double as a decent gaming device. The real strength of the realme Pad 2 lies in the sum of its parts. The combination of the screen, a robust sound system, and good hardware makes it the ideal entertainment partner.
Display Is Great
As mentioned above, the main draw of the realme Pad 2 is its display. The 120Hz 2000×1200 11.5-inch display is a sight to behold. It's not your typical run-of-the-mill display and it shows. If you're after leveling up your late night movie binges, then you should seriously consider getting the realme Pad 2.
realme Pad 2 Review – Pricing & Availability
The realme Pad 2 is available locally here in the Philippines. It can be bought in stores or online via your favorite online retailers and shops. The realme Pad 2 is priced at PhP 13,999 and PhP 17,999 in the Philippines for its 6GB/128GB and 8GB/256GB variants. Be on the look out for promos and take advantage of them when you can!
For more information on the realme Pad 2, visit the official website here. To know more about the latest realme smartphone, check out our article on the realme 11.