Smartwatches are regaining traction with their increased purpose of monitoring your health and affordability of having one for around Php5,000 pesos. One perfect release from Redmi lately is the Redmi Watch 3, which is now an AMOLED display smartwatch with better tracking, Bluetooth calls enabled, and even additional functions.
Initial Pairing and Experience
Pairing the watch via the Mi Fitness App was smooth and only takes to register your own Mi Account. Detection was fast and we were able to pair via simple toggles and acceptance both in the watch and app as confirmation. You will encounter several app permissions to enable such as GPS, Sync settings, and also DND access to sync with your phone.
The menu system of the Redmi Watch 3 is through swipe gestures
Swipe Left – Widget System Navigation
Swipe Right – Widget System Navigation
Swipe Up – Menu System Shortcuts
Swipe Down – Notifications
Physical Button – Menu + Hold = Voice Assistant
One feature added here is the voice that can be chosen once activated, it was pretty fast to activate and easy to understand similar to activating voice assistants in your remote or phone itself.
Choosing exercises/workouts is very easy but categorized, honestly, some of them are a bit confusing like Indoor Spinning is located under "Trainings" whereas it's usually available out of the main menu. But nothing a few navigations to familiarize can do to avoid these inconveniences.
The screen is very nice with a large 1.75″ OLED display, it's the best feature here as other smartwatches at this price point still use IPS or regular LCD. It's great for use in indoor setups or dark environments to avoid the annoying glare of a bright watch cause of its true-to-black background. Plus outdoors it's also nice to use since visibility is ample.
At the Mi Fitness app, they are watch faces that you can choose from and download to customize your watch. Though in our experience, we didn't tend to play around on this anymore since we like our watch face to be clean and simple.
The battery life of the Redmi Watch 3 is up to 12 days, we opened ours at 63% factory charge and just needed to charge it after 7 days. That's good already since you don't have battery anxiety anymore compared to the Apple Watch with just a merely 2 day battery life. Just remember to keep the cable properly since its prorietary charging with 2 magnetic pins.
Mi Fitness App Reporting
The Mi Fitness App has good reporting with lots of colors for the identification of stats like calories, steps, sleep, heart rate, and even more.
Though what's lacking for our taste here is some sense of assistance to understand the numbers such as suggestions and help to see if you need to improve on some of your stats. Perhaps one workout was too high in heart rate and you need to adjust accordingly. This is something we see in other fitness apps, hopefully, Redmi can make this more visible.
Quick Comparison
Compared to my Apple Watch 7 45nm, the Redmi Watch 3 only has one size, and it's the bigger frame that is the same in size as Apple. Comparing one spinning class with intense 45 minutes of workout, I'm glad that the Redmi Watch 3 was able to catch up with the stats with around 10% margin of difference between the heart rate and a bit of a jump in the calories counted.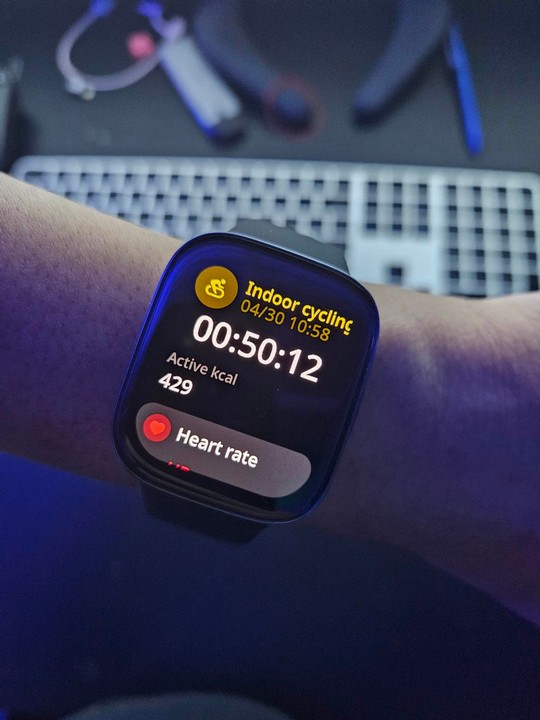 What do we think?
For Php4,999 the Redmi Watch 3 is a great choice for a smartwatch, but will you be able to maximize its features? If you are serious about monitoring, and added complacency for your health then we suggest getting one. The display is bright and premium, plus the strap feels well thought out and has a long long long battery life.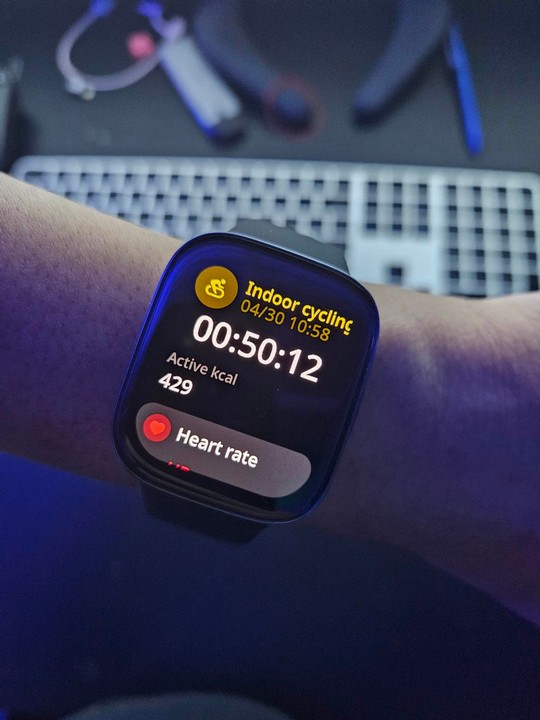 Get it if you will be able to maximize all features and hopefully, Redmi can provide the updates on the suggestions for the stats in the future. The Redmi Watch 3 is now available in the market and was launched April 14, 2023.