Another year, another ASUS ROG Zephyrus G14. With the 2022 version and with a bit of shuffling in terms of hardware, is the ASUS ROG G14 2022 a good gaming laptop to invest in? Is it the same as before, a hot but powerful machine? With its style and better hardware, let's check out what this gaming laptop has to offer in this review.
ROG Zephyrus G14 2022 Review – GA402 Specs
CPU
AMD Ryzen™ 9 6900HS Mobile Processor (8-core/16-thread, 16MB cache, up to 4.9 GHz max boost)
GPU
AMD Radeon RX 6800S, MUX Switch
ROG Boost: up to 100W(SmartShift)
8GB GDDR6
OS
Windows 11 Home
RAM
Up to 32GB DDR5-4800MHz Dual-Channel, 1x SO-DIMM Slot
Display
14-inch IPS, 2560 x 1440, 120Hz, 100% DCI-P3, 500nits; 14-inch IPS, 1920 x 1080, 144Hz, 100% sRGB, 400nits
Storage
Up to 1TB PCIe 4.0 M.2 NVMe SSD
I/O Ports

1x USB 3.2 Gen2 Type-C (DisplayPort, 100W PD), 1x USB 3.2 Gen2 Type-C, 2x USB 3.2 Gen1 Type-A, 1x HDMI 2.0, 1x 3.5mm Audio Jack, MicroSD Card Reader

Connection
WiFi 6E, Bluetooth 5.2
Weight
1.72 kg
Dimensions
324(W) x 222(D) x 19.9(H) mm
Power
76Whr, USB PD 3.0, 240W Power Adapter
Audio

Quad Speakers, Dolby Atmos Support, Two-Way AI Noise Cancellation, Smart Amp

Others
RGB Lighting, Aura Sync
ROG Zephyrus G14 2022 Review – Up Close
Looks & Design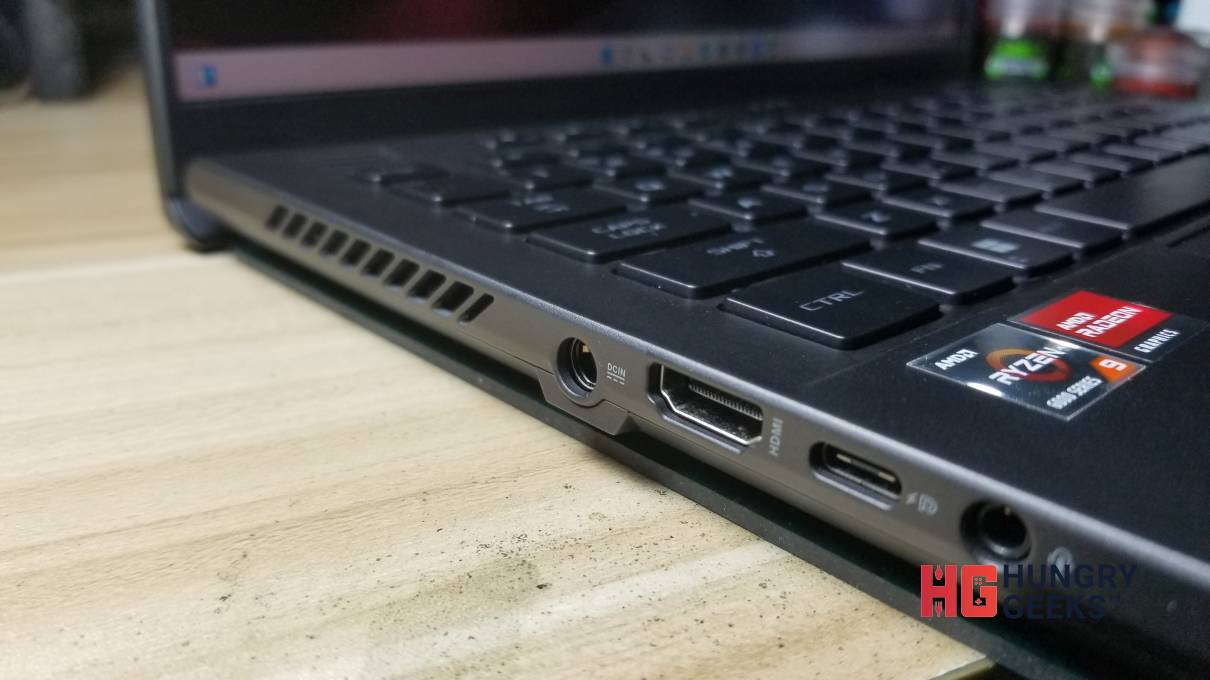 ASUS ROG Zephyrus G14's Rear & Sides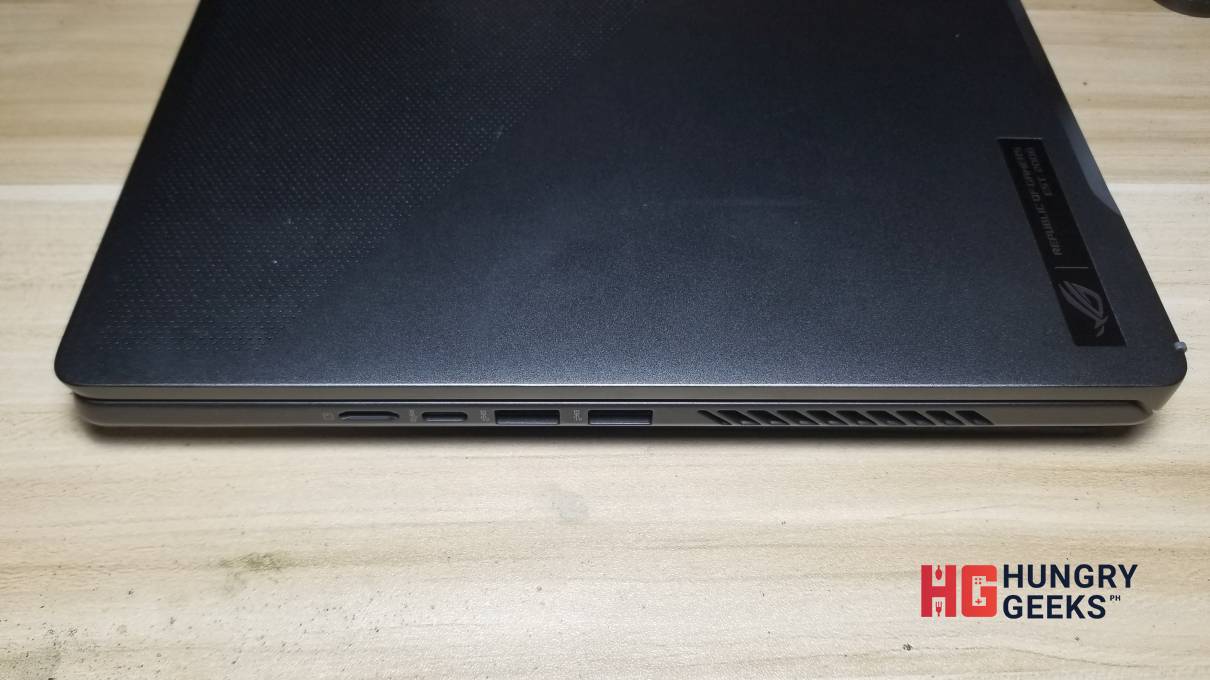 The ports are a bit bare compared to other laptops but the Zephyrus G14 is equipped with enough to deal with the modern grind. The right side is home to a MicroSD slot, 1 USB 3.2 Gen 2 Type-C port, and 2 USB 3.2 Gen 1 Type-As.
The left side is home to the power jack, the HDMI 2.0 port, another USB 3.2 Gen 2 Type-C that can handle DisplayPort™ 1.4 and Power Delivery, and the 3.5mm headphone and microphone jack.
Similar to its previous versions, the ROG G14 2022 does not come with an RJ45 port for wired connections. You can however look for 3rd-party RJ45 to USB C or A converters to cover for that.
Gaming On A Chiclet Keyboard
The clean chiclet keyboard is back. It's still responsive as ever and easy to type on. While I do find it workable when it comes to gaming, other friends that I asked to type on it find it a bit small to their liking.
Aside from looking clean, the keys also light up and are compatible with ASUS' Aura Sync. You can use ASUS devices that light up such as gaming mice and have them display RGB lights in sync using the Aura Sync.
AniMe Matrix – It's Back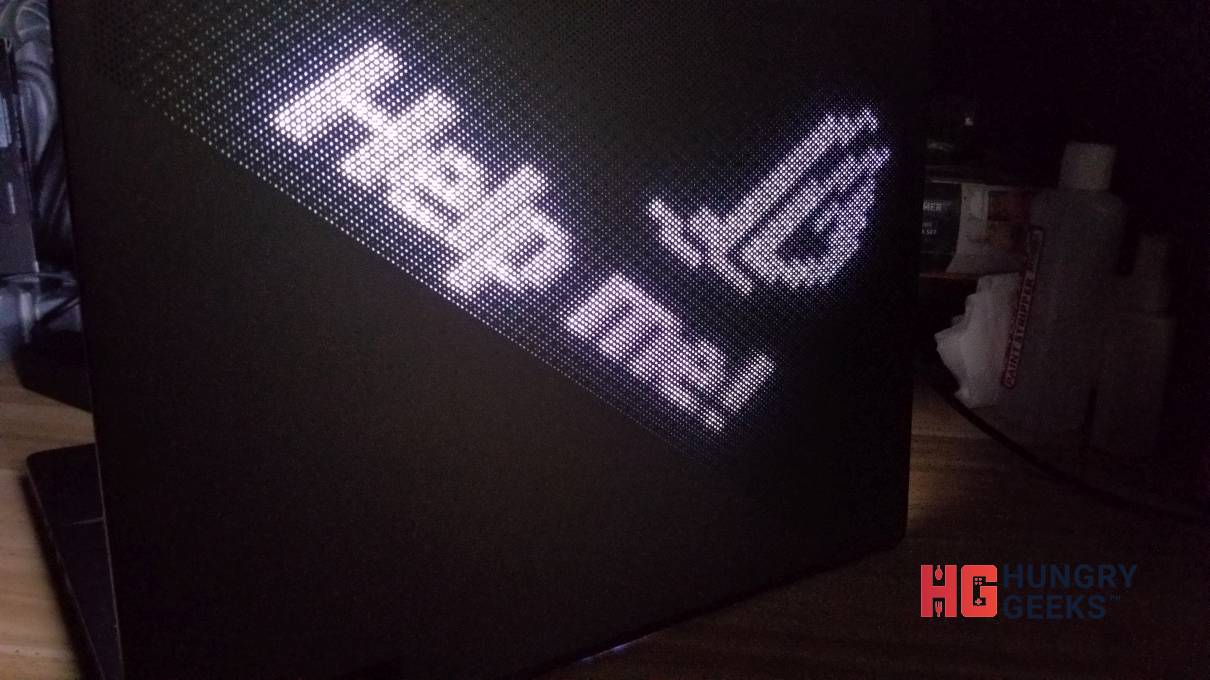 Probably the most defining thing to the ROG Zephyrus G14 is the AniMe Matrix located at the back of its display. It is definitely eye-catching and is something you can use to subliminally affect those that stare at it. It can be programmed to display a set of ready moving images or a string of text to voice out your inner thoughts or make the device a bit more unique.
Unfortunately, some may be turned off by it as it does not offer any practical benefit to the user. It is definitely eye-catching, but sadly, just not to the user itself.
ROG Zephyrus G14 2022 Review – Performance
Gaming Performance
For the gaming benchmarks, the ROG Zephyrus G14 2022 was configured to display its native resolution of 2560×1600 while having all of the settings of the games turned to the highest settings possible. Ray-tracing and other settings were turned off in order to see how it performs without those resource-hungry features. Note that the laptop was run using the "Turbo" configuration to achieve maximum performance.
Resolution
2560×1600
Frame Rates
Games
Preset
Average
1%
0.1%
Notes (Score, etc.)
Assassin's Creed Valhalla
Ultra High
60
40
31
100% Render Scaling
Dota 2
Best Looking
122
80
31
–
Metro Exodus: Enhanced Edition
Extreme
26
19
18
Raytracing Normal
Apex Legends
Highest
109
76
58
–
Rainbow Six: Siege
Ultra
154
121
112
100% Render Scaling
Warzone
Ultra
79
31
25
–
Shadow of the Tomb Raider
Highest
72
57
36
DX12
PUBG
Ultra
67
48
32
100% Render Scaling
Watch Dogs Legion
Ultra
46
37
32
DX12
Borderlands 3
Ultra
48
26
13
DX12
Total War: Warhammer 3
Ultra
31
25
24
DX11
Synthetic Benchmarks
These benchmarks are meant to measure the device's performance relative to other people's machine. We plugged in a mix of CPU & GPU-intensive tests and other ones that measure the performance of both at the same time.
The numbers below will be quantified into an easy to read chart once we have compiled results from previous reviews. Please do check them out after some time.
3DMark Firestrike Extreme
3DMark Fire Strike Extreme is designed for multi-GPU systems and future hardware generations. In addition to raising the rendering resolution, additional visual quality improvements increase the rendering load to ensure accurate performance measurements for truly extreme hardware setups.
3DMark Firestrike Ultra
3DMark Firestrike Extreme but more demanding. Incredibly taxing to the system as the benchmark tests how your PC can render in 4K (3840 x 2160).
3DMark Time Spy
3DMark Time Spy is a DirectX 12 benchmark test for Windows 10 gaming PCs. Time Spy is one of the first DirectX 12 apps to be built the right way from the ground up to fully realize the performance gains that the new API offers.
3DMark Port Royal
3DMark Port Royal is the world's first real-time ray tracing benchmark for gamers. It shows you how well your PC handles ray tracing effects in real-time.
Cinebench (Release 20)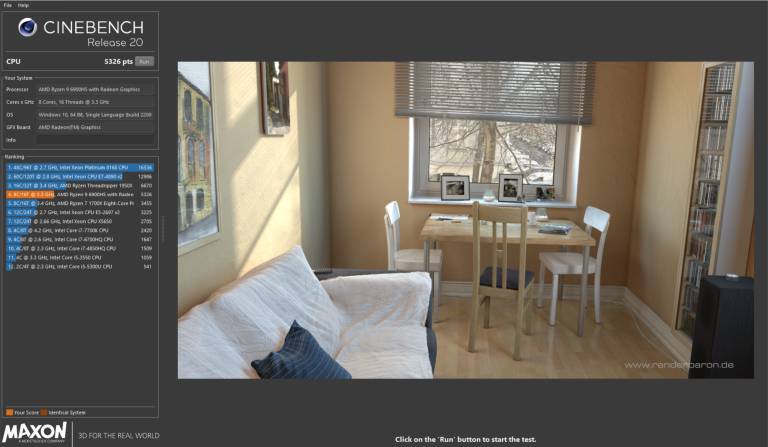 Benchmark Score: 5326

Cinebench leverages the same powerful 3D engine found in the award-winning animation software Cinema 4D Release 20 to accurately evaluate CPU rendering performance capabilities across various systems and platforms.
Novabench
Novabench is a free benchmark tool that allows you to see your computer's overall performance. Its tests CPU, GPU, RAM, and Storage speeds, and gives you an aggregate score that you can use for comparison with other similar setups.
Unigine Superposition
Extreme performance and stability test for PC hardware: video card, power supply, cooling system.
ROG Zephyrus G14 2022 Review – Verdict & Final Thoughts
The Good – Better Than Ever
The ROG G14's decision to go all AMD might have helped it in maintaining decent performance. It has managed to maintain it's compact shape and form while being able to deliver decent frame rates at a crisp 2560×1600 resolution. If you were to compare it to its previous versions, the ROG G14 2022 is definitely a huge improvement especially when used in 1080p.
Aside from the hardware, not much has changed. And that I guess, that is a good thing. There's no need for ASUS to reinvent the G14 as it has always been a banger ever since it launched back in 2020. A notable change is that it now carries an AMD graphics chip instead of an Nvidia one which is a huge improvement if you look at the raw numbers and compare them with these reviews:
The Zephyrus G14 2022 is very capable in gaming at 2560×1600 and it showcases a wide lead compared to the 2021 version where-in we tested some of the games in 2560x1440p. ASUS made a conscious decision here to just drop the ray-tracing capabilities and DLSS offered by Nvidia and just go with the raw power presented by AMD's mobile graphics chips. And it shows that performance is better in this case. It also comes a bit more affordable than its counterparts.
The Good – Better Screen
ASUS decided to arm most of their gaming laptops with the ROG Nebula Display. This is just a fancy term created by ASUS to simply say that the display is of high quality. The screen is brighter, images are more defined and the refresh rates are what you would see in a gaming monitor. Suffice to say, with the ROG Zephyrus G14, you have a gaming laptop with great hardware coupled with a display that is capable of bringing out what's inside of it.
The Good – Mobile And Light
I asked a couple of friends why they bought the ROG Zephyrus G14 in the past few years and most of them answered: it's because it's light and easy to carry. The same can be said here. Again, the 2022 version has managed to retain the weight and the form of the original G14, making it incredibly easy to lug around. It's not a handful and you can also opt to bring the lighter USB-C charger for better load at the expense of the "Turbo" setting being off-limits.
If you find yourself traveling often and you don't want to carry a huge gaming laptop wherever you go, the ROG Zephyrus G14 is a safe choice for on-the-go gaming.
The Bad – Fire It Up
| | | | | | |
| --- | --- | --- | --- | --- | --- |
| G14 2022 Temperatures | Touchpad (Right) | Touchpad (Left) | Top | Middle | Sides |
| Browsing + Downloading (Turbo) | 35.6C | 33.9C | 36.9C | 35.5C | 36.7C |
| Gaming (Turbo) | 41.6C | 42.3C | 54.5C | 46.9C | 55.2C |
The ROG Zephyrus G14, or small gaming laptops in general, are hot. Since my review of the first ROG G14 back in 2020, nothing much has changed here. It is still a hot machine. We can say that this is a compromise that must be done in order to get it to a smaller size. At times, it may be uncomfortable to play on especially in the Philippines' tropical summer. If you plan on gaming intensely, best play it in an air-conditioned room or with a fan directly blowing away at the surface.
The Bad – Nvidia GPU Might Have Been Better
As you can see in our review of its bigger sibling, the ROG Zephyrus G15 2022, the difference between the Nvidia and AMD GPUs in terms of performance is noticeable. The numbers for both gaming and synthetic benchmarks back this up. Also, RTX is way better with the G15's Nvidia card. If you want to have a better and faster machine, better go for the G15. If you want a smaller and compact unit, go for the G14. You won't go wrong with both as each one has its own strengths and weaknesses.
ROG Zephyrus G14 2022 Review – Final Verdict
The ASUS ROG Zephyrus G14 2022 is the best version up to date. It's not just an upgrade from the previous version but it overpowers the G14 2021 version by a lot. ASUS' decision to ditch Nvidia for an AMD Radeon graphics card has paid off here. The device is incredibly mobile, fun to play and work on, and also stylish to boot. Unfortunately, you must also be able to handle a lot of heat when it comes to playing this thing.
Overall, the ROG Zephyrus G14 2022 is an improvement to an already outstanding gaming laptop.
ROG Zephyrus G14 2022's Models & Pricing In The Philippines
The ROG Zephyrus G14 2022 is set to release in the Philippines this Q3 2022. Prices start from PhP 119,995 to PhP 134,995. The model lent for this review is priced at PhP 134,995.
 For our latest ROG gaming laptop reviews:
You can read more about the ROG Zephyrus G14 2022 here.