Advertisement
UGREEN is an accessory brand that you might know mostly for charging cables and type-c hubs, but recently their portfolio is now carrying the growing GaN chargers which means Gallium nitride. These chargers are the ones responsible for delivering Power Delivery PD charges of 65 and up to 100W.
One charger UGREEN is carrying now is the 100W GaN Power Adapter, able to charge powerful devices such as the MacBook Pro. Giving you the freedom of charging multiple devices in just one adapter, saving you weight and space in your bag especially for long haul trips.
Design
The whole charger is similar to the size of a MacBook Charger but with multiple ports, It is made of plastic and the side panels are made of ultra-chic texture that feels premium. Additionally, it's like having 4 iPhone chargers stacked into a square in size similarity.
It has a flip socket to neatly store into your bag and won't worry about braising your items inside the bag.
The three USB Type-C ports and one Type-A port are spaced properly for the best scenario. Even with fat cables and ports its no worry to the compatibility of the UGREEN 100W GaN Charger.
Experience
The UGREEN 100W Charger is able to charge 4 devices simultaneously with 4 ports (3 Type-C and 1 Type-A for most devices to be compatible such as Laptops, Tablets, Smartphones, and even other USB-powered devices.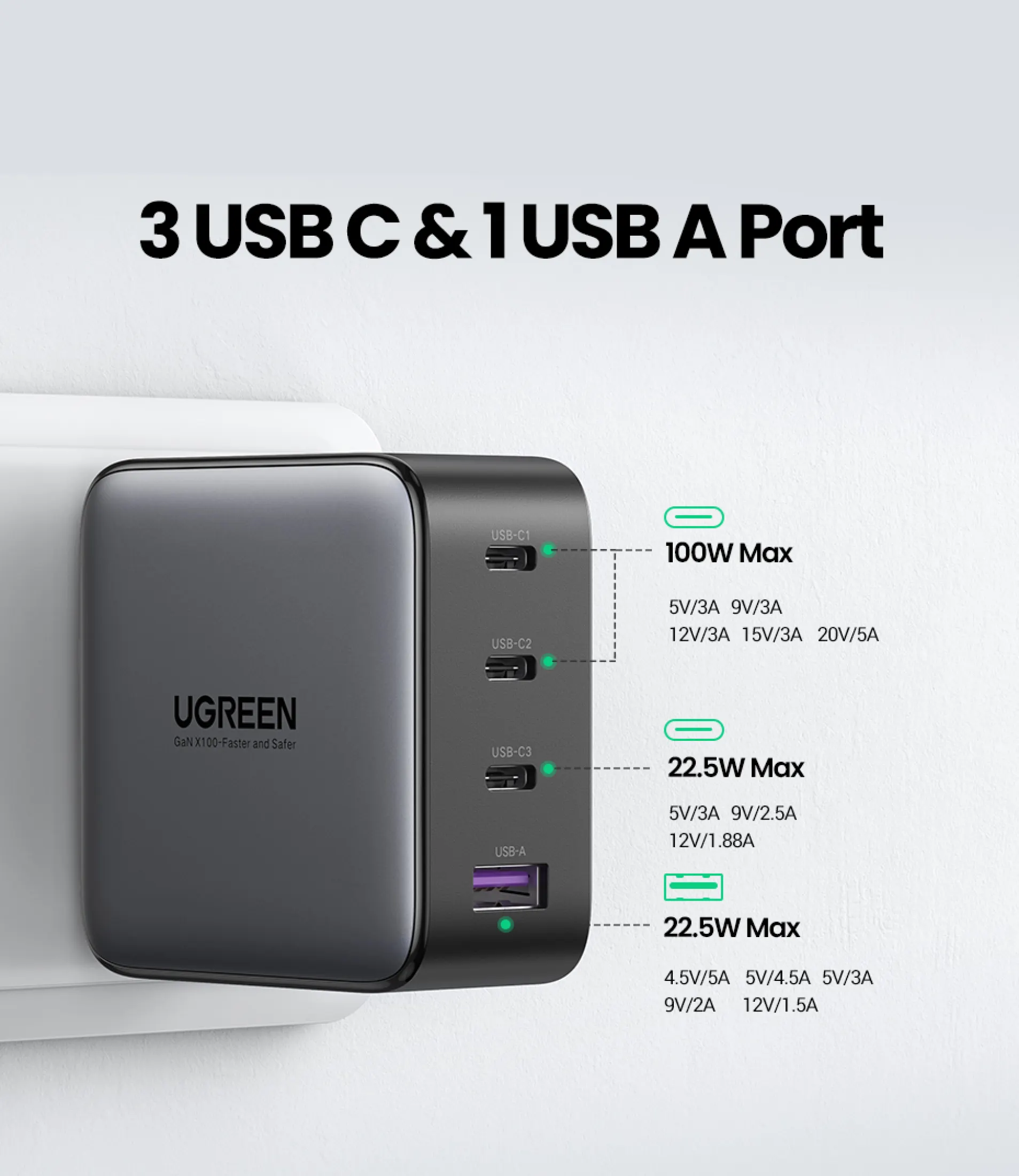 USB Type C 1 & 2 Can carry multiple protocols up to 100W perfect for laptops and tablets with high demanding power. While USB Type-C is up to 22.5W Max-like smartphones with 18W Charging or Samsung S series smartphones. While the remaining Type-A adapter is also for cables that can carry a 22.5W load.
I was able to get rid of all original chargers of my devices in exchange for this charger in my carry for everyday work. Something that I really liked in having to lessen the spaghetti wires needed in my backpack. Plus, all devices are ensured to get the fastest charging protocol available for the highest compatibility in my MacBook Pro M1, Galaxy Z Fold 2, Galaxy Tab S7+ and TWS Devices.
Just a reminder to buy the right cables for each port, it's useless to use these ports if your cable can't carry the high load. So better purchase from UGREEN as well, especially for 100W loads.
Charging Protocols
While you can charge 4 devices at a time, the maximum output is only 100W, so here is an example if you should wish to charge from 1 to 4 devices using this chart of output distribution.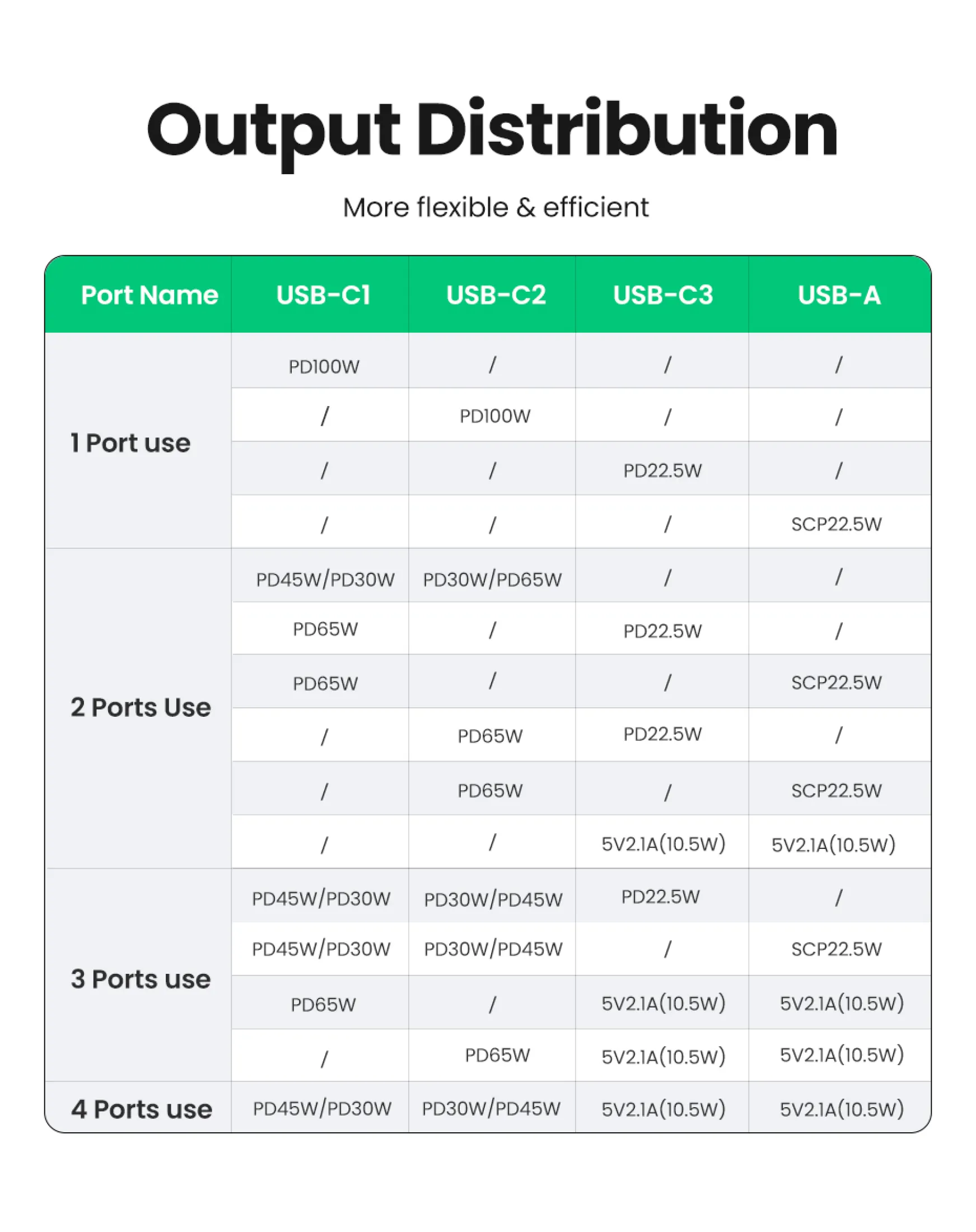 Concern & Conclusion
You might feel some heat-generating especially when charging 4 devices at a time, but this is not something to be bothersome as it won't smell like burned plastic unlike my experience with cheaper 65W GaN chargers from other brands.
If there is only comment for this product, it's to have better labeling for which port carries which load and preferably a free pouch so you can take care of this almost 3k pesos charger.
Overall this product is indeed an investment especially if you own a MacBook Pro, you will be able to have multiple chargers for your precious device with peace of mind. Also, its a nice touch if you won't have to use your laptop's original charger if you eventually have to sell it in the future.
We definitely recommend getting the 100W GaN Charger variant, peace of mind for future tech purchases as well as you can charge more devices at the same time. It's available in its flagship store in Lazada for Php 2,799. But on 11.11 you can get this for as low as Php 2,058 on the brand mega offer day. That's a huge 750 pesos discount and even more if you use the platform's bonus discount voucher and partner checkout methods.