If there is a formula for photography, it would be really subjective since every scenario is different. But let's take it simple in an aspect of Mobile Photography and basic fundamentals. So if we were to take a crack at it, it would be this.
X = L (A*S)
X = Photo Subject | L = Light | A = AI | S = Sensor Megapixel 
In this formula it would mean that light is the multiplication factor for both AI and Sensor to create the photo. Thus meaning that light is the best tool to address for better mobile photography solutions. Just a disclaimer this is without other external factors such as DLSR Lens, External Lightings or reflectors.
Now with this formula, vivo recently launched the vivo V27 5G smartphone with the Aura Portrait Algorithm. This solution is a priority not in the AI and Sensor Megapixel approach but more of the light solution by bringing a ring light-like solution as the flash of the camera.
So if we are going to take the formula we have earlier and apply it to the vivo V27 5G it would be the following:
Photo = Aura Portrait (vivo AI * Sony IMX166V)
Meaning the Aura Portrait is a multiplication factor to improve the capabilities of the AI and Sensor. Having better lighting will deliver more details in subjects such as facial details, surfaces, and even object identification. This will lead the vivo AI to have better information to work around to improve details such as separation of background and subject, sharpening, colors, contrast, etc.
Using the Aura Portrait Light, light distribution in important details such as the face, clothing and subject edges are more prominent compared to a regular dual-tone flash. Thanks to this technique, you can see even in a well lighted environment, having the right combination of focus lighting can bring our proper bokeh cut out, plus even see small stubble of hairs on my face. This is something that will be either too harsh or lacking details in other smartphones, think of it as the effect when using the flash of a mirrorless camera.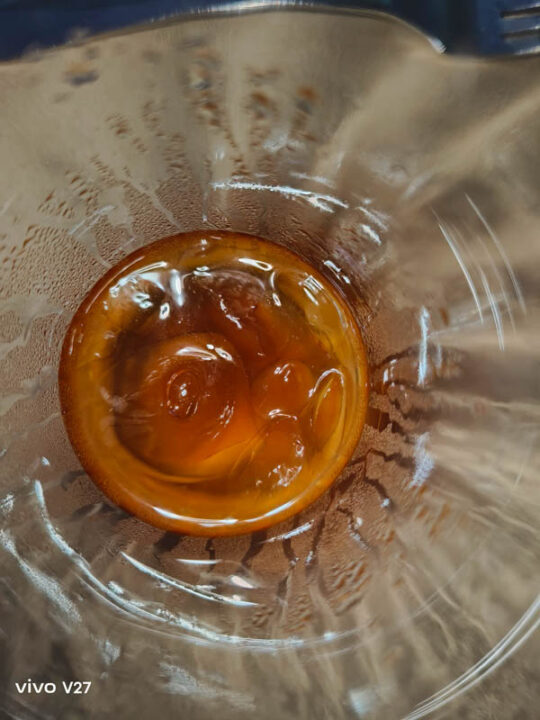 Here is another sample on top of an ice tea glass focused on the drink. You can see the clear details in the water and even edges on the glass. You saw my fingerprint at the lower left? That's the great effect of having a proper lighting on a subject, giving more details you can never imagine at first sight.
Now if you take these details and just rely on higher megapixels and regular AI, the result might produce more noisier photos with less accuracy in details. Especially when taking photos of people, you can really see the difference.
Even dim lighting was able to properly cut out the details of these pretty ladies in a portrait, despite being father to the faces the details are still captured with the focus on the dress.
Brighter condition added with the Aura Portrait Algorithm produces creamier bokeh, photos that prioritizes details that are important such as the hair, subject to background cut out and even better beautification from vivo's AI technology since noise here is relatively none.
Across a round table in x2 portrait still produced this right illuminated photo of Mary Bautista and Jayson Dionisio, quite hard to produce already by other smartphones. But we are glad that again, with proper lighting from the Aura Portrait this is achieved with very minimal blur on Mary's face since Jayson is the more focused subject here.
Selfies are of course applied with AI Beautification by vivo, captured using the 50MP Eye AF vlogging camera. Details are sharp with a slight touch of lightness in tone. Now if you're expecting the same as the rear camera, it's technically different because the front camera doesn't have the Aura Portrait light. So it might be a good opportunity to conduct a GenZ selfie using the ultra-wide camera.
Video wise, you can check out the experience of our friend Mary Bautista with the vivo V27 5G about the EIS+OIS capturing mode. Overall it's smooth even at 4K 30fps given in the sample in the video below, what's interesting is that the HDR is captured well even in against sunlight conditions.
So, overall we are very impressed with the vivo V27 5G's camera capability and the new Aura Portrait Algorithm. Light is indeed the best element to consider for the best photos and videos in any scenario, when you can have better utilization of this tool the rest is just simply top-notch or fantastic. So along with the Sony IMX766V sensor, vivo has a winning combination here with the vivo V27 5G. Ultimately for SRP Php24,999, this is one great smartphone that is powerful, sleek and takes photos like no other camera in the market today.
You can check out full details of the vivo V27 5G here, while you can also visit the official vivo Facebook fanpage for the availability and initial offer details of this device. Oh by the way, our phone's color is emerald green and we love the texture and looks of it since it's a fresh take on smartphones from the long time of matte or even anti-fingerprint back covers.