Now hear us out, particularly the author of this review isn't a photo geek that he will manipulate every photography settings from shutter speed, iso, apperture, etc to find the "perfect photo". At the most, the usage scenario of the author is to either shoot in normal or portrait with tweaking of settings like highlights and saturation in post.
Say hello to the Xiaomi 13T, the most affordable smartphone of Xiaomi equipped with Leica software of either the Leica Authentic or Leica Vibrant profile, which primarily tweaks the color range of photos to achieve the story telling photos the famous Leica style photos.
Xiaomi 13T Specifications 
| | |
| --- | --- |
| Chipset | MediaTek Dimensity 8200-Ultra |
| Screen | 6.67-inch AMOLED, 2712 x 1220, 144Hz, DCI-P3, 2600 nits Peak, Adaptive Sync, Gorilla Glass 5 |
| RAM | 8GB, 12GB LPDDR5 |
| OS | Android 13, MIUI 14 |
| Rear Camera | Leica Vario-Summicron 1:1.9 – 2.2/15-50mm; 50MP F/1.9 Main Camera, Sony IMX707, OIS; 50MP f/1.9 Telephoto, Up to 20x Digital Zoom; 12MP f/2.2 Ultrawide; Xiaomi Imaging Engine; Up to 8K24fps; 10-bit Log Video Recording |
| Front Camera | 20MP f/2.2 |
| Storage | 256GB UFS 3.1 |
| Network | Dual-SIM, 5G |
| Connectivity | WiFi 6, Bluetooth 5.4, USB-C, NFC |
| Battery | 5,000mAh, 67W HyperCharge |
| Others | In-Display Fingerprint Scanner, AI Face Unlock, Dual Speakers, IP68 Dust and Water Resistance |
| Dimensions | Up to 162.2 x 75.7 x 8.49mm |
| Weight | Up to 197g |
| Colors | Alpine Blue, Meadow Green, Black |
Xiaomi 13T Design – 2020 Design
In our unit particularly, the Xiaomi 13T black inherits the physical traits even from the 2020 release Xiaomi 11T series. To make things short, it's composed of ultra-glossy fingerprint magnet back panel with a camera module.
The Xiaomi 13T is just more boxy in its corners with a subtle curve before reaching the flat edges. At the front also contains the flat 6.67″ Display which is very clean in it's build and simple look at, simply no fancy designs here aside if you go with the Alpine Vegan leather blue.
One heads up though that the back camera module is made of metal frame, elevated on a   square shape. Though on one corner the right edge, it's the part that touches most if you place on a table or perhaps inside your pocket scratching against coins or other items. So in less than a month of use of the Xiaomi 13T we've already seen micro scratches on the edge of the camera module that some paint already faded off.
Xiaomi 13T Display – Sharp and Clear Flagship AMOLED + Strong Speakers
A good camera system needs a strong and vivid display to portray the improved photography system on the 13T. A 144Hz CrystalRes AMOLED Display delivers elevated display with HDR10+ and Dolby Vision, which is responsible in delivering that darker shadows with depth of detail.
While the display promotes up to 2600nits of peak brightness, take note that its really just to combat the sunlight when outdoors, but nothing that will you use from regular moments as this is already heat generating for the unit.
What's nice is the DCI-P3 color gamut used on the display which embodies most high-end displays, monitors and even flagship smartphones. Truly that this display can compete with smartphones with displays above its price point.
The dual stereo speakers on the Xiaomi 13T is also strong, while the usual suspect of lacking bass is prominent its still more immersive than affordable smartphones with dual stereo speakers. It's really well thought off within the solid frame and inner body of the 13T that you still feel a level of warmth.
Xiaomi 13T Camera – Story telling Leica Photos 
For Php26,990 the Xiaomi 13T contains the right package of performance with powerful photography capabilities thanks to its Sony IMX707 OIS enabled 50MP camera, though with a sacrifice in body to reach the affordable price its available now. For a lot of consumers who primarily focuses on taking photos, the Xiaomi 13T is a very strong smartphone to consider especially if you include the authentic Leica Imagery system.
The 50MP Sony IMX707 sensor with the Leica Professional System produces photos that have great highlight and we say just the right level of sharpens to make it a cut above the rest of the smartphones at its price range.
Here we can see everyday sari-sari store items represented through the lens of the Xiaomi 13T with proper color identification. As mentioned before you will notice a non-flat production of photos thanks to its above average highlights, this photo is produced in Leica Vibrant mode and you will see the elevated bounce in color yet still accurate representation that each item is easily recognizable especially the Pure Foods Corn Beef.
The Xiaomi 13T has a strong AI identification of what is night and what is dark, in these two photo samples we can clearly see that even with an OLED laptop display and challenging neon lighting it was able to properly take photos of both subject and background. These photos were taken on night mode, so the extra layer of photo exposures combined helped in the photo's overall sharpness and story telling.
Heads up on the f/1.9 aperture main camera that it will be challenging to take angled shots, as you might see here that normal shots have either a strong focus point and blurred side object or vice versa. So just be careful on this one that you might have to decrease the aperture already, but again as what we mentioned earlier…we aren't the users to simply change modes even if we know the problem as we are more of the "now in the moment" photographers.
Portraits are more detailed with proper edge detection as compared to previous generations, here a challenging portrait shot over a party was nicely executed using the Xiaomi 13T of Gian from GadgetPilipinas.
Flat images are great, in this photo you can see good details on the actual Jack Daniel's bottle but a bit of blurriness already being seen on the alcohol dispenser nozzle, so you will really be sensitive on the depth on your subjects overall. We just wished that Xiaomi has a mode to conter this especially on normal shooting mode.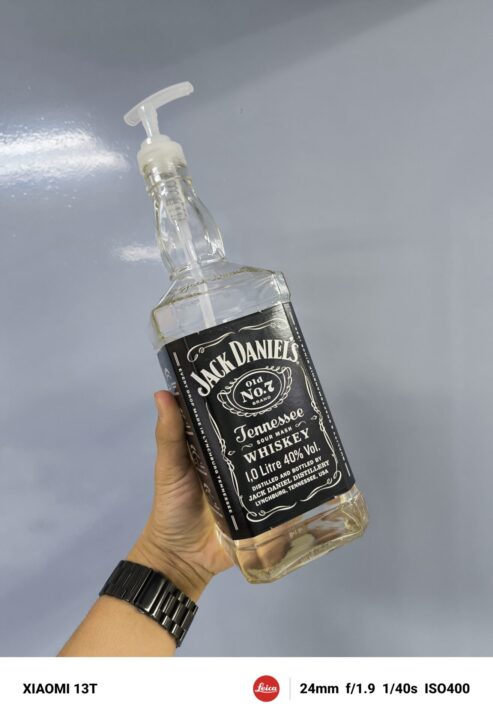 Against multiple sources of light, the Xiaomi 13T is well capable of detecting what is the focus subject, here you can see a lot of LED lights are fighting over the "Keep Walking" sign. But still the Xiaomi 13T is well capable of seeing what is black and what is needed to be focused on.
In all of our photos, the shutter speed is above average. We didn't encounter the long processing time in portraits similar to the vivo V29 or even on the HONOR 90 5G. So this camera system is really something to consider if you want a open, take, and shoot system.
The 20MP front selfie camera produces right details and colors without the annoying beautification filters that you will notice with other brands, but on this case the lens was simply layered with a smudge so always take a swipe of your camera lens before taking any photos.
Though a heads up in large canvas selfies over challenging lighting conditions, you will be already seeing already noise and blur in edges as its really challenging to take selfies without front source of lighting. In this case, the strong yellow color on the dress of Drag Race PH S2 Finalist Bernie is still acceptable but the crown is already affected due to the f2.2 aperture.
The Xiaomi 13T is capable of shooting videos at 30fps up to 4k, now this is just normal in phones at this range, but clearly Xiaomi is positioning this smartphone for photography and not video. We find the video capabilities of the 13T just normal with OIS, nothing fancy and enough for uploading in social media platforms like Facebook, Instagram, or Tiktok.
Xiaomi 13T Performance – More than adequate for today's needs 
The MediaTek 8200-Ultra processor that is a 4nm processor is more than adequate for an average user, more than just multi-tasking this processor can demand higher details in games, process higher details in photos or even demand better multitasking with its (8+4GB) 12GB RAM and 256GB UFS 3.1 Storage.
Clearly to put things simply, this processor can take a hit. It can enable your craving for higher things in details and don't settle for just what is "stable".
Even on games we are delighted with the Xiaomi 13T with its capabilities to sustain medium settings in Genshin Impact. Yes not high settings, but stable in medium settings in 60fps for a more immersive experience.
When it comes to thermals, yes you will feel the processor heating up in intense processing tasks like video, gaming, charging, or using features like smart screen throwing that uses WiFi direct technology. Just remember that heat will concentrate at the back part besides the camera module.
Thermal throttling will be encountered but we didn't feel the phone was too hot as compared to other 8000 series MediaTek smartphones in the market. So clearly Xiaomi is learning from its lessons from its builds previously.
Xiaomi 13T Battery – Enough for 1 day 
5000mAh is definitely the new standard today, but we see the demanding needs of the Dimensity 8200 Ultra and the 144Hz CrystalRes display to be the culprit of the battery hunger of the Xiaomi 13T. Either we just use this smartphone lightly or intensely, there will be at most just around 25% remaining once you go home, enough for any smartphone user to be complacent and avoid any battery anxiety attacks.
Fortunately either via the 67W Turbo Charging or via a compatible PD charger you can get to full charge in just either 45 mins to an hour. So the battery system is more than flexible enough that even just using a multiple-port PD charger will suffice your fast charging needs.
Xiaomi 13T Conclusion – Focus on photography 
For Php26,990 (8+4GB RAM + 256GB UFS 3.1 Storage) the Xiaomi 13T contains the right punch in performance over powerful photography capabilities thanks to its Leica system. Though with a sacrifice in body to reach the affordable price is the major con that only see for this unit.
For a lot of consumers who primarily focuses on taking photos for their social media feed especially instagram, the Xiaomi 13T is a very strong smartphone to consider especially if you include the authentic Leica Imagery system.
Xiaomi 13T Pros
Strong camera capabilities for Php26,999
Above average performance
Solid 1 Day battery and fast charging
Xiaomi 13T Cons
So-so body design language
Ultra-fingerprint magnet that is so 2020 (For the black color)