XTREME is constantly expanding their range of devices to fit the lifestyle of their users. They have refreshed their lineup of affordable smart TVs with Google TV and includes better features and integration. We'll be taking a look at one of their entry-level 43-inch TVs in this review – the XTREME 43-inch Google TV MF4300GO.
XTREME 43-inch Google TV MF4300GO
| | |
| --- | --- |
| Panel Size (Diagonal) | 43-inch |
| Panel Type | DLED |
| True Resolution/Refresh Rate | 1920 x 1080, 60Hz |
| OS | Google TV |
| I/O Ports | 2x USB, 2x HDMI 1.4, RCA, Digital Optical Audio, RJ-45, Antenna |
| Connectivity | Bluetooth 5.1, WiFi 802.11ac |
| Audio | 2x Bottom-Firing Speakers |
| Others | Smart Remote with Voice Command |
| Power Consumption | 74W |
| Dimensions | 954.50 x 555.16 x 60.00mm (Panel Only) |
| Weight | 5.9kg (Without Stand), 6.0kg (With Stand) |
XTREME 43-inch Google TV MF4300GO Review – Packaging and Accessories
The XTREME 43-inch Google TV MF4300GO ships in the traditional cardboard box with their branding on it. The TV is well-protected with foam. It's bundled with a smart remote with two AAA batteries, a quick start guide, two feet with appropriate screws, and a wall bracket.
Design and Features
XTREME's 43-inch Google TV doesn't anything new when it comes to design. The bezels are thinner than previous generations and remains as minimalist as current TVs in the market. At the bottom are grilles for its speakers only broken by the XTREME logo. The panel itself runs at 1080p60fps, which is fairly expected for an affordable TV.
Thickness is pretty average at around 10cm at its thickest point – it's just at the sweet spot for an entry-level smart TV. It does support both 2.4GHz and 5.0GHz WiFi as well as Bluetooth 5.1. All its input and output ports are located at the back, which keeps them out of the way.
Let's take a look at the remote. It's a lightweight remote but has all the essentials to control the TV. Pressing the Google Assistant icon will let you use voice controls to search the web or find the content you want to watch. There are four quick shortcuts at the bottom for Netflix, Prime Video, and YouTube while the fourth icon can be bound to any streaming app you want via the settings menu on the TV.
Input and Output Ports
Most of its ports are located at the left-hand side as the right only houses the AC in for its power cord. You will have access to two USB ports for external storage or local updates, two HDMI 1.4 ports, RCA ports for composite video, Digital Optical Audio, an antenna port, and even an RJ-45 Ethernet port for those who want a wired Internet connection.
On-Screen Display Menu and Software
One of the key upgrades in XTREME's current generation of Smart TVs is Google TV OS. It looks more pleasing to the eye and puts content that you want first. You can now set multiple adult and child profiles that have their own preferences without interfering with one another. There is also built-in Chromecast on the TV so you can control it with your smartphone or another compatible device.
Google TV-powered devices can also be integrated to a Smart Home. This allows the Google Assistant to let you control compatible smart home devices around you without getting up or even by just using the remote and not your smartphone. There's also a slew of TV-specific options such as color profiles, color adjustments, and input switching among others.
While the XTREME 43-inch Google TV MF4300GO is considered to be an entry-level TV, the OS remains stable in most cases. Browsing streaming services like Netflix and YouTube remain smooth though you will get some stutters at times especially when the content itself is loading.
XTREME 43-inch Google TV MF4300GO Review – Performance
Brightness, Contrast Ratio, and Color Gamut
XTREME doesn't claim any particular numbers about the performance of the 43-inch Google TV on its website aside from its features. It does have a 1080p DLED panel though we would prefer at least a UHD resolution to get better clarity and detail on a 43-inch display especially up close.
Brightness maxes out at 278.05 cd/m2 at 100% backlight and 50% brightness. Pushing up the brightness higher than 70% will theoretically raise the values but it will make the content washed out, which is unrealistic in regular usage. The lack of anti-glare will also decrease the image clarity when there is strong backlight against the screen.
Contrast ratio is pretty good for an affordable TV at around 1094:1. Color Gamut, however, reaches 85.90% sRGB and 62.40% so it won't be the best in accurate color reproduction but colors look saturated enough to look good for most people.
sRGB – 85.90%
AdobeRGB – 60.30%
DCI-P3 – 62.40%
Luminance (Minimum) – 70.7 cd/m2
Luminance (Maximum) – 278.05 cd/m2
Delta E (Average) – 0.46
Gamma – 1.54
Contrast Ratio – 1094:1
Calibration Settings
The TV has a surprisingly balanced color profile by default. This may not be true with the TVs you might be getting but they should be close. Below are the settings that were loaded on our review unit if you need to adjust yours but keep in mind that they might not have the same balancing effect.
Standard Picture Mode
100% Backlight
50% Brightness
50% Saturation
-6 Red Gain
0 Green Gain
10 Blue Gain
Viewing Angles, Brightness Uniformity, and Backlight Bleed
Most modern TVs do not have any viewing angle problems and that remains true with the MF4300GO. There is no significant deviance in color and brightness from any reasonable viewing angle on the TV. This should allow anyone in the room within a reasonable angle to enjoy the content being displayed.

Brightness uniformity is somewhat all over the place. The middle column remains the brightest at an average of 265 cd/m2 while the average of the left and right columns is 213 cd/m2. That's nearly 20% in deviance in brightness.
The backlight bleed test confirms the brightness uniformity of the TV.  The middle part has notably stronger backlight compared to the edges. This shouldn't be noticeable with regular use outside of really dark scenes in movies or series.
Power Consumption
The power consumption of the XTREME 43-inch Google TV is fairly low. At max backlight and volume, the TV is only pulling in at around 65.38W of power. This can allow you to binge watch series or movies throughout the day without worrying too much about your power bill.
65W – Off (Idle)
10W – 0% Backlight
32W – 25% Backlight
40W – 50% Backlight
68W – 75% Backlight
38W – 100% Backlight
Audio Quality
Thinner TV sets have trouble with good audio just because of the space restraints of its design. This is also true on the XTREME 43-inch Google TV but this doesn't mean that it doesn't sound good in average use. It uses two bottom-firing speakers and sounds clear in movies.
Audio does start to become muddled once you hit higher volume levels. There's also a lack of thumping bass but that's expected within its constraints. It doesn't help that it doesn't have a 3.5mm audio jack so you're stuck with either Bluetooth or optical for external speakers.
XTREME 43-inch Google TV MF4300GO Review – Conclusion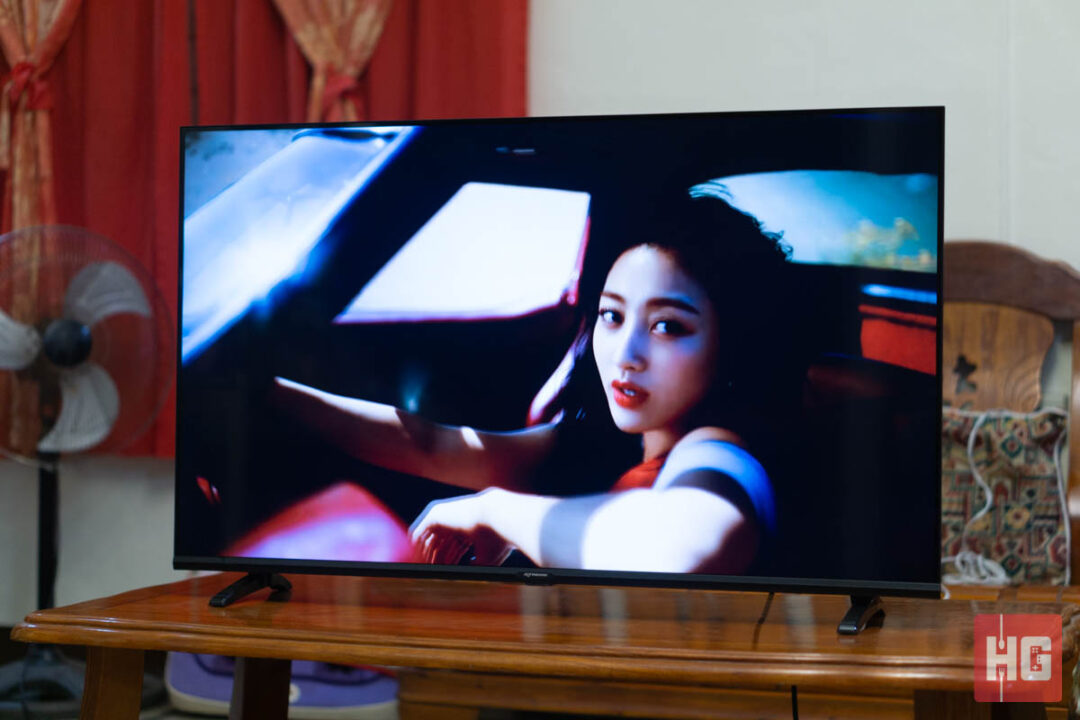 The entry-level Smart TV market is a competitive space but XTREME has managed to deliver a feature-packed Google TV-powered TV. It has good color reproduction, decent brightness, and serviceable audio wrapped in one affordable package. The inclusion of Google TV just adds to the seamless experience for streaming and smart home integration.
Brightness uniformity, however, does need some work but this may be different from unit to unit. The lack of a 3.5mm audio jack also limits you to either Bluetooth or optical for external audio.
Overall, the XTREME 43-inch Google TV MF4300GO offers an enticing upgrade for those who have older TVs thanks to its features, relatively low price, Google TV, and smart home integration.
XTREME 43-inch Google TV MF4300GO Price and Availability
The XTREME 43-inch Google TV MF4300GO is priced at PhP 22,495 in the Philippines. It also goes on sale for as low as PhP 14,995 at the usual sale events in the country if you want to get an even better deal.
You can get it via XTREME's official website, Shopee, and Lazada as well as XTREME concept stores and authorized retailers nationwide.