Ever wondered what would make a good computer for work or play? Would you rather have a laptop or a PC set? But building a PC takes too much time, right? Depending on who you ask, that question is usually a "yes". For those that don't want to be bothered to go around and shop, there's a set that ASUS wants you to check out – the ASUS Mini PC PN62 and the ASUS BE24EQK Monitor. Is this pair more than enough to get things done? Let's find out in this review.
Specifications
ASUS Mini PC PN62 Specifications
| | |
| --- | --- |
| Operating System | Windows 10 Pro |
| CPU | Intel® Core™ i5-10210U Processor 1.6GHz (6M Cache, up to 4.2GHz); |
| Chipset | Integrated |
| Graphics | Integrated – Intel HD Graphics |
| Memory | DRAM MODULE(DDR4)/2666/8G |
| Storage | 1TB SATA 7200RPM 2.5″ HDD |
| Wireless Data Network | Wi-Fi 6, Bluetooth 5.0, 2*2 (Barebone SKU) |
| LAN | Gigabit LAN, Intel® WGI219V |
| Audio | Realtek® ALC3236-VB2 HD Audio CODEC (optional) |
| Side(Front) I/O Ports | 1 x USB 3.2 Gen2 Type-C(w/ quick charge), 1 x USB 3.2 Gen1, 1 x IR receiver, 1 x 3-in-1 Card Reader, 1 x K-Lock(Side) |
| Back I/O Ports | 1 x USB 3.2 Gen1 Type-C(w/ DP output & PowerDelivery input), 2 x USB 3.2 Gen1, 1 x HDMI 2.0 Port, 1 x VGA, 1 x Intel (RJ45) LAN, 1 x DC-in |
| Speaker | No |
| Power Supply | 19Vdc, 3.42A, 65W Power Adapter |
| Dimensions (W x D x H) | |
| Weight | |
| Color | Black |
| Accessories | |
| Certificates | BSMI/CB/CE/FCC/UL/CCC/Energy Star/C-Tick/WiFi/RF/VCCI |
| Remark | The Windows 11 upgrade will be delivered to qualifying devices late 2021 into 2022. Timing will vary by device. Certain features require specific hardware (see aka.ms/windows11-spec). |
ASUS BE24EQK Monitor Specifications
Display

Panel Size (inch) : 23.8
Aspect Ratio : 16:9
Display Viewing Area (H x V) : 527.04 x 296.46 mm
Display Surface : Non-Glare
Backlight Type : LED
Panel Type : IPS
Viewing Angle (CR≧10, H/V) : 178°/ 178°
Pixel Pitch : 0.2745mm
Resolution : 1920×1080
Brightness (Typ.) : 300cd/㎡
Contrast Ratio (Typ.) : 1000:1
ASUS Smart Contrast Ratio (ASCR) : 100,000,000:1
Display Colors : 16.7M
Response Time : 5ms(GTG)
Refresh Rate (Max) : 60Hz
Flicker-free : Yes

Video Feature

Trace Free Technology : Yes
SPLENDID Technology : Yes
Color Temp. Selection : Yes(4 modes)
QuickFit : Yes
HDCP : Yes
Low Blue Light : Yes
Web Camera : Yes(2.0M Pixels, Rotatable)

Audio Feature

Speaker : Yes(2Wx2)
Microphone : Yes(x2 for MIC-Array)

I/O Ports

DisplayPort 1.2 x 1
HDMI(v1.4) x 1
VGA x 1
Earphone Jack : Yes
PC Audio Input : Yes

Signal Frequency

Digital Signal Frequency : 30~83 KHz (H) / 50~76 Hz (V)
Analog Signal Frequency : 30~83 KHz (H) / 50~76 Hz (V)

Power Consumption

Power Consumption : <15W*
Power Saving Mode : <0.5W
Power Off Mode : 0W (hard switch)
Voltage : 100-240V, 50/60Hz

Mechanical Design

Tilt : Yes (+20° ~ -5°)
Height Adjustment : No
VESA Wall Mounting : 100x100mm
Kensington Lock : Yes

Dimensions (Esti.)

Phys. Dimension with Stand (W x H x D) : 540 x 426 x 195 mm
Phys. Dimension without Stand (W x H x D) : 540 x 355 x 53mm
Phys. Dimension without Stand (W x H x D) : 540 x 355 x 53 mm
Box Dimension (W x H x D) : 610 x 494 x 168 mm
Box Dimension (W x H x D) : 610 x 432 x 169 mm

Weight (Esti.)

Net Weight with Stand : 4.6 Kg
Net Weight without Stand : 3.9 Kg
Gross Weight : 6.4 Kg

Accessories (vary by regions)

DisplayPort cable
HDMI cable
Power cord
Quick start guide
USB Type-B to A cable
Warranty Card

Certificate

EPEAT Silver
TÜV Flicker-free
TÜV Low Blue Light
At A Glance
ASUS PN62 Review
ASUS BE24EQK Monitor Review
ASUS BE24EQK Monitor Ports
The ASUS BE24EQK ports are all located snugly at the back of the display. Surprisingly, the monitor has a lot of ports available and can be used with a large variety of devices. One thing noticeable is the inclusion of the USB Type-B port. This port allows the use of the monitor's on-board camera and its speakers.
ASUS PN62 Review – Benchmarks
The ASUS PN62 has been subjected to four synthetic benchmarks. These benchmarks are ways to measure the PC's performance as the numbers produced in these tests can be compared to other PCs. Note that several components, not just the CPU itself, are accounted for during these tests.
Cinebench (Release 20)
Benchmark Score: 1080

Cinebench leverages the same powerful 3D engine found in the award-winning animation software Cinema 4D Release 20 to accurately evaluate CPU rendering performance capabilities across various systems and platforms.
Novabench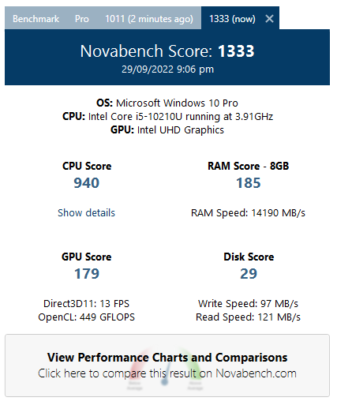 Novabench is a free benchmark tool that allows you to see your computer's overall performance. Its tests CPU, GPU, RAM, and Storage speeds, and gives you an aggregate score that you can use for comparison with other similar setups.
Unigine Superposition
Extreme performance and stability test for PC hardware: video card, power supply, cooling system.
PassMark
PassMark measures CPU, 2D & 3D GPU, Memory, and Disk speeds. Similar to Novabench, it gives you an aggregate score, giving you an idea on how your PC performs and how it ranks when compared to other computers around the world.
ASUS PN62 & ASUS BE24EQK Review – User Experience
Fast For Daily Productivity
Despite its size and the benchmarks showing not so good numbers, the ASUS PN62 is able to run the usual apps for productivity. MS Office and browsing works well and there's no snag during my run with the device. Given its specifications, it's not a powerful PC but is more than capable to get things done.
Easy To Open & Upgrade
The underside of the ASUS PN62 is home to four easy to see screws. You can unscrew them to separate the storage drive from the PC's motherboard, allowing you to swap out components or upgrade them. It's incredibly easy to do and requires no technical knowledge to slap newer and faster components into this bad boy.
Monitor's Incredibly Decent
Although not as imposing as its other brothers, the ASUS BE24EQK monitor is a "be all" package. It packs a web camera and has a lot of ports for different devices. Aside from being a partner for the ASUS PN62, you can also use this monitor for other applications such as gaming and as a larger screen for your phone. It also helps that the buttons are easy to see and its spartan design makes setting it up incredibly intuitive.
ASUS BE24EQK Audio Is Fine
One thing that surprised me while using this is that the on-board camera has an incredibly decent speaker. While the monitor itself has one, you can manually choose to have the sounds be outputted using the camera's speakers instead. It's loud and very audible, making the monitor itself a great entertainment device.
ASUS PN62 & ASUS BE24EQK Review – Verdict
The Good: It's Good Enough
With the benchmarks, although we can see that it won't break any records on its own, the ASUS PN62 is good enough. It's not too slow when it comes to productivity programs such as MS Office and internet browsing. While you can play old games on this, don't expect blazing fast framerates as the mini PC struggles to keep itself afloat as it manages between performance and temperatures.
The Good: Easily Upgradeable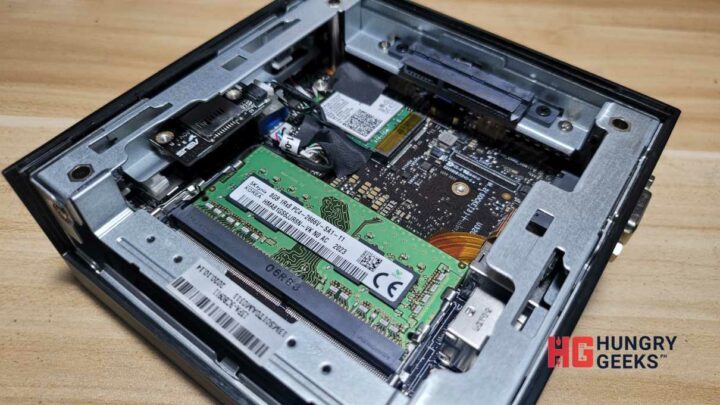 For the non-tech savvy folks, the ASUS PN62's innards can be upgraded without having to hire someone to do it for you. With just four screws, you can slide the top of the case and upgrade the mini PC's RAM and storage. Upgrading this thing is too easy that even your grandma can do it.
The Bad: Badly Needs An SSD
For downsides, the first is its noticeable reading times as it sports a 3.5 inch traditional HDD. Not that HDDs are bad but at this day and age, SSDs are usually what you expect of PC packages. Although one of similar storage capacity can be quite expensive, SSDs extensively improve the load times of the OS and the programs in it, consequently increasing productivity and reducing wait times.
The Bad: Form Factor Compromises
As mentioned above, the whole ASUS PN62 is a compromise. It's packed in a small form factor and with that convenience, you do have to sacrifice performance. Heat management is a main concern here as you cram multiple hardware into a small space. To manage temps, the CPU and other hardware must make do with low power. That said, you get numbers that won't break barriers but are suitable for daily applications and use.
Dependable Productivity PC
Whether it be for work or for school, the ASUS PN62 and the ASUS BE24EQK both deliver on their promises. The ASUS PN62 is incredibly small and can definitely help in running day to day apps, MS Office, and the occasional browsing. For the display, the ASUS BE24EQK comes with decent audio and the attached web camera completes the whole package. All in all, a no-brainer and incredibly simple to run and setup out-of-the-box. Only downside is that you do sacrifice performance for its small form factor and you may need to upgrade it, which can cost you more, to maximize its potential.
ASUS PN62 & ASUS BE24EQK Review – Price & Availability
The ASUS PN62 and the ASUS BE24EQK monitor are both available locally in the Philippines. There are different SKUs for the ASUS PN62 and it has an SRP of somewhere around the PhP 30,000s. The bundled monitor, the ASUS BE24EQK, has an SRP of PhP 15,420.
For more info about the devices, check the official product pages of the ASUS Mini PC PN62 and the ASUS BE24EQK monitor.
Read our ASUS PN60 & VA24EHE Monitor Review for an alternative to this package. Also check out our MSI PRO AP241 AIO PC Review for an AIO package and the MSI PRO DP130 and PRO MP242P Review for another office package from a different brand.