Another day, another ASUS TUF monitor. This time, we're going to review a relatively new ASUS TUF monitor, the ASUS TUF Gaming VG259QR. For starters, it's an IPS 165Hz gaming monitor filled with a couple of features that you might find useful. So, with that said, is this a gaming monitor to consider? What is it's price? Is it good? Let's find out!
ASUS TUF VG259QR Review – Specifications
Specs
VG259QR
Panel Size (Diagonal)
Panel Backlight / Type

IPS panel / LED Backlight

Color Space (sRGB)
99%
Brightness
Response Time
True Resolution
1920×1080
Refresh Rate
Speaker
Yes(2Wx2)
I/O Ports

DisplayPort 1.2 x 1
HDMI(v1.4) x 2
Earphone Jack

Low Blue Light
Yes
GameVisual
7 Modes
Adaptive-Sync
Supported
GameFast Input technology
Yes
Shadow Boost
Yes
ELMB SYNC
Yes
Certificate

TÜV Flicker-free
TÜV Low Blue Light

Accessories (vary by regions)

Power adapter
DisplayPort cable
Power cord
HDMI cable
Quick start guide
Warranty Card
Certificate

7.4kg
Before we delve deeper into this review, let's take a look at the features included in this monitor first.
What Is G-Sync?
G-SYNC is an Nvidia proprietary display technology that synchronizes both the monitor and the GPU's output. This results in crisp and smooth image display rate as both the GPU and the monitor are communicating with each other to produce frames.
What Is ELMB Sync?
ELMB, or Extremely Low Motion Blur, is a technology developed by ASUS to combat motion blur that plague high refresh rate screens. This can be turned on in tandem with Nvidia's G-Sync, hence ELMB Sync.
What Is Shadow Boost?
The Shadow boost feature found in the ASUS TUF VG259QR has 3 levels. What it does is it simply brightens up dark or black spots to make them more visible. While it leaves one doubtful to its uses in a competitive gaming setting, it does make the darker spots a bit easy to see making it also useful when watching movies and the likes.
ASUS TUF VG259QR Review – Looks & Aesthetics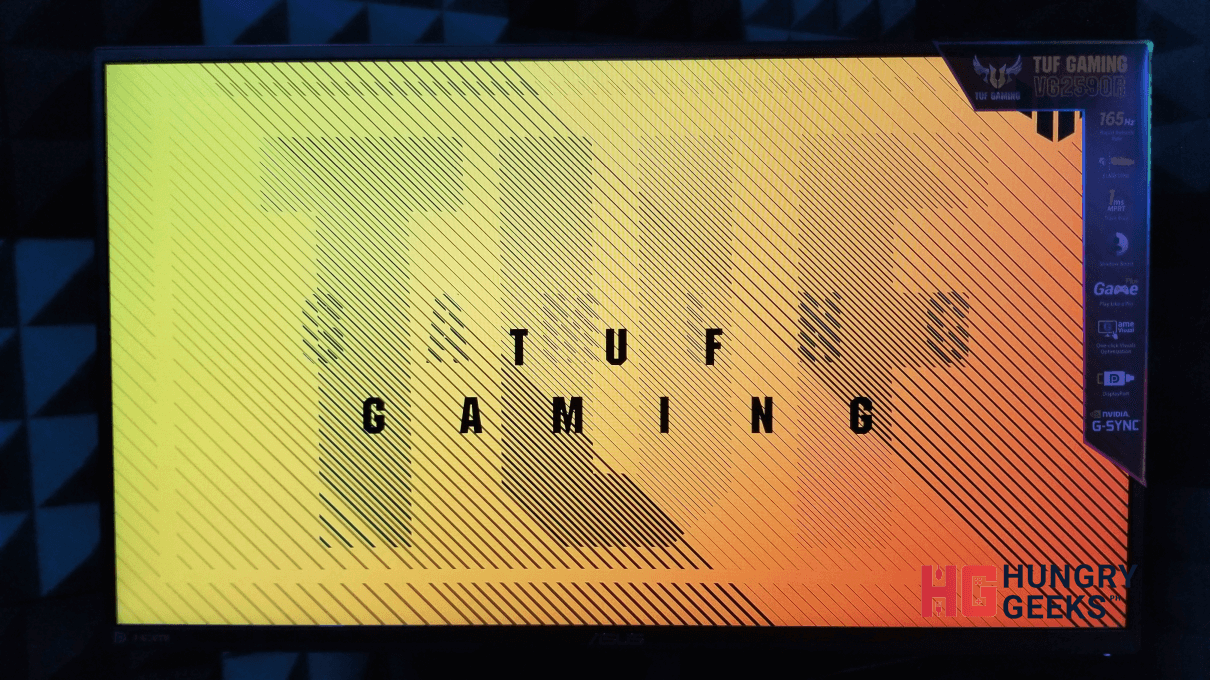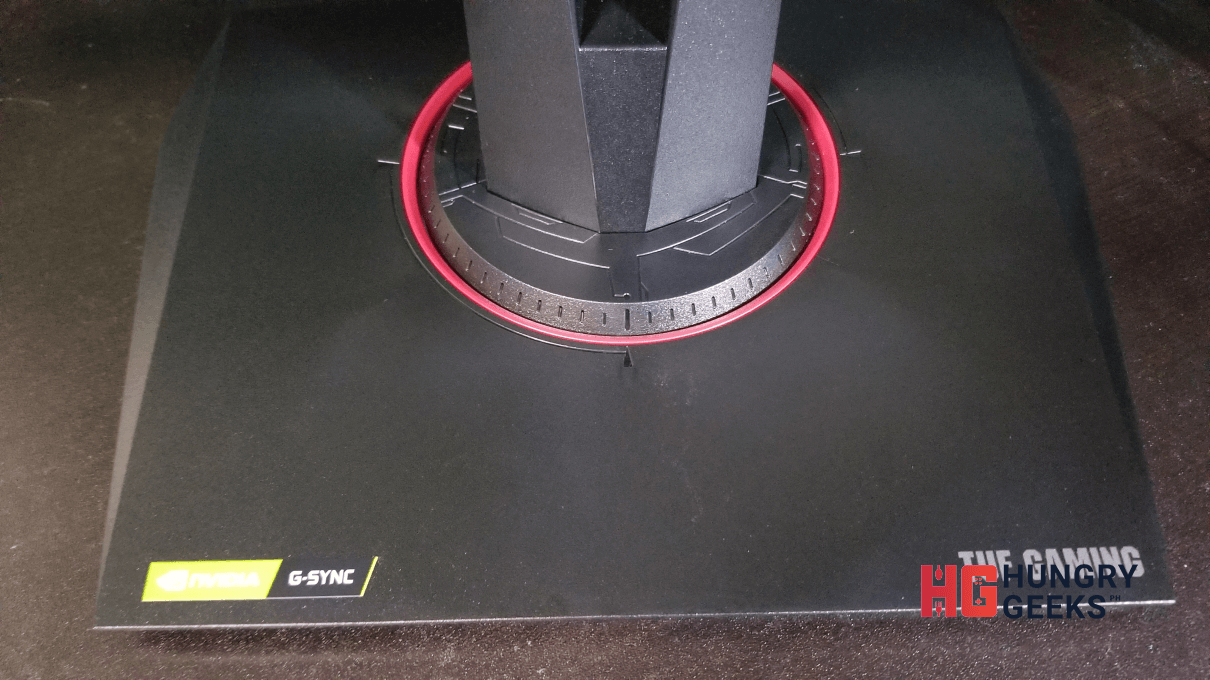 ASUS TUF VG259QR Ports
The ASUS TUF VG259QR is compatible with HDMI and DisplayPort standards. It has two HDMI 1.4 ports and a single Display Port 1.2 port. It also has an earphone jack in case you want to plug in your headphones or speakers to the monitor.
No RGB
One noticeable thing with the TUF VG259QR is its lack of RGB lighting. It's simply black with some red highlights on its base. Nothing flashy, just a plain and simple monitor. If you're looking for a monitor with flashy lights, best look elsewhere.
No USB Ports
Unlike other high-end monitors, the ASUS TUF VG259QR does not support any USB ports. You cannot connect it to your PC to handle more easy-to-reach USB connections.
ASUS TUF VG259QR Review – Testing & Metrics
Blur Busters Motion Tests
To check the monitor's maximum refresh rate, I used Blur Buster's testufo. It's a browser based test and can be used with most computers. You can even try it on your own system! For this display, I tested the 165Hz refresh rate.
Do You Need More Than 144Hz?
Again. I've answered this question before and I'll answer it with the same thing. Personally, this doesn't change that much. 165Hz is not that significantly larger than 144Hz. Sure, you might notice something different but personally, it's like apples to apples.
This might be more noticeable if you play high frame rate games such as CS:GO or Valorant where-in each frame can affect your performance. But for a person usually browsing, playing strategy games, and others, 165Hz is a bit too overkill or somewhat unnecessary. Nonetheless. This still is impressive if you can buy it at the same price as 144Hz or even 120Hz.
Other Features
Ultra-Low Blue Light Technology
ASUS Ultra-Low Blut Light technology reduces the amount of blue light radiated by the display. This makes it easier to look at the monitor for hours on end as blue light causes eye strain especially during long binges. This has 5 settings you can choose from with each level varying in intensity. While it does muddle up the visuals, you can simply turn it off when playing or watching videos. Use it while browsing or while typing to reduce the strain.
Note that you have to manually set this and it cannot be programmed to change depending on which applications you want to use.
ASUS GameVisual
ASUS GameVisual are preset settings for different scenarios. Say you want to watch a movie, you can select the pre-made settings for that. While its usefulness is subjective, it is still a welcome feature as you can tweak settings without getting rough and dirty with the different values of contrast, brightness, saturation, and the likes.
Just be mindful of it as you need to manually reset or set it whenever you open different programs. Some may mistakenly display certain colors with different tones.
GamePlus
As with most ASUS monitors, ASUS GamePlus is back to give you the cheats edge when playing games. What it does is display an overlay that players can use to gauge or make it easier to view certain aspects while gaming. Examples are on-screen crosshairs that are dead-center on the screen and an on-screen timer. Selections are quite limited compared to ROG gaming monitors.
Good thing here is that they have a specific button to access the menu. This is unusual since most ASUS gaming monitors include the GamePlus interface within the on-screen menu.
ASUS TUF VG259QR Review – Verdict & Final Thoughts
The Good
The ASUS TUF VG259QR is pretty much filled with features enough for you to customize its display to your liking. It's a standard gaming monitor with 165Hz and Nvidia G-Sync support furthered by additional tricks. The 24.5-inch IPS panel manages to produce crisp and clear images without fail. Though again, this is to be expected.
Practical & Ergonomic Design
Design-wise the ASUS TUF VG259QR trumps over most of the gaming monitors I've used in the past. I'm a sucker for TUF gaming monitors because their design is simple and doesn't consume that much space. The same can be said here. While it does look a bit spartan, it can fit modestly designed and clean builds without being pompously regaled with RGB lighting.
Aside from its simplistic but appealing design, the TUF VG259QR has a wide angle for tilting and turning. From the base stand to the tilt of the neck, this monitor can be angled and set up to most users' situation. It can be set to incredibly low, low enough to almost hit the base, to as much as 15cm or almost 6 inches. You can also orient it vertically.
The Bad
The only downside I can think of is its price. The Nvidia G-Sync stamp has probably added a premium price tag to this monitor. If you're using an Nvidia graphics card, this is definitely something you have to take advantage of. Otherwise, you can also enjoy great continuous frames using cheaper and more affordable FreeSync monitors.
Incredibly Great Gaming Monitor
As mentioned before, I prefer TUF monitors because they look simpler and they don't consume a lot of space when placed on a modest desk. With the features and the base 165Hz, you can never go wrong with this one. However, the G-Sync feature is something you have to pay premium for and that's likely to greatly affect your decision if you're thinking of buying this monitor.
Pricing And Availability In The Philippines
The ASUS TUF VG259QR is now available in the Philippines. You can buy it in physical stores or you can order it from your favorite online retail stores or shops. It has an SRP of PhP 17,990. However, some stores can be spotted selling this for PhP 14,300+.

If you prefer other ASUS monitors, do check out our reviews for the ROG Strix XG279Q-G (Gundam Edition) and the TUF Gaming VG279QM. You can also check out Huawei's gaming monitor with our Huawei MateView GT review.
Read the product page for more details on the technical specs of the ASUS TUF VG259QR.
TUF VG259QM vs  TUF VG259QR
While both have the same size and features, the QM one has a blistering 280Hz and is also HDR compatible. This also translates to an added premium with the TUF VG259QM retailing for about PhP 18,700+. If you don't need both features, you can settle for the cheaper but definitely worth it TUF VG259QR.