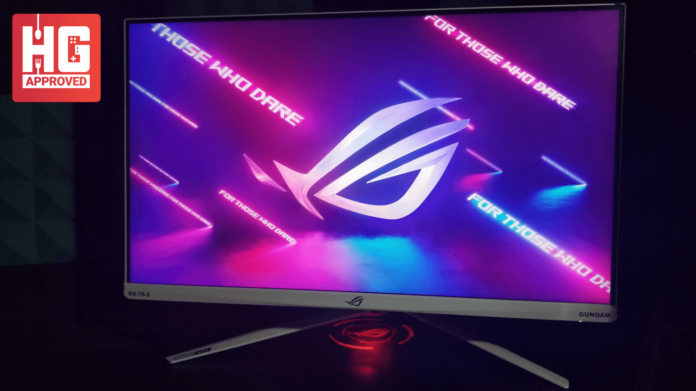 Buying a decent gaming monitor is probably one of the things you should do research on when building a new PC. With modern ones, not only can they handle your PC but they can also be the main display for your gaming consoles. You can even use them for work if you have too! But with tech getting cheaper, high refresh rates and above 1080p models are now within arms reach. Not for this case, again. The ASUS ROG Strix XG279Q-G Gundam Edition is a high-end display that'll relentlessly beat your wallet. But is it worth the hurt? Let's find out in this review!
ROG Strix XG279Q-G Review – Specifications
Specs
ROG Strix XG279Q-G
Panel Size (Diagonal)
Wide Screen 27.0″(68.47cm) 16:9
Panel Backlight / Type
IPS panel
Color Saturation
99% sRGB
Brightness
Typical : 400cd/㎡
HDR, Peak : 400 cd/㎡
Response Time
1ms (GTG)
True Resolution/ Refresh Rate
2560×1440 / 144Hz / 170Hz (overclocked)
HDR Support
Yes (HDR-10)
Stereo Speaker
2W x 2 Stereo RMS
I/O Ports
DisplayPort 1.2 x 1
HDMI (v2.0) x 2
Earphone jack : Yes
USB Ports : Yes(2 ports USB 3.0)
Low Blue Light
Yes
HDCP support
Yes
GameVisual
7 Modes(Scenery/Racing/Cinema/RTS/RPG/FPS/sRGB Modes/MOBA Mode)
Adaptive-Sync supported
Yes
GameFast Input technology
Yes
ELMB SYNC
Yes
Before we delve deeper into this review, let's take a look at the features included in this monitor first.
What Is G-Sync?
G-SYNC is an Nvidia proprietary display technology that synchronizes both the monitor and the GPU's output. This results in crisp and smooth image display rate as both the GPU and the monitor are communicating with each other to produce frames.
What Is ELMB Sync?
ELMB, or Extremely Low Motion Blur, is a technology developed by ASUS to combat motion blurs that plague high refresh rate screens. This can be turned on in tandem with Nvidia's G-Sync, hence ELMB Sync.
What Is HDR?
HDR, or more specifically HDR-10, is a standard developed by the Consumer Technology Association (CTA). What this means is that the display is capable of displaying a wider range of colors. Not only that, but the display can also produce discernible dark and light areas. The ROG Strix XG279Q-G is HDR-10 certified.
ROG Strix XG279Q-G Review – Looks & Aesthetics









ROG Strix XG279Q-G Ports

The ROG Strix XG279Q-G can cater to up to 3 displays: 1 HDMI 2.0 and 2 DisplayPort 1.2s. Should there be multiple inputs, you can easily switch using the on-screen display. You can also directly plug-in your audio device via the 3.5mm jack located at the right-most side. If you want a cleaner desk, you can make use of the 3 USB ports here, 2 of which are USB 3.0s.
Limited RGB

The ROG Strix XG279Q-G are all located at its backside. You won't be able to see any of it at the front. You can setup the RGB lighting using the ASUS Aura Sync support via the Armoury Crate, ASUS' proprietary all-in-one application. As with other ASUS ROG monitors, the LED located at its base can only project red. If you're going for a pure color theme, this might ruin things a bit.
You can also opt not to use the ASUS Aura Sync and just manually set it up to display colors using the on-screen menu.
Can Become Drab Due To Dust
One concern to have is that white can easily turn into drab white due to dust. Here in Metro Manila, this device's pristine white color has been marred. It can easily go from white to dark white due to the dust.
ROG Strix XG279Q-G Review – Testing & Metrics
Blur Busters Motion Tests

To check the monitor's maximum refresh rate, I used Blur Buster's testufo. It's a browser based test and can be used with most computers. You can even try it on your own system! For this display, I tested both the 144Hz and the overclocked 170Hz refresh rates.
Do You Need More Than 144Hz?
Now, this question's answer differs depending on the person. Personally, I find no significant advantage when using above 144Hz refresh rates. I even tried a 280Hz one and found nothing too exceptional to talk about. If you're more into high FPS competitive titles like CS: GO or Valorant, you may find a better experience that can translate to better performance.
How To Overclock ASUS Gaming Monitors
To overclock gaming monitors like the ROG Strix XG279Q-G above their base refresh rates, you must connect it to your graphics card via the DisplayPort. Using the HDMI port leaves you locked to the base refresh rate. If successful, you can access the overclock menu using the using the monitor's built-in options.
ROG Strix XG279Q-G Review – Gaming Performance & Experience
As expected of a gaming monitor that can offer a blistering 170Hz speeds, the Strix XG279Q-G does its job splendidly well. However, do take note that in order to produce high frame rates, your computer must have a very capable graphics card. It also helps to lower resolutions if possible. 1080p looks incredible here and you can up it further to 1440p.
Compatible With Gaming Consoles
You can also play console games using the ROG Strix XG279Q-G given that it supports HDMI. You can hook up your PS5, Xbox Series S|X, or the Nintendo Switch without any problems. Just take note that the framerate is dependent on the console so don't expect breakneck framerates here.
Supports Mobile Phones
I was also able to use the ROG Strix XG279Q-G as a display output using my Galaxy Note 8. If you have the peripherals to connect your mobile phone to display it on a large monitor, you can do so without any problems here.
Other Features
Decent Controls For Setup
Like the usual ASUS ROG and TUF monitors, the ROG Strix XG279Q-G comes with the tiny joystick that allows the user to fiddle with the monitor's internal controls and options. This "5-way button" provides great control when navigating through the menus. Admittedly, this may take some time to get used to and you'll definitely struggle if it's your first time using it. But once you get the hang of it, it really makes navigating the options fast and seamless.
GamePlus Features
As this is a gaming monitor, you also have several gaming features to tinker with. Gameplus includes 5 features that may help you in gaming. These include an on-screen crosshair, a timer, FPS counter, Display Alignment, and a sniper option that magnifies the center of the screen with up to 2x zoom. While certainly feature-filled, the advantages that they can give are questionable and may garner stares if used in a competitive setting.
Is It Usable With AMD Cards?
Yes. Even with the Nvidia G-Sync sticker stamped on it, the ROG Strix XG279Q-G can be used with AMD graphics cards. I used it with my AMD 5700XT graphics card without any problems. Unfortunately, you might have to accept that you might not be able to utilize fully this with a non-Nvidia card. If you're planning on taking advantage of the Nvidia G-Sync feature, which adds a significant price to this monitor, best use it with the latest Nvidia graphics card.
Decent Audio
Monitors often times have subpar audio but in the ROG Strix XG279Q-G, it's acceptable. Not exceptional, just alright for some private gaming. I still would recommend that you have your headset or a decent sound system to output audio instead of relying on the XG279Q's built-in speakers.
ROG Strix XG279Q-G Review – Verdict & Final Thoughts
The Good

The ROG Strix XG279Q-G is undoubtedly one of the best monitors ASUS ROG has in stock. It has all that features that modern graphics cards (if you can get one) can take advantage of. Not only that but it can also cater to modern console systems and can even be effectively used as a work display. I spent close to 6 months with this monitor, using it as both my work and gaming display. It works perfectly well with Macbooks and I also frequently used it to play Monster Hunter Rise on the Nintendo Switch. As mentioned in my previous reviews, high-end ASUS monitors tend to be jack of all trades.
Another thing is that it has a good range of angles. Want to orient it vertically or horizontally? You can do it with the ROG Strix XG279Q-G. Want it a bit higher, lower, or angled? Yeah, it can be adjusted to cater to most setups. It's easy to do so and it doesn't require even a bit of elbow grease.
The Bad
For downsides, I can think of 2: the stand and space. Aesthetically, the tripod stand frequently employed by ASUS ROG monitors looks great. Despite that, in terms of table space, they take too much. For someone with a small desk like me, the space consumption is just too much and I hope that ASUS can bundle monitors like these with the blocky stands used by TUF monitors as an additional option. While it might not look as pleasing, it works well for small desks.
For the second downside, the price is remarkably high of a barrier and may impede users from getting the ROG Strix XG279Q-G. Both the Gundam and non-Gundam variants are expensive. So much so that it might make you consider a different monitor despite the features offered by this one.
Great All-Around Gaming Monitor
With almost 6 months of daily use, the ROG Strix XG279Q-G even checks out the durability check box for me. It is easy to setup and easy to adjust making it a decent daily work partner. With its slew of features, its decent sound, and unique appearance. The Strix XG279Q-G gets high marks.
ROG Strix XG279Q-G Review – Pricing & Availability In The Philippines
The ROG Strix XG279Q-G Gundam Edition is available here in the Philippines and has an SRP of PhP 42,990. The base version, ROG Strix XG279Q, has an SRP of 41,770. With just a PhP 1,220 difference, this one is a no-brainer. Get the Gundam Edition even if you're not a fan of Gundams just because it's a limited-edition monitor.
For other ASUS ROG or TUF monitors, check our our review of the ASUS ROG Strix XG32VQR, TUF VG259QR, and the TUF Gaming VG279QM. For a more portable ASUS monitor, read our review of the ASUS MB16AMT.  You can also check out our review of the Huawei MateView GT here.
Get to know more about this monitor using the official product page here.