Smartwatches are getting increasingly mainstream nowadays. Aside from acting as a measuring stick to your daily grind, they also bombard you with other data. Things like stress, blood pressure, and oxygen levels can be measured (albeit in varying degrees of accuracy) with these wearables. ASUS has made another such thing that concentrates solely on watching your health. Now, we review their ASUS VivoWatch SP, a wearable health tracker focused on giving you your health data.
ASUS VivoWatch SP Specifications
Display
High-reflective color LCD
Sensor

Health Sensors: x2 ECG (electricalgraphy), x2 PPG (photoplethysmography)
Activity Sensors: gravity sensor, GPS, altimeter

Bluetooth
Bluetooth 4.2 or Later (connect to android and iOS phone)
Sync

Android 4.4 or Later
iOS 11.0 or Later

Power Consumption
10 days (typical usage), and 14 days (power saving mode)
Water resistance
5 ATM
Strap Size
22mm (medical grade silicone)
Weight
36 g (without strap), 62 g (with short silicone strap)
Battery
Capacity: 200 mA, charging clip connected by USB
Features

Wellness: (1) step (2) calories burned (3) sleep quality (sleep time, flips times, average heart rate, comfort sleep index)

Activity & exercise: (1) Exercise and background heart rate (2) Exercising speed and distance
ASUS VivoWatch SP Review – How It Looks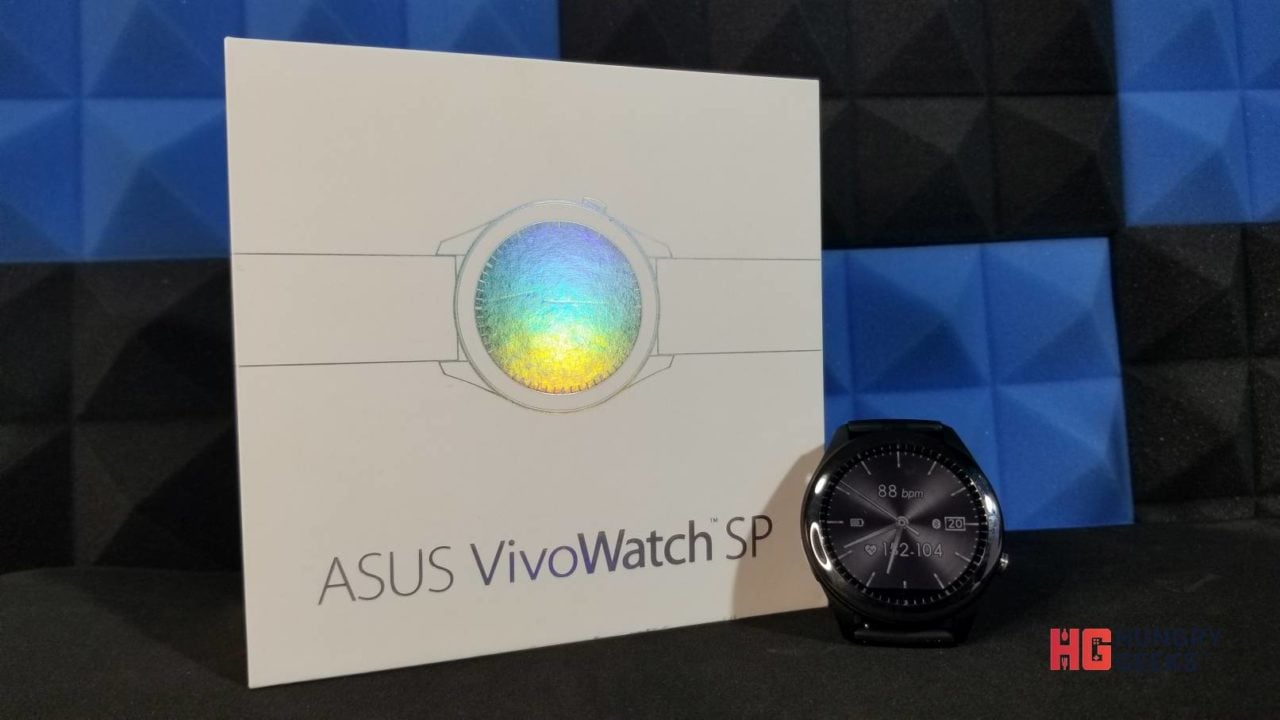 ASUS VivoWatch SP Review – Features
Only Has One Button
In terms of simplicity, the Vivowatch SP takes everything to the next level. The only 2 things that you can interface with this product are the single button to its lower right and the screen itself. The others are simply sensors that you place your fingers or wrist on. This can be incredibly helpful if you want no non-sense controls and simplicity.
Multiple Menus
Simply scrolling left and right can lead one to think that the ASUS VivoWatch SP is bereft of other features. However, in each menu you can scroll up or down to reveal more features that are related to the main one. This can be troublesome to first-time users as the watch itself does not tell you the availability of these options unless you fumble with it.
Has Its Own App
Like with all modern devices, the ASUS Vivowatch SP comes with its own app that you can download on your Android and iOS phones. This helps you keep track of your daily motions while wearing the device without having to navigate the Vivowatch SP's interface. Aside from this, the phone also keeps your data so you can check out your daily progress to compare and make adjustments. Using the app, you can easily input your body measurements without having to interface with the VivoWatch SP.
You can also backup your data if you find yourself migrating to another phone. Simply log in with your new phone using your account and download your data to access and continue with your progress. This feature is available on both Android and iOS.
Censored Sensors
To get some of your metrics, the watch requires you to place a finger onto the 2 sensors located at the top right and lower left side of the body. Placing it there allows the VivoWatch SP to measure things like your Stress Levels, Oxygen Levels, and Pulse Transmit Time (PTT). While easy to use, I did have some trouble getting the sensors to work initially. Moving or nudging your fingers even for a bit will cause the whole sensor to fail, necessitating a restart of the whole process. You have to gently place your fingers on the sensor without exerting any effort to squeeze the watch's body. It can be a bit wonky at first but once you get the hang of using these 2 sensors, the following tests can become easier.
Screen Straight From The 90's
I jokingly referred to the screen as something that reminds me of the Tamagotchi's that were popular back in the 90's. The resolution isn't something you'd be proud of when you show off this thing. Also, the lighting leaves one to desire more. While it undoubtedly looks great under bright light, even under the sun, it can be a bit dim when used in the dark.
Poor Screen = More Battery
The poor screen resolution can be attributed to the watch's design itself. One of the things that the VivoWatch SP boasts is its lengthy battery life despite having an always-on screen. I have tried using it for one whole week and I can say I am impressed with its battery life. I've gone through the whole 7 days and it still left me with about 25% of juice that can probably last me for 2~3 more days. Note that I did occasionally remove it during some nights. But still, a watch that's capable of lasting for more than 3 days while having a screen on constant display is an outstanding feat in itself.
ASUS VivoWatch SP Review – Verdict & Conclusion
Thinking that the ASUS VivoWatch SP is a smart watch is an easy mistake. Sure, there are lots out there that have more features but the Vivowatch SP does not intend to compete with them. It is a "health checker" and not a "smart watch" (a word they intentionally left out on their product page). It does not come with flair but it comes with added ruggedness, battery life, and more health-related features.
However, if you came from a recently released smart watch, you'd be baffled by the lack of features in this product. It does not have features like audio playback, phone pinging, or call management. It also lacks any customization options other than the wallpapers that come with the device. However, it is also possible that the lacking features may be introduced via future updates.
Given those qualms stated above, you might be thinking that the ASUS VivoWatch SP is something to pass on. I did too. However, by taking into account its health sensor properties, its build quality, and the battery life, you'll be investing into something that will last you a long time even with daily use. If you're after a decent health tracker/watch that can stand against the test of time, the rigors of workouts, and the batterings of daily life, this might be it.
ASUS VivoWatch SP Pricing & Availability In The Philippines
The ASUS VivoWatch SP is already available in the Philippines. It is priced at PhP 16,990 and has a 1-year warranty. You can purchase it online or in physical stores. Note that the ASUS VivoWatch SP is a device that can be used for reference and should not be relied on for medical advice. Consult your physician for diagnosing medical conditions.
It is possible that this watch can be used to participate in health programs such as those run by health insurance companies. As this measures your progress, it can give them a glimpse on your daily activities and efforts, a required data that they usually reward you with discounts and freebies. Ask the parties involved first just to make sure.
Check out more of this device via its product page here.
For a more lifestyle-centric smartwach, you can also read our review of the Huawei Watch GT Pro 2 here.