Creating the first consumer foldable laptop is indeed a challenge, with the increasing clamour again for innovation and flexibility caused by the pandemic. The increase of hybrid work among professionals, consumers focusing on what is important today and now is the recipe why the ASUS ZenBook 17 Fold is targeting executive professionals like me.
I must admit, while I love the concept of having a 12.5″ laptop (half) that can transform into a 17.3″ display (Full Mode). The price point of Php219,995 was the one the hindered me from believing on this device. After a month of using this device, I finally understand that the ASUS ZenBook 17 Fold is one of a kind, built for versatile professionals who have multi faceted lives and simple need the flexibility to do their work faster and get that stature of impression as well.
ASUS ZenBook Fold 17 Specifications
| | |
| --- | --- |
| CPU | Intel Core i7-1250U |
| GPU | Intel Iris Xe |
| OS | Windows 11 Home, 11 Pro |
| RAM | 16GB LPDDR5 |
| Display | 17.3-inch FOLED, 2560 x 1920, 500 nits, 100% DCI-P3, HDR True Black 500, Pantone Validated |
| Storage | 1TB PCIe 4.0 NVMe SSD |
| I/O Ports | 2x Thunderbolt 4, 1x 3.5mm Audio Jack |
| Connectivity | WiFi 6E, Bluetooth 5.0 |
| Battery | 75Whr Li-Ion, USB-C 65W PD Charging |
| Audio | Built-In Speakers, Built-In Microphone, Harman/Kardon, Smart Amp, Cortana and Alexa Support |
| Others | UL MIL-STD 810H Standard, 5MP Camera with IR, |
| Dimensions | 378.5 x 287.6 x 8.7 – 12.9mm |
| Weight | 1.5kg |
| Colors | Tech Black |
| Accessories | Sleeve, USB-C to USB-A Adapter,  1.4mm Key-Travel Soft Keyboard |
You Command The Floor
When using the ZenBook Fold, you will surely get a lot of eyeballs with its sleek boxy look when in laptop mode. But wow a lot of people when its on extended mode as you just unfolded the display into a huge 17.3″ display great for sharing in a small group of 3-5 within a table.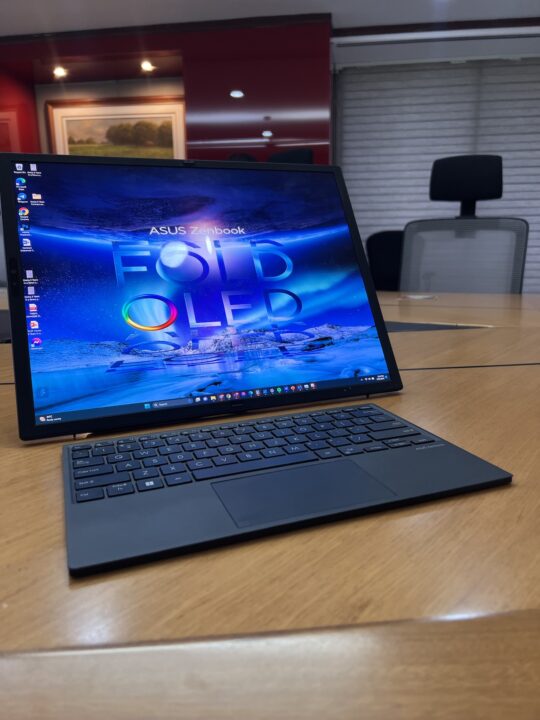 Additionally while hybrid work is now implemented to most work places, having meetings via MsTeams or Zoom is still the norm. Using this laptop on extended mode to show bigger everyone or the share screen is indeed the highlight of this device. Plus on a loud Harman Kardon speakers is great for speaker mode multi-conference, so you don't have to connect to speakers anymore.
Lastly, since you're the only one in the room with such unit. It will surely get everyone's attention especially when you need a quick huddle or signature using the touchscreen among your peers.
Built / Design
The back of the Zenbook fold is made similar to a book with a leather cover within the hinge, this helps it to expand the back when folded and both sides are different whereas the lid is made of a matte textured glass with the infamous ASUS "A" logo.
The side bezels are acceptable in uniform to give better protection both in laptop or extended mode. What's great here is that nothing feels cheap of compromised, ASUS did a good job despite using plastic side bezels and corners to keep the body of the Fold only 1.5Kg. Similar to ultrabooks with 16″ size, so its something that we welcome indeed.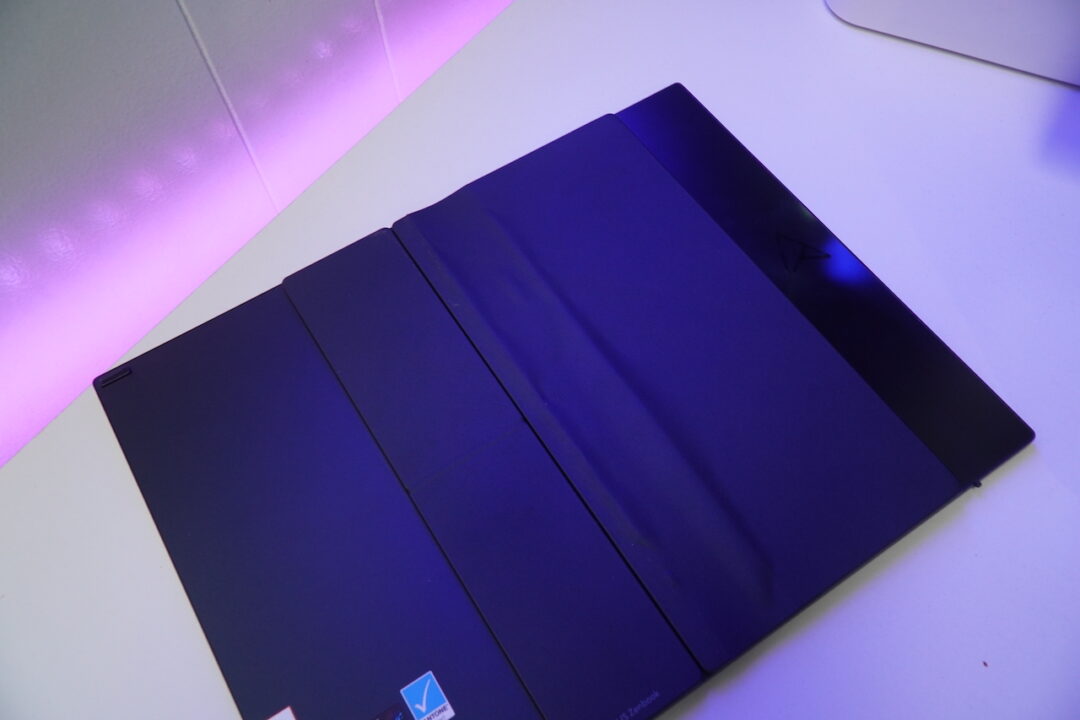 Additionally there is a kickstand at the back made of metal and covered by leather to serve as a stand for the laptop when in extended mode. While at first it was kinda confusing to find the flap, we eventually got a hold into it as they made sure its easy to pull out and sturdy to stay.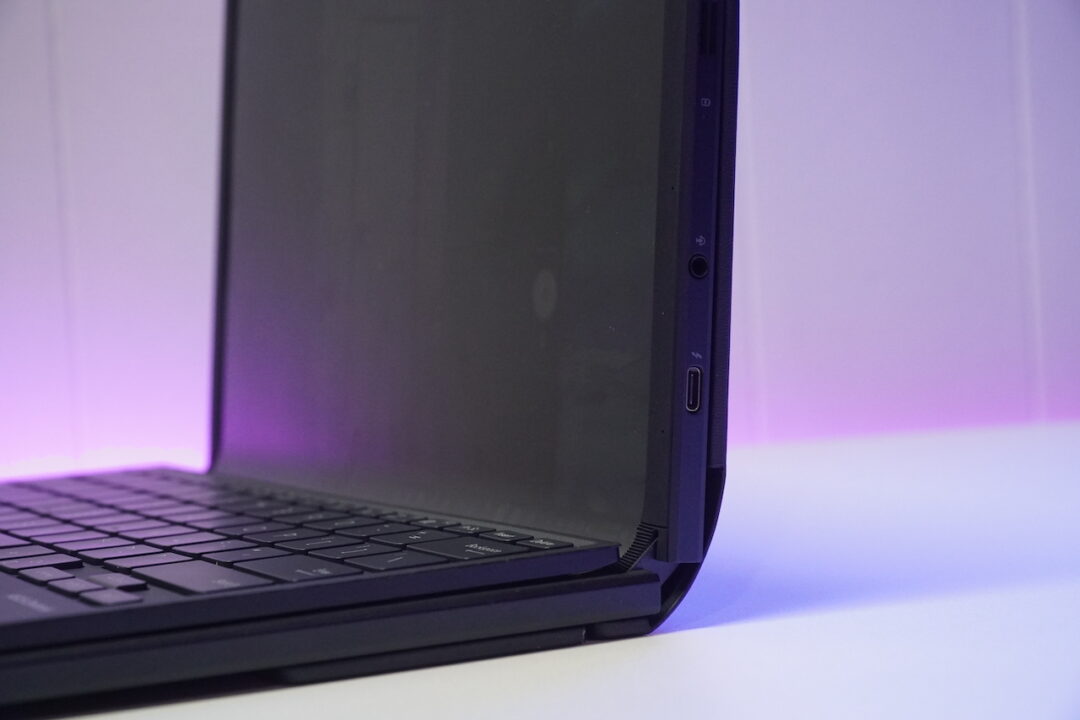 For the ports, there are only two thunderbolt 4.0 ports and a headphone jack for audio use. The rest are speakers and indicator lights for the performance and battery charging.  So be sure to use bluetooth enabled devices for your audio and mouse to avoid using the ports, and a USB Type-C flash drive would help as well.
Now the magic question is the crease, yes there is still one but its very minimally seen when you are the one front and center. Its only annoying when you have to look into large format items in extended mode at awkward angles. But again, the bright FHD OLED panel compensates for this and makes everything better and lets you get distracted from the crease.
Colors are very accurate for proofing display, especially in my recent project in my daytime job. Honestly it helped me a lot in doing my tasks as it was easier to simply check artworks and do revisions at the same time. Plus on a large display you can multi-task easily and use the mouse or touchscreen for quick zoom-ins or even signatures in documents when approaching your peers.
This is thanks to the Dolby Vision / Pantone Certified display on the ASUS ZenBook 17 Fold,  without this feature the colors on this display can lead to disaster to content creators or approvers such as me.
Executive Class Performance
The Intel Core i7-1250U processor is enough for most applications of an executive professional such as the following apps I use. Along with the 16GB RAM LPDDR5 RAM , there was no problem despite multiple chrome tabs also opened.
Conference – Zoom / MS Teams
Productivity – Microsoft 365 (Word / PPT / Outlook) / Adobe Reader
Imaging – Photoshop / Lightroom
Blog / Vlogging – Chrome & Adobe Premiere
Social – Chrome / Messenger App / Spotify / Telegram
The best here is the flexibility of the device to proof read materials and still have multiple windows opened in a large 17.3″ device was easy. I was surprised that rotating the screen was fluid and fast unlike with Windows 10 touch devices before. Ultimately we love the flexibility here that you have the strong impression to lead conference calls, share screen and still check on items on the side. Something that most professionals do at a long duration especially marketing people like me.
Webcam is finally in HD mode and doesn't disappoint compared to VGA cameras, but we wished that it can have more clarity in low light conditions. But focus is great since its assisted using infrared sensors. Plus it also has windows hello for added security when logging in.
Outstanding Audio
The ZenBook 17 Fold is a redemption among all ASUS laptops we've used, even louder than the VivoBook 16 OLED we tested recently. The quad-speaker setup with Dolby Atmos produces loud audio with acceptable bass, though at high levels it might be too thin for some its still a good entertainment complementary to the gorgeous OLED display on the Fold.
Conference calls were also great, no need for external speakers especially when doing team calls in one corner. You might even get some feedback that your speakers are too loud that its going outside your workstation, but that's one problem of hybrid work unfortunately…
Acceptable Battery life
We use the ASUS ZenBook 17 Fold in Performance Mode 100%, it can last us minimum 3 hours before looking for a socket to charge. This is already with the extensive use of applications I mentioned above. But fortunately charging is quite fast using either the provided PD 65W charger or our own UGreen 65W PD Charger. It has instant charge feature to quickly charge the battery (75WHrs, 4S1P, 4-cell Li-ion) to full in just an hour.
As for the fan, its nothing very annoying but just remember its placement to avoid sudden hot flash touches since all devices have this but only this time the ZenBook 17 Fold is a highly mobile device.
Adjustments were made
At the most using this device there are only 3 concerns that we frequently encountered, but these can be simply more of a habitual change. Of course, with a device that is very flexible there will be some points to consider.
Bluetooth Keyboard – The bluetooth keyboard has its own charging port and toggle to turn off. While though this can last a whole day of operation, you will always need to charge the device from time to time the same way you charge your laptop. Also the bluetooth keyboard tends to deplete its battery when left open despite being closed. Hence, if you close the ZenBook Fold while the bluetooth keyboard is left open…then you expect an empty battery in the morning you return in the office.
Plus this bluetooth keyboard might be a little bit cumbersome to carry when in mobile via the extended mode. But the argument here is that, you can always switch back to laptop mode when in transit or moving.
Hopefully ASUS can implement a software update to the bluetooth keyboard to automatically save battery once the lid is closed, cause honestly we find it weird that the bluetooth keyboard was consuming too much power even when not connected.
Small but like a book – At the size of an A4 sheet of paper when folded, though just weighing at 1.5kg the ZenBook Fold is just a bit chunky but portable to carry. So if you're coming from ultra-thin laptop you will have get used to this thicker form factor when closed vs before.
A slightly bent taskbar – Since in laptop mode the screen is bent 45 degrees, there is a curve at the bottom that will slightly block the taskbar and show a bit of bending. While it might be confusing at first, there is nothing here that can deteriorate the performance.
Conclusion
The ASUS ZenBook 17 Fold is one of a kind device that can replace a professional's need for a dual device such as Laptop + Tablet given its flexibility. In our case it was a win-win situation since we didn't have to keep on juggling files from telegram to the two different OS device we have. But more importantly, the ASUS ZenBook 17 Fold will make you important as its a proof of concept that foldable laptops have an advantage that no other device can provide right now. It worked for us, so perhaps to you too.
The SRP of Php219,995 is no joke, but as well as ASUS since only a handful of units are available in the Philippines. So consider this device as a rare one, a sight to behold and true to what we said. We made a lot of people and co-workers happy how powerful and flexible device is for my daytime job.
We really love the flexibility the ASUS ZenBook 17 Fold delivers, just be mindful of the adjustments and you will definitely love all the other benefits of this device.