The Intel Core i7-13700K is just one of six Raptor Lake CPUs that the company released back in September. It still uses a hybrid architecture just like last generation with Gracemont power-efficient cores and Raptor Cove-based performance cores. Intel has made some improvements this generation including higher frequencies, more L2 cache, and up to 15% and 41% more performance in single-threaded and multi-threaded workloads, respectively.
Intel 13th Generation Raptor Lake Desktop Processors
The Intel 13th Generation processors are based on the new Raptor Lake microarchitecture. It still comes from the same Intel 7 or 10nm Enhanced fabrication as Alder Lake CPUs from last generation. Despite their similarities, the company has managed to cram in a couple of improvements including up to 900MHz higher clock speeds and increased IPC.
Core count it split between Performance Cores (P-Cores) and Efficiency Cores (E-Cores). Its P-Cores are based on Raptor Cover that delivers improved IPS and up to 15% single-threaded uplift. Intel has also enhanced its hardware prefetcher for its dedicated larger 2MB L2 cache per core for better performance.
On the other hand, its E-Cores remain largely unchained from Alder Lake as it still uses Gracemont cores but now come with higher frequencies, larger L2 cache of up to 4MB, and an updated L2 cache prefetcher algorithm.
Aside from L2 changes, Intel has increased the shared L3 cache among the range with capacity now reaching 36MB on i9s, 30MB on i7s, and 24MB on i5s. Its hybrid architecture is further enhanced with the scheduler improvements implemented on Windows 11 22H2.
The Intel Core i7-13700K specifically comes with comes with 8 P-Cores and 8 E-cores that totals to 24 threads for the whole CPU. Intel rates its Turbo 3.0 speed up to 5.4GHz with a base clock on its P-cores resting at 3.40GHz.
These new chips also come with increased core voltage directly tied to their higher frequencies. Both the 13th Generation i7 and i9 chips are now rated with boost TDPs of 253W while i5 parts are rated at 181W.
The increase in voltage, frequencies, and developments in L2 cache gives the Intel 13th Generation processors up to 41% gain in multi-threaded performance and up to 15% in single-threaded loads.
LGA 1700 and 700 Series Platform
Alongside the Intel 13th Generation processors are the new 700 series motherboards – with the Z790 chipset being the flagship among them. The processors are still using LGA 1700 so they will still be compatible with 600 series motherboards so long as AIB partners are releasing updated BIOS for their boards as well as existing coolers in the market.
Like before, Intel will still be supporting both DDR4 and DDR5 memory kits. This should bring down the entry cost for anyone who might be upgrading to their new CPUs but still want to use their DDR4 RAM on their builds.
At this time, Intel has only released the Z790 series motherboards but we can expect H and B variants of the 700 series chipset sometime in the future. Its flagship chipset comes with plenty of goodies including PCIe 5.0 connectivity, 20 PCIe 4.0 lanes, 8 PCIe 3.0 lanes, plenty of high-speed USB 3.2 ports, WiFi 6E support, and native 2.5G Ethernet support.
Intel Core i7-13700K Review – System and Overclocking
The Intel Core i7-13700K rests just below the i9-13900K. As such, it packs 8 P-Cores and 8 E-Cores that totals to 24 threads and runs at 5.4GHz and 3.9GHz, respectively. L2 cache has been increased to 20MB for better performance.
For overclocking, we unlocked the multiplier via the motherboard's BIOS and increased it for both P- and E-cores until it failed to boot or run a program. Based on our testing, we were able to reach a comfortable 5.5GHz and 4.4GHz for the P- and E-Cores, respectively. There might be bit of headroom left but that will take much better cooling to achieve than the 360mm we already have on our test bench.
Below are the components used for testing the Intel Core i7-13700K:
CPU: Intel Core i7-13700K
RAM: Kingston Fury DDR5 6000MHz RGB
Motherboard: ASUS ProArt Z790-Creator WiFi
PSU: EVGA 650 GQ Gold 650W
Cooler: MSI MAG CoreLiquid K360
OS: Windows 11 22H2
Driver Version: GeForce Game Ready Driver WHQL 527.56
The CPU will run on synthetic, compression and decompression tests, rendering, and gaming benchmarks to see what kind of performance it can deliver to enthusiasts in the market looking for a new processor.
CPU Benchmarks
CPU-Z Benchmark 17.01.64
7-Zip 16.04
wPrime v2.10
Cinebench R15
Cinebench R20
Cinebench R23
Blender 2.82a
The Intel Core i7-13700K is a good all-rounder when it comes to CPU-bound tasks like rendering. It comes with a slight performance boost when compared to Intel's last generation flagship, the Core i9-12900K even if they have the same core and thread count.
It does trail a bit behind AMD's forerunner, the AMD Ryzen 7950X, but that's a given since it is behind when it comes to thread count. Despite that, it beats AMD's offerings by some margin when it comes to single-threaded loads.
Gaming Benchmarks
Synthetic Benchmarks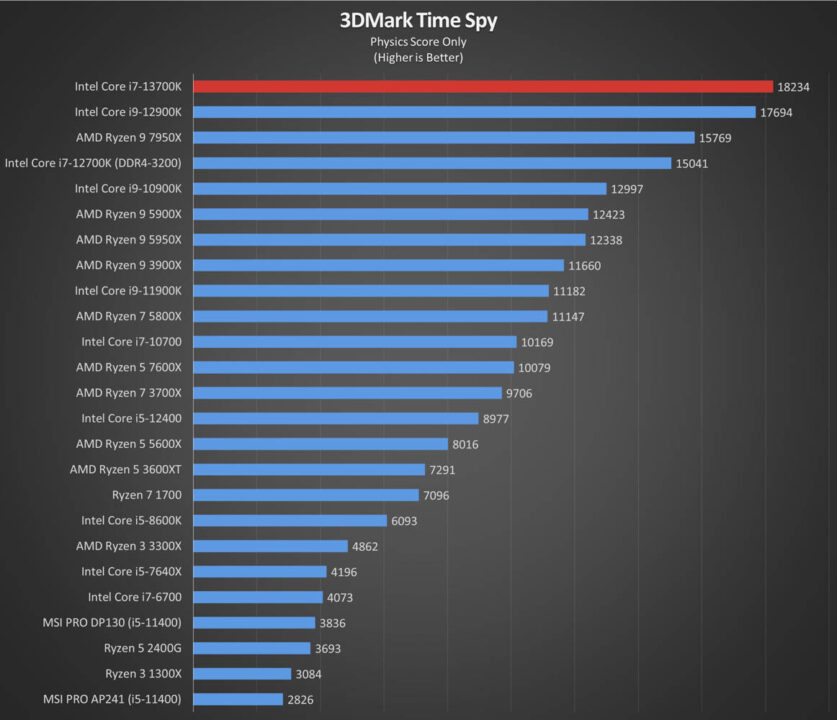 1920 x 1080
2560 x 1440
3840 x 2160
The processor really shines when it comes to gaming especially at 1080p and 1440p where games still rely on CPU instead of being GPU bound. When paired with the right GPU, framerates can go up to 500fps on games like Rainbow Six Siege and can be an advantage as speed is paramount.
At 2160p, however, the Intel Core i7-13700K's advantage starts to even out as most games start being bound by GPU performance instead of CPU. It still comes out a few frames ahead compared to the competition but It's only 2% ahead in most cases at 4K resolution.
Intel Core i7-13700K Review – Power Consumption and Temperature
Base TDP for the Intel Core i7-13700K still remains at 125W. Boost TDP, however, has been increased to 253W compared to the i7-12700K's 190W to improve performance. While gaming or at medium workloads, the CPU will be comfortable using under 200W. When rendering or with heavy CPU loads, it will get close to its 253W TDP. Overclocking will increase the power consumption to around 270W when its P-cores and E-cores are clocked to 5.5GHz and 4.4GHz, respectively.
Increased power consumption also means higher temperatures to contend with. Outside specific applications or AVX-512 workloads, however, the CPU will be regularly peaking at around 85°c using a 360mm liquid cooler. When overclocked, it will experience temperatures more than 90°c at times with heavier workloads nearly touching the 100°c mark.
Intel Core i7-13700K Review – Conclusion
The Intel Core i7-13700K has the perfect mix of multi-threaded and single-threaded performance at a surprisingly good price of around PhP 27,995 in the Philippines. It will be able to handle most tasks that you throw at it given that you have a proper PSU and cooling on your rig.
It does require quite a bit of power and cooling requirement but it seems that this might be the trend for CPUs moving on. Fortunately, it is still compatible with 600 series motherboards and both DDR4 and DDR5 RAM to lower migration costs to users.
Overall, the Intel Core i7-13700K offers a slight improvement in performance over previous generations while still getting some advantage over AMD's next generation offerings especially in single-threaded performance. If you're coming from an Intel 12th Generation build or something similar, you'll probably won't get anything mind-blowing here. But if you're upgrading from an older platform, then the performance boost of the Intel 13th Generation processors is a welcome surprise.
Intel Core i7-13700K Price and Availability
The Intel Core i7-13700K is priced at around PhP 27,995 in the Philippines. It now available alongside other Intel 13th Generation processors at authorized retailers online and nationwide.