NVMe SSDs are getting more affordable by the day but some manufacturers are pushing the limit of how low-cost these speedy drives can be while still offering speeds faster than the last generation. Meet the Netac NV7000-t – PCIe 4.0 x4 M.2 SSD that goes as low as $50 for the 1TB variant thanks to its DRAMless design.
Netac NV7000-t 1TB
| | |
| --- | --- |
| Model | NT01NV7000t-1T0-E4X |
| Capacity | 1TB |
| Controller | Maxio-Tech MAP1602A-F3C |
| Flash | 3D NAND Flash |
| DRAM Cache | N/A, SLC Caching |
| Endurance | 640TBW |
| Interface | PCIe 4.0 x4, NVMe 1.4 |
| Formfactor | 2280 |
| Warranty | 5 Years |
Netac NV7000-t 1TB Review – Unboxing
The Netac NV7000-t 1TB comes in a little black box with rainbow reflective highlights. The SSD comes with a sticker for the drive if you want to hide the PCB, a couple of M.2 mounting screws, and an installation guide. Nothing much to see here as the brand is trying to keep costs low.
Design and Features
The M.2 is fairly simple in its design. The brand keeps the PCB bare (aside from the underside) and here we can see two 500GB packages with its Maxio-tech MAP1602A-F3C controller. There two missing slots for another two flash packages for the 2TB variant.
It has a fairly standard 2280 formfactor so it should fit on most desktops and some laptops. The PCB is coated in black so if you really want to have an all-black system, Netac has you on that front.
Netac says that it can last up to 640 TBW, which is pretty good for any SSD. Unless you constantly writing terabytes of data per day on your SSD, this shouldn't really matter; but it's nice to have. The NV7000-t also supports Netac's SSD toolbox for basic functionalities like TRIM, OS migration, S.M.A.R.T monitoring, and updates, among many others.
Netac NV7000-t 1TB Review – Benchmarks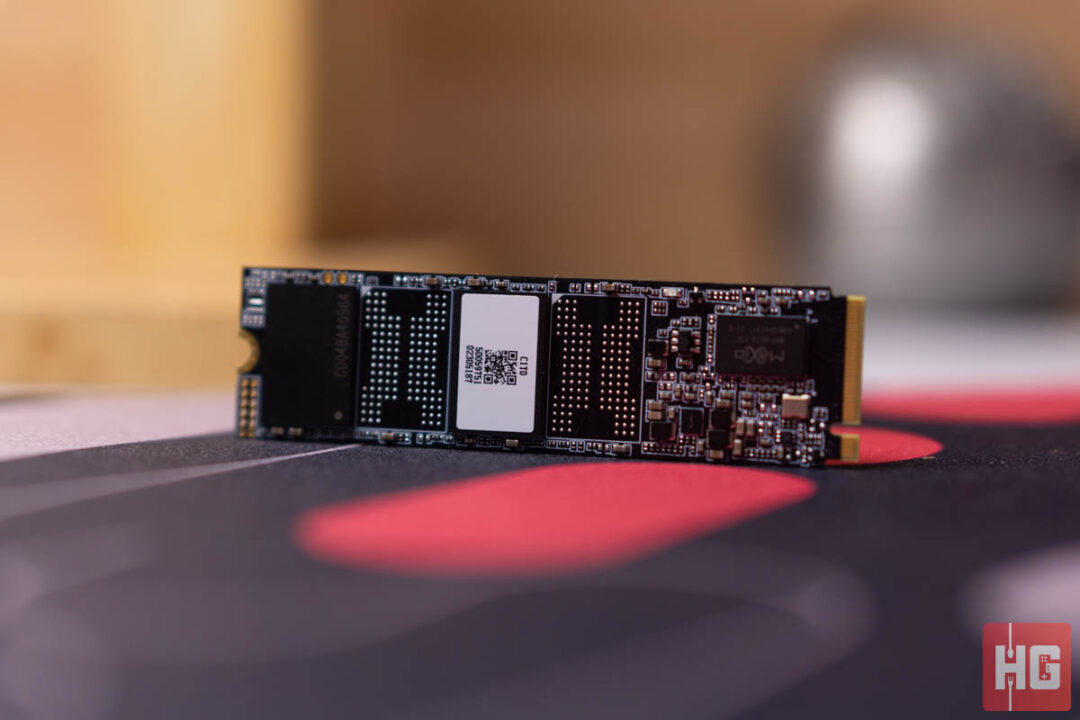 The Netac NV7000-t 1TB promises PCIe 4.0 x4 speeds of up to 7,300MB/s and 6,600MB/s sequential reads and writes, respectively. This is pretty fast for any SSD but is a significant upgrade over some PCIe 3.0 x4-based drives.
The drive was tested with the following components:
CPU: AMD Ryzen 7 5800X
Motherboard: ASUS ROG Strix X570-E Gaming
PSU: FSP Hydro G Pro 850W
Cooler: MSI MAG CoreLiquid 360R
OS: Windows 11 Build 22H2
The M.2 SSD will put the test using various benchmarks to see what kind of speeds it can deliver.
CrystalDiskMark
CrystalDiskMark confirms that numbers promised by Netac for the NV700-t. With an 8GB workload, sequential reads reach 7,427MB/s while sequential writes get to around 6,600MB/s. Random 4K Q1T1 reads and writes are also pretty fast at 79.18MB/s and 197.54MB/s, respectively. All these figures exceeds other budget-oriented drives like the Kingston NV2.
Anvil's Storage Benchmark
Running Anvil's Storage Benchmark with a 1GB test size peaks the sequential read and write speed of the drive at near the 5,500MB/s mark. 4K Random read and write are quick as well at around 77.23 MB/s and 213 MB/s, respectively, with 0.183 response time for the former.
ATTO Disk Benchmark
ATTO Disk Benchmark tests a range of file sizes from 512B to 64MB to give us an idea of its performance in varying workloads. 512B peaks at 53.71 MB/s for write and 44.44MB/s for read. Going over 64KB chunks until 2MB consistently scores beyond 5.0GB/s in write speed. Starting at 4MB, however, it lowers to 4.19GB/s in write speed.
SLC Cache and Sustained Speeds
While the Netac NV7000-t is a DRAMless drive, it uses an SLC cache to boost speeds in the short term. Based on our testing with a total of 450GB read and write with SSD Slow Mark, it seems that the SLC cache is around 50GB – 60GB in size where it could sustain top write performance. After this set size, files are then copied to its TLC flash that temporarily slows down to around 450MB/s – 500MB/s for a short time until it settles to 700MB/s – 820MB/s.
This shouldn't be a problem outside of normal use unless your regular write size for your SSD is more than 60GB. For normal use, you will enjoy its peak performance.
Temperature
The Netac NV7000-t is a stable SSD when it comes to thermals. It doesn't need any external cooling as it idles at 46°c and 38°c for the packages and controller, respectively. Once in heavy use for either read and write will increase temperature to 50°c for the packages and 55°c for the controller. These values are still cool for fast M.2 SSDs.
Netac NV7000-t 1TB Review – Conclusion
Though DRAMless drives have been avoided in past years due to their lack of performance compared to SSDs with them but the Netac NV7000-t proves that DRAMless SSDs can be fast while still being budget-oriented.
One of the standout features of the Netac NV7000-t is its value proposition. At $50 for the 1TB variant, it delivers an impressive 5 cents per GB for a PCIe 4.0 x4 drive that reaches 7,300MB/s on sequential read and 6,600MB/s on sequential write speeds. This was only achievable on flagship SSDs just a couple of years ago.
It might not be the fastest PCIe 4.0 SSD in the market but the Netac NV7000-t is pretty damn fast for the value it offers, which is why we are giving it our seal of approval. If you're looking for an inexpensive drive for gaming or general storage without breaking the bank, then the Netac NV7000-t is definitely a deal to look out for.
Netac NV7000-t 1TB Price and Availability
The Netac NV7000-t starts at $35. There are for variants to choose from: 512GB ($35), 1TB ($50), 2TB ($80), and 4TB ($160). It is now available via Amazon or Aliexpress at the time of publishing our review. No word yet if local stores will carry the SSD.