Building a new PC requires a lot of energy and money. One thing you can save your hard-earned money on is storage. It is arguably a good time to get into SSDs nowadays as they are relatively cheaper compared to a few years back. With that said, a dependable SSD is a must-have in today's saturated market. But with the choices available, your PC should have an SSD that is affordable and has a good amount of value to offer. Enter the Patriot Viper PVN110, a PCIe Gen 3 m.2 SSD. We received one for review recently and we're very keen on checking it's performance and value. So is it worth it? Let's find out.
Patriot Viper VPN110 Review – Specifications
Product Name
PCIe / NVMe
DRAM Cache

Size depending on drive capacity

Heatshield / Heat Sink
Included
Operating Temperatures
0C ~ 70C
Terabytes Written (TBW)
800TB
Certifications/Safety
CE/FCC/RoHS
Product Warranty
3 Year Warranty
Unit EAN/UPC
0814914029008
Unit Weight
0.05lbs / 25g
Unit Dimensions

3.15in (L) x 0.87in (W) x 0.41in (H)
8cm (L) x 2.2in (W) x 1.05in (H)
CrystalDiskInfo 8
You can check your own drives using CrystalDiskInfo 8.
Patriot Viper VPN110 – At A Glance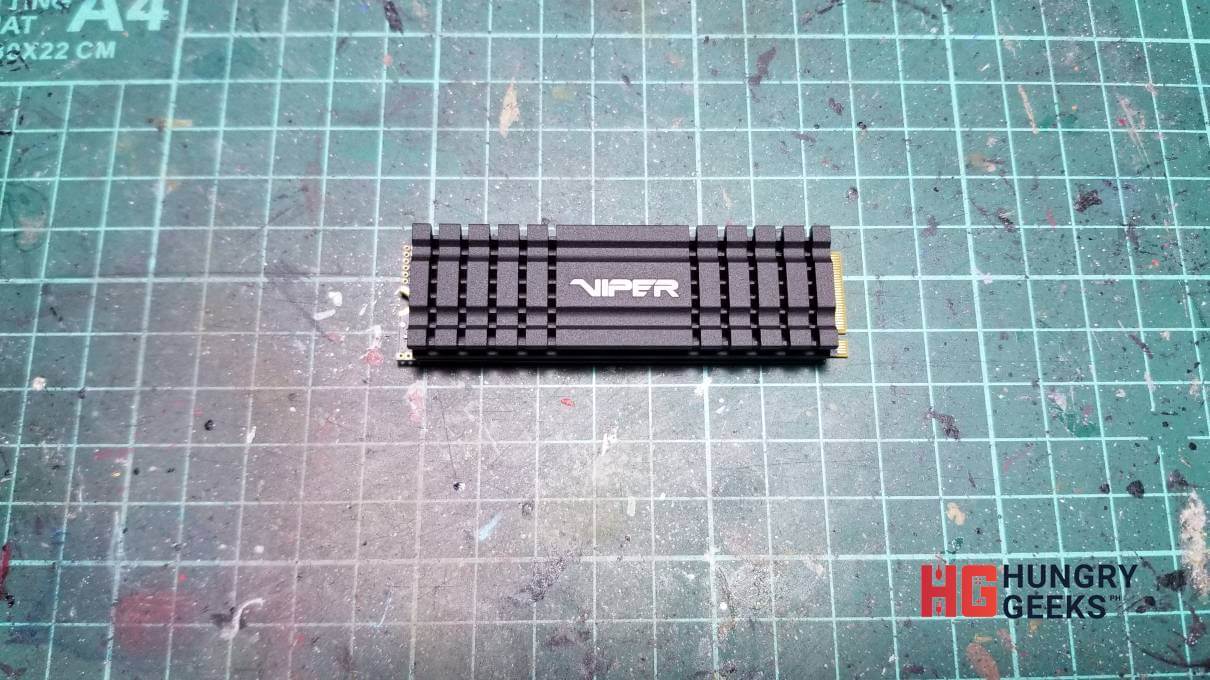 Patriot Viper VPN110 Review – Performance & Benchmarks
Synthetic Benchmarks
The following are the tools used to test and review the Patriot Viper VPN110. Click on them to download them and try them out on your own PC:
Anvil's Storage Benchmark
For those looking for a benchmark to compare scores, Anvil's Storage Benchmark is the go to program. It runs the drive under different tests and displays the results in an easy to read table. Not only that, but it also outputs a number that can help in gauging the overall performance of the drive.
AS SSD
CrystalDiskMark is benchmark software that measures the transfer speed of media data storage drive such as HD, SSD, USB memory, SD card and NAS.
AS SSD Copy Benchmark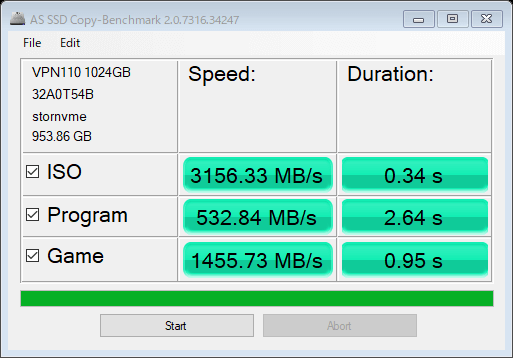 AS SSD's Copy Benchmark simulates the drive's performance when copying files. The ISO one simulates the transfer of 2 very large files. Program uses a lot of smaller files while Game uses a combination of both. While the benchmark is innately synthetic, it does show how the drive performs when it encounters file sizes similar to that of actual usage.
AS SSD Compression Benchmark
ATTO
ATTO Disk Benchmark measures performance in hard drives, solid state drives, RAID arrays as well as the host connection to attached storage. It can be used to test any OEM RAID controller, storage controller, host adapter, hard drive or SSD drive.
CrystalDiskMark 8
A HDD/SSD utility software which supports a part of USB, Intel RAID and NVMe. It is very well-known when testing storage devices and is quite light. It can be used to test a variety of setups such as RAID and can even be used on external drives.
Patriot Viper VPN110 Review – Conclusion & Verdict
Decent Performance For A Decent Price
The Patriot Viper VPN110 is a great m.2 SSD perfect as a boot drive or as a personal drive for video games or high-speed file transfers. While you won't see it breaking numbers, it provides good value given its price and bundled heat sink. With the synthetic benchmarks, we can see it giving out decent numbers. Nothing special but also not something to scoff at.
Also, the added heat sink removes the concern of getting one just to extend the life of your SSD. Having a heat sink is not required most of the time, but having one already attached to the board itself is a god-send. Or is it?
Heat Sink Can Be A Boon Or A Bane
The Patriot Viper VPN110's heat sink can either be a god-send or a curse. It is attached to the body out-of-the-box. This makes it hard for the SSD to be fitted onto gaming laptops or smaller PCs due to its bulk. While not very substantial in terms of size, it can limit its usage. Although the heat sink can be removed, doing so might damage the board itself if you are not careful. Also, the heat sink is there for a reason so leaving it on is probably for the best.
In my case, I had to remove my motherboard's (ASUS ROG Strix B660-F Gaming) PCIe m.2 heat sink just to fit this one. Yes, it is a minor inconvenience, but it does affect your PCs aesthetics especially if you are very particular with a theme.
Great For Games
As I mainly use my PC for video games, I can say that the Patriot Viper VPN110 is more than enough to suit my needs. It can work as either a boot drive or as your main storage for video games. Yes, it does have a Gen 4 version but that commands a more expensive price and the performance may be too much for just storing games. With the VPN110, you get a good balance of price and performance, making it a great partner for those looking to build a low to mid-range gaming PC. You can also look at it as a potential drive if you wish to upgrade or expand your PC's storage.
Patriot Viper VPN110 Review – Pricing & Availability
The Patriot Viper VPN110 is available in the Philippines and is currently priced at Php 6,495 for the 1TB version (953GB usable) and PhP 3,695 for the 512 GB version. Both can be bought at PCHub (Facebook page and price list), either in-store or online.
Know more about the Patriot Viper VPN110 here.