Z690 motherboards might take the spotlight in the eyes of enthusiasts but the B660 series offers a complete feature set at a lower price. The ASUS ROG Strix B660-F Gaming WiFi aims to offer full performance of the Alder Lake-S platform while keeping prices relatively low while still maintaining that signature premium ROG look.
ASUS ROG Strix B660-F Gaming WiFi Review – Specifications
| | |
| --- | --- |
| CPU Support | Intel 12th Gen Alder Lake, LGA 1700 |
| Chipset | Intel B660 |
| VRM | 16+1 Power Stages, DIGI+ VRM |
| Memory | 4x DIMM Slots, up to 6000MHz, up to 128GB, Dual-Channel, Intel XMP, OptiMemII |
| PCIe Slots | 1x PCIe 5.0 x16 (CPU), 1x PCIe x16 (x4, Chipset), 1x PCIe 3.0 x1 |
| Storage | 1x M.2 PCIe 4.0 x4 (CPU), 1x M.2 PCIe 4.0 x4 (Chipset), 1x PCIe 3.0 x4 (Chipset), 4x SATA III, Intel Optane Memory Series |
| Audio | ROG SupremeFX 7.1, ALC4082 Codec, Savitech SV3H712 AMP |
| Networking | Intel I225-V 2.5Gbps LAN, WiFi 6, 2×2 MU-MIMO |
| Power Connectors | 1x 24-pin ATX, 1x 8-pin ATX 12v, 1x 4-pin ATX 12v |
| Internal Headers | 1x USB 3.2 Gen2, 1x USB 3.2 Gen1 (2x USB 3.2 Gen1 Ports), 2x USB 2.0 (4x USB 2.0 Ports), 1x Thunderbolt |
| Cooling Headers | 1x 4-pin CPU Fan, 1x 4-pin CPU OPT, 1x 4-pin AIO Pump, 4x 4-pin Chassis Fan |
| Other Headers | 3x Addressable Gen2 RGB, 1x AURA RGB, 1x S/PDIF, 1x Front Panel Audio, 1x SPI TPM, 1x 20-3 pin System Panel, 1x Thermal Sensor |
| Rear I/O | 1x USB 3.2 Gen2 2×2, 1x USB 3.2 Gen2 Type-A, 1x USB 3.2 Gen1 Type-C, 4x USB 3.2 Gen1 Type-A, 1x DisplayPort, 1x HDMI, 1x WiFi, 1x Ethernet, 1x BIOS FlashBack, 1x ClearCMOS, 5x 3.5mm Audio Jacks |
| Form Factor | ATX |
| Others | Q-LED Reader, PCIe Slot Q-Release, M.2 Q-Latch, Pre-Mounted I/O Shield. M.2 Heatsink |
Intel 12th Generation Alder Lake-S Desktop Processors
Intel has been busy building a new series of processors to retake the CPU market after being stuck on the 14nm process for several generations. Their 12th Generation Alder Lake-S processors is the first real effort to arrive in the market to break the cycle and comes with several improvements such as support for PCIe 5.0 and DDR5 memory as well as a new hybrid architecture.
Intel is still sticking to their naming convention of i9, i7, and i5 this generation. Their current crop of Alder Lake-S processors are the Core i9-12900K (16 cores), Core i7-12700K (12 cores), and the Core i5-12600K (10 cores) as well as their KF variants, which does not have iGPUs. The brand will also most likely introduce an i3 version in the future.
Alder Lake-S desktop processors now come with a hybrid architecture, which splits core counts to Golden Cove high-performance cores and Gracemont high-efficiency cores. The former is based on the new 10nm Enhanced Super Fin process (also known as Intel 7) and can be scaled to other devices. Intel promises that it can deliver up to 19% increase in IPC.
The Gracemont microarchitecture, on the other hand, was made for efficiency for Intel's upcoming low-power CPUs and SoCs. It is also built on the Intel 7 process and promises the best performance-per-watt compared to Intel's current CPUs.
Intel's Alder Lake-S CPUs comes with PCIe 5.0 support, which can reach up to 64GB/s on 16 lanes compared to PCIe 4.0 of 32GB/s. This allows for higher performance ceilings on devices such as GPUs and NVMe SSDs.
Alder Lake-S processors are also one of the first consumer devices to support DDR5 memory. DDR5 memory can reach up to 8,400MT/s for better performance as well as lower latencies. Worry not, however, Intel 12th Generation desktop CPUs will still support DDR4 RAM.
LGA 1700 and 600 Series Platform
The new Intel Alder Lake-S processors will have with a larger LGA 1700 socket. This new socket is not compatible with previous cooler mounts but reputable manufacturers are now shipping upgrades for respective coolers.
This generation introduces the 600 series platform. The first motherboards to arrive use the Z690 chipset that supports both DDR4 and DDR5, 20 PCIe lanes (16 of which or PCIe 5.0), and a DMI 4.0 connection for the CPU and PCH.
Z690 motherboards can include 12 PCIe 4.0 or 16 PCIe 3.0 lanes, Thunderbolt 4.0, four USB 3.2 2×2 ports, as well as Intel WiFi 6E though it may be upgrade to WiFi 7 in the future.
ASUS ROG Strix B660-F Gaming WiFi Review – Unboxing
The ASUS ROG Strix B660-F Gaming WiFi is encased in a traditional ROG box complete with its cyberpunk aesthetic. The board is bundled with the complementary ROG accessories including four SATA cables, M.2 accessories, an ROG Key Chain and Thank You card, cable ties, antennae, driver DVD, a user manual, and ROG-themed stickers for the build.
ASUS ROG Strix B660-F Gaming WiFi Review – Up Close
Though the B660 platform was not made to be high-end boards, ASUS has made the ROG Strix B660-F Gaming WiFi to look like one. It comes complete with all the ROG aesthetic trimmings like a matte black finish, cyberpunk streaks, an aluminum finish on the I/O shield, and RGB lighting among others.
The board has an 8-pin + 4-pin EPS connectors at the top and 16+1 power stages for power delivery. Its VRMs are cooled by fairly large blocks of aluminum. Some might think that this might be overkill for a B660 board but we believe its enough since Alder Lake-S processors can draw high wattages like the Intel Core i9-12900K.
The board can support up to four DDR5 memory sticks of up to 128GB. Maximum memory speed, however, is capped to only 6000Mhz, which is slightly slower compared to Z690 motherboards.
The ROG Strix B660-F Gaming WiFi is slightly less armored compared to the likes of the ROG Maximus Z690 Hero and thus more of the PCB is exposed. There are two x16 slots with the reinforced top running at PCIe 5.0 x16 while second slot running at PCIe 3.0 x4 through the B660 chipset. There are also two PCIe x1 slots for accessory cards though it is worth noting that they share bandwidth with the PCIe 3.0 x16 slot.
A total of three M.2 slots are available for use on the ROG Strix B660-F Gaming Wifi and they all come with their own heatsink and latches. All the M.2 slots support M-Key with two running at PCIe 4.0 x4 while the last slot only runs at PCIe 3.0 x4. It is worth noting that none of them work exclusively for NVMe M.2 drives and will not run SATA M.2s.
Extra storage includes four SATA III ports at the right-hand side near the PCH. These should be enough for average users but we are still used to seeing six SATA ports especially in midrange and high-end motherboards.
The ASUS ROG Strix B660-F Gaming WiFi has a pre-installed I/O shield for less hassle building a PC. Its rear I/O include a USB 3.2 Gen2x2 Type-C port, a USB 3.2 Gen2 Type-A, one USB 3.2 Gen1 Type-C, four USB 3.2 Gen1 Type-A, DisplayPort and HDMI, WiFi extension module, a 2.5G Ethernet powered by Intel I225-V, a BIOS Flashback and Clear CMOS buttons, and five audio jacks.
Internal Headers and Buttons
The ROG Strix B660-F Gaming WiFi has tons of internal headers as expected from ASUS. There are seven 4-pin headers for cooling components like fans and AIOs – two at the top, two in the middle, and three at the bottom.
The board has numerous USB headers for expansion. At the side are USB 3.2 Gen2 and Thunderbolt connectors. The base has a USB 3.2 Gen1 header that expands to two USB 3.2 Gen1 ports and two USB 2.0 connections for a total of four USB 2.0 ports.
RGB headers are present as expected. There are two Addressable Gen2 headers at the top in white and there is also an AURA RGB at the bottom.
Most of the standard connections are found at the bottom, which includes Thermal Sensor, S/PDIF Out, Front Panel Audio, SPI TPM, and System Panel headers with Chassis Intrude.
BIOS and UEFI
Most of the standard and advanced BIOS options are available to tweak on the ASUS ROG Strix B660-F Gaming WiFi. Casual users or average users will find a lot to tweak in EZ Mode but veterans and overclockers will find most of the settings they want to fiddle with hidden in Advanced Mode.
The B660 platform is not meant for overclocking by default but some AIBs, like ASUS, are implementing overclocking on their B660 boards. This includes the ROG Strix B660-F Gaming WiFI. It does not have support for multipliers but clock speeds can be increased by tweaking BCLK. RAM can also be overclocked manually with support for various timings and memory speeds.
If some settings are too daunting, users can let the board's AI Overclocking and AI Cooling set its own settings. This allows newer users directly enjoy their new build without any additional tweaking.
System and Overclocking
The ASUS ROG Strix B660-F Gaming WiFi be tested with an Intel Core i5-12600KF, an ASUS TUF Gaming RTX 3080 10G, and 16GB of DDR5 RAM. Tests will include synthetic workloads and editing workloads for the CPU and gaming for the GPU. See the list below for the complete catalog of components used:
CPU: Intel Core i5-12600KF
RAM: Team Group T-Force Delta RGB 2x 16GB DDR5-6400
Motherboard: ASUS ROG Strix B660-F Gaming WiFi
PSU: EVGA 650 GQ Gold 650W
Cooler: MSI MAG CoreLiquid K360
OS: Windows 10 Build 21H2
Driver Version: GeForce Game Ready Driver WHQL 511.79
CPU Benchmarks
CPU-Z Benchmark 17.01.64
7-Zip 16.04
wPrime v2.10
Cinebench R15
Cinebench R20
Cinebench R23
Blender 2.82a
Adobe Premiere Pro 2020
The Intel Core i5-12600KF is able to perform at its fullest when paired with the ASUS ROG Strix B660-F Gaming WiFi. Overall performance could be better as our memory is only capped to 6000MHz, which is the higher limit for the motherboard.
Gaming Benchmarks
Synthetic Benchmarks
1920 x 1080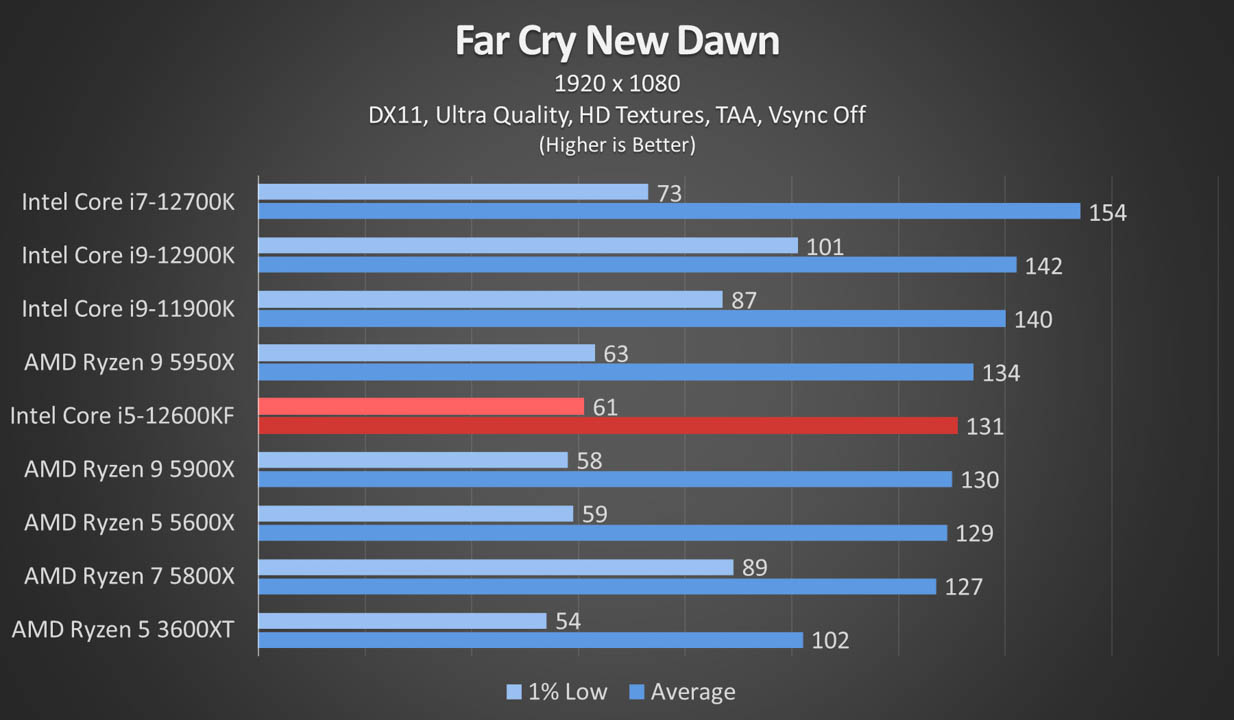 2560 x 1440
3840 x 2160
Gaming is a non-issue for the board so long as you pair it with proper components. Thanks to the Intel Core i5-12600KF and the NVIDIA GeForce RTX 3080, most games will run at Ultra settings in any resolution smoothly. There are no noticeable bottlenecks for either devices.
VRM Temperatures
VRM temperatures of the ROG Strix B660-F Gaming WiFi are superb. They only manage to reach around 48°c even under heavy workload. It's worth noting that the Intel Core i5-12600KF that we had on the test bench reached a maximum pull of around 124W. This should allow even more power-hungry processors the assurance that the VRMs will not overheat in average scenarios.
ASUS ROG Strix B660-F Gaming WiFi – Conclusion
The ASUS ROG Strix B660-F Gaming WiFi is a pretty solid motherboard for Alder Lake-S. It packs solid feature set including a plethora of storage and expandability options, PCIe 5.0 support, and good VRM cooling, and the iconic ROG design with RGB lighting.
At PhP 14,210, however, it does eclipse the price of some Z690 motherboards. The B660 chipset also has limited overclocking support omitting multiplier settings and only relying on BCLK tweaking. Memory support is also slightly slower at only 6000MHz.
Those who do not care or like overclocking but would enjoy the features and connectivity that higher-end boards have
The ASUS ROG Strix B660-F Gaming WiFi is oddly priced but we can see its appeal. It caters to those who do not like overclocking but would like to enjoy the features and connectivity that higher-end boards have without the additional premium of a flagship chipset.
Those who are already dead set for an Intel Alder Lake-S build will find plenty to like here, which is why we are giving it our seal of approval.
ASUS ROG Strix B660-F Gaming WiFi Price and Availability
The ASUS ROG Strix B660-F Gaming WiFi is now available in the Philippines for PhP 14,210. It can be had through their the ASUS ROG Lazada and Shopee flagship stores, as well as select authorized retailers nationwide.