Another year, another gaming mouse. What we have now is the ROG Strix Impact III, the third version of a widely available gaming mouse that comes with most ROG laptops here in the Philippines. The previous version, the ROG Strix Impact II, arrived almost three years ago and now we're looking at an upgraded version. Is it a good update or is it something to ignore? Let's find out in this ROG Strix Impact III review!
ROG Strix Impact III Review – Specifications
| | |
| --- | --- |
| Connectivity | |
| Weight | |
| Sensor | |
| Resolution | |
| Max Speed | |
| Max Acceleration | |
| L/R Switch Type | |
| Button | 5 programmable buttons+1 DPI button |
| AURA Sync | Yes |
| Grip style | |
| Game Type | |
| OS | |
| Software | |
| Cable | |
| Dimensions | |
| Color | |
| Contents | 1 x QSG, 1 x Warranty Card |
ROG Strix Impact III Review – Up Close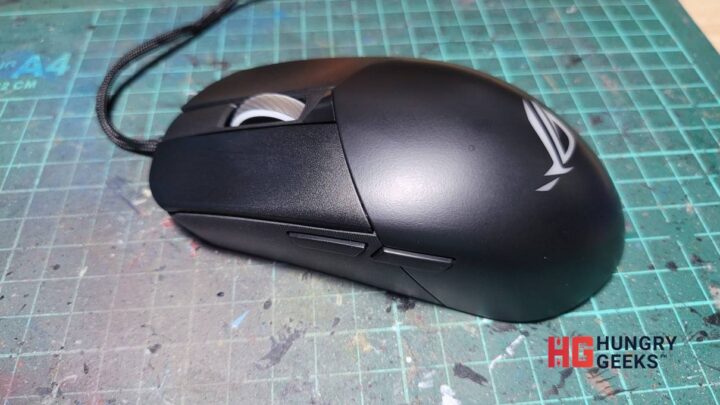 Simple Gaming Mouse
Aside from the ROG logo and the tell-tale black that usually comes with the ROG line of gaming products, there's nothing too "game-y" about the ROG Strix Impact III. It's a plain black gaming mouse with just two extra buttons on the side and a bit of RGB here and there.
Textured Sides & Two Extra Buttons
A thing worth noting are the textured sides of the ROG Strix Impact III. It acts as a grip for the user's thumb. Aside from that, it's another thing that can trap dirt. Also noticeable thing are the two additional buttons that are more or less standard with gaming mice. The right button, although it looks split, acts as one button. This is just by design and the button acts like normal when pressed.
Ambidextrous Design
One look at this gaming mouse and you'll notice that its symmetrical, except the two buttons located on the left side. This mouse is designed to be used by both left and right handed users, making it more of a safe choice for all users.
ROG Strix Impact III Review – User Experience
No More DPI Madness
Remember the days wherein you can make a mistake by just pressing the DPI button during an intense moment? Well, it's certainly not returning this time. Although this has been fixed in the previous iteration in the Strix Impact II, they made it a bit more streamlined this time by having the button near the underside's center. This way, you really have to be deliberate in pressing the button and it's guaranteed that you won't make any switching mistakes while playing.
Control The Cord
I'm a big fan of this cord that ROG is shipping with their gaming mice. In the past, these cords tend to break if you transport your stuff often. The tropical heat and the continuous folding also heavily affects the rubber cords of yore. Given that you have to bend them to pack, gaming mice with substandard rubber cords are likely to break with constant travel. With the ROG Strix Impact III, there may be no need to fear such a scenario. However, the downside is that it easily gets tangled and you may have to heavily rely on the included rubber strap to keep the 2 meter (6.5 ft) long wire in control.
Just Game On
One noticeable thing is that the ROG Strix Impact III lacks a lot of buttons on it. It only has five programmable ones in total. Unlike its more feature-packed (and expensive) siblings, the humble Impact III has only what you need to game. Hardware-wise, it's a huge update compared to its previous iteration in terms of precision hardware.
ROG Strix Impact III Review – Verdict & Conclusion
Pure & Simple
The ROG Strix Impact III follows the same tenets that its predecessors have followed – being simple and effective at its sole purpose. The ROG Impact line has always been known to be one of, if not the, simplest ROG mouse compared to its more flamboyant brothers. This time, it's more solidly shaped, rounder, and lighter. Surprisingly, although it's an improvement over the ROG Strix Impact II, it weighs less and is effectively better in terms of hardware.
Great For Gaming Laptops
Although you can use the ROG Strix Impact III for gaming on desktops, it being light-weight makes it a perfect candidate to partner with a gaming laptop. It's easy to move around with, the cord is sturdy, and the build is solid enough to take a bit of impact (heh!). If you are looking for a gaming mouse to have with your new shiny gaming laptop, the ROG Strix Impact III might be the one you are looking for.
More Than Enough For The Job
Considering the price of the ROG Strix Impact III, it stands as one of the more affordable, latest ROG gaming mice in the market. Not only that but you do get the ROG switches that they continuously advertise as nigh indestructible and you also get a gaming mouse with a good build quality. Overall, there's nothing much to complain about the Impact III. It has all what you need for a gaming mouse in terms of hardware and performance. The ROG Strix Impact III does its job well and while it does not offer much in terms of gimmicks,  it does offer much with its light-weight build and compact size.
ROG Strix Impact III Review – Pricing & Availability
The ASUS ROG Strix Impact III is available in the Philippines and is priced at PhP 2,750. Not bad if you are looking for a decent mouse to partner with your gaming rig/s.
If you prefer other ASUS ROG or TUF gaming mice, check out the ones we've reviewed in the past:
Know more about the ROG Strix Impact III here.