Another ROG? They're on a roll now with their barrage of new gaming laptops this 2022. Well, what we have here with us is the ASUS ROG Zephyrus G15 2022, the latest version of the already tried and tested Zephyrus G15. Is it a good one? Definitely. But how good is it? Read our review to know more.
ROG Zephyrus G15 2022 Review – GA503R Specs
CPU
AMD Ryzen™ 9 6900HS Mobile Processor (8-core/16-thread, 16MB cache, up to 4.9 GHz max boost)
GPU

NVIDIA® GeForce RTX™ 3070 Ti Laptop GPU

ROG Boost: 1085MHz* at 120W (1035MHz Boost Clock+50MHz OC, 100W+20W Dynamic Boost) 8GB GDDR6

OS
Windows 11 Home
RAM
32GB DDR5-4800MHz Dual-Channel, 1x SO-DIMM Slot, Max: 48GB
Display

15.6-inch WQHD (2560 x 1440) 16:9 anti-glare display

DCI-P3:

100%

Refresh Rate:

240Hz,

Response Time:

3ms, IPS-level, Adaptive-Sync

Pantone Validated, MUX Switch + Optimus,

Support Dolby Vision HDR :

Yes

Storage
1TB PCIe® 4.0 NVMe™ M.2 SSD
I/O Ports

1x 3.5mm Combo Audio Jack,1x HDMI 2.0b, 2x USB 3.2 Gen 2 Type-A

1x RJ45 LAN port, 2x USB 3.2 Gen 2 Type-C support DisplayPort™ / power delivery, 1x card reader (microSD) (UHS-II)

Connection
Wi-Fi 6E(802.11ax) (Dual band) 2*2 + Bluetooth 5.2 (*BT version may change with OS upgrades.)
Weight
1.90 Kg (4.19 lbs)
Dimensions
35.5 (W) x 24.3 (D) x 1.99 ~ 1.99 cm (H) (13.98″ x 9.57″ x 0.78″ ~ 0.78″)
Power
90WHrs, 4S1P, 4-cell Li-ion
Audio

Smart Amp Technology, Dolby Atmos, AI noise-canceling technology, Hi-Res certification, Built-in array microphone, 2x 2W Tweeter, 2x 2W dual-force woofer with Smart Amp Technology

Camera

720P HD IR Camera for Windows Hello
ROG Zephyrus G15 2022 Review – Up Close
Looks & Design

ASUS ROG Zephyrus G15's Rear & Sides
For ports, we have a handful here. Left side houses the power port, the HDMI 2.0b port, the LAN port, a USB 3.2 Gen 2 Type-A, and two USB 3.2 Gen 2 Type-C. On the other side, we have the second USB 3.2 Gen 2 Type-A and the slot for the microSD Card Reader.
Plain & Practical
After reviewing the ROG Zephyrus G14 2022, it's nice to get something simpler and less pompous in terms of appearance in the ROG Zephyrus G15. The lack of the AniMe Matrix can be a downer if you are after glances and stares but for my personal taste, it makes the Zephyrus G15 that much better as it won't be out of place in an office environment. It also has minimal RGB lighting, a plus in my opinion.
Bigger Means Better Temps
While not as bulky as gaming laptops of old, the ROG Zephyrus G15's larger size allows it to manage more heat. In general, the larger the laptop, the more space it has for cooling. And the cooler a laptop is, the more numbers it can crunch out, leading to better performance. You can see it with the numbers below and compare it with thin laptops likes the Zephyrus G14 and you'll find a stark difference.
ROG Zephyrus G15 2022 Review – Performance
Gaming Performance
Resolution
2560×1440
Frame Rates
Games
Preset
Average
1%
0.1%
Notes
Assassin's Creed Valhalla
Ultra High
63
45
32
100% Render Scaling
Dota 2
Best Looking
152
93
72
–
Metro Exodus: Enhanced Edition
Extreme
42
27
18
DLSS Quality
Apex Legends
Highest
130
87
75
–
Rainbow Six: Siege
Ultra
202
148
100
100% Render Scaling
Warzone
Ultra
116
79
60
DLSS Quality
Shadow of the Tomb Raider
Highest
117
86
48
DX12, DLSS Quality
PUBG
Ultra
116
75
41
100% Render Scaling
Watch Dogs Legion
Ultra
53
44
37
DX12, DLSS Quality, RT Medium
Borderlands 3
Ultra
68
31
10
DX12
Total War: Warhammer 3
Ultra
49
34
32
DX11
High-Performance Gaming Laptop
With the hardware it's packing, the Zephyrus G15 2022 performs exceptionally well when running modern titles. So much so that it manages to produce decent and playable frames even when all things set to the highest possible setting. All these done in 1440p.
Synthetic Benchmarks
These benchmarks are meant to measure the device's performance relative to other people's machine. We plugged in a mix of CPU & GPU-intensive tests and other ones that measure the performance of both at the same time.
The numbers below will be quantified into an easy to read chart once we have compiled results from previous reviews. Please do check them out after some time.
3DMark Firestrike Extreme
3DMark Fire Strike Extreme is designed for multi-GPU systems and future hardware generations. In addition to raising the rendering resolution, additional visual quality improvements increase the rendering load to ensure accurate performance measurements for truly extreme hardware setups.
3DMark Firestrike Ultra
3DMark Firestrike Extreme but more demanding. Incredibly taxing to the system as the benchmark tests how your PC can render in 4K (3840 x 2160).
3DMark Time Spy
3DMark Time Spy is a DirectX 12 benchmark test for Windows 10 gaming PCs. Time Spy is one of the first DirectX 12 apps to be built the right way from the ground up to fully realize the performance gains that the new API offers.
3DMark Port Royal
3DMark Port Royal is the world's first real-time ray tracing benchmark for gamers. It shows you how well your PC handles ray tracing effects in real-time.
Cinebench (Release 20)
Benchmark Score: 5466

Cinebench leverages the same powerful 3D engine found in the award-winning animation software Cinema 4D Release 20 to accurately evaluate CPU rendering performance capabilities across various systems and platforms.
Cinebench is the only synthetic benchmark where-in the Zephyrus G15 2022 loses to the Zephyrus M16 2022. The M16 loses by 1,545 points. The cause can be pointed to the difference in processors as the M16 houses an Intel Core i9-12900H while the G15 has the formidable
Novabench
Novabench is a free benchmark tool that allows you to see your computer's overall performance. Its tests CPU, GPU, RAM, and Storage speeds, and gives you an aggregate score that you can use for comparison with other similar setups.
Unigine Superposition
Extreme performance and stability test for PC hardware: video card, power supply, cooling system.
PassMark

PassMark measures CPU, 2D & 3D GPU, Memory, and Disk speeds. Similar to Novabench, it gives you an aggregate score, giving you an idea on how your PC performs and how it ranks when compared to other computers around the world.
ROG Zephyrus G15 2022 Review – Verdict & Final Thoughts
The Best ASUS Gaming Laptop
The ROG G15 has always been a favorite of mine partly because it runs well and I think it is what a gaming laptop should be. It's neither too thin nor too heavy and is snugly within the "sweet spot" for what I deem as the ideal gaming laptop. It packs top-tier hardware and does not sacrifice performance too much for the sake of maintaining a slim form factor like the Zephyrus G14 and the Zephyrus M16. Like with its previous iterations, the ROG Zephyrus G15 2022 performs remarkably well when it comes to gaming and productivity. Another thing is that its not gaudy. The simple design and great build are things to write home about.
The Good – Improved Display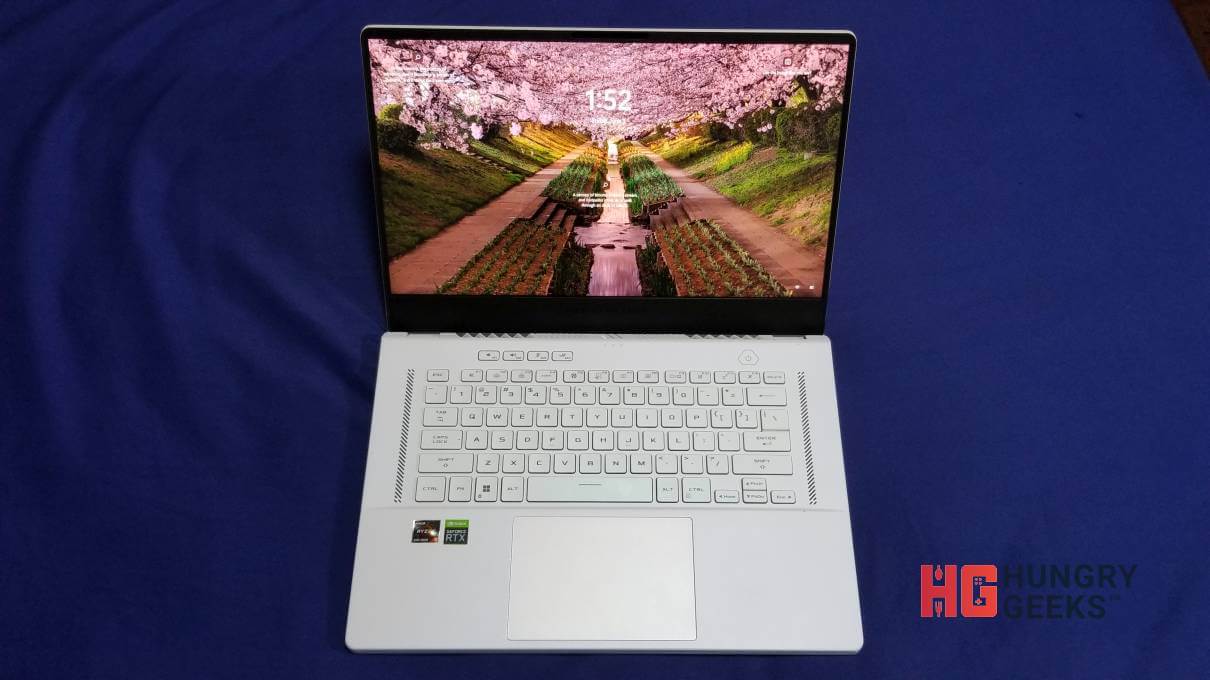 ASUS' ROG Nebula Display is aggressively being marketed nowadays and you can find it with most of ASUS ROG's 2022 gaming laptops. Laptops with this display boast incredible visuals similar to that of a gaming monitor. Lighting and clarity is outstanding and you really have to see it to notice the difference as pictures do not do it justice. The Zephyrus G15 2022 comes with the ASUS ROG Nebula Display and it makes good use of it with its Nvidia hardware.
ROG Zephyrus G15 2022 Review – Final Verdict
The ASUS ROG Zephyrus G15 2022 has improved a lot compared to its previous iteration. If you're still on the fence on buying one, well, this is a good time to get in and commit. While not a flashy gaming laptop like its other siblings, the ROG G15 2022 comes with very practical hardware, improved display and better audio. Definitely built for gaming and for resource-heavy work.
ROG Zephyrus G15 2022's Models & Pricing In The Philippines
The ROG Zephyrus G15 2022 is set to be available this Q3 2022 in the Philippines. Prices range from PhP 129,995 to PhP 149,995. The model reviewed here is priced at PhP 149,995.
For our latest ROG gaming laptop reviews:
You can read more about the ROG Zephyrus G15 2022 here.