Hearing the word "gaming laptop" may probably ring a couple of warning bells inside your head. They are expensive and are likely to reach the PhP 100,000+ value, a sum large enough to keep you on wits end for months. But what if there's a decent gaming laptop that can satisfy your gaming needs while being cool and good-looking enough? A laptop that has that sexy charm without being overloaded with RGBs and features? A laptop like the TUF Dash F15 2021? Like the one we have for review here.
ASUS TUF Dash F15 Review – Specifications
ASUS TUF Dash F15 2021 Hardware Specs
CPU

Intel® Core™ i5-11300H Processor 3.1 GHz, 4 cores (8M Cache, up to 4.4GHz)

GPU
NVIDIA® GeForce RTX™ 3060 Laptop GPU,With ROG Boost up to 1525MHz at 80W (85W with Dynamic Boost),6GB GDDR6
With ROG Boost up to 1525MHz at 80W (85W with Dynamic Boost)
OS
Windows 10 Home
(Free upgrade to Windows 11, when available)
RAM
8GB DDR4 on board,Max Capacity : 32GB
Display
15.6-inch,FHD (1920 x 1080) 16:9,anti-glare display,Refresh Rate:144Hz,Value IPS-level
Storage
512GB M.2 NVMe™ PCIe® 3.0 SSD
I/O Ports
1x 3.5mm Combo Audio Jack, 1x HDMI 2.0b, 3x USB 3.2 Gen 1 Type-A
1x RJ45 LAN port, 1x Thunderbolt™ 4 support DisplayPort™ / power delivery
Connection

Wi-Fi 6(802.11ax)+Bluetooth 5.1 (Dual band) 2*2;(*BT version may change with OS upgrades.)

Power

76WHrs, 4S1P, 4-cell Li-ion, ø6.0, 180W AC Adapter, Output: 20V DC, 9A, 180W, Input: 100~240V AC, 50/60Hz universal

Audio
DTS software
Built-in array microphone
2x 2W speaker
Weight
2.00 kg (4.41 lbs)
Dimensions
36.0 x 25.2 x 1.99 ~ 1.99 cm (14.17″ x 9.92″ x 0.78″ ~ 0.78″)
Included in the Box
 TUF Backpack
Available In 6 Variants
The TUF Dash F15 is available in 6 different models. The main differences with each one are mainly the processor, the GPU, and the available built-in RAM. Colors, drive capacity, and display, and bonuses are all the same. The unit that we have for review is the ASUS TUF Dash F15 FX516PM-HN097T.
ASUS TUF Dash F15 Review – Up Close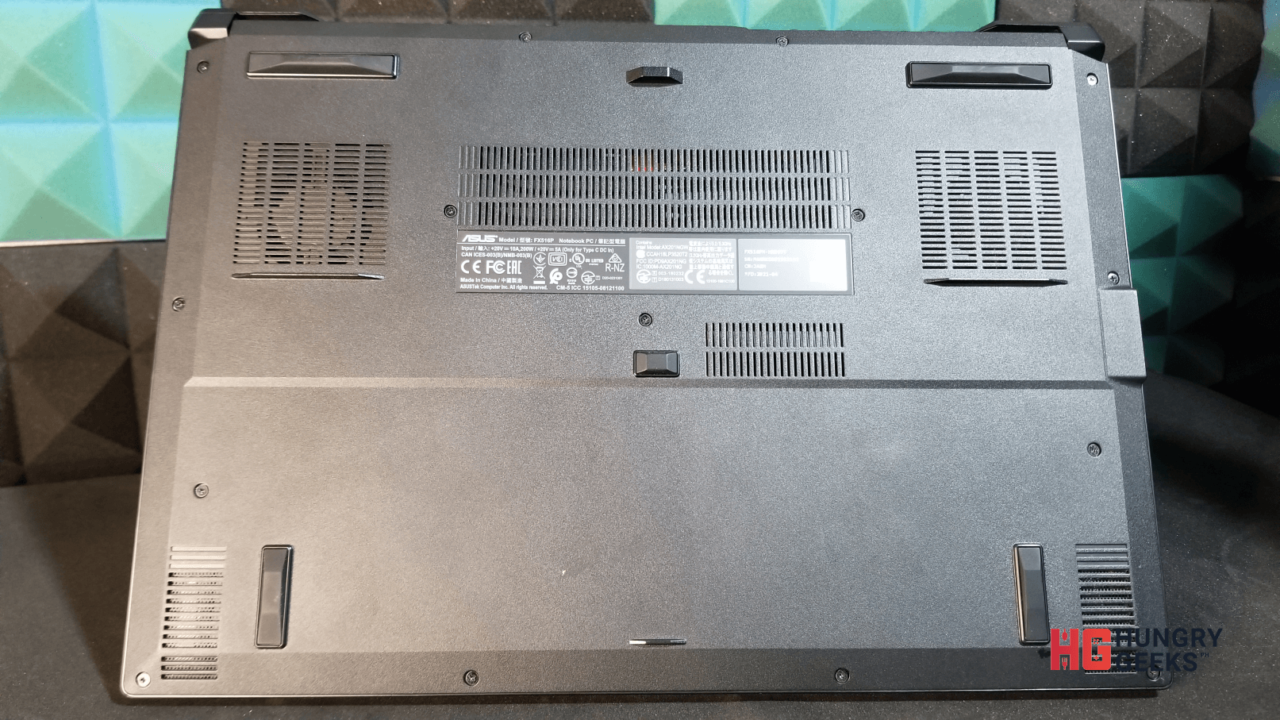 Ports & 2cm Thickness
The ASUS TUF Dash F15 has a couple of useful ports. On the left side, it has the power port, an RJ45 port, an HDMI 2.0b port, a USB 3.2 Gen 1 Type-A, a Thunderbolt port, and a 3.5mm Combo Audio jack. Pretty populated. On the other side, we have 2 USB 3.2 Gen 1 Type-As and a hole for a Kensington Lock.
Look, Ma! No RGB!
The only color you'll see with the TUF Dash F15 is blue-green and that's it. You can change the profile or the pattern of the lights using the built-in TUF Armoury.
Surprisingly, this adds to the laptop's clean aesthetic. However, if you want to personalize it further, you're pretty much limited given that there's only 1 color to choose from and there are only 3 options for the RGB light pattern.
ASUS TUF Dash F15 Review – Benchmarks & Performance
Gaming Performance
Resolution
1080p
Frame Rates
Games
Preset
Average
1%
0.1%
Assassin's Creed Valhalla
Ultra/High
31
17
13
Dota 2
Best Looking
63
45
36
Metro Exodus: Enhanced Edition
Ultra
38
16
9
Apex Legends
Highest
58
40
33
Rainbow Six: Siege
Ultra
72
42
32
Resident Evil Village
Medium
62
41
33
Shadow of the Tomb Raider
High
44
25
14
PUBG
Ultra
47
24
14
Watch Dogs Legion
High
30
19
16
Some titles presets were tweaked to consider the limitations of this device. You can take the benchmarks above to gauge the overall performance of the laptop on each of the games. Also, you can maximize the 144Hz screen by adjusting the settings of most games. Note that popular MMOs, Battle Royales, FPSs, and MOBAs are very likely to run well on this machine.
Synthetic Benchmarks
These benchmarks are meant to measure the device's performance relative to other people's machine. We plugged in a mix of CPU & GPU-intensive tests and other ones that measure the performance of both at the same time.
The numbers below will be quantified into an easy to read chart once we have compiled results from previous reviews. Please do check them out after some time. Also, you can use these benchmarks as a reference to compare your current system or others online.
3DMark Firestrike Extreme
3DMark Fire Strike Extreme is designed for multi-GPU systems and future hardware generations. In addition to raising the rendering resolution, additional visual quality improvements increase the rendering load to ensure accurate performance measurements for truly extreme hardware setups.
3DMark Time Spy
3DMark Time Spy is a DirectX 12 benchmark test for Windows 10 gaming PCs. Time Spy is one of the first DirectX 12 apps to be built the right way from the ground up to fully realize the performance gains that the new API offers.
Cinebench (Release 20)
Benchmark Score: 2486

Cinebench leverages the same powerful 3D engine found in the award-winning animation software Cinema 4D Release 20 to accurately evaluate CPU rendering performance capabilities across various systems and platforms.
Novabench

Novabench is a free benchmark tool that allows you to see your computer's overall performance. Its tests CPU, GPU, RAM, and Storage speeds, and gives you an aggregate score that you can use for comparison with other similar setups.
Unigine Superposition
Extreme performance and stability test for PC hardware: video card, power supply, cooling system.
PassMark

PassMark measures CPU, 2D & 3D GPU, Memory, and Disk speeds. Similar to Novabench, it gives you an aggregate score, giving you an idea on how your PC performs and how it ranks when compared to other computers around the world.
ASUS TUF Dash F15 2021 Review – Conclusion & Verdict
Pretty Light & Sleek
Surprisingly, the look of the TUF Dash F15 is similar to that of high-end ROG models. It looks extremely clean. Maybe it's due to the lack of the RGB, or the cleanliness of the overall layout, but the latest Dash F15 has no clutter at all. If you fancy non-RGB laptops or would want something that you can bring to a corporate setting, the ASUS TUF Dash F15 is a good choice.
Portable RTX 3060
While not a full-powered Nvidia RTX 3060, it still has the features that its desktop counterpart boasts. You can play with decent raytracing here and experience competitive and casual games without encountering any hiccups or performance issues. Overall, the hardware works well together.
Affordable Gaming Laptop
One thing noteworthy with this device is that it is appropriately priced. Given that RTX 3060s still have a high price tag (more or less 40K for decent ones), this one can sound like a steal. While the performance of the mobile Nvidia RTX 3060 is not as good as a that for desktops, it still has the modern tech in it for the latest games.
Another thing is that although a gaming brand, TUF isn't as "high-end" as ROG. And that is a good thing in my opinion. Most of the time, ROG gaming laptops are expensive not only because of their hardware but also as part of the "brand tax" that can be seen with features that are often times unnecessary. TUF laptops may not have the newest techno mumbo-jumbo present in most ROG laptops but it gets the job done.
Oh, and you don't have any RGB options which can either be good or bad depending on your preference.
The Bad Stuff
What's With The Hardware?
Probably the things holding the ASUS TUF Dash F15 back are its Intel Processor, its inadequate storage space, and its 8GB RAM. If you check the numbers, Intel processors are the minority now in terms of performance. They're good for efficiency, but that factor is out of the window when gaming is concerned most of the time. AMD's Ryzen ones are comparatively better in this point in time. Also, the 512GB storage space for this is, without a doubt, not enough for modern games. Just install a single game like Warzone and you'll consume about 25% of the whole thing if you factor in OS usage and others. But those are the things you sacrifice for the affordability of this laptop. Not that it takes away that much, but consider these factors before making a decision to purchase the Dash F15.
8GB RAM? Make It 16GB!
While not a complete nuisance, the 8GB RAM is also not "good enough" for the current demands of games. Although you can get decent performance, it's not enough for you to maximize the system's 144Hz screen and it can also take longer for some games to load, even with an SSD.
Here in the Philippines, you can buff it up to a more acceptable 16GB. Be careful though as I already asked ASUS Philippines about this and they told me that only the store where you bought the device can upgrade the RAM so as not to void the warranty. Hassle? Yes. But you can have this done when you buy the ASUS TUF Dash F15. You'll more or less add another PhP 2,500 in the equation for the extra stick.
Should You Buy It?
Rarely do I recommend an affordable laptop as they're more than likely to be gutted down to the lowest possible package. But this time, the ASUS TUF Dash F15 has managed to surprise even me due to its performance, value, and aesthetics. It's a good blend of everything with careful balance, not too great, but not too shabby either.
If you're considering something for school, work, or just an entertainment device that won't break the bank, then consider this one. It looks good enough to show off, and it has that "corporate sleekness" that can help it blend even in office settings.
A culmination of all great technologies, the ASUS TUF Dash F15 is a great entry to gaming. If you're more into "exotic" picks, you can try out the ROG Flow X13. For other decent modern gaming laptops, check out the ROG Zephyrus M16 and the ROG Scar 17. If you prefer another brand, you can also check out our review of the MSI GE76 Raider here.
ASUS TUF Dash F15 2021 – Availability & Pricing
The ASUS TUF Dash F15 2021, depending on the hardware, has an SRP that ranges from PhP 54,995 to PhP 94,995. It and its other variants are available in stores and can be ordered online. For more info on the pricing and places to buy, check out this official list from ASUS Philippines.