The ASUS ROG Zephyrus M16 improves the recipe by having a better display with a 94% screen-to-body ratio with a 16:10 aspect ratio at 2560 x 1600, 165Hz refresh rate, and 100% DCI-P3 coverage compared to last year's Zephyrus M16. This is on top of the usual increase in performance brought by the usage of the Intel's 11th Generation CPUs and NVIDIA RTX 30 series GPUs.
ASUS ROG Zephyrus M16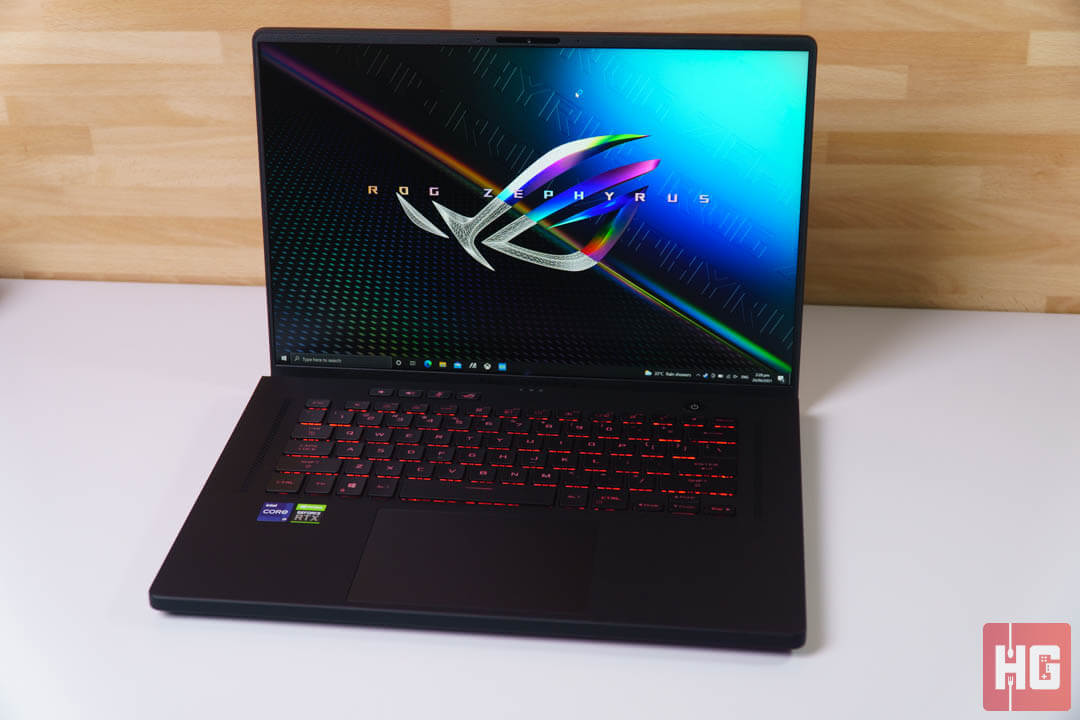 | | |
| --- | --- |
| CPU | Up to Intel Core i9-11900H |
| GPU | Up to NVIDIA GeForce RTX 3070 |
| OS | Windows 10 Pro |
| RAM | Up to 48GB DDR4 3200MHz |
| Display | 16.0-inch IPS-Level, 2560 x 1600, 16:10, 100% DCI-P3, Adaptive Sync, PANTONE Validated, Dolby Vision |
| Storage | Up to 2TB PCIe 4.0 x4 NVMe SSD |
| I/O Ports | 1x Thunderbolt 4 Type-C (DP.1.4, PD 3.0), 1x USB 3.2 Gen2 Type-C (DP 1.4,P PD 3.0), 1x USB 3.2 Gen2 Type-A, 1x USB 3.2 Gen1 Type-A, MicroSD Card Reader, HDMI 2.0b, 3.5mm Combo Jack, RJ-45 Ethernet, Kensington Lock |
| Connection | Dual-Band WiFi 802.11ax, Bluetooth 5.0 |
| Battery | 90Whr Battery, PD 3.0 Charging, 240W Power Adapter |
| Audio | 6 Speakers with Dual Force- Canceling Woofers, Smart Amp, Dolby Atmos, 3D Mic Array with AI Noise Cancelation |
| Others | RGB Backlit Keyboard, Fingerprint Power Button, 720p Webcam |
| Dimensions | 355 x 243.5 x 19.9mm |
| Weight | 1.9kg |
ASUS ROG Zephyrus M16 Review – Unboxing
The ROG Zephyrus M16 comes with quite a few extras to make its purchase worth it. It is being sold in a bundle which includes an ROG Delta RGB gaming headset and – and weirdly enough – two power bricks: a small 100W USB Type-C charger and a bigger 240W AC adapter.
The notebook is also bundled with an ROG-branded backpack for those who want to show off that they are part of the Republic of Gamers while on-the-go.
Design and Aesthetics
The ASUS ROG Zephyrus M16 doesn't veer away from the design introduced by its predecessor. It is slightly smaller at 355 x 243 x 19.9mm and is weighed around 1.9kg. The rear of the display still comes with 8279 CNC holes that produce a prismatic effect on certain angles. It's far from being as flashy as the G14's AniMe Matrix but its enough to add extra glitz to the laptop and separate it from its competition.
The brand has expanded the notebook's viewing angles with its 180° ErgoLift hinge. Its display is now able to lay flat against the table is able to act is able to slightly raise the chassis at angle for a more comfortable typing experience.
The screen's rear is made out of aluminum while the chassis itself feels like it's made from hard plastic that has minimal flex if any.  At the sides are grilles for its speakers as well as two large intakes to cool down its internal components.
Everything feels solid though there are some questionable design choices. Both its exhausts are located at the back of the bottom chassis, given that the hinge assembly is now below it, a significant amount of heat can be blasted to the display especially while playing. We're not sure if it will affect the longevity of the display but ASUS will have taken account of this before shipping out the notebook.
The activity lights also get in the way of the display. They are positioned just below the screen and glow in white. The lights will reflect from the display, which may annoy some people especially at low brightness where the screen does not produce enough brightness to counteract the LEDs.
The bottom's chassis' rubberized finish might also draw the ire of some people. While it does feel good when brand new, oils from the palm and fingers will undoubtedly result in shine in the long run.
Display
ASUS is able to fit in a slightly larger 16.0-inch IPS display on the Zephyrus M16 while maintaining a marginally smaller footprint compared to its predecessor. The screen has a wider 16:10 aspect ratio and a higher 2560 x 1600 resolution in contrast to the M15 who had a standard 16:9 1920 x 1080 screen. It does sacrifice the 240Hz refresh rate for a relatively slower 165Hz panel.
Given the upgrades, we don't mind that the M16 has a comparatively slower refresh rate. It is still plenty fast for most people and only the most competitive gamers will miss 240Hz.
To make up for the downgrades, the M16's screen is now Pantone Validated, supports DCI-P3 coverage, and has a maximum brightness of around 500nits. The notebook does seem to deliver great color reproduction when seen with the naked eye.
A quick run with our SpyderX Pro confirms its prowess in color performance:
sRGB – 99.80%
Adobe RGB – 84.20%
DCI-P3 – 99.00%
Luminance (Minimum) – 29.2 cd/m2
Luminance (Maximum) – 531.58 cd/m2
Delta E (Average) – 0.07
Delta E (Maximum) – 0.72
Very little can be improved upon the M16's display in terms of color. The panel, however, does have some problems including backlight bleed at the edges. Black uniformity is also irregular but this will only be noticeable at maximum brightness in pitch-black scenes. Not all panels are equal, however, and these issues should be treated as a case-to-case basis.
Keyboard and Touchpad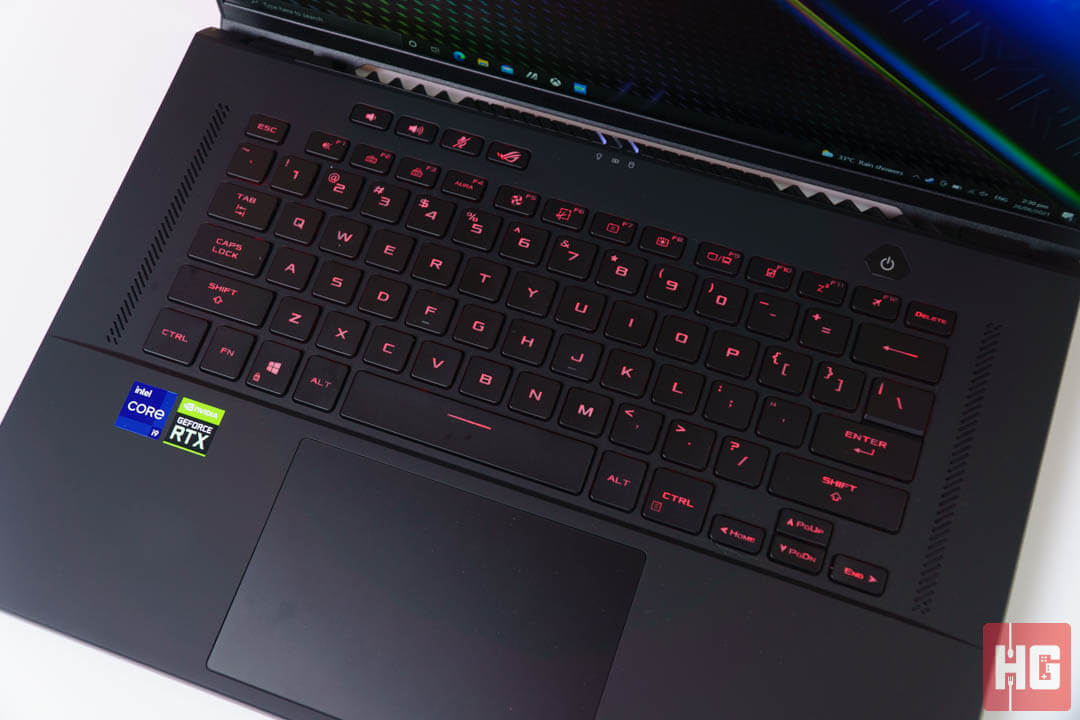 The ASUS ROG Zephyrus M16 has a fairly standard 60% chiclet-style keyboard with a navigation cluster squeezed at the bottom right. There are also four extra keys at the top left for volume, microphone, and a shortcut for the Armoury Crate software. At the top-right is its power button that supports fingerprint logins via Windows Hello.
Its main keyboard offers a decent typing experience with good tactility and travel distance. The extra keys, however, are mushy but it should not matter too much as they are only shortcut keys. The RGB lighting has three levels of brightness but lighting applies to the whole keyboard instead of per-key instances.
Its touchpad is around 20% larger than the M15, which gives users a leeway when browsing. ASUS has upped its scan speed to 143Hz for a reactive experience. Everything about the touchpad feels smooth and precise for regular use you will still need a mouse to get a proper gaming experience.
Input and Output Ports
The notebook has a fairly expansive choice of I/O ports to choose from. At the left-hand side are two USB Type-C ports – one Thunderbolt 4 with DisplayPort and PD charging while the other a USB 3.2 Gen2 port with DisplayPort and PD charging as well. Accompanying them is a single USB 3.2 Gen2 Type-A port, an RJ-45 jack, an HDMI port, a DC port, and a 3.5mm combo jack.
Its right-hand side is a little less crowded only housing a MicroSD card reader and a USB 3.2 Gen1 Type-A port. We would have liked more USB Type-A ports for additional expandability. The positioning of the I/O ports is a bit odd as well leaning to the front in order to give way for the side intakes.
Software
Like most ROG products in the market, the ASUS ROG Zephyrus M16 is compatible with the Armoury Crate software. Most of the system settings for the laptop can be adjusted here like performance and thermal performance. You can even manually set frequencies for the GPU and the CPU.
There is a total of eight display profiles to choose from. Based on our testing previously, however, the default profile is accurate enough for all kinds of content but if you want to boost certain colors or brightness there are other profiles to do so. Color temperature can also be quickly adjusted through a bar at the top right.
RGB can be quickly adjusted via the Armoury Crate with several profiles to choose from. Those who have compatible peripherals and want complete control over the lighting may do so through the Aura Creator.
ASUS ROG Zephyrus M16 Review – Performance and Benchmarks
Our review unit of the ASUS ROG Zephyrus M16 came packing an 8-core, 16-thread Intel Core i9-11900H with 32GB of DDR4 RAM running at 3200MHz, a 2TB PCIe SSD, and an NVIDIA GeForce RTX 3070 GPU. It can also be configured with an i7-11800H with 16GB RAM, 1TB PCIe SSD, and an RTX 3060 for those who like a more affordable price point.
The notebook has a 2TB Samsung MZVL22T0HBLB SSD with the model designation PM9A1. It supports PCIe Gen4 x4 speeds – which Intel's Tiger Lake platform supports – and a rated 7,000MB/s and 5,200MB/s sequential read and write speeds, respectively.
Figures mentioned by the official Samsung website are pretty much bang on from the performance shown by a quick run of CrystalDIskMark with a 4GiB load. Sequential read and write speeds are at 7070MB/s and 5121.08MB/s, respectively. Random 4KiB read and write speeds are fast as well scoring 621.65MB/s and 4511.01MB/s, respectively.
The next portion of our review will focus on CPU and GPU benchmarks. CPU figures are tested with synthetic and rendering programs while GPU benchmarks are taken from synthetic and games with varying APIs. Games were run at both 1920 x 1200 and 2560 x 1600 to give users of standard 16:9 1080p and 1440p external monitors an idea of possible framerates.
CPU Benchmarks
CPU-Z Benchmark 17.01.64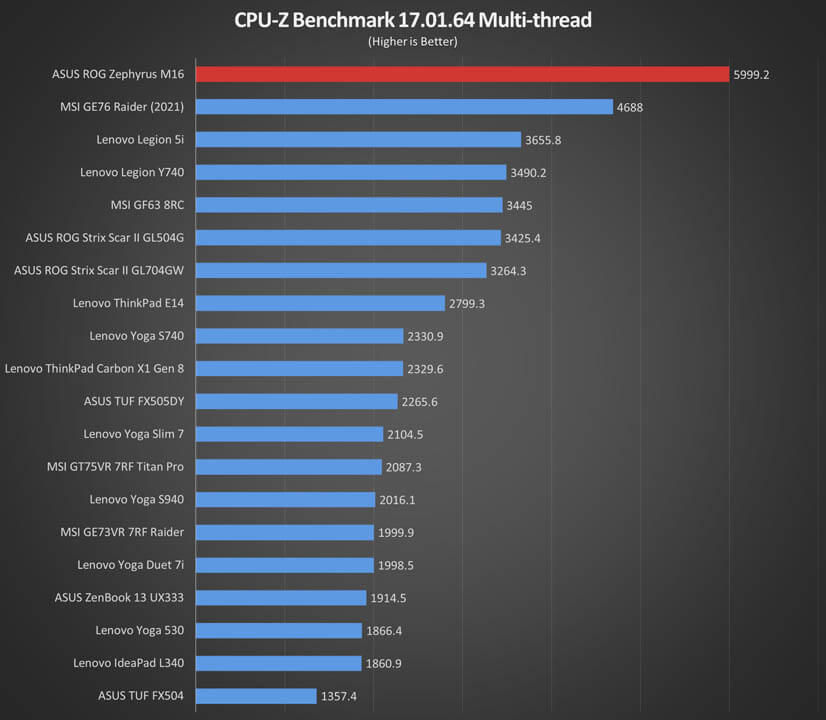 7-Zip 16.04
wPrime v2.10
Cinebench R15
Cinebench R20
Blender 2.82a
The Intel Core i9-11900H is definitely one of the most powerful mobile CPUs this generation. It places comfortably at the top of CPU tests only beaten by the AMD Ryzen 9 5900HS found on the M16's sibling, the Zephyrus G15.
The CPU will sustain clocks speeds of around 4000MHz in bursts before significantly slowing down to decrease temperature. It will then shoot back up to 3800MHz before starting the cycle again.
GPU Benchmarks
3DMark Fire Strike
3DMark Time Spy
Red Dead Redemption 2
Rainbow Six Siege
Far Cry New Dawn
Shadow of the Tomb Raider
The Division 2
Metro Exodus
Watch Dogs: Legion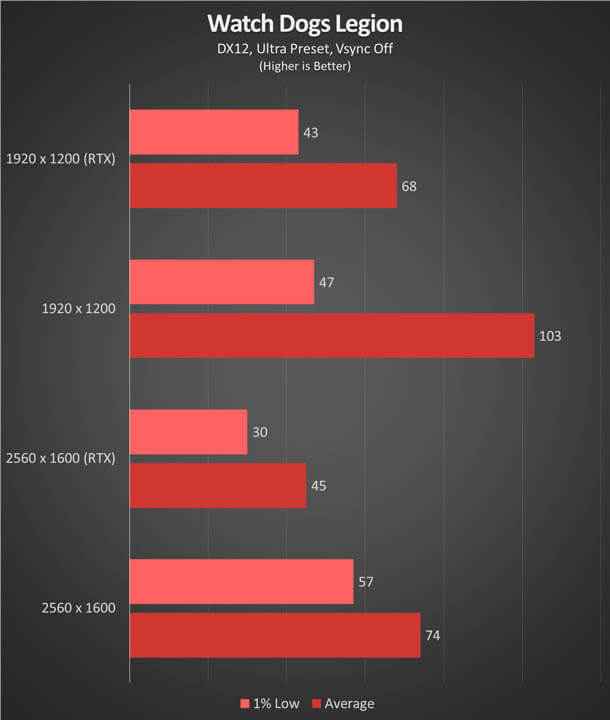 The Zephyrus M16 and its RTX 3070 runs all titles smoothly on both 1920 x 1200 and 2560 x 1600. Competitive games will also easily reach the 165Hz refresh rate of the display but those who want absolute speed on games will need to drop down the resolution to 1200p or 1080p on other monitors.
GPU core clock speeds mimic the trend from the CPU. The RTX 3070 on the M16 can shoot up to more than 1400MHz before dropping down to around 1300MHz. Performance isn't significantly whatsoever since highest and lowest clock speeds are within 100MHz of each other.
Temperature and Battery Life
The ASUS ROG Zephyrus M16 is using Thermal Grizzly liquid metal on its CPU to scrub 10°c off compared to standard thermal paste. The brand is also promising up to 15% increased fan performance on the notebook compared to last year. Its fans also support 0dB technology, which means that the fans do not spin at low temperatures.
The CPU has an average temperature of 54°c while idle and peaks at 85°c while playing games. Rendering will put a massive load on the CPU and will peak at 95°c. The system, however, will try to balance frequency speeds and temperature while on-load resulting in an average of 89°c on heavy workloads.
Its GPU fares much better in the cooling department. It has the same idle temperature of 54°c. Playing graphically-intensive games will only raise its temperature to 80°c which is acceptable for a thin gaming notebook.
Keeping M16's lights on is a 90Whr battery, which seems to be the standard capacity on their high-end notebooks these days. It is able to power itself for around 6 – 7 hours in minimal workloads such as working and browsing the Internet. Playing while on-the-go obviously has significantly lower battery life of just below 2 hours.
The Zephyrus M16 ships with two charging bricks: a USB Type-C charging adapter that supports 100W and a conventional power brick that reaches 240W. Filling up the battery via the its USB Type-C ports will take around 3 hours while using the more powerful charging brick will lessen the wait to less than 2 hours.
ASUS ROG Zephyrus M16 Review – Conclusion
The ASUS ROG Zephyrus M16 still embodies the Zephyrus tradition: top-notch performance in a portable form factor. The notebook is able to deliver a terrific notebook experience thanks to its update to the Tiger Lake-based i9-11900H CPU and the Ampere RTX 30 series GPU.
Its display is nothing to scoff at either since it provides a good and fast viewing experience thanks to being pre-calibrated out-of-the-box and has a higher resolution of 2560 x 1600.
There are a few things to keep at eye out for, however, like the position of the rear exhausts directly blasting the display with hot air. The rubber finish of the bottom chassis might also lead to shining down the line. Some may also prefer a faster display since the screen caps out at 165Hz.
At PhP 159,995 for this particular variant, the ASUS ROG Zephyrus M16 is a powerful notebook to have around anytime.  There are some minor flaws but they are eclipsed by all the positives it brings to the table, which is why we are giving our seal of approval.
ASUS ROG Zephyrus M16 Price and Availability in the Philippines
The ASUS ROG Zephyrus M16 is also available in two more models in the Philippines:
Intel Core i9-11900H/16GB DDR4 RAM/1TB PCIe/RTX 3060 – PhP 139,995
Intel Core i7-11800H/16GB DDR4 RAM/1TB PCIe/RTX 3060 – PhP 129,995
Check out this link for the complete list of participating stores nationwide to get the notebook and other ASUS products.
For other laptops to consider, check out our review of the ROG Flow X13, a 2-in-1 laptop. You can also check out the ROG Zephyrus M16 and the ROG Scar 17. For a more affordable gaming laptop, look out for the ASUS TUF Dash F15. If you prefer another brand, you can also check out our review of the MSI GE76 Raider here.