For another gaming mouse review, we have on our laps the ROG Harpe Ace Aim Lab Edition. This gaming mouse is a collab product from ROG and Aim Lab, and marries both the technical know-hows of ROG and the expertise of Aim Lab pros. But does it translate to a working gaming mouse? Is it too much? Would it be okay to use it at home as you crush your enemies, see them driven before you, and hear their lamentations? Let's find out in this review.
ROG Harpe Ace Review – Specifications
Connectivity

USB 2.0 (TypeC to TypeA)
Bluetooth 5.1
RF 2.4GHz

Weight

54g (without cable and USB dongle)

Sensor
Resolution
Max Speed
Max Acceleration
USB Report Rate
RF 2.4G Report rate
L/R Switch Type

ROG 70M Mechanical Switch

Button
AURA Sync
Yes

Battery Type
Li-Ion Battery

Battery Life
90 hours without lighting
79 hours with default lighting (Breathing)

Shape
Ambidextrous

Grip style
Game Type
OS
Software
Cable
Dimensions

127.5(L)x63.7(w)x39.6(H) mm

Color
Contents

1 x ROG Harpe Ace Aim Lab Edition gaming mouse, 1 x USB Dongle, 1 x USB Dongle Extender, 1 x ROG Paracord, 1 x Quick start guide, 1 x Warranty Booklet, 1 x ROG x Aim Lab Sticker, 3 x Mouse feet, 1 x Thank you card, 1 x Mouse Grip Tape Set(one-time stick)
ROG Harpe Ace Review – Up Close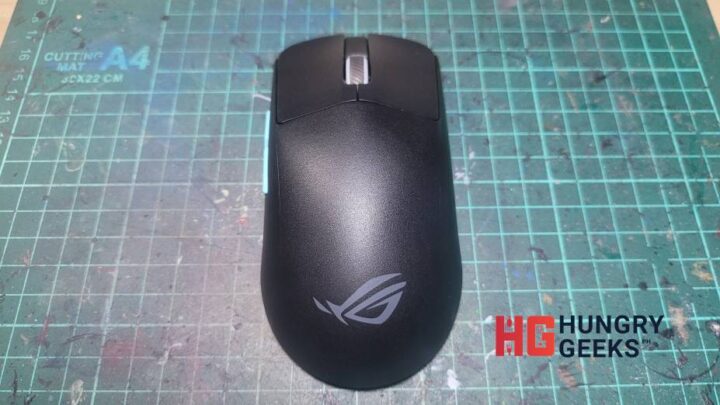 I've Seen This Before…
Yes, the ROG Harpe Ace sports a form that, as ASUS ROG states, "engineered through collaboration with the top esports professionals and world record aimers at Aim Lab." Although we've probably seen it a couple of times with other gaming mouse even from other brands primarily because it actually works, it does look a tad similar to the recently released ROG Impact III Gaming Mouse. From the placement of buttons down to the overall size, the similarities are undeniable.
Not Your Ordinary Gaming Mouse
Looks can be pretty deceiving and although I've said that the mouse looks typical, the ROG Harpe Ace Aim Lab Edition hides a few features. It hides the said features because they're all located underneath it. See, if you go to the underbelly of this gaming mouse, you'll see that it has a couple of switches and buttons. You have a button for DPI, a button for Bluetooth pairing, and a switch to toggle between three different connectivity choices.
Includes Stickers
If you find that the design of the mouse is too plain for your tastes, then you can use the included stickers to liven things up. The ROG Harpe Ace has some grip tapes included that not only adds livery to the gaming mouse but also texture for your fingertips.
ROG Harpe Ace Review – User Experience
Great For Normal Use
With gaming mouse like the ROG Harpe Ace Aim Lab edition, there's nothing much to complain about when it comes to daily use. It's okay for lengthy browsing sessions and the overall feel is not that different from a typical gaming mouse. It works well and it can be used with different grips. The main difference compared to the usual stuff is that the ROG Harpe Ace is incredibly light.
Connect To Three Devices
It's great that the feature that I like with wireless ROG headsets are being implemented to the likes of gaming keyboards and mouse. The ROG Harpe Ace can be connected to three different devices using Bluetooth, 2.4Ghz wireless, and plain old wire. Of course, you can only make it active with one device at a time but the option to do so is extremely helpful especially if you want to use it as your gaming mouse or your work mouse. No need to fumble with unnecessary stuff as you can just have it connect as a Bluetooth mouse for your work PC then switch it to 2.4Ghz for play and leisure with your own rig.
Adjust DPI On The Go
If you play a lot of FPS and Strategy games during your down times, the jarring difference between the needed DPI or sensitivity for both genres may put you off during play. To combat this, you may have to adjust your DPI whenever you switch game genres. Thankfully, the ROG Harpe Ace can do this easily without any problems. The four DPI settings can be manually configured to your own liking. Aside from that, you can adjust DPI without having to trouble yourself with the temperamental ROG Armoury Crate app. To do so, you only have to hold the DPI button for a few seconds, roll the mouse wheel either up or down to increase or decrease DPI, then press the DPI button to do incremental adjustments to DPI.
Maximum 36,000 DPI
It is to no one's surprise that even with the high DPI that the ROG Harpe Ace Aim Lab Edition has to offer, there's likely that no one would use it to it's maximum. However, the ability to reach up to 36,000 DPI is astounding, if not somewhat impractical for most.
Use With The Aim Lab
To maximize the ROG Harpe Ace, you need to download "Aim Lab" on Steam. The game itself uses different trials to help you find the mouse settings that you should play on. It even recognizes the ROG Harpe Ace and it even recommends certain tests for you to take full advantage of the gaming mouse!
Use Macros & Customize RGB With Armoury Crate
When it comes to managing ASUS devices, the Armoury Crate is the go-to app for everything. It allows you to see the status of components and devices, provided that they are ASUS, and the app itself also informs you about updates and the likes. If the app works.
With the ROG Harpe Ace Aim Lab Edition, several options are available with the Armoury Crate. You can fine-tune the DPI, settings, RGB lighting, and battery warnings easily using the app.
ROG Harpe Ace Review – Verdict & Conclusion
The Good
Incredibly Light
The description is not lying when it says that the mouse weighs only a meager 54g. It is quite light and is on par with or even lighter than other light gaming mouse on the market. This makes it a great daily driver if you constantly move around. In addition to that, the ROG Harpe Ace is also wireless and you need not to bother yourself with the included cord if you can recharge it regularly during down times.
Admittedly, the lightness of the ASUS ROG Harpe Ace may not be for everyone. If you prefer bulkier gaming mice like the brick that is the ROG Spatha or the Logitech G502 Hero, the weight difference between the likes of those chonkers and the ROG Harpe Ace is very noticeable. So if you are into heavy gaming mice, this may not be the mouse for you.
Smooth As Butter
Coupled with its lightness is the buttery smooth feel that you get when moving the ROG Harpe Ace over your mousepad. Though it works on normal mouse pads, it does move and feel a bit better so if you partner it with the cool looking ROG Hone Ace Aim Lab Edition mouse pad. It also looks great if you see both on your desk.
Great Design With Customization Options
One can look at the ROG Harpe Ace Aim Lab Edition and see it as an ordinary gaming mouse. It's not bad if you think about it as the design has been around for decades and it proves to be working a lot. However, instead of making it gaming mouse #5092, ASUS ROG did add a few things to the package to make it stand out. You get a set of stickers that you can either choose to use or not to depending on your liking. I like that ROG is doing this with their recent releases as you do have a choice in designing the device. You can either stick with it's plain but elegant original design or personalize it with the additional stuff that comes with the box.
The Bad
It's Expensive
As usual with ROG products, you'd have to shell out quite a lot to get the ROG Harpe Ace Aim Lab Edition. Couple it with its partner mouse pad and you are looking to spend near PhP 9,000 for both.
It's For Those Aiming To Go Pro
The product itself may not be aimed for you if you're after leisure instead of competitive sweating. The ASUS ROG Harpe Ace Aim Lab Edition even admits that it's made for esports athletes and aspiring gaming professionals. Specifically for the FPS genre. I'm not in any of those two categories. I just look at gaming mice as tools for me to enjoy that games that I like such fast-paced shooters and slow crawling strategy and card games. It plays perfectly, but again, I cannot say much when it comes to its professional application and performance. You may have to read another review to get an idea about what pros think about this thing.
In addition to this, the mouse itself is bereft of additional buttons. So if you are planning to play MMORPGs, MOBAs, or Strategy games, this mouse may be quite limited if you are after additional keys to bind commands to.
You Can't Replace The Switches
The ROG Harpe Ace Aim Lab Edition is probably the only recently released ROG gaming mouse that does not support push-fit switches. It uses ROG mechanical switches that they claim can last up to 70 million clicks. Based on experience, ROG gaming mice tend to last a long time but in the event that it fails, you may have to replace the ROG Harpe Ace instead of just being able to open it and slap a new switch to make it work again.
An ASUS representative confirmed that the absence of this feature is to make the mouse a bit lighter by integrating the switch directly onto the board.
You Can't Go Wrong With The ROG Harpe Ace
There is no denying the fact that the ROG Harpe Ace Aim Lab Edition is a great gaming mouse. It has what you essentially need for playing intense FPS games and the feel of the mouse is sublime. There's nothing to complain here aside from the fact that you have to pay a lot to get it.
ROG Harpe Ace Review – Pricing & Availability
The ASUS ROG Harpe Ace Aim Lab Edition is available in the Philippines and is priced at PhP 7,080. If you are looking to include the ROG Hone Ace Aim Lab Edition mouse pad, you need to shell out an additional PhP 1,830.
If you prefer other ASUS ROG or TUF gaming mice, check out the ones we've reviewed in the past:
Know more about the ROG Harpe Ace Aim Lab Edition here.