Routers are likely one of those things that are at the bottom of the list when it comes to upgrades. You don't have to upgrade them yearly and cheap ones may probably last you a good three to five years if you are lucky. However, with newer gadgets come newer standards. For you to use those new wireless features to their fullest potential, you also have to have the infrastructure to carry them. An upgrade that ASUS allowed us to review is the TUF Gaming AX6000, a router made and designed for gaming but is also good enough for general applications. Is it a good router? Is it worth it to spend a few more for this? Let's find out in this review!
Note that the TUF Gaming AX6000 shares names with a couple of other ones from other brands and also one from ASUS. If you want to shop for this, use its full name to look for it!
TUF Gaming AX6000 Review – Specifications
Model Name
Network Standard

IEEE 802.11a, IEEE 802.11b, IEEE 802.11g

WiFi 4 (802.11n), WiFi 5 (802.11ac), WiFi 6 (802.11ax)
IPv4, IPv6

Product Segment

AX6000 ultimate AX performance : 1148+4804 Mbps

AX technology
Yes
Data Rate

802.11a : up to 54 Mbps
802.11b : up to 11 Mbps
802.11g : up to 54 Mbps
WiFi 6 (802.11ax) (2.4GHz) : up to 1148 Mbps
WiFi 6 (802.11ax) (5GHz) : up to 4804 Mbps

Antenna
Transmit/Receive
Processor

2.0 GHz quad-core processor

Memory
Boosts speed

OFDMA (Orthogonal Frequency Division Multiple Access)
Beamforming: standard-based and universal
1024-QAM high data rate
20/40/80/160 MHz bandwidth

Operating Frequency
Ports

RJ45 for 2.5 Gigabits BaseT for WAN x 1, RJ45 for 2.5 Gigabits BaseT for LAN x 1, RJ45 for Gigabits BaseT for LAN x 4, USB 3.2 Gen 1 x 1,

Button

WPS Button, Reset Button, Power Button

LED Indicator

Power x 1
WiFi x 1
1G LAN x 4
2.5G WAN x 1
2.5G LAN x 1

Power Supply

AC Input : 100V~240V (50~60Hz)
DC Output : 12 V with max. 2.5 A current

Package content

TUF Gaming AX6000 Dual Band WiFi 6 router
RJ-45 cable
Power adapter
Quick Start Guide
Warranty card

Product Weight (g)
696g
AiMesh

AiMesh
Primary AiMesh router
AiMesh node

Router APP
Game

Game Boost / Acceleration

Alexa
AiProtection

AiProtection Pro, AiProtection
Malicious site blocking
Two-Way IPS
Infected Device Prevention and Blocking

Parental Control

Parental Control & Parental Control Customized Internet schedule

Traffic Control

Adaptive QoS
Bandwidth Monitor
Bandwidth limiter
Maximum Bandwidth limiter rule : 32
Traditional QoS
Maximum Traditional QoS rule : 32
Traffic Monitor
Real-time traffic monitor
Wired Traffic Monitor
Wireless Traffic Monitor
Traffic Analyzer
Traffic analysis period : Daily, Weekly, Monthly
Website history

Wireless

IPv6
Wi-Fi Encryption : WPS support, WPA/WPA2/WPA3-Personal, WPA/WPA2-Enterprise
UTF-8 SSID
Guest Network
Maximum Guest Network rule : 2.4GHz x3, 5GHz x3
Guest Network Connection time limit
WPS
WiFi MAC address filter
Maximum MAC filters : 64
Wireless scheduler
Airtime fairness
RADIUS Client
Universal beamforming
Explicit beamforming

WAN

Internet connection Type : PPPoE, PPTP, L2TP, Automatic IP, Static IP
WAN Aggregation
3G/4G LTE dongle
Android tethering
Port forwarding
Maximum port forwarding rule : 64
Port triggering
Maximum port triggering rule : 32
DMZ
DDNS
NAT Passthrough : PPTP Pass-Through, L2TP Pass-Through, IPSec Pass-Through, RTSP Pass-Through, H.323 Pass-Through, SIP Pass-Through, PPPoE relay
Let's Encrypt
Safe browsing
DNS-over-TLS

LAN

DHCP Server
IPTV
LAN Link Aggregation
Manually assign IP address
Maximum manually assign IP address rule : 64

VPN

VPN Client L2TP, VPN Client OVPN, VPN Client PPTP, VPN Client WireGuard, VPN Server IPSec, VPN Server OVPN, VPN Server PPTP, VPN Server WireGuard, VPN Fusion

USB application

File System : HFS+, NTFS, vFAT, ext2, ext3, ext4
3G/4G LTE dongle
HDD hibernation
Safely Remove disk
AiCloud
Download master
AiDisk
Media Server
Time Machine
Samba Server
FTP Server
Shared Folder privileges

Administration

Operating mode : Wireless router mode
Access point mode
Media bridge mode
Operating system : ASUSWRT
Free OS upgrade
Firewall
Maximum Firewall keyword filter : 64
Max Firewall network service filter : 32
Maximum Firewall URL filter : 64
SSH
Wake on LAN (WOL)
Configuration backup and restore
Diagnosis tools
Feedback system
System log
New Device Connect Notification
Login Captcha
Connection Diagnosis
Security Scan
Auto Firmware Update
TUF Gaming AX6000 Review – At A Glance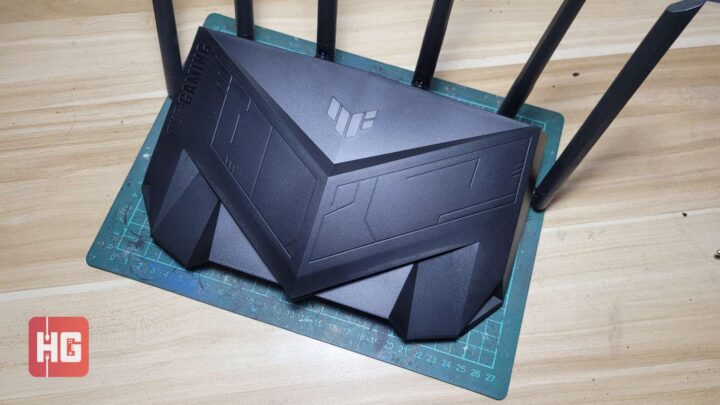 RGB Lighting
Similar to other high-end gaming routers, the TUF Gaming AX6000 sports a n RGB-lit logo that also doubles as an indicator for its current status. Users can customize the color using the ASUS Router App or by directly connecting to the router via LAN.
TUF Gaming AX6000 Review – Performance & Benchmarks
Wireless Transfer Speeds
For benchmarking, iperf3 was used to produce controlled transfers to measure speeds. Note that performance is highly dependent on several factors and may be incredibly different compared to the "ideal" performance that is usually advertised by router makers.
| | | | | | | |
| --- | --- | --- | --- | --- | --- | --- |
| TUF Gaming AX6000 | Device 1 (Host) | Host Frequency | Device 2 (Client) | Client Frequency | Average Speed (MB/s) | Notes |
| Test 1 | PC (802.11ax) | 5 | Smartphone (802.11ax) | 5 | 24.63 | w/in 1m |
| | Smartphone (802.11ax) | 5 | PC (802.11ax) | 5 | 20.5 | w/in 1m |
| Test 2 | PC (802.11ax) | 2.4 | Smartphone (802.11ax) | 2.4 | 7.24 | w/in 1m |
| | Smartphone (802.11ax) | 2.4 | PC (802.11ax) | 2.4 | 8.05 | w/in 1m |
| Test 3 | PC (802.11ax) | 5 | Smartphone (802.11ax) | 5 | 9.4 | 35m~40m + wooden wall |
| | Smartphone (802.11ax) | 5 | PC (802.11ax) | 5 | 5.54 | 35m~40m + wooden wall |
| Test 4 | PC (802.11ax) | 2.4 | Smartphone (802.11ax) | 2.4 | 1.07 | 35m~40m + wooden wall |
| | Smartphone (802.11ax) | 2.4 | PC (802.11ax) | 2.4 | 2.66 | 35m~40m + wooden wall |
Incredible Range & Coverage
To test the signal distance, I moved approximately 50m away from the location of the router. A thin plywood sheet was the only obstacle between the receiver and the TUF Gaming AX6000. The testing ground was also littered with numerous signals from the surrounding households with 20+ SSIDs available to connect to at any given time.
The TUF Gaming AX6000, while not the strongest in the bunch, offers acceptable signals up to 50 meters or 164 feet. With 5Ghz, I was able to manage with an acceptable 30~40% signal strength from that distance. For 2.4Ghz, the results were obvious but then again, you do get better distancce at the expense of less speed.
Additional Features
Dual 2.5G Ports
Probably one of the main features of this router is that it is capable of taking two 2.5 Gbps ports that can be aggregated to give you 5 Gbps. For the average household, this is a feature that is less likely to be maximized. For power users and small offices however, this may prove to be a boon to productivity.
ASUS USB Stuff
As is tradition with ASUS Routers with USBs, the ASUS TUF Gaming AX6000 also has the plethora of features that take advantage of the lone USB port. You can use the USB port to create your own personal cloud, connect an old printer to your network, or set up your own F2P server. Other routers from brands can do this too but it is good to see that ASUS has decided to stick with what works and develop it further for the modern age.
ASUS Router App
The ASUS Router App allows you to seamlessly check on your ASUS router's stats and condition. It is a surprisingly well-made app and it has helped me a lot during my use of the TUF Gaming AX6000. With the Router App, you can virtually setup the router, configure it as you see fit, and also access additional features. This also means that you don't need to directly connect a PC to setup more advanced features such as the ASUS AiMesh
The Beauty Of ASUS AiMesh
Mesh-merizing
If you are looking to upgrade from an ASUS router, chances are you can still use your old router to compliment your new one. If you partner the TUF Gaming AX6000 with compatible ASUS routers, you can virtually eliminate blind spots in your house by using your old one as part of a mes. This can be useful if you live in a large house or if you have incredibly thick walls and would want access to one network across your place.
Easy To Setup Mesh
To test the setup, I specifically used the ASUS Router App to run things. For my mesh node, I used the ASUS RT-AX53U. Setup out of the box wasn't as quick as I would have thought as I also have to update all routers for them to be part of the wireless mesh. After updating the firmware of all involved routers, you need to reset your mesh node to its factory settings. Once done, start the second router as normal and use the app to access it via the main router which is the TUF Gaming AX6000. Once setup is done, you can place your router node at anywhere in your household provided that it can still get signal from your main router.
TUF Gaming AX6000 Review – Verdict & Conclusion
The Good – Great Hardware With Good Features
As with ASUS Routers, you do get a lot the higher the price tag (obviously!) But then again, the TUF Gaming AX6000 is a pretty decent router when it comes to performance. It has lots to offer in terms of features and you do get to enjoy faster speeds.
Can Be A Bit Overkill
As with routers of this price range, the TUF Gaming AX6000 can be a bit too much for your average household. If you're in a condominium, you're likely to get more of your money with the likes of the ASUS TUF Gaming AX3000 or the ASUS RT-AX53U. However, you might find the additional features and added hardware oomph if you plan on using it for a small office or a fairly large household.
The Good – Easy To Setup
Although not a unique feature of the TUF Gaming AX6000, the ease of setting this router up is astounding. You can just pull it out of the box, plug it, and connect any wireless device to it and you're good to go. Setup is fast and easy to understand and there's no need for complex understanding of wireless and wired connections to get this thing running. Using the ASUS Route App helps but you can also do away with it to proceed with the setup. Highly recommended for those that are looking for easy to setup routers.
A Great Router To Have
With all things said, the ASUS TUF Gaming AX6000 is a great product. ASUS Routers are definitely on a roll these days and this is one of their better ones, albeit more expensive. The router offers quite a lot of modern tech followed with their traditional offerings from their previous generation routers. The router is also primed for mesh setup, making a good starting point or a decent upgrade for existing wireless environments.
TUF Gaming AX6000 Review – Pricing & Availability.
The TUF Gaming AX6000 is currently available here in the Philippines. It has an SRP of PhP 11,000.

For those looking for a more affordable alternative, check out our ASUS TUF AX3000 Review or ASUS RT-AX53U Review. If you fancy a much more powerful router, you may opt to go and read our review of the ROG Rapture GT-AX6000.
For more information about the ASUS TUF Gaming AX6000, read the official product page.