The Republic of Gamers motherboards might be at the center stage of ASUS' lineup but its Creator series is quickly becoming the board among some enthusiasts. The ASUS ProArt Z790 Creator WiFi sits at the top of the range with its robust set of features including fast networking and plenty of local storage options for dumping assets on top of the usual ASUS performance support but without the eye-watering price tag of similarly-featured motherboards.
ASUS ProArt Z790 Creator WiFi – Specifications
| | |
| --- | --- |
| CPU Support | Intel 13th Gen Raptor Lake, 12th Gen Alder Lake, LGA 1700 |
| Chipset | Intel Z790 |
| VRM | 16+1 Teamed Power Stages, Digital Power Design with DrMOS |
| Memory | DDR5, 4x DIMM Slots, Up to 7200MHz, Up to 128GB, Dual-Channel, XMP, OptiMem II |
| PCIe Slots | 2x PCIe 5.0 x16 (CPU), 1x PCIe 4.0 x16 (x4, Chipset) |
| Storage | 1x M.2 PCIe 4.0 x4 (CPU), 2x M.2 PCIe 4.0 x4 (Chipset), 1x M.2 PCIe 4.0 x4 (SATA, Chipset), 8x SATA III |
| Audio | Realtek S1220A 7.1 CODEC, Premium Audio Capacitors, Dedicated Audio PCB Layers, Audio Cover |
| Networking | Marvell Aqtion 10Gb Ethernet, 1x Intel 2.5Gb Ethernet, ASUS LANGuard, 2×2 WiFi 6E, Bluetooth 5.3 |
| Power Connectors | 1x 24-pin ATX, 8-pin 12v, 4-pin 12v, 6-pin 12v |
| Internal Headers | 1x USB 3.2 Gen 2×2 Type-C, 1x USB 3.2 Gen1 (2x USB 3.2 Gen1), 2x USB 2.0 (4x USB 2.0) |
| Cooling Headers | 1x 4-pin CPU Fan, 1x 4-pin CPU OPT Fan, 1x 4-pin AIO Pump, 5x 4-pin Fan |
| Other Headers | 3x Addressable Gen2, 1x AURA RGB, 1x Clear CMOS, 1x COM Port, 1x CPU Over Voltage Jumper, 1x Front Panel Audio, 1x M.2 E-Key, 1x SPI TPM, 1x 20-3 pin System Panel, 1x Thermal Sensor |
| Rear I/O | 2x Thunderbolt 4 Type-C, 6x USB 3.2 Gen2 Type-A, 2x DisplayPort, 1x HDMI, 1x ASUS WiFi, 1x Marvell Aqtion 10Gb Ethernet, 1x Intel 2.5Gb Ethernet, 5x Audio Jack, 1x BIOS Flashback |
| Form Factor | ATX |
| Others | Q-LED Reader, Q-DIMM, Q-Slot, M.2 Q-Latch, PCIe Slot Q-Release, Pre-Mounted I/O Shield, M.2 Heatsink |
Intel 13th Generation Raptor Lake Desktop Processors
The Intel 13th Generation processors are based on the new Raptor Lake microarchitecture. It still comes from the same Intel 7 or 10nm Enhanced fabrication as Alder Lake CPUs from last generation. Despite their similarities, the company has managed to cram in a couple of improvements including up to 900MHz higher clock speeds and increased IPC.
Core count it split between Performance Cores (P-Cores) and Efficiency Cores (E-Cores). Its P-Cores are based on Raptor Cover that delivers improved IPS and up to 15% single-threaded uplift. Intel has also enhanced its hardware prefetcher for its dedicated larger 2MB L2 cache per core for better performance.
On the other hand, its E-Cores remain largely unchained from Alder Lake as it still uses Gracemont cores but now come with higher frequencies, larger L2 cache of up to 4MB, and an updated L2 cache prefetcher algorithm.
Aside from L2 changes, Intel has increased the shared L3 cache among the range with capacity now reaching 36MB on i9s, 30MB on i7s, and 24MB on i5s. Its hybrid architecture is further enhanced with the scheduler improvements implemented on Windows 11 22H2.
The Intel Core i7-13700K specifically comes with comes with 8 P-Cores and 8 E-cores that totals to 24 threads for the whole CPU. Intel rates its Turbo 3.0 speed up to 5.4GHz with a base clock on its P-cores resting at 3.40GHz.
These new chips also come with increased core voltage directly tied to their higher frequencies. Both the 13th Generation i7 and i9 chips are now rated with boost TDPs of 253W while i5 parts are rated at 181W.
The increase in voltage, frequencies, and developments in L2 cache gives the Intel 13th Generation processors up to 41% gain in multi-threaded performance and up to 15% in single-threaded loads.
LGA 1700 and 700 Series Platform
Alongside the Intel 13th Generation processors are the new 700 series motherboards – with the Z790 chipset being the flagship among them. The processors are still using LGA 1700 so they will still be compatible with 600 series motherboards so long as AIB partners are releasing updated BIOS for their boards as well as existing coolers in the market.
Like before, Intel will still be supporting both DDR4 and DDR5 memory kits. This should bring down the entry cost for anyone who might be upgrading to their new CPUs but still want to use their DDR4 RAM on their builds.
At this time, Intel has only released the Z790 series motherboards but we can expect H and B variants of the 700 series chipset sometime in the future. Its flagship chipset comes with plenty of goodies including PCIe 5.0 connectivity, 20 PCIe 4.0 lanes, 8 PCIe 3.0 lanes, plenty of high-speed USB 3.2 ports, WiFi 6E support, and native 2.5G Ethernet support.
ASUS ProArt Z790 Creator WiFi – Unboxing
The ASUS ProArt Z790 Creator WiFi deviates from its kin in terms of packaging by its clean-looking dark box. The contents are primarily protected by cardboard. The board is flanked by a sizeable number of accessories. These include: a manual, driver CD, WiFi antenna extension, DisplayPort cable, a breakout connector for its front panel I/O, two M.2 Q-Latch screws, a screw rubber cover, and four SATA cables (two straight, two 90° bend). The company is even throwing in a ProArt-themed mini ruler.
ASUS ProArt Z790 Creator WiFi – Up Close
The minimalist design language is still applied to the board itself. ASUS is using a plain black with bronze highlights color scheme on the ProArt Z790 Creator, which gives off a more professional look compared to other motherboards. There are no built-in RGB lights, so you're going to have to add your own if you want fancy lights.
The VRMs are cooled by two massive chunks of aluminum to dissipate heat. With boost TDPs reaching up to 253W at stock, the 16+1 Teamed Power Stage VRMs will need quite a bit of cooling with that amount of power flowing through them.
Just above the heatsinks is an 8+4 12v EPS connector for CPU power. It's not going to have as high a power ceiling as 8+8 setups in other boards but you should still be able to get ample power for most supported CPUs. This shouldn't matter for most end users aside for hardcore overclockers.
You will get access to 4 DDR5 DIMM slots over at the side supporting speeds of up to 7200MHz and capacities of up to 128GB. They do sport ASUS' Q-DIMM, which means that you will only need the latches at the top to secure RAM kits to the board.
ASUS is providing two PCIe 5.0 x16 slots with metal reinforcements that get their PCIe lanes directly from the CPU. Spacing between them is pretty large, which should allow you to fit in two 2.5 slot GPUs for rendering work. There's also an additional x16 slot near the bottom that runs PCIe 4.0 x1 for other add-in cards.
Only the top slot comes with PCIe Slot Q-Release as its lock is often blocked by large air coolers making changing GPUs a hassle. You can now just press the large button near the DIMM slots to unlock the PCIe latch.
Its four M.2 slots are conveniently placed near the x16 slots. All of them are limited to PCIe 4.0 x4 speeds and there are no PCIe 5.0 M.2 support for the board. Every slot has their own aluminum heatsink for barebones M.2 SSDs. They also come with Q-Latch so you can lock your SSD into place without using screws. Their shielding do have screws but they are captive ones so losing their screws is nearly impossible.
Just beside the PCH are six SATA III ports for bulk storage like 3.5-inch drives. They are angled to the side for easier cable management. Two more SATA III ports are placed at the bottom of the board. Two of the eight share a PCIe lane with one of the M.2 slots so if you populate all M.2 drives, you will only get access to six SATA III ports.
ASUS is pre-installing the shield for the I/O ports but its worth mentioning that their internal shield and the audio shield are only made out of transparent plastic. We think that something opaque would be more suitable for the board especially with its minimalist aesthetic.
The rear I/O has plenty of connectivity even for power users. At the top are two DisplayPort inputs and an HDMI out. There are a 10Gbps and 2.5Gbps ethernet ports, which should be plenty for both high-speed Internet connections and network-attached storage. Two Thunderbolt 4 USB-C ports are at the sides and there are a total of six USB 3.2 Gen2 Type-A ports for fast transfers. The bottom houses headers for the WiFi antenna, six 3.5mm audio jacks, and a BIOS flashback button.
Internal Headers and Buttons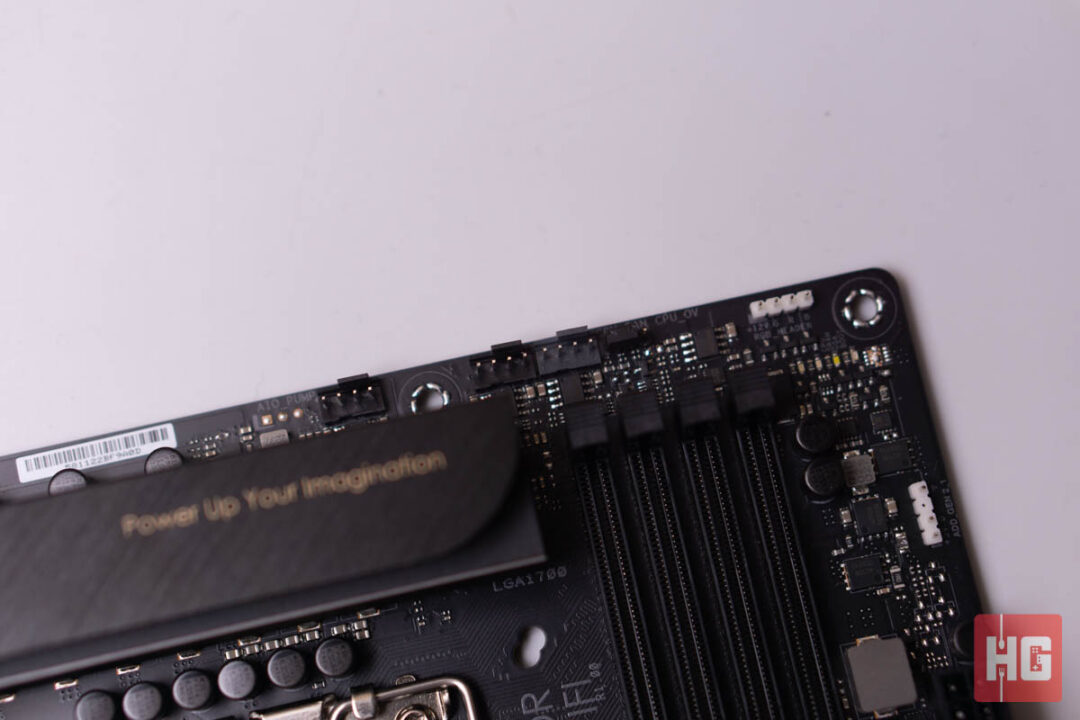 Right at the top of the board are four 4-pin fan headers for CPU Fan, CPU OPT, and AIO. Beside them is a CPU-OV jumper for the CPU. Putting the jumper in the pins 1 and 2 is the default settings while placing it at pins 2 and 3 unlocks higher voltages for the CPU to increase clock speeds. Near the edge is a 4-pin AURA Sync RGB header.
The middle of the board houses an addressable Gen2 RGB header, 24-pin power connector, 6-pin connector, a USB 3.2 Gen2x2 Type-C header, and a USB 3.2 Gen1 header which breaks out to two ports for the front panel. Oddly though, there are two 4-pin headers just below the CPU socket.
As usual, the bottom of the board contains most of its headers. Here you get access to front panel headers, front panel audio, two USB 2.0 headers for four USB 2.0 ports, two addressable Gen2 RGB headers, and three more 4-pin fan headers for cooling. You also get a jumper for Clear CMOS, TPM 2.0, and headers for thermal sensors.
System and Overclocking
The ASUS ProArt Z790 Creator WiFi is based on the Intel 700 series platform. As such, we will be using an Intel Core i7-13700K with a Kingston Fury DDR5 6000MHz RGB in our benchmarks as well as an ASUS TUF Gaming RTX 3080 10G for gaming. See the list below for the complete list of components in our testing
CPU: Intel Core i7-13700K
Motherboard: ASUS ProArt Z790 Creator WiFi
PSU: EVGA 650 GQ Gold 650W
Cooler: MSI MAG CoreLiquid K360
OS: Windows 11
The motherboard is able to push our i7-13700K to reach 5.5GHz and 4.4GHz on all P-Cores and E-Cores, respectively, when overclocking with voltages of 1.35v. Not too shabby but the processor will pull in around 270W of power when fully loaded.
As with most of our components reviews, benchmarks will include synthetic, rendering, compression and decompression, and gaming benchmarks. Our review will also share the benchmarks found on our review of the Intel Core i7-13700K as it was the processor used for testing.
CPU Benchmarks
CPU-Z Benchmark 17.01.64
7-Zip 16.04
wPrime v2.10
Cinebench R15
Cinebench R20
Cinebench R23
Blender 2.82a
Gaming Benchmarks
Synthetic Benchmarks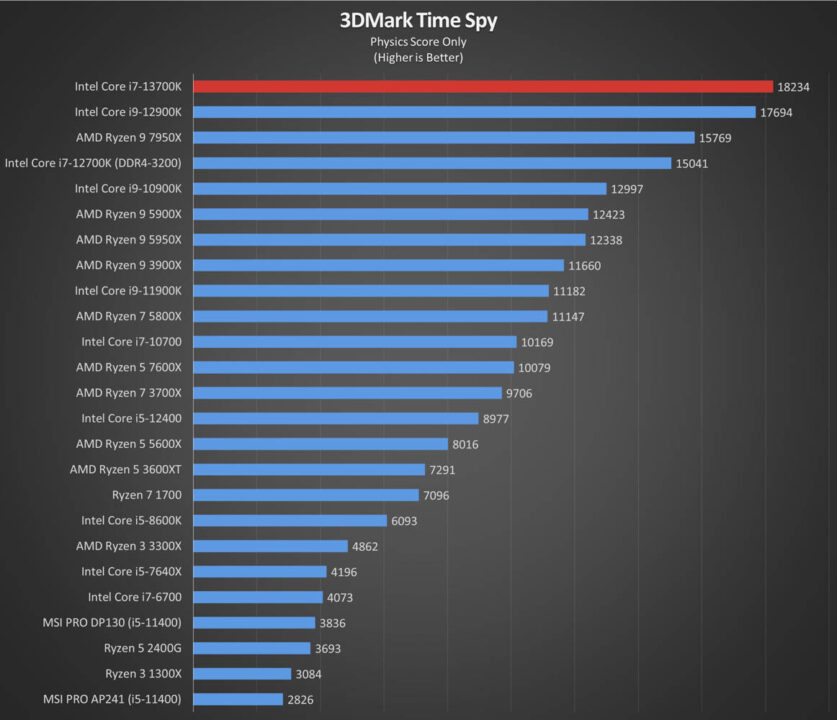 1920 x 1080
2560 x 1440
3840 x 2160
ASUS ProArt Z790 Creator WiFi Review – VRM Temperature
The large aluminum heatsinks for the VRMs does wonders for their temperatures. Under stock conditions, heat peaks at around 57°c under rendering workloads. Even at 5.5GHz on P-Cores at 1.35v when overclocked, temps never reach more than 63°c.
ASUS ProArt Z790 Creator WiFi Review – Conclusion
The ASUS ProArt Z790 Creator WiFi is positioned as a high-end motherboard and performs as such. It offers performance, tons of features, and a design that caters more to professionals. The inclusion of high-speed connectivity like 10Gbps and 2.5Gbps ethernet is a lifesaver for any creative linked to a storage network while speedy USB and Thunderbolt 4 ports allows fast transfers to and from local media.
Its PCIe 5.0 x16 slots are thoughtfully spaced to give editors and creatives the space for dual GPUs for GPU-specific workloads. Storage options are plenty and M.2 storage is fast but the platform's lack of PCIe 5.0 x4 NVMe support does stop from being future-proof when the faster PCIe 5.0 M.2 drives hit the market. Its price of USD 469.99 (around PhP 26,000 when directly converted) might also be a turn off for some people looking for a minimalist but modest motherboard.
The ASUS ProArt Z790 Creator WiFi is a great deviation from the usual design language that ASUS and even its competition offers. Be it for PC enthusiasts, creatives, or power users, it has all of the features you would ask for in a high-end motherboard, which is why we are giving it our seal of approval.
ASUS ProArt Z790 Creator WiFi – Price and Availability
The ASUS ProArt Z790 Creator WiFi has yet to officially arrive in the Philippines. Globally, the board is priced at USD 469.99 (PhP 26,000 when directly converted). The company is offering other Z790 motherboards for Intel's 13th Generation processors starting at PhP 14,320.
You can get ASUS' range of Z790 motherboards and other devices through their official Lazada and Shopee stores, physical concept stores, and authorized retailers nationwide.