Good keyboards lead to good outputs. This is what I can say after using several good keyboards in the past couple of days. Again, we're back with another ASUS ROG keyboard. This time, we're going to review the ASUS ROG Falchion, a 65% wireless mechanical keyboard. It's small, light, and easy to handle but is it good? Let's find out!
ROG Falchion Review – Specifications
Key Switches / Keycap Material

Cherry MX Blue, Cherry MX Red / PBT

Connectivity
USB 2.0
RF 2.4GHz
Size (Full/TKL)
65%
Lighting
AURA Sync
Yes
Macro Keys

All Keys Programmable On-the-Fly Recording Support

Profile Hot Keys

Fn + 1 / 2 / 3 / 4 / 5 / 6*
*6 is default

Lighting Effects Hot Keys
Brightness Setting Hot Keys

Fn + Up: Brightness up Fn + Down: Brightness down

Macro Hot Keys

On-the-Fly Macro Recording

Software
Armoury Crate
Weight
Dimensions

305 X 101 X 38.5 mm (keyboard)

Box Contents

1x ROG Falchion, 1x Keyboard Cover, 1x Technical Documents, 1x USB Type-C Cable, 1 x USB-C to USB-A adapter, 1 x ROG Stickers
The one we have for review uses Cherry MX Red.
ROG Falchion Review – At A Glance
ASUS ROG Falchion's Notable Features
Wireless Mechanical Keyboard
This is ASUS ROG's first wireless mechanical keyboard. Usually, whenever we hear wireless, we tend to think that it's more of a gimmick rather than something practical. This is true especially if you need something for gaming as you need your presses to seamlessly communicate with the PC as fast as possible. Surprisingly, ASUS upped their game as despite being wireless, there's no evident lag or anything of the sort while I was using the ROG Falchion.
2 Devices At A Time
This also means that this device can be used with 2 devices at a time. You can have it connected via wire to one device and to another one via its wireless dongle. If you need to switch between the 2 devices, you can simply toggle using the switch located on the top of the ROG Falchion.
Left-Hand Side LED & Touch Panel
One thing very noticeable is the ROG Falchion's left-hand LED. It displays the battery level of the ROG Falchion and is quite noticeable (unlike a more expensive keyboard). It shows 3 levels and it changes color for each battery level.
Just right beside it is a touch panel that also acts as the volume control for your PC. While you can just roll your finger to either increase or decrease the volume, you can also just tap the top-most and bottom-most part to do to it in increments. While not necessary, it is still a nifty addition.
ROG Falchion – User Experience
Where Are The Other Keys?
For the uninitiated, the ROG Falchion is a 65% keyboard with 68 keys, way less than the standard 100% with 101~105 keys. To make it simpler: it's a shorter and more compact keyboard. There are various reasons why you'd use this, one of which is definitely space. The other is mobility as some users like to bring their daily driver with them to either work or play.
Oh, and where are the other keys? They have been "replaced" by remaining keys on the board. To reproduce these missing keys, you can hold down the Function Key while pressing another button. This leaves you with less keys without having to basically limit your keyboards functionality. However, this can be pretty annoying if you want to use button combinations such as full-screen screenshots. On a conventional keyboard, you can press the Windows Key and Print Screen to take a shot of your whole screen. Here, you must press the Windows Keys + Fn + P for that and it doesn't work. While you can replicate it using Macro Keys, it does remove the meaning of "hotkey" .
AURA Sync & RGBs
If you're full-on an ASUS fan complete with ASUS devices to power up your rig, you'll be happy to know that the ROG Falchion is compatible with the ROG Armoury Crate. Armoury Crate is an all-around program for all your ASUS ROG and TUF devices. It can help you in setting up a theme for your RGB, set Macros, or even know the basic stats of your PC. Part of its features include AURA Sync, ASUS proprietary RGB feature that synchronizes all compatible parts' RGBs to match the theme of your PC. The lights can be set to follow a pattern, color, or just go wild and random.
Can You Actually Bring It With You?
Yes. The ROG Falchion's size is just 500g or 1.1lbs and can be easily stowed inside a bag. It's not cumbersome and you can even leave the USB cable (which I definitely do not recommend) if you feel like traveling light. The polycarbonate keyboard cover is a must-have for traveling as it protects the keys and the board when in transit.
Polycarbonate Cover Is Not Just A Cover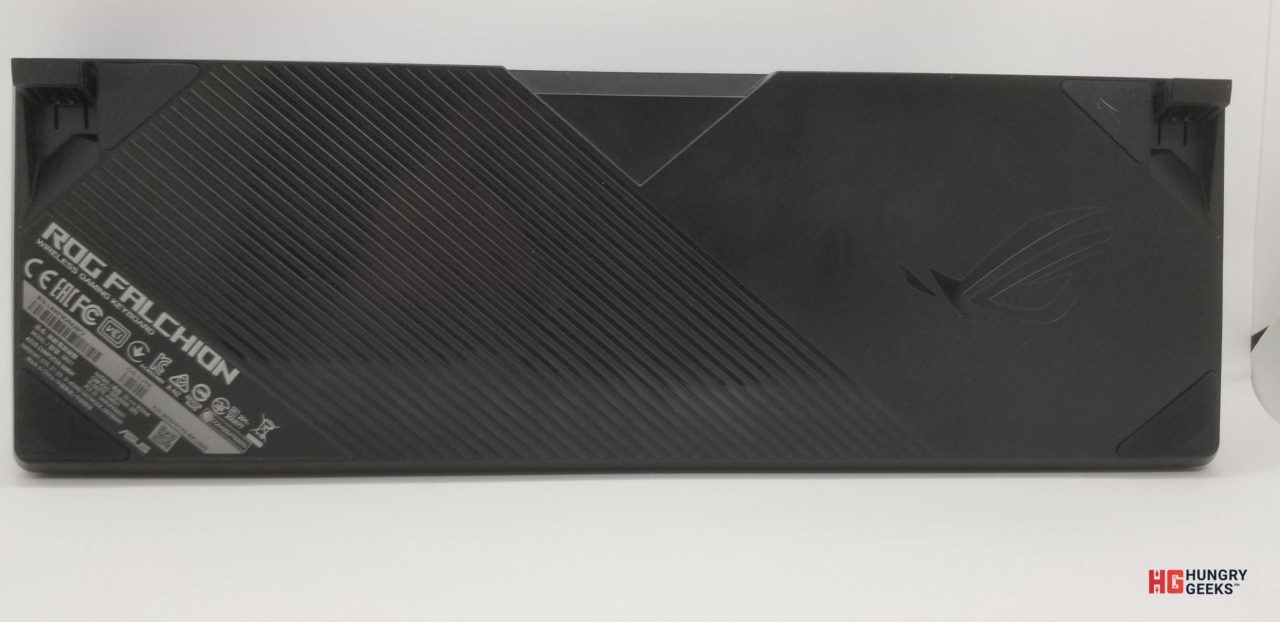 Aside from acting as a nest for the ASUS ROG Falchion, the polycarbonate cover can also act as a base. This saves space as you don't have to separate the cover from the keyboard itself when you unpack. Also, ASUS designers have thought about the other functions of the keyboard when making the cover. The cover has openings for the USB slots and the side touch panel, leaving you able to use them even when using the cover.
It's also worth noting that the cover itself doesn't feel cheap. It feels a bit robust and bends quite a bit when forced but not enough to warrant alarm.
ROG Falchion Review – Incredible Daily Driver
I definitely enjoyed my time with the ROG Falchion. It's compact and small enough to be carried around, yet it doesn't feel like it shed a couple features usually on gaming keyboards. It's still a full-blown keyboard just made smaller. You still have access to the usual keys like the Function keys and the other ones except the numpad. However, it's a sacrifice that you might be willing to make if you look at the large open space left free once the ROG Falchion is on your table.
To summarize, the ROG Falchion is a pretty good product. It's a keyboard that despite its size, shines literally and figuratively with features. It has a great build and design. Compared to other ASUS ROG products like the ROG Claymore 2 (which is incredibly expensive), the ROG Falchion feels like a fleshed-out device with a clear target market. This is honestly my first time trying out a 65% keyboard and the ROG Falchion is good enough to convince me to look for one after I send this back.
The ASUS ROG Falchion is priced between PhP 7,000 to PhP 8,000. It is available in stores and on online markets here in the Philippines. You can check out more about its features here.
For other gaming keyboards, you can check out our review of the following keyboards: