When it comes to gaming keyboards, you often have to ask, what more could they do? Often times, it's just down to the performance and feel, but what more can you really add to a robust and dependable product? Well, ASUS ROG is at it again and they're back with the new ROG Strix Flare II Animate, a keyboard with a billboard. But is it actually something you should buy or even consider? Read this review to know more!
ROG Strix Flare II Animate Review – Specifications
Key Switch / Actuation
Connectivity
USB 2.0
Size (Full/TKL)

100%

Lighting

AniMe Matrix™ LED display
Per key RGB LEDs
Front underglow lighting

AURA Sync
Yes
Anti-Ghosting
N-Key Rollover
Macro Keys

All keys programmable except Fn

USB Pass through
USB 2.0
Cable
2M braided cable
OS
Windows® 10
Software
Armoury Crate
Weight
Dimensions

Keyboard: 435mm x 165mm x 38mm
Wrist rest: 435mm x 85mm x 27mm

Color
Box Contents

1 x gaming keyboard, 1 x wrist rest, 1 x ROG keycap puller, 1 x ROG switch puller, 1 x ROG sticker, 1 x quick start guide, 1 x warranty booklet
ROG Strix Flare II Animate –

At A Glance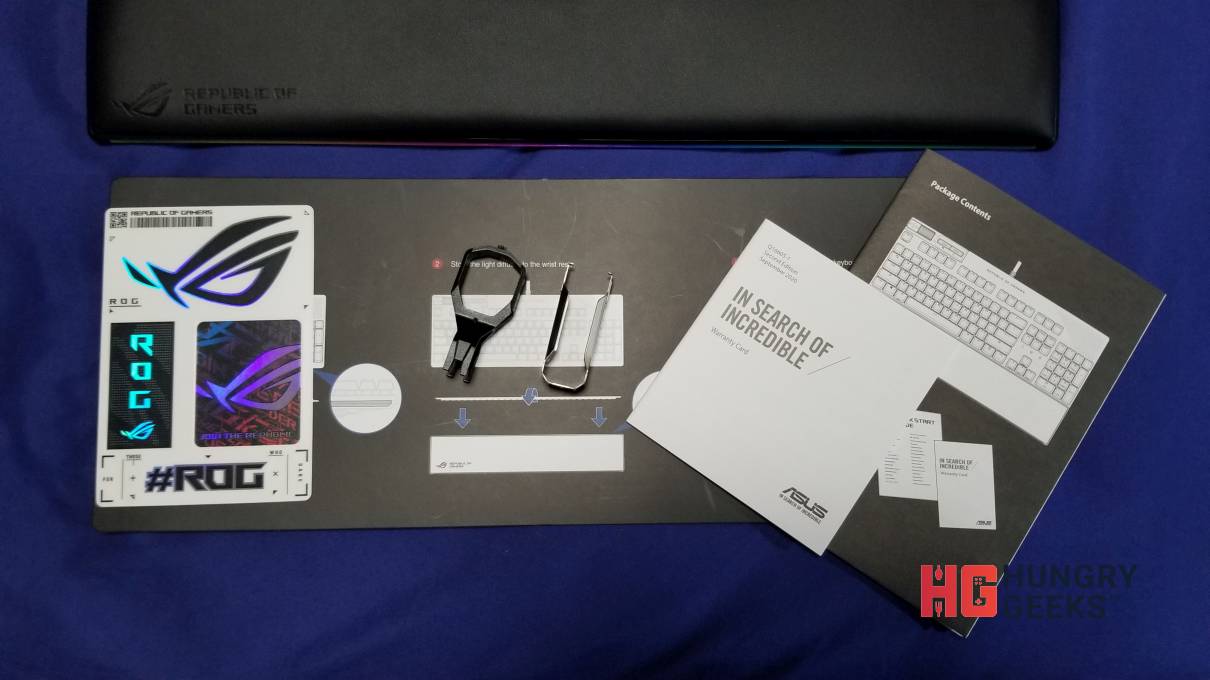 ROG

Strix Flare II Animate

– Notable Features
AniMe Matrix – Your Personal Billboard
First introduced in ROG laptops, the AniMe Matrix is a series of LEDs that you can program to produce images to your liking. You can also have the matrix to display moving objects, system info, or just a very pixelated picture of yourself. Ultimately, AniMe Matrix can be something practical or you can customize it to something to make your keyboard unique.
For notifications, you can cycle it to display the following:
Mail
Time
Alarm
Date
Calendar
You can also adjust the number of seconds you want them to be displayed.
Requires ASUS Armoury Crate
The ASUS Armoury Crate is where you can fully maximize the ROG Strix Flare II Animate's features. Using this application, you can customize the AniMe Matrix, tweak the RGB colors, make keybinds and macros, and more.
Extra Buttons Are Always Welcome
The upper right portion of the keyboard is home to a switch for Previous/Next for videos or music. It also works for Youtube. You also have a roller for the volume with up for increase and down for decrease. Pressing the volume roller mutes your PC's audio. Beside it are buttons for the Windows Key lock and a key to activate or deactivate the ROG Strix Flare II's RGB.
Is It Wired?
Yes, the ROG Strix Flare II Animate is a wired keyboard. The wire is also not detachable. You also need 2 USB ports to fully maximize this keyboard.
Can You Swap The Switches?
Yes. You can customize the switches for this keyboard. No need to open the keyboard as you can use the included tool to pull switches easily. With this, you can even combine different switches!
Has A USB 2.0 Port
Although a bit awkwardly placed, the ROG Strix Flare II Animate has a USB 2.0 port located at the top, just beside the controls for the volume and RGB. You can use this to access files from your phone or even for your mouse. Unfortunately, this port does not come with a lid to cover it up when unused.
User Experience
Responsive With Great Layout
Having tried a number of ROG keyboards and a few TUF ones, I can say that ASUS keyboards are mostly great for typing. The feel of the keys are great and the responsiveness is immaculate even with the ROG Strix Flare II Animate. Keys don't tend to get stuck and there is nothing odd or anything about the the ROG NX switches (aside from the next paragraph). However, this is due to personal preference and as always, I recommend that you try pressing mechanical keyboards a few times before purchasing them to secure your regrets and potentially even your wallet.
The ROG NX Red Problem
I first encountered the ROG NX Red during my review of the great ROG Strix Scope NX TKL. As mentioned, it has some good-to-the-ears clacks and the actuation is low. I'm personally not used to using Red Switches and it took me some time to get used to the low actuation that they present. I had some initial problems with using this one as I often press some buttons by mistake with me not even knowing that I am pressing them down. It's that easy to activate a ROG NX Red switch. A bit frustrating at first as I often idle my hands on top of keys as a habit.
The Wrist Rest Cushion Also Glows
Unlike other premium keyboards out there, the ROG Strix Flare II comes with a wrist rest cushion that also glows. But how? Well, you have the insides of the cushion itself lined with reflectors to "extend" the light, allowing it to look like it's part of the keyboard itself. Definitely classy and also takes advantage of the glowing RGB lights that populate the keyboard. The wrist rest is also magnetically attached to the keyboard and you really have to apply a bit of effort to separate them.
ROG Strix Flare II Animate Review

– Verdict & Conclusion
Incredibly Functional
It is undeniable that the ROG Strix Flare II Animate is a functional mechanical keyboard. None of its features are for nothing. You have easily accessible controls on the upper right part and the AniMe Matrix display to show you statuses and info. Keys are also adequately spaced and the key caps themselves are PBT doubleshot. It also comes with a decent wrist rest. All of these in a single package.
While you can make your own keyboard with the features mentioned above, they do take some time and possibly an incredible amount of effort to replicate. You might as well just buy something like the ROG Strix Flare II Animate to save you the trouble.
But as always, anything with the ROG brand comes at a premium. The ROG Strix Flare II Animate is not a cheap keyboard. But you do get what you pay for here. You also get the added benefit of being able to swap switches should one of your keys fail. All in all, an incredible product with practical features coupled with potential longevity. The ROG Strix Flare II is definitely one of the best gaming keyboards out there.
ROG Strix Flare II Animate –

Pricing & Availability
The ROG Strix Flare II is available in the Philippines and is available in ROG NX Red and ROG NX Blue. It has an SRP of Php PHP 11,390 but can be bought for less than that depending on the store. You can look it up on popular online e-stores like Lazada and Shopee.
For alternatives, you can check out our review of the following keyboards:
To know more about the ROG Strix Flare II Animate, you can check out the official product here.