The ROG Strix XG349C is a gaming monitor released by ASUS under its Republic of Gamers line. With its brand name, you'd definitely be right in expecting something premium. In a way, it's a bit different from what they usually offer as it's a 34-inch ultra-wide display. Thankfully, the guys at ASUS lent us an ROG Strix XG349C to play, test, and review. Is it a good monitor? Should you even consider it? Is it worth the price? Read this review to know more.
ROG Strix XG349C Review – Specifications
Display

Panel Size (inch) :

34.14

Curvature :

1900R

Aspect Ratio :

21:9

Color Space (DCI-P3) :

98%

Panel Type :

IPS

Panel Backlight :

LED

True Resolution :

3440×1440

Display Viewing Area (HxV) :

799.8 x 334.8 mm

Display Surface :

Non-Glare

Pixel Pitch :

0.2325mm

Brightness (Typ.) :

400cd/㎡

Contrast Ratio (Typ.) :

1000:1

Viewing Angle (CR≧10) :

178°/ 178°

Response Time :

1ms(GTG)

Display Colors :

1073.7M (10 bit)

Flicker free :

Yes

HDR (High Dynamic Range) Support :

HDR10

Refresh Rate (max) :

180Hz

Video Feature

Trace Free Technology :

Yes

VRR Technology :

G-SYNC® Compatible

Extreme Low Motion Blur

Yes

I/O Ports

DisplayPort 1.4

x 1

HDMI (v2.0)

x 1

USB-C

x 1

Earphone jack :

Yes

USB Hub :

2x USB 3.2 Gen 1 Type-A

USB-C Power Delivery :

18W

Audio Features
Signal Frequency

Digital Signal Frequency:

HDMI: 31~151 KHz(H) / 48~100 Hz (V)

DP: 31~271 KHz (H) / 48~144 Hz (V) (Normal) 271~271 KHz (H) / 48~180 Hz (V)

(OC) TypeC: 31~183 KHz(H) / 48~120 Hz (V)

Power Consumption

Power Consumption :

<40W*

Power Saving Mode :

<0.5W

Power Off Mode :

<0.3W

Voltage :

100-240V, 50/60Hz

Mechanical Design

Tilt :

Yes (+20° ~ -5°)

Swivel :

Yes (+25° ~ -25°)

Height Adjustment :

0~100mm

VESA Wall Mounting :

100x100mm

Lighting effect (Aura) :

Aura Sync

ROG Light Signal :

Yes

Kensington Lock :

Yes

Dimensions (Approx.)

Phys. Dimension with Stand (W x H x D) :

815 x (411~511) x 279 mm

Phys. Dimension without Stand (W x H x D) :

815 x 366 x 142 mm

Box Dimension (W x H x D) :

887 x 469 x 329 mm

Weight (Approx.)

Net Weight with Stand :

9.2 Kg

Net Weight without Stand :

5.6 Kg

Accessories (varies per region)

Color pre-calibration report

DisplayPort cable

HDMI cable

Power adapter

Power cord

Quick start guide

ROG sticker

USB Type-B to A cable

USB-C cable

Warranty Card

Wall-Mount Spacer Screw x4

Certificate

TÜV Flicker-free

TÜV Low Blue Light

VESA DisplayHDR 400

G-SYNC Compatible
ROG Strix XG349C Review – At A Glance
Apologies for the dust. We've been using this monitor for months to thoroughly review it.
Stand
ROG Strix XG349C Ports
The ports of the ROG Strix XG349C are located just behind the display itself. On the right are the ports for power, DP, and HDMI. Across the isle are ports for the USB hubs, the 3.5mm earphone jack, and USB-C Power Delivery. The ports can be covered up with a removable plastic panel.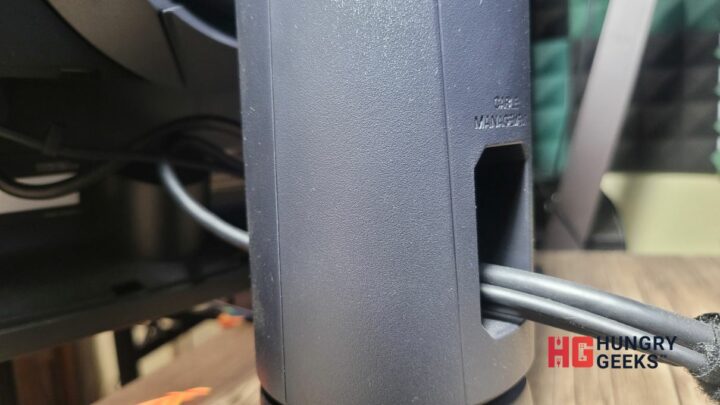 You can also make use of the hole near the bottom of the stand to bundle cables for a clean setup.
Comes With RGB
The ROG Strix XG349C adds more lights to the party as it comes with RGB lighting. You can configure the color and the behavior of its lighting via the on-screen menu. If you also have other ASUS products with RGB, you can have the XG349C go in sync with the other colors via the ASUS Armoury Crate app.
ROG Strix XG349C Review – Performance
For performance and calibration, we used the X-Rite i1 Display Pro. Data and tables displayed below were taken using the aforementioned tool. Below the Color Gamut are various tests for refresh rates, MPRT, etc. You can test your own display's capabilities using the handy tools provided on www.testufo.com.
Color Gamut
Target
Achieved
White Point
CCT: CIE Illuminant D65K
u': 0.198, v': 0.468
CCT: 6527K
u': 0.198, v': 0.468
Black Point
Unique Value
0.442cd/m2
Brightness
400 cd/m2
397 cd/m2
Gamma
Unique Value
899.643.1
Frame Rate & Refresh Rate
The ROG Strix XG349C is advertised to run with 180Hz but you have to tweak it a bit to get this refresh rate. Out of the box, the monitor comes with only 144Hz and you have to overclock it to get the promised 180Hz. Cranking the settings up allows you to stably enjoy the 180Hz refresh rate but at the cost of additional power.
You can test your own monitor's frame rate and refresh rate using BlurBuster's UFO Motion Tests.
Frame Skipping
Results after overclocking to 180Hz. The monitor was able to display straight gray cells without any gaps.
You can test your own monitor using BlurBuster's Frame Skipping test.
MPRT
The result of the MPRT is near to the 1ms response time being claimed by ASUS for the ROG Strix XG349C.
You can test your own monitor's MPRT using BlurBuster's MPRT test.
ROG Strix XG349C Review – User Experience
My Eyes Burn With Beautiful Images
When it comes to brightness and color, the ROG Strix XG349C is a champ. Images are incredibly crisp and there's nothing left to want especially if you set it to its highest resolution. However, the brightness can be too much for the eyes. To counter this, I used the built-in Blue Light Filters to make the colors warmer and the eye-strain more manageable.
Large ROG Stand
The ROG Strix XG349C comes with the familiar ROG tripod-style stand. It looks cool if you have the space for it, but for one with limited space, it's a nightmare. Each front-facing foot is 32cm (12.6in) long and can really obstruct a cramped desk. While I can still use it without any problems, the feet are so long that it somewhat restricts my mouse movement. Again, this monitor is not friendly to those with small tables.
Wide & More Space, Better Productivity
With its wide-screen orientation, the ROG Strix XG349C offers a large workspace for its user. You can definitely use this while having two browser windows open at the same time without having to sacrifice text size and readability. It also helps that you can edit spreadsheets while browsing or watching videos on Youtube. If you prefer a monitor with a large enough space and without you buying an extra one, then the ROG Strix XG349C is something to consider.
Adjustable Height & Angles
Although I admit to hating ROG stands, they do offer a lot of options when it comes to orientation. You can easily adjust the ROG Strix XG349C's screen height and angle without expending too much strength to do so.
It's Not Hot
Contrary to most gaming monitors, the ASUS ROG XG349C is not a hot display. You can touch its backside and you won't feel any heat even if the settings are set to the highest and the refresh rate overclocked.
Audio Is Not That Good
If you are looking for a monitor to be the be all end all type, the audio side of the ASUS ROG Strix XG349C is not something to write home about. To put it bluntly, it's weak. Even if you run it in a quiet room, the thing's audio reproduction is just bad. Best get a headset or speakers if you plan on playing with this monster.
ROG Strix XG349C Review – Verdict & Conclusion
The Good: Image Quality Is Superb
The ROG Strix XG349C is capable of producing superb colors and bright images without need for much configuration. It does so immediately out of the box and you do get more with its built-in features. The screen is incredibly bright and images are highly detailed and crisp.
Unfortunately, the downside is that it can be incredibly harsh to the eyes after lengthy periods. The brightness can cause strains that can hurt if you stare at anything white for too long (just like writing this review!) Thankfully, ASUS has equipped this monitor with Blue light filters that you can configure should you find yourself using it for extended periods of time.
The Good: 180Hz Refresh Rate With G-Sync
If you have an Nvidia Graphics Card, then the XG349C's G-Sync capabilities are at your disposal. On the other hand, if you have an AMD graphics card, then you're better off with other gaming monitors that take advantage of FreeSync, like the ASUS ROG Strix XG32VQR.
The Bad: ROG Stands Take Too Much Space
One thing I'm pretty particular about is the stands of these ROG monitors. Although cool looking, they're not practical as they take up too much space. This problem is why I prefer the simpler and more practical stands that come with TUF monitors. If you do not have much desk space, then you'd be scrambling for space if you use this monitor. Should you find yourself thinking of buying the ROG Strix XG349C, then best get a tape measure and start taking into account your the size of your desk first.
Incredible Monitor, Super Visuals
There's no doubt about it. The ROG XG349C is an incredible gaming monitor that can deliver for both play and work. The large workspace allows you to have enough space for working on two windows concurrently. Also, the refresh rate is not something to scoff at. 180Hz at this size is definitely something worthy of praise. For brightness and color reproduction, I've asked friends to come and see and all were amazed by how crisp and detailed things can be despite this monitor's size. All in all, if you're looking for a wide-screen experience for gaming without having to compromise on certain qualities, then the ASUS ROG Strix XG349C is your best bet.
While this monitor may look wide and more than enough, I've been told that there's something bigger. Perhaps ASUS has something wider and larger than this one? That review will have to wait.
ROG Strix XG349C Review – Price & Availability
The ROG Strix XG349C is a pretty pricy gaming monitor and is available here in the Philippines. It has an SRP of PhP 69,690. In my opinion, it's worth the price given that you get space enough for two gaming-quality monitors.

Visit the official ROG Strix XG349C product page here.
For other monitor reviews that we've done in the past, check out the reviews below: