The AMD Radeon RX 6800 finds itself in a strange middle ground between the RX 6800 XT and the much more wallet-friendly RX 6700 XT. It does keep the same Navi 21 GPU inside but some of its processing power has been cut down to separate itself from its bigger brother. Despite these cuts, can the RX 6800 XT perform against its competitors?
AMD Radeon RX 6800
| | |
| --- | --- |
| GPU | Navi 21 |
| Architecture | RDNA2 |
| Manufacturing Process | 7nm TSMC |
| Boost Clock | Up to 2105MHz (Boost), Up to 1815Mz (Game) |
| Shader Processors | 3840 |
| Texture Units | 240 |
| ROPs | 96 |
| Compute Units | 60 |
| Raytracing Cores | 60 |
| Memory | 16GB GDDR6, 16Gbps |
| Memory Bus | 256-bit |
| Infinity Cache | 96MB |
| TDP | 250W |
| Power Connectors | 2x 8-pin PCIe |
| Display Connections | 2x DisplayPort 1.4a, 1x HDMI 2.1, 1x USB Type-C |
The RDNA2 Architecture
AMD's RDNA2 architecture, also known as Big Navi, is essentially the next evolution of RDNA introduced with the Radeon 5000 series. It still uses a 7nm lithography while becoming more efficient than its predecessor. Their new generation GPUs are also boasting GPU clock speeds well beyond the 2000MHz mark, which should deliver faster performance across the board.
Overall, AMD is promising up to 54% gain in performance-per-watt thanks to clock enhancement, frequency increase, and varying optimizations. In the case of the RX 6800, AMD has shaved a bit of processing power to separate itself from its XT variant. Due to this, it has also been positioned at a slightly lower SRP of USD 579.
Infinity Cache
One of the solutions that AMD implemented on RDNA2 is the usage of the Infinity Cache. Not to be confused with the Infinity Fabric found on their CPUs, Infinity Cache uses a 128MB cache on the die itself in order to bridge the size between of the VRAM and the traditional L2 cache found on GPUs. This allows for better bandwidth, lower latency, and faster memory access.
Smart Access Memory
Transfers between the CPU and GPU are normally limited to a 256GB chunk. AMD's Smart Access Memory (SAM) combines the memory of the CPU and GPU to increase that limit to reduce buffering and latency. AMD claims that SAM provides up to 10% of additional framerate to games but this increase is much more noticeable to higher resolutions.
At this time, this feature is only compatible between the RX 6000 series GPUs and Ryzen 5000 series processors on X570 boards. AMD, however, is working hard to have it compatible with NVIDIA and Intel platforms.
Ray Tracing Support and FidelityFX Super Resolution
Big Navi will officially support ray tracing in games albeit in a lesser extent compared to the competition's latest offerings. AMD is implementing dedicated RT cores on RDNA2-based GPUs in order to improve performance of ray tracing effects.
Deep Learning Super Sampling (DLSS) employs the use of AI and machine learning to render games at a lower resolution and outputs them at a higher resolution without sacrificing details. This means that you get the detail found on higher resolutions while still maintaining higher frame rates. At this time, however, DLSS exclusively works on select NVIDIA GPUs. AMD, on the other hand, is working on their own alternative called FidelityFX Super Resolution.
Details are still sparse on the FidelityFX Super Resolution as it is currently in development. But AMD will be making it fully open source in order to allow developers to more easily implement them on any GPU. This also allows the technique to be available to consoles as they largely use the same architecture.
Up Close with the AMD Radeon RX 6800
The AMD Radeon RX 6800 shares the same reference design as the RX 6900 XT. It is now using a matte silver and black design instead of the completely gray aesthetics from last year. There are red accents that run through the length of the card at the side as well as its Radeon logo painted in a deep red.
The RX 6800 does sport a lower 250W TDP than the 6800 XT and 6900XT but AMD has deemed the card fit to come with triple fans. It also has a heatsink with tons of fins that run through the length of card to keep its components' temperature in check.
Its backplate is a simple block of brushed aluminum painted with a silver finish. Again, it looks nice and adds to the minimalism of this generation's design but the aesthetic is interrupted by the serial stickers. AMD is also using the backplate to passively cool down the components directly below it.
The RX 6800 comes with two standard 8-pin PCIe connectors, which will be compatible with any decent PSUs. Not too much out of the ordinary here, but we have to give kudos to AMD to sticking to an industry standard instead of NVIDIA's 12-pin connector on their FE cards.
The rear of the RX 6800 houses all of its display connections, which includes two DisplayPort 1.4a ports, a single HDMI 2.1 port, and a solo USB Type-C port. Again, the USB Type-C port might be a fine addition but we would have liked to have another DisplayPort instead.
System and Benchmarks
The AMD Radeon RX 6800 will be put to the test by various software including synthetic benchmarks as well as various games that use DX11, DX12, and Vulkan. Ray Tracing will also be used on games that support it though vendor-exclusive features like DLSS, Hairworks, and such will be turned off for parity.
Hardware used for our testing for the tests are as follows:
CPU: AMD Ryzen 7 5800X
GPU: AMD Radeon RX 6800
Motherboard: ASUS ROG Strix X570-E Gaming
PSU: EVGA 650 GQ Gold 650W
Cooler: MSI MAG CoreLiquid 360R
OS: Windows 10 Build 20H2
Driver Version: Adrenalin 21.4.1 WHQL
Synthetic Benchmarks
3DMark Fire Strike
3DMark Time Spy
Port Royal
The RX 6800 sits comfortably in the middle of its nearest competitors, the RTX 3080 and RTX 3070, in synthetic benchmarks. It even surpasses the former at 1080p and 1440p versions of Fire Strike only falling to it at 2160p.
Straightforward benchmarks are easy as with its Navi siblings but once Ray Tracing is introduced in Port Royal, framerates and its scores immediately tank and left behind by the current offering of NVIDIA.
Gaming Benchmarks
1920 x 1080
2560 x 1440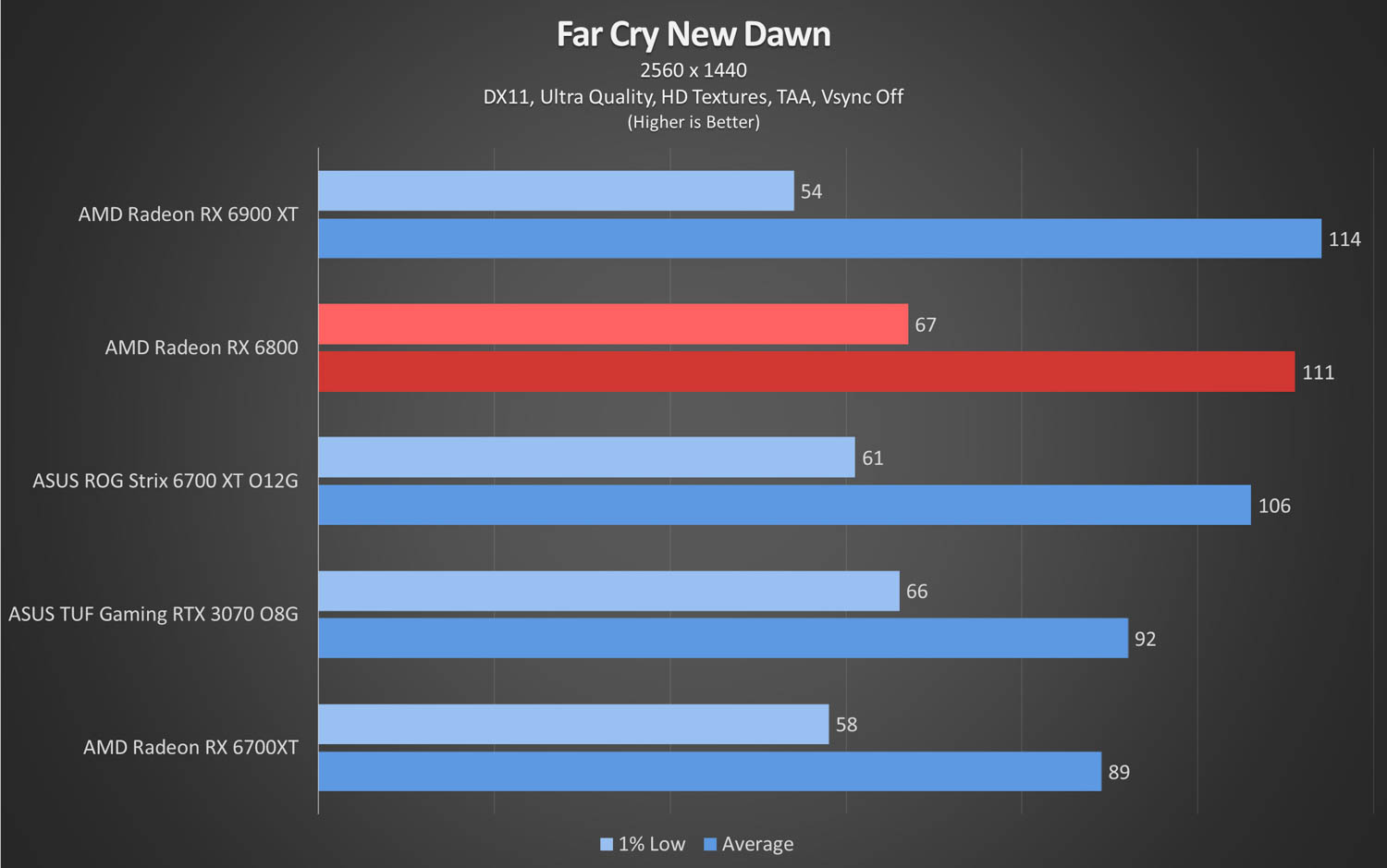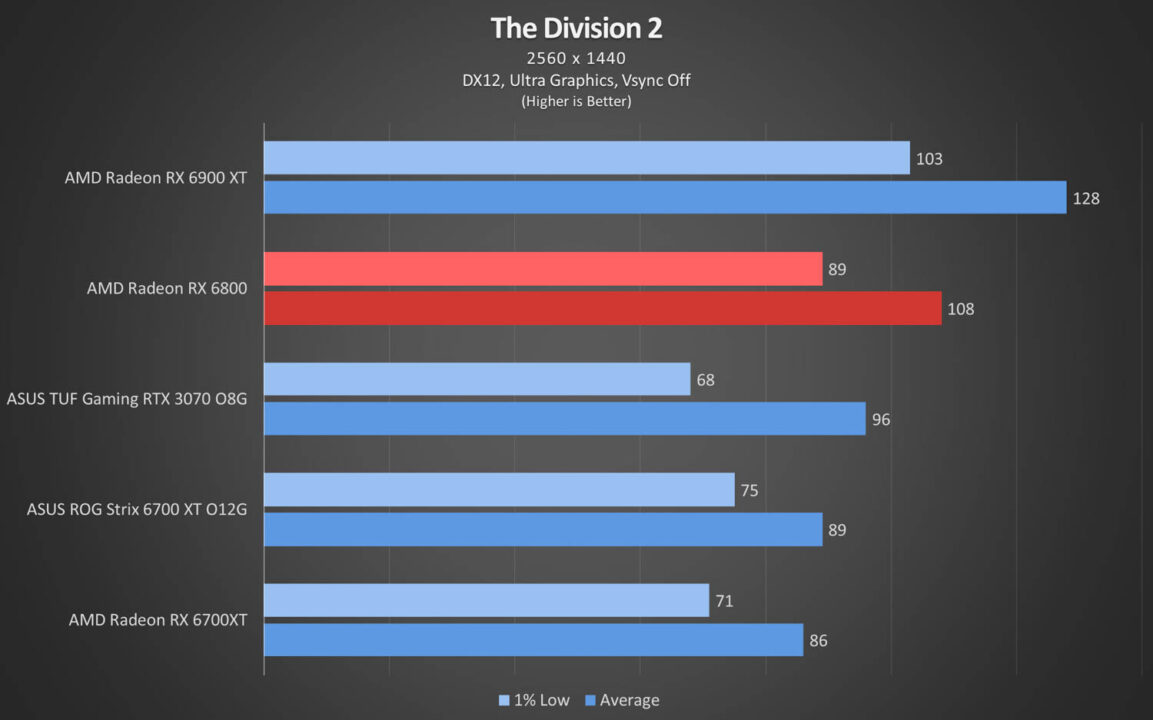 3840 x 2160
Gaming benchmarks reflect the same story as our synthetic tests. Again, the RX 6800 is able to easily maintain steady framerates and easily rests near the top of the charts. It also regularly beats its nearest competitor, the RTX 3070, by some margin. Again, all seems impressive until Ray Tracing kicks in and the RX 6800 simply cannot keep up with its more affordable rival.
Power Consumption and Temperature
The card has a rated TDP of around 250W, which is considerably less compared to the 300W TDP of its betters but slightly higher than the RTX 3070's 220W. Under a realistic workload, however, the card will only guzzle around 200W of power. It's also fairly power efficient at idle at around 13W.
Due to the relatively low power consumption, temperatures on the GPU core only hovers around 84°c on average with fans only spinning at 32 percent. GDDR6 temperatures are a bit hot at 88°c but can be easily remedied by a slightly more aggressive fan profile.
GPU Core temperature while idle is set at 52°c. The fans do not spin until the core hits 55 – 60°c, which allows the card to operate in silent mode while idle or under light load.
Conclusion
The AMD Radeon RX 6800 sits comfortably in the gap left by the RTX 3080 and RTX 3070. Performance good regardless of API used and is consistently outperforming the latter by a considerable amount. The only chink in the RX 6800's armor is its lackluster Ray Tracing performance being quickly outpaced by the more affordable RTX 3070.
While AMD still has some catching to do in modern techniques like Ray Tracing. Their answer to DLSS, FidelityFX Super Resolution, is coming soon but developers will still need to implement it on their games and performance is still up in the air. But regardless, the AMD Radeon RX 6800 delivers top-notch performance in games.
There is a problem though – its price. Originally offered at USD 579 (PhP 28,000), the Radeon RX 6800 has doubled more than doubled its price at around USD 1,200 (PhP 62,000) due to the global chip shortage. Despite that, it still offers incredible gaming performance and is worthy of our seal of approval. Just keep an eye out for decently priced card in the market.
If you fancy other graphics cards, just click on our reviews: