Today, we're going to take a look at the ASUS TUF Gaming RTX 3060 Ti OC. Placed as a midrange RTX card for Ampere, the RTX 3060 Ti promises near the performance than last generation's RTX 2080 Ti. ASUS is adding to the formula their TUF Gaming design which offer better cooling and slightly higher overclocks than the stock configuration.
ASUS TUF Gaming RTX 3060 Ti OC Edition
| | |
| --- | --- |
| GPU | GA104 |
| Architecture | Ampere |
| Transistor Count | 17.4 Billion |
| Manufacturing Process | Samsung 8nm |
| Boost Clock | 1785MHz (OC), 1755MHz (Gaming) |
| CUDA Cores | 4864 |
| Tensor Cores | 152 |
| RT Cores | 38 |
| Memory | 8GB GDDR6 |
| TDP | 200W |
| Power Connectors | 1x 8-pin PCIe |
| Display Connections | 3x DisplayPort 1.4a, 2x HDMI 2.1 |
| Dimensions | 301 x 143 x 54mm |
Up Close with the ASUS TUF Gaming RTX 3060 Ti OC
The ASUS TUF Gaming RTX 3060 Ti OC Edition pretty much shares the same design found on other TUF Gaming cards this generation like the TUF Gaming RTX 3080 10G. Though it is surprising to find out that it is slightly larger at 301 x 143 x 54mm compared to its higher-end brother. Regardless of length, it will still take up 3 PCIe slots from your case as it spans 2.7 PCIe slots.
Its gunmetal aluminum shroud houses three of the brand's Axial-tech fans. They promise increased airflow through the fins to improve cooling. The central fan spins in a different direction compared to the side fans which ASUS says reduces turbulence and add even more cooling potential to the card.
The card's backplate is made out of the aluminum as well to give a bit of rigidity to it and its PCB. The PCB is actually smaller than the card itself and there is a large hole near the tail of the card where you can see some of its fins. The hole was made in order to more efficiently blow hot air through the card instead of circulating inside its compartments.
You can switch the card's profile to Performance Mode to Quiet Mode via a physical switch on top. A nice touch for ASUS to have a physical switch as not everyone will install any software for their cards. It is still possible, however, to switch profile through software using the brand's GPU Tweak III.
RGB lighting on the ASUS TUF Gaming RTX 3060 Ti is again restrained compared to other cards in the market. Lighting is only limited to the TUF Gaming logo near the end of the card. RGB enthusiast might be disappointed for the lack of a more extravagant lighting solution but anti-RGB builds might just be up this card's alley.
The RTX 3060 Ti has a significantly lower TDP of 200W compared to the higher-end Ampere cards. Its lower power requirement allowed for only a single 8-pin PCIe power connector at the side instead of two.
Clock speeds for the card are slightly higher than stock since this is an overclocked version. ASUS is promising a minimum of 1785MHz Boost under OC mode and 1755MHzz Boost while using Gaming Mode. Both modes are higher compared to the base boost of the RTX 3060 Ti which NVIDIA puts at around 1670MHz. Its 8GB GDDDR6 VRAM, however, is still at 14Gbps.
The back of the card houses a fairly generic selection of display connections which includes three DisplayPort 1.4a ports and two HDMI 2.1 ports.
System and Benchmarks
The ASUS TUF Gaming RTX 3060 Ti OC Edition will run against various test which includes synthetic benchmarks as well as games that run on DX11, DX12, and Vulkan APIs to see what kind of performance it can bring to the table. Exclusive features like DLSS, Hairworks, and others will be turned off in the settings to remain impartial.
Synthetic Benchmarks
3DMark Fire Strike
3DMark Time Spy
Port Royal
The ASUS TUF Gaming RTX 3060 Ti OC places right in the middle of our synthetics chart, which is expected since it is a midrange card. It overpowers the RTX 2080 Super by a sliver especially in Ray Tracing performance. It is beaten by its nearest AMD competitor, the RX 6700 XT, in DX11 and DX12 but pulls ahead in Ray Tracing workloads.
Gaming Benchmarks
1920 x 1080
2560 x 1440
3840 x 1440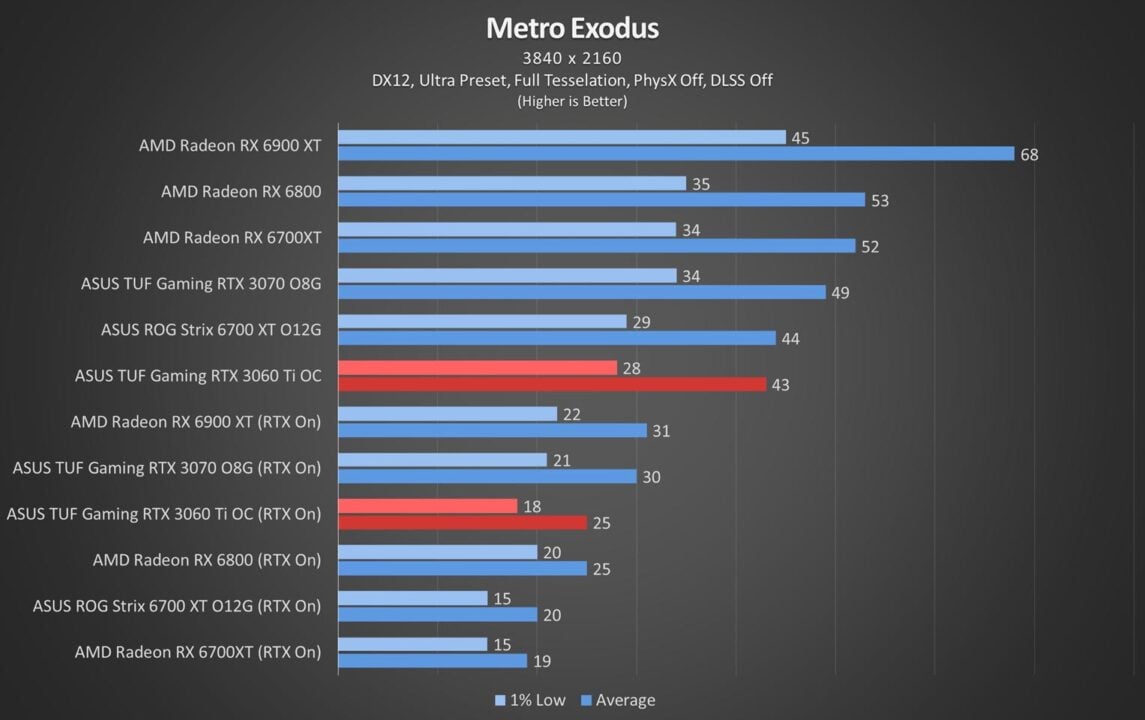 Gaming performance of the ASUS TUF Gaming RTX 3060 Ti OC is pretty much bang on for a midrange card. It trades blows against the RX 6700 XT but ultimately leaves it in the dust when Ray Tracing is turned on on titles that support it. The card even manages to scrape against the RTX 3070 at 1080p but is ultimately left behind at 1440p and 2160p across the games.
Power Consumption and Temperature
The RTX 3060 Ti only has a TDP of 200W compared to the 250W of the RTX 2080 Super. This means that power consumption is lower even though they have comparable performance, at least in our synthetic benchmarks. Power savings are reflected while running games at max with the maximum load being put at 199.3W for the card and 378.83W for the whole system. Idle power is also fairly low at only 12.58W.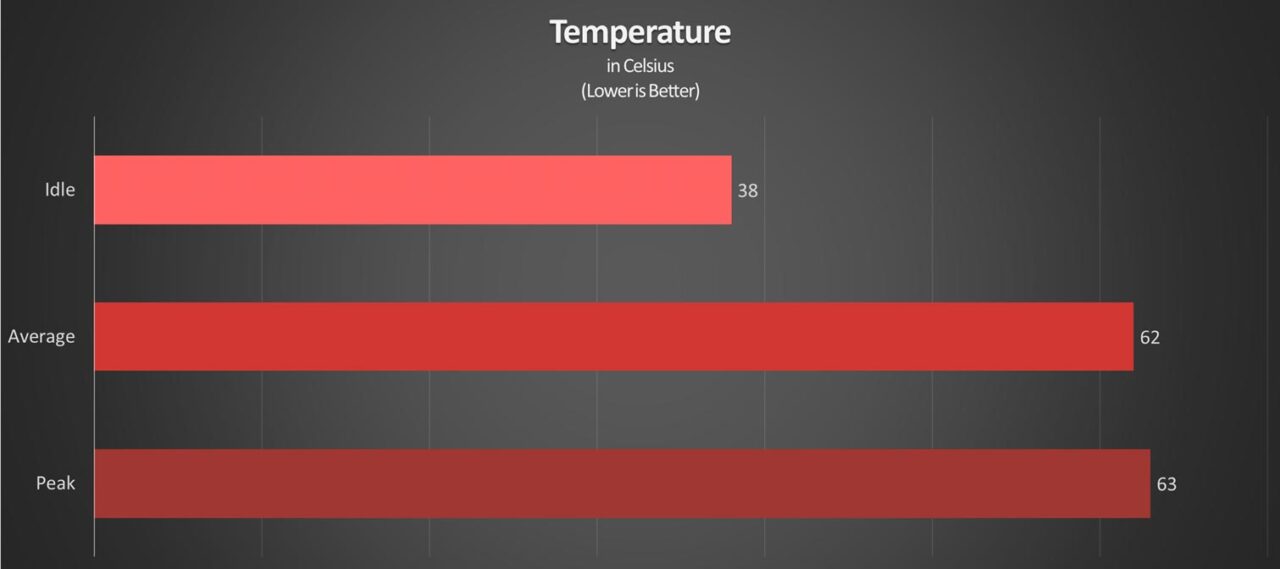 The lower power consumption paired with the cooling system of ASUS' TUF Gaming lineup brings down the GPU temperature of the card to a chill average of 62°c. Idle is only at 38°c, and since the fans do not spin until they hit 60°c, the card is completely silent when on standby.
Conclusion
The ASUS TUF Gaming RTX 3060 Ti OC adds a lot of value to the already attractive RTX 3060 Ti. The addition of a beefier cooling solution, RGB lighting and synchronization, performance switching, and a more display connections considerably separates it from the 3060 Ti's vanilla variant.
General performance is pretty good across the board but it is eclipsed by the RX 6700 XT in some titles but once Ray Tracing is introduced, the 3060 Ti will pull ahead. The card also supports DLSS, which means that performance will be increased on games that support it.
With an official price of USD 460 or PhP 31,490 in the Philippines (but more realistically at PhP 60,000 in some stores due to the shortage), the ASUS TUF Gaming RTX 3060 Ti OC is a smart buy for those who are interested in running games smoothly at 1080p and 1440p at max settings especially if you manage to snag it at SRP, which is why we're comfortable in giving the card our seal of approval.
If you fancy other graphics cards, just click on our reviews: